5 Best Stadium Trucks for Bashing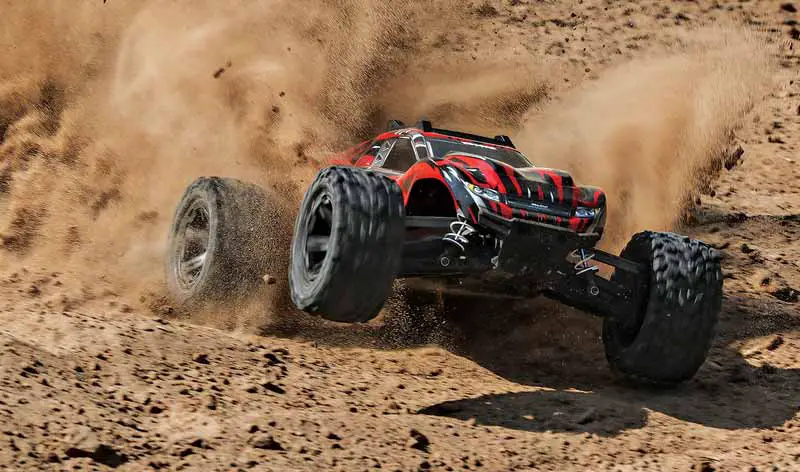 Remote-controlled bashers come in various styles, from RC buggy, truggy, short course trucks, scalers, rock crawlers, stadium trucks, and even monster trucks. 
However, stadium trucks offer some of the best bashing experiences because they have low ground clearance, can handle effortlessly on dirt tracks and pavements, and can also jump well while taking quite the beating on rugged on-road and off-road terrains. 
In this guide, we look at some of the best stadium trucks perfect for bashing. 
 Are Stadium Trucks good for bashing?
Overall, stadium trucks are good for bashing because they are fast, can handle big jumps, go through abuse, are easy to maintain, and run on booth water, grass, mud, and asphalt surfaces. 
All RC cars will work great for bashing depending on the terrain you choose to run them on. 
However, stadium trucks are some of the best RC models out there because they are hands down durable and can survive continuous beating when used on any rugged terrains, whether pavements, asphalt surfaces, water, mud, or grass than other RC vehicle types in the market. 
A stadium RC truck is a small-scale version of real-life trucks used in stadium races. Stadium trucks differ from all other trucks since they combine a truck-style body and an open-wheeled layout. 
So, if you're wondering whether stadium trucks are good bashers, the simple way to know is to find answers to questions like:
Yes, remote-controlled stadium trucks are fast. In fact, they come designed with a wide outer chassis, which works perfectly for dramatic drifts and adrenaline-pumping acceleration, whether on off-road or on-road surfaces. 
A good RC stadium truck can even reach speeds as high as 75+Mph. 
Will they handle big jumps?
The majority of the stadium trucks in the market come with reinforced bumpers and big suspensions to enable you to hit high jumps. 
These components even make it possible to take the blows directly and survive. 
Plus, they can make sharper turns than many buggies used for bashing.
In short, with their good handling and high stability, you can drive a stadium truck as recklessly as you want.
Can they run on gravel, water, off-road, grass, or pavements? 
If you are planning off-road driving over large obstacles, then stadium trucks are the deal-breaker.
While not all stadium trucks offer much ground clearance, many will allow you to drive through grass, dirt, sand, snow, and even gravel without causing any damage since they are built purposely for rugged terrains. 
However, you want to avoid fully submerging them in water. 
Can a stadium truck go through abuse?
Yes, stadium trucks can handle more abuse than you think. They feature massive tires and shocks underneath a tight frame and durable body to make rolling over rocks and uneven terrain more fun than you think.
Are they easy to maintain?
Stadium trucks have an easy build, can run through water, handle hard hits and remain intact. And, they are easy to maintain. However, you need to carry out regular maintenance to keep them in good shape. 
List of 5 best RC stadium trucks for bashing
#1 Traxxas Rustler
When it comes to the perfect bashing stadium truck for driving on rugged terrains, the Traxxas Rustler takes the lead on our list. 
The Traxxas Rustler brings a whole new level to speed with the Titan 12-turn 550 modified motor and XL-5 Electronic Speed Control it uses. 
The best part is they work perfectly on water since the electronic parts come built for all-weather driving excitement. It also comes with Off-road Alias® tires, complete with foam inserts that offer better grip for off-road surfaces. 
You will also find in the box electric components such as hard-anodized and PTFE-coated T6 aluminum big bore shocks, oil-filled shocks, servo saver with adapters, and heavy-duty rear and front suspension arms to provide the truck with improved performance and speed. 
What's in the box:
-Rustler with Titan 12-turn 550 modified motor
-Quick Start Guide
-TQi 2.4GHz radio system
-High-quality maintenance tools
What's Needed:
-Batteries
-Single NiMH or LiPo battery
#2 HPI Jumpshot ST FLUX
As part of the Jumpshot lineup, the HPI Jumpshot ST Flux falls nothing short of high-quality performance and speed. 
The HPI jump shot ST Flux comes with upgraded features like the optimized bearing to offer increased performance and speed. 
It also comes with the FLUX MMH-4000 motor and a robust FLUX EMH-3S speed controller that offers non-stop action on all rugged terrains. 
The best part is it is easy to drive, and the rigged all-terrains rubber tires make them capable of handling any terrain from dirt to gravel, water, and grass surfaces. 
The highlight of this stadium truck from HPI is the aluminum twin vertical plate chassis that has extra holes so you can adjust the entire radio tray and weight of the vehicle. 
What's in the box:
-HPI Jumpshot ST Flux
-Flux MMH-4000 motor
-Flux EMH-3S speed controller
-Transmitter and receiver 
What's Needed
-4x AA batteries
-NiMh or 2S/3S LiPo battery with Deans connector
-Suitable charger
#3 Arrma Vorteks
Arrma is another brand that takes RC bashing to another level with their high-speed, super-tough basher models, and the Arrma Vorteks is no exception. 
For example, the VORTEKS 4X4 3S BLX Stadium Truck is one of the most advanced and fastest Arrma 1/10 scale bashing vehicles to incorporate a Spektrum Smart technology and Active Vehicle Control that makes it stand out. 
That's not all Arrma vortex has to offer!
Arrma Vorteks comes equipped with a Spektrum Firma 3200Kv brushless motor capable of speeds up to 60mph right out of the box. 
Whether you choose to drive this model on off-road, dirt and grass, parking lots, or over paved and asphalt surfaces, its strong composite chassis that features oil-filled shocks with silicone O-rings lets you bash at incredibly high speeds no matter the environment. 
The rugged bumpers, injection-molded wing, and protective roof skids also ensure that your truck will easily take handle jumps without damage to its body and electronic parts. 
What's in the box:
-ARRMA VORTEKS 4X4 3S BLX 1/10 Scale 4WD Electric Stadium Truck RTR
-Spektrum Firma 100A Smart Waterproof ESC
-Spektrum™ Firma 3660 3200Kv Brushless Motor
-Spektrum 2.4GHz DX3 Smart DSMR® 3-Channel Transmitter
-Spektrum™ SR6200A AVC® Receiver
-Spektrum™ SPMS651 7kg Waterproof Metal-Geared Digital Servo
-23T Spline servo saver
-Product Manual
What's needed
-2-3S LiPo Battery with EC5 or IC5 connector
-Compatible Battery Charger
-AA batteries for Transmitter
Read our review
#4 Losi 1/18 Mini-T
A scaled-down version of Losi's 1/10th TLR 22T RC vehicle, this stadium RC truck is really small, yet comes with powerful performance electronics that make them run through rugged terrains with ease. 
The Losi 1/18 Mini-T features a Dynamite 6000Kv brushless motor system and 2 in 1 ESC that gives tins of power, torque, and speed. It also has a mid-motor setup that offers better balance and performance on multiple surfaces. The best part of this setup is that it aoffers more balance, steering and traction.
Losi's Mini-T stadium truck also comes designed with a 1.5mm thick 6061-T6 Aluminum chassis plate that offers more strength and durability to the RC vehicle. You will also find injection-molded chocks with threaded shock collars that help you adjust the ride height. 
to easily handle the extreme power of the Dynamite 6000Kv brushless motor system, the Mini-T stadium truck comes with a standard step pin rear tire and ribbed front tires to offer more grip on rigged surfaces. 
Add the full ball bearings this stadium truck comes with, and you get improved performance on any off-road surface, from reduced drivetrain friction to increased and longer run. 
The Mini-T also comes with parts such as a servo saver, 2.4Ghz transmitter and receiver, and a USB charger to make them function better on tough terrains. 
What's in the box:
-Losi 1/18 Mini-T 2.0 RTR Truck
-Horizon 2.4Ghz Receiver WP 3-CH
-Dynamite BL Motor/ESC 2-in-1 6000Kv
-Spektrum SX107 Micro Metal Gear Servo
-Dynamite 7.4V 800mAh 2S 50C LiPo Hardcase: EC2
-Dynamite® USB 2S LiPo Charger
-AAA Batteries
-Horizon 3-CH 2.4Ghz Transmitter
No Extras Needed
#5 Team Associated RC10T
If you're familiar with Team Associated's RC10 2WD car lineup, you know how well they've performed in the IFMAR World Championship. 
In fact, the TA (Team Associated) RC10s kit has won three IFMAR awards. Although not the same vehicle, the RC10T was engineered from the concept of the RC10 design, hence it offers as many bashing promises as to the RC1o model. 
The RC10T comes equipped with a black anodized tub chassis, ball differential, dogbone drive-shafts, coil spring over oil filled dampers, slipper clutch, servo saver, ATC Stealth gearbox, and a full set of ball bearings, two sets of front wheels and tires (wide and narrow tires). 
What's in the box:
Required to complete
-2-channel RC surface radio system
-Battery pack and charger
-1:10 scale electronic speed control
-RC motor
-Motor pinion gear
-Tools
Read our comparison:
Team Associated vs. Traxxas | which is better?

LeisureGuided.com
Components of the Best Stadium Trucks for Bashing
| | | | | | |
| --- | --- | --- | --- | --- | --- |
| | Traxxas Rustler | HPI Jumpshot ST FLUX | Arrma Vorteks | Losi 1/18 Mini-T | Team Associated RC10T |
| Motor | Titan 12-turn 550 modified motor |  FLUX MMH-4000 motor | Spektrum 3660 3200Kv brushless motor | Dynamite 6000Kv brushless motor  | Type 540 motor |
| Power | Electric | Electric | Electric | Electric | Electric |
| Materials | Metal | Aluminum | Metal | Aluminum | Polycarbonate Plastic |
| Scale | 1/10 | 1/10 | 1/10 | 1/18 | 1/10 |
Conclusion
Stadium trucks have always been a favorite of many because they can handle all rugged off-road terrain, jump smoothly, are super-fast, and have a good performance feel. 
The fun part about driving them is that they feel like driving real-life trucks. If you are in the market for a stadium truck for bashing, hopefully, these five trucks we listed above will offer you a big win for your money.