Can RC car drive in the sand? (avoid damage)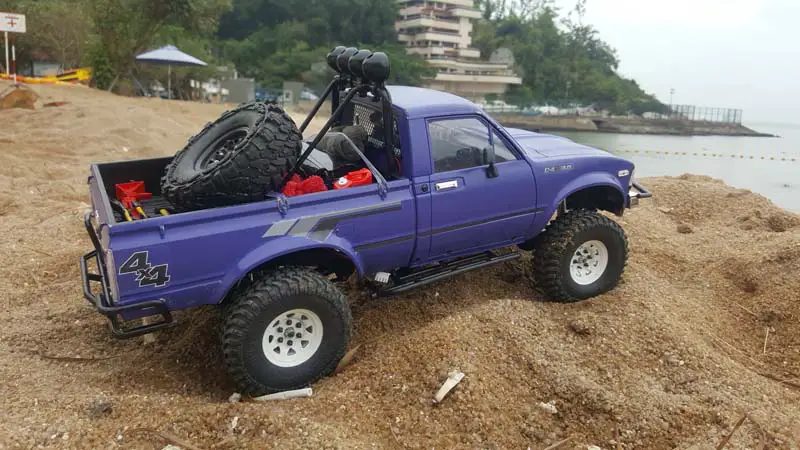 Ever wondered if you can drive your RC car on sand apart from pavements, rocks and on the dirt track?  
All RC cars can run in the sand, but some models work better than others. If you own an RC car with low ground clearance, it won't handle the sand like those RC vehicles with higher clearance and performance built. 
This article teaches you everything you need to know about driving RC cars on sand. 
Is driving on sand bad for your RC car?
Running in sand is fun. But, while it is possible to successfully run your RC car in the sand and experience the thrills of speed run, there's always a price to pay afterward in costly maintenance. 
Driving in sand is bad for your RC car. Not all cars work the same on the sand, and even when they do, the sand can get into your motor or engine. If not cleaned properly after running on the sand, it can ruin some components.
Added to this, sand can get into your bearings, causing more damage than good. 
Quite often, it can be challenging to get all the sand off and out of places where you don't want it. You need to pay attention to maintenance and change filters to keep any trace of sand or dust away from the carburetor (in nitro cars). 
Does sand damage your RC nitro engine?
Since we've established that sand can be bad for your RC car, the next thing you want to know is that sand on your engine is more damaging for two reasons. 
The first, most sandy terrains have a trace of salt, especially beachy areas and the effect of salt on your RC engine is corrosion and rust. A rusty engine would eventually mean you have to spend money on replacement since the engine won't be fit to carry the weight of the RC car, particularly when them run at 60mph on the sand. 
The second thing sand does to the engine is that it ruins their build features and makes them a pain to clean. 
For this reason, you want to make sure to spotlessly clean the engine to keep them durable and long lasting.
Can sand damage your brush or brushless motor?
Yes, sand can damage your brushed and brushless motors. When the sand gets in the motor, it wears down the bearings quickly, especially when run on beachy sand with salt on it. 
The sand then creates a slop in the shaft of the motor. When this happens, your brushed motors and brushless motors get completely damaged. 
Does sand rust your RC car?
While pure sand will jam the gears and motor, beach sand soaked in salt will cause rust, destroying the battery contact and shortening your RC car's overall lifespan.
How? The salt on the sand would cause corrosion on the metal parts of your RC motor, which will spread to other metal electronic parts of your RC car. 
How to maintain your RC car after driving on sand?
To keep your RC car safe even after driving on sand, you need to perform regular maintenance checks. 
To maintain your RC car after a sandy run, there are a few things you need to consider; 
regular cleaning of the RC car immediately after use and use of air compressor or motor spray to clean the engines and motors after use. 
You also need to keep in mind that parts like the hinge pins and the drive shaft are fragile and can damage easily as sands easily get wedged in them. So, when sands get in them, you're likely to kiss them goodbye. 
To maintain them, always makes sure they are clean of sand after each run. 
Is there any adjustment you should do in your RC car before running it on sand?
Before bashing your RC car on the sand, three things you want to do are; 
adjust the RC car alignment and throttle trim, 
avoid stripping your gears, 
change to paddle tires. 
Of course, those arent mandatory, but they can help your car run better on sand.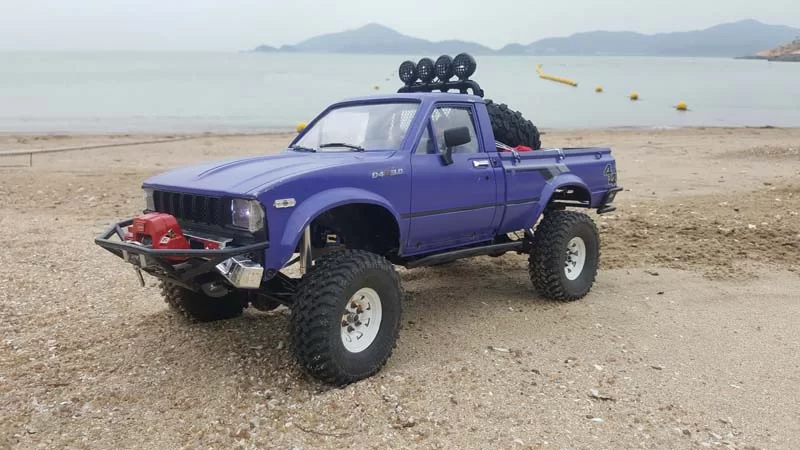 Can all hobby-grade RC cars run on sand?
Most people won't think about driving their RC car on sand since they are used to the thrill of driving on-road and off-road surfaces but driving on sand is quite fun. Yet, not all hobby-grade RC cars can run well on sand. 
Some hobby-grade RC cars are specially designed to run better on sand than most. 
Can Traxxas run on sand?
Traxxas is a known manufacturer of high-quality RC cars. And even their electric parts are durable and last long. For this reason, many Traxxas models, the most being monster trucks, can run well on sand. 
Traxxas RC monster trucks are superior beasts when it comes to running on sand. They have a high ride height and massive tires that work perfectly in sandy conditions. With a Traxxas model, the chances that you'll get stuck in the sand are very slim. In fact, most Traxxas RC monster trucks allow for wheelies on sandy surfaces. 
Some good examples of Traxxas monster trucks that works exceptionally on sandy terrains include:
Traxxas Maxx 1/10 Brushless Monster Truck
Traxxas Slash 4×4 VXL Brushless
Traxxas TRX-4 1/10
Traxxas Rustler 4×4 VXL
Traxxas X-Maxx 4×4 Brushless Monster Truck
Can Tamiya run on sand?
Tamiya is another legendary manufacturer of RC vehicles, as they produce some top-notch classic Grasshopper buggy to TT-02 spec racers that can run on sand. Two Tamiya models that run perfectly on the sand are the Rising Fighter and Mad Bull. 
Can Arrma run on sand?
Like Traxxas, Arrma builds world-class RC cars that work well with sandy surfaces and can easily reach speeds up to 60mph on thick sand. They also use a waterproof receiver box, and a digital servo will keep sand out. Added to this, Arrma RC cars can perform outrageous stunts even on the sand. 
Some Arrma models that work well on sandy surfaces include:
Best RC car for sand (small review of 1 car)
As stated earlier, Traxxas produces some of the best Monster Trucks that can work well on sand. One RC vehicle for sandy surfaces is the Traxxas Slash 4×4 VXL Brushless. 
The Slash is a 1/10 scale RC that packs a punch its Velineon 3500 brushless motor; it has plenty of strength to jump over dunes and fly through the air. The impossibly designed paddle tires help you make your way over sand humps and bumps. But, even with the standard tires, you enjoy a thrilling performance. This model can also reach speeds up to 60+mph on the sand at low speeds. It has a 4-Wheel Drive, perfect for sand monster trucks.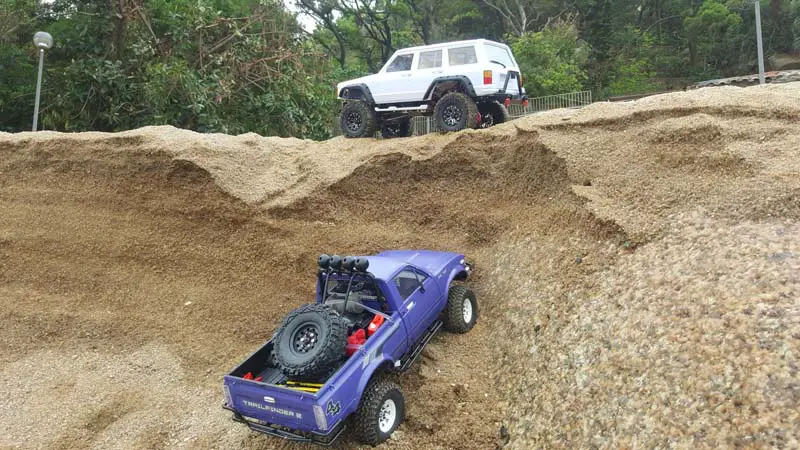 Can you drive your RC car on beach Sand?
Technically, you can drive your RC car on beach sand, but you want to keep it away from wet beach sand. This is because the salt from the beach water will be on the wet sand. 
When salt comes in contact with your RC car, it can corrode the metal. This will decrease the shelf life of your RC vehicle and make your parts wear faster. 
You don't want to replace your RC car parts car sooner than necessary.  
Even though driving your RC car on the beach will be extremely thrilling, you need to keep away the vehicle from wet beach sand. Wet beach sand will cost you more in the long run, whether you like it or not. 
Can you run an RC car in dunes?
Yes, you can run your RC car on dunes.
The process of driving your RC car in sand differs from any other rugged terrain. In fact, running your car on dunes will feel like driving through mud. For this reason, the type of vehicle will vary. 
RC cars that can easily drive through dunes are often engineered with features like the 4-Wheel drive, 1/10 scale, brushless motors, metal gears, and paddle wheels. You'll also be able to drive your RC car effortlessly on sand if the electronics are waterproofed and you own a high Monster Truck. Monster trucks are known to have a high-ride height that makes it difficult for sand to get in them; so, they can easily scale through humps and bumps on sandy surfaces.  
Is running on sand harder than pavement or track?
From the most demanding RC car to the easiest, concrete pavements and tracks provide the least resistance to radio-controlled vehicles and don't have any limitations. 
All RC vehicles can work on pavement. However, some may be more fun than others on this surface. For example, rock crawlers wouldn't be very entertaining when driven on flat pavements. 
This means that running your RC car on sand will be pretty harder than running on pavement or tracks. 
Conclusion
Driving your RC vehicle in the sand can be extremely fun, but it can also come with substantial maintenance costs. For some RC enthusiasts, the fun that racing in the sand brings is worth the extra maintenance, especially when they know their RC car isn't specially designed to run efficiently on the sand. Regardless of this, you have to be ready for after-effects and ultimately decide if the maintenance is worth it. So, if you're wondering whether you can drive your RC car insane, the answer is yes.