6 Best RC shocks for bashing (2023)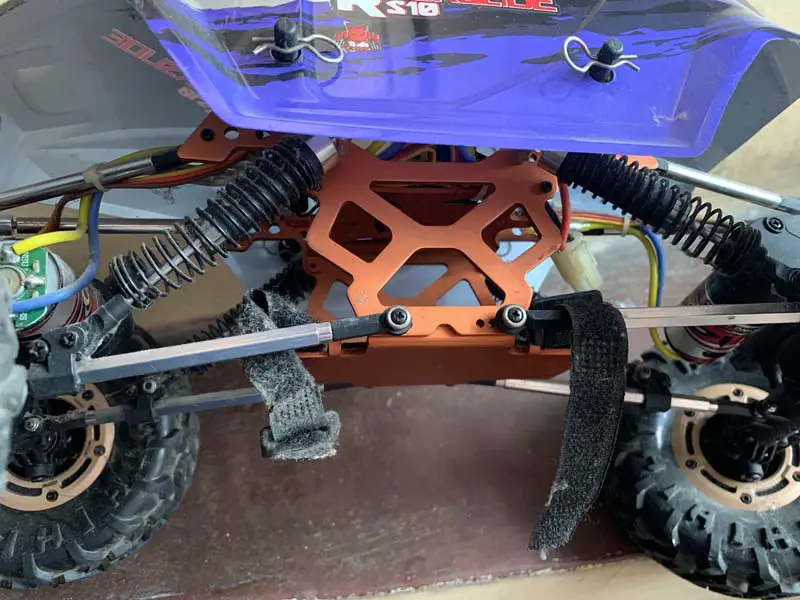 For RC hobbyists that are interested in Bashing, the kind of shocks you use for your car determines how long your RC vehicle will hold it together in the wild. 
The 6 best RC shocks for bashing include: 
Hobbypark Aluminum front rear shock, 
Pro-line power stroke shocks, 
Injora RC shocks, 
RcAidong Pre-oil filled shocks, 
Fosa RC shocks, 
RC Lions Aluminum front and rear shocks. 
The 6 best RC shocks for bashing
From a vast number of options available, the top 6 best RC shocks for Bashing include;
RCLions RC Shocks 43mm Adjustable Absorber Damper: 
These come as a kit of four pieces. 
They are made Of Aluminum Alloy Material which makes for High Protection and Long Durability.
They are very easy to install, with a smooth and excellent dampening effect. Comes with 3 sets of springs which makes upgrading your shock convenient for you. They are great for upgrading 1/24 of the Scale cars.
Hobbypark 4PCS Aluminum Front Rear Shock Absorber Assembled set:
These are Compatible With: 
1/10 Traxxas Slash 4X4 2Wd, 
Stampede 4X4, 
Rustler 4X4 Vxl, 
Rally 4X4, Etc. 
They come as a pack of four pieces.
These shocks come without Pre Oiled so make sure you get some before installing them on the chassis. They're CNC machined for precision and built heavy-duty for huge jumps and to withstand violent bashing.
INJORA RC Shocks
This shock kit Adopts a Telescopic Design For Maximum Travel.
Its Aluminum Shock Bodies is CNC Machined to ensure Stability and the durability of the shock.
The three spring rates included, meets the needs of RC drivers when it comes to versatility. These shocks also have threaded shock bodies for quick Preload Adjustments.
RC-Aidong oil-filled shocks 
They are made of high-quality Aluminum Alloy Material. 
They possess smooth and excellent dampening effects and are very durable in use. They are Pre-filled oil shock absorbers so you don't have to worry about filling them with oil before installation.
They are mostly used on Various Tamiya models including: 
Tt-01, 
Tt-02, 
M03, 
M05, 
and MO6 models.
Fosa RC shock absorbers
These are fine workmanship and High in Quality.
They are made of Aluminium with anodizing, which makes them solid, durable and gives them an exquisite appearance.
Very Suitable for Axial, Scx10, D90, Trx-4 RC crawler*, etc.
Possesses Double Spring Design which enables the best performance.
*If you are into crawlers, check out our top list of Best RC Shock Oil For Rock Crawlers
Pro-Line Racing 6063-01 Power Stroke Shocks, popularly known among racers as performance shocks
one amazing fact about these shocks is that the front and rear shocks are sold separately. They are all made of an alloyed aluminum body and cap, possess dual-stage spring rate, infinite spring preload adjustment, and a super durable spring retainer and shock.
These shocks are fit for Traxxas Slash 4×4, Sc10, Blitz, Ultima Sc, stock slash, and protracted suspension kit for slash.
Best 1:10 scale RC shocks
For bashing an RC trucks as big as 1/10 scale vehicles, the best shock is Pro-line pro-spec 1/10th shocks. 
They Are Aluminum bodied with an aluminum cap. These shocks comes unassembled and so you have to assemble it yourself. They do not include springs so you will have to get that separately from the kit. It comes with different spring retainers, a complete line of pistons, shock shafts, flange balls, alumni shock bodies and caps, and an instruction manual. Some features of these Pro-line pro-spec shocks include;
They are the smoothest Shocks Pro-Line has ever made
Made with 12mm Big Bore Technology
Single Low Friction X-Ring Seal
Silky Smooth White Delrin Shaft Guides and Pistons
Easy Access Bleeder Cap Screw
Hard Chrome Coated 3.5mm Shock Shaft
Optional Pistons and Limiters Included
Use any 12mm Big Bore Buggy Springs
Easy Pair with the Pro-Spec Rear Shocks
Best shocks for bashing the slash 4×4
The best shocks on market for bashing the slash 4×4 are Traxxas Race specs GTR Shock.
The Traxxas Slash 4×4 is a spectacular vehicle that is perfect for bashing. The Traxxas Slash defines the Short Course truck segment and sets the standard for durability, performance, and technology.
With the Traxxas Race specs GTR Shock promises to deliver Ultimate Performance, they also represent the peak of suspension technology. These anodized and Polytetrafluoroethylene coated aluminum shock bodies have 13 mm bores to hold over 70% more oil than the standard Ultra Shocks and their glossy titanium-nitride-coated shafts resist scuffing, increase strength, and eliminate stiction. All these features make for greater jolt absorbance during bashing.
GTR shocks have threaded bodies for precise adjustment without extra parts—just turn the spring retainer to adjust its position.
What is a good RC shock setting for bashing?
The suspension consists of the shocks and springs, the arm, camber links, and steering/toe links. 
Suspension tuning is all about putting grip to work. When the suspension must absorb a bump or jump landing, well-tuned shocks will quickly compress to absorb the jolt, extend to return the suspension to its normal position, and resist any further oscillation until the next bump comes along.
If you want to construct the best shock setting for your RC car for bashing, you must be conscious of the relationship between the rate of the spring (stiffness or looseness)  and the shock damper. If you have increased your shocks' damping beyond what the springs can quickly overcome, the shocks will "pack up" in the rocky landscape and limit suspension travel unless you install stiffer springs to compensate.
When spring rate and damping force are properly matched to a car or truck, the suspension will support the vehicle without being too stiff or too soft. 
As with all suspension settings, damping is a give-and-take scenario.
The optimum setting is somewhere between light damping and heavy damping.
Light damping allows the suspension to react more quickly and offer a smoother ride, but also increases body roll and makes it easier for the suspension to "bottom out", while heavy damping reduces chassis roll and can improve handling in smoother conditions, but gives a less stable ride in rougher terrain.
How RC shock absorbs works
A shock absorber is what absorbs jolts and vibrations in your RC car. These shock absorbers are small oil pumps that possess a small piston, a rod, a spring, and a seal that stops any leakage of the shock oil. 
The oil contained within the shock, shock oil helps to assimilate impact and vibrations after a collision and aids the car's response while bashing.
Conclusion
Without having your shock installed, bashing with your RC car is just a fantasy out of your reach. While bashing, you R\C truck gets a lot of abuse, and using the right suspensions means you can have loads of fun for long time, without worrying about your car.