5 Best RC Trucks for Grass (+best Traxxas for grass)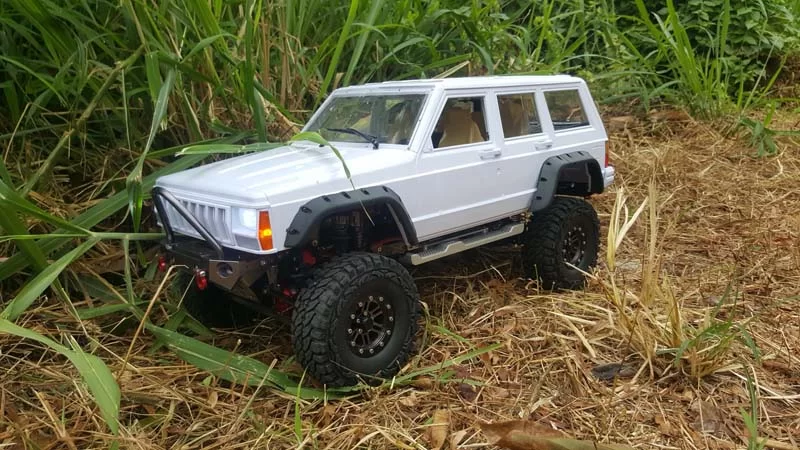 Running an RC vehicle on grass surfaces is no easy job. In fact, your RC can face several damages, like a weakened motor, especially if you use an RC vehicle with low wheel height. 
Today, various RC cars are available in the market to offer maximum performance on grass terrains. But not all are compatible with grass environments. But, not to worry, as we have selected the best five RC trucks perfect for running through the grass. 
In this article, we discuss features needed by these trucks for increased performance to help you make the best pick when choosing your RC truck model for running on grass. 
What are we looking for in an RC car for grass?
For seasoned RC enthusiasts, the grass is one of the most popular surfaces that offers a more fun experience.
However, it is the most challenging terrain for driving remote control vehicles. Why? The simple reason is that grass causes a lot of friction, which hinders smooth movements as the vehicle passes through it. Unlike short-grass surfaces, taller grass causes twice as much strain to the RC motor. 
If you plan to drive your RC car on the grass, especially tall grass, you need to make sure that the RC vehicle has the following features:
Ground clearance
The first thing you should know is that not all RC vehicles do well on grass terrains. 
If the primary running area will be grass, you need to buy a vehicle that will do well in that environment. But, how do you know the best vehicle to use? It will have the ground clearance to push through the grass without causing strain on the motor. 
Tires
It might seem odd, but the truth is that tires play a significant role in how fast the vehicle goes and its grip. RC car types range in four types:
Slick tires, which are perfect for flat and smooth surfaces like pavements and asphalt
Full spiked tires, great on mud and grass surfaces as they provide excellent grip
Mini pins are perfect for carpets and deeper piles
Miniature spiked tires can be used on almost all surfaces. It offers faster speeds than full-spiked tires. 
If you are willing to run your RC truck on grass, you want to get full-spiked tires for them.
Full-spiked tires are extremely large and offer increased grip and speed. A good example of a tire that suits grass surfaces is the Pro-Line 1/8 Badlands F/R 3.8″ MT Tires. This tire is aggressive and has large tire lugs with wheels designed from durable DuPont nylon materials that are hardwearing.
Add the fact that the tires utilize Motorcross Treaded technology. 
Best RC Tires for All Surfaces | get most out of your car
Power 
Apart from ground clearance and tires, power is also a significant factor when running an RC car. The fact is that driving faster is more fun. Yet, the real reason to drive fast on grass surfaces is to increase motor durability.
When running your RC truck on grass, there is more friction between the car and the grass. This friction makes it harder to move, therefore making the car slower and pick up less speed, which will, in turn, make your motor heat. You need to make sure that any RC truck you get can reach speeds as high as 70+mph to ensure motor durability.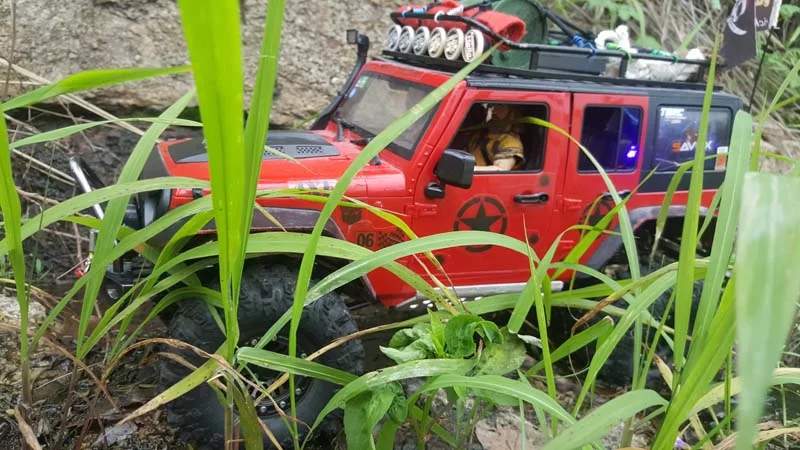 Scale 
When it involves the scale, the only thing you need to know is that big cars work better on grass since they offer better ground clearance.
So, if you're considering what scale to use, a 1/10 or 1/8 scale RC truck is best because they are big cars. 
Also, most entry-level RC enthusiasts make the mistake of using 2WD RC trucks rather than 4WD. 2WD is not the best for grass surfaces because it leaves the back wheels to push through the grass, creating drag, and more strain on the motor, which will cause it to heat up. 4WD works better because of the extra running gear involved. Plus, they offer more speed.  
How big are RC cars [all sizes and weights by scales]
RC type 
The last thing you need to consider when buying an RC truck for grass is that not all trucks work the same. 
Buggies have low ground clearance and this will endanger your motor durability. Short course trucks are not advisable because they are slow and use smaller tires.
However, monster trucks and Truggies will be best since they have great ground clearance and oversized tires for better grip. 
5 best RC trucks for grass
The awesome part about owning one of these RC vehicles is that they tear through the grass with no problem. The Arrma Granite is well-engineered with powerful wheels and ground clearance of around 1.85 in (47mm). 
This 1/10 scale 4WD shaft-driven monster truck is outfitted with dBoots Fortress MT tires which are very tough and won't wear much. Plus, they offer good grip, especially on wet grass terrains. 
The Arrma granite also has loads of power since it features a 3200kv brushless motor that launches it at high speeds of up to 50mph. 
Read more: Top to Bottom – fastest Arrma RC car (7 models comparison table)
Read more: Is ARRMA a Good RC Brand | 13 Questions Answered
Manufactured by Rishil World, the JLB Cheetah is another 1/10scale Truggy great for driving on grass surfaces. 
Equipped with hard drift tires and a four-wheel-drive drivetrain, this 1/10 Scale RC truck gives consistent and stable performances, running at speeds as high as 80km/h. 
The high-capacity tires with the side threads also mean the four-wheel monster trucks boast extraordinary grip on grass. 
The INFERNO ranks at the top as Kyosho's flagship RC lineup. In fact, every Kyosho Inferno model made to date, like the MP9 TKI4, has competed at the highest level in major engine racing competitions. 
While we established that buggies aren't fast, nor do they have good ground clearance, the fact remains that this model is not electric. Its use of a nitro-powered engine changes the whole dynamic of a buggy, especially when it comes to speed. The Kyosho Inferno can reach top speeds of 50mph. 
With the KE21SP motor, it features, you can enjoy an optimal balance of power, torque, and idling stability on grass terrains. Add that the newly designed "K-Blox" tires will offer improved grip on grass.
If you never heard about Kyosho, You Should Definitely Try It
Another best RC truck for grass from Associated Electrics is the Rival MT10 monster truck. 
Like the others listed in this guide, the Rival MT10 is a powerful 1:10 scale 4WD monster truck whose strength lies in its 3300kv brushless motor that offers more power and increased speed on all terrains, including grass. 
This beast comes with aggressive tires that provide maximum traction on both wet and dry grass so that they can tear through it effortlessly. 
An Amazing RC Car For Grass
Read more: Is Team Associated a good RC brand | whose is it for?
Read more: Team Associated vs. Traxxas | which is better?
No doubt, Traxxas makes some of the best and unrivaled high-performance monster trucks in the market. Apart from the Stampede, the Maxx is another truck that loves grass drives. 
This 1/10scale 4WD shaft-driven monster truck is aggressive and can claw through the toughest terrains with ease. 
Equipped with a tire that features a hard rubber compound, the Maxx is keep the truck from traction rolling. As far as power goes, the Maxx can even reach speed limits up to 50mph. 
Try this Traxxas, Really, TRY IT
Read more: Traxxas Maxx FAQ | all questions answered
Best Traxxas for grass
Besides the Traxxas Maxx, which is an amazing RC truck for grass, Traxxas have another Really good RC car for grass.
There are several good models in the market for running on grass, but when it comes to the best Traxxas truck for grass, their best model would be the Traxxas Stampede 4×4. 
Although one of Traxxas' oldest models, this RC truck is the most reliable monster truck today.
The Traxxas Stampede has an incredible tall stance and ground clearance that makes it able to tackle almost any environment, especially grass terrains with ease. The Stampede also comes with larger stock tires that make them maneuver through rugged grass terrains while offering more grip. 
The best part is that it comes equipped with a Velineon brushless motor and lightweight modular chassis that offers increased power and allows the truck to reach speeds as high as 60+mph. 
Try the Traxxas Stampede on grass
Read more: Traxxas Stampede vs. Slash (The Good, bad and ugly)
Read more: Is Traxxas Any Good | Does it Stand to Its Scale? (Dive-In)
Why isn't every RC car good for grass? 
The simple answer is that most RC trucks, like the buggy or short course trucks have low ground clearance and smaller tires. So, it makes your motor run harder, which, in turn, overheats them.
On the other hand, the low ground clearance would mean that the grass is cut and wrapped in the axles, which will bind the shafts. 
For instance, when you use a buggy, you plan to go fast on grass but notice that you will be pushing the throttle more than expected when running on pavement. As you try moving the throttle if your buggy is faster, the vehicle still moves at a slower pace than when you use them on pavements. The hard work will mean that in a short time, the motor will heat up, especially if it is not getting adequate airflow to keep cool.
In short, tall grasses needs to be flattened by the wheels when you run your RC car and this will cause lot of resistance. If the ground clearance isn't enough, then the grass will drag along the bottom of the chassis, clogging your motor functions and performance. 
How fast can an RC truck go on grass? 
Averagely, a good RC truck that runs on grass can reach speeds as high as 50mph, especially if they use a large Velineon motor to propel them. But, the fastest RC truck can reach speeds up to 70+mph. 
Read more: How Fast Are RC Cars? Fastest RC Car Hits 202 MPH! (+Videos)
Conclusion 
While grass can be a tough surface to drive remote control cars on, many RC trucks like the JLB Cheetah, Maxx, Arrma Granite, Kyosho Inferno, and Team Associated's Rival MT10 are built particularly for that purpose. However, the best RC truck that works well on grass is the Traxxas Stampede.