Is Traxxas Any Good | Does it Stand to Its Scale? (Dive-In)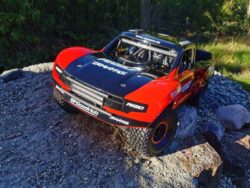 If you've spent any amount of time in the RC car scene, you have at least heard Traxxas' name.
Undoubtedly, Traxxas is a giant in the business, but are they the right option for you?
Today, we're going to go over the history, reputation, and quality of Traxxas' products and of Traxxas as a company.
Is Traxxas A Good Brand?
To those of you who have ever driven a Traxxas RC car in your life, this question may seem a little silly.
Traxxas is widely regarded by many of hobbyists as a brand that holds its durability to a high standard.
Traxxas' hobbyists often speak highly of their cars' ability to handle rough-and-tumble use, which is what Traxxas focuses on most as a brand.
When you buy a Traxxas RC car, you know that you're in for a fun time in the mud and dirt, all with reduced worry of permanent damage to your product.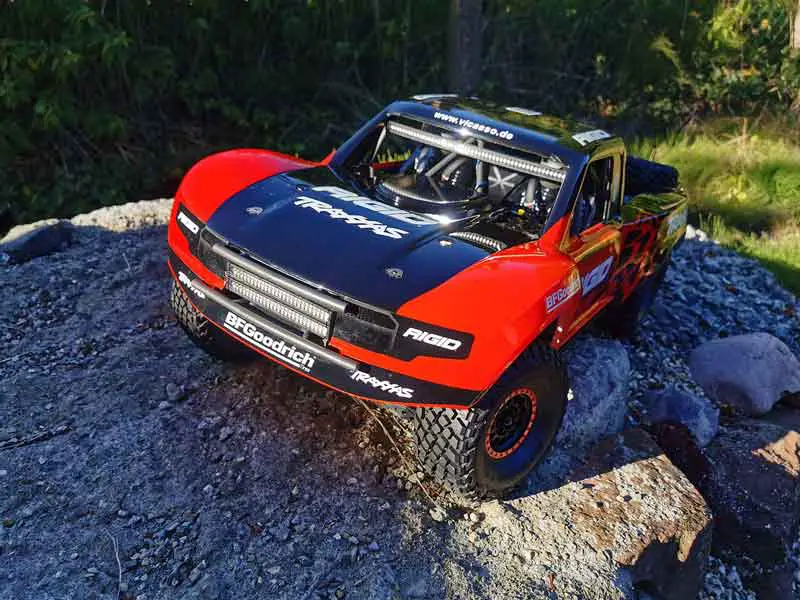 How Durable Are Traxxas' RC Cars?
Before you take your Traxxas RC car out of the box and tear up the dirt roads, grass, and snow, you will need to know the facts of how durable their products are.
Traxxas RC cars are made with durability in mind. They can handle bumpy rides through freezing, snowy fields, falls from heights, and keep go fast.
Traxxas makes durable machines that will last for a long time as long as you properly maintain them.
What's The Quality Of Traxxas' Products?
No self-respecting hobbyist would want to buy a low-quality, cheaply produced product, so here are some of the facts about the quality of Traxxas' RC cars:
Waterproofing the electronics within an RC car was first done by Traxxas, and most of their products are built with the mitigation of water damage in mind.
Traxxas' RC cars' bodies are made of polycarbonate, which is a group of thermoplastic polymers that are used for bulletproof windows. 
This means that it's obviously very strong and able to resist high-impact damage.
As for their paint, Traxxas uses enamel and acrylic paint for their RC cars' polycarbonate bodies. 
Add to that the fact that Traxxas puts durability in the head of their priorities and you have a high-quality product. 
Is Traxxas Better For Beginners Or More Advanced Hobbyists?
If you're still new to the RC car scene, you will need to know how beginner-friendly brands like Traxxas are.
Traxxas' kits range from beginner to veteran, meaning that no matter your skill level, you can learn how to properly assemble an RC car yourself, and with relatively minimal strain.
Traxxas also satisfies the expert user with their more advanced builds. If you are experienced and wish to take on a fun challenge, then Traxxas has you covered there as well.
How Does Traxxas Compare To Other Big Brands?
Things can get confusing and a little messy when you throw multiple big RC companies in the mix; Arrma, Tamiya, etc.
Is there any way of telling which company is right for you?
Let's find out!
• Traxxas focuses on long-term use and durability. They were the pioneers of the RTR, and they introduced a whole new generation to the passion of hobby grade RC cars. Furthermore, they are one of the top choices for beginners who are looking for some wild fun.
• Arrma focuses on speed and is for the more technically minded user. Their kits require you to purchase and install some the technologies yourself, which makes for a more open-ended building experience, but makes the assembly more difficult and perhaps too in-depth for beginners.
• Tamiya focuses on attention to detail and ease of assembly. Their kits are perfect for any beginner who wants to get their hands on the product and learn the ropes, but they're not meant to be taken out on rough terrain or to be exposed to the elements for long periods of time.
What Does Traxxas Make Better – Kits or RTRs?
When it comes to kits Vs. RTRs (Ready-To-Run), you must take your personal preferences into consideration.
Traxxas produces kits for beginners and veterans of the hobby. No matter your experience, you can get started on building a Traxxas RC kit today.
If you prefer to skip the assembly and just take your Traxxas RC car out for a wild ride, then an RTR is the right choice for you.
But are Traxxas' kits and RTRs any good? Which is better?
Traxxas' kits are considered to be very well-made among hobbyists. The instructions are clear, the parts fit well together with little-to-no resistance, and the kits come in a variety of different experience levels.
Traxxas' RTRs are made with high-quality products in mind. They can be just as durable, just as fast, and just as reliable when compared to their kits. Even the experienced, passionate hobbyist that often prefers to build and modify their RC car will find them to their liking.
Which Traxxas Car Is The Fastest?
If you're someone who wants to get down and dirty with some of the strongest RC cars on the market, knowing which is the fastest will help you get the car that tears up the streets with great ferocity.
The Traxxas XO-1 is "the world's fastest RC car" as Traxxas states' . the XO-1 can go from 0-100MPH in under five seconds.
If the speed wasn't impressive enough, the XO-1 has the durability to match, and that makes for a top tier RC car.
What Is The Best Traxxas Model?
Have we got your attention yet? If not, then this sure will. 
What is Traxxas' best model, according to their customers?
A timeless classic, Bigfoot No. 1 monster truck is an all rounder and it is Traxxas' most popular RC car, and its best model. 
Modeled after the real life Bigfoot No. 1, this RC car is built to go bashing in the toughest terrain.
With superb suspension, and speed of over 30mph this RC car can recover from big jumps, handle rocky terrain with ease, and go really fast.
Should You Get A Traxxas RC Car?
This question is simple; 
• Do you want a product that can withstand extreme and rough rides?
• Do you enjoy assembling a kit, without keeping it complicated?
• Is durability at the top of your preferences?
If you answered yes to all of these questions, then Traxxas just might be the brand for you.
Traxxas' Best Sellers
Before you make your first purchase from Traxxas, here are three of their best sellers, just to give you an idea of what you may want out of Traxxas' RC cars.
• TRX-4 Chevrolet Blazer
• Rustler 4×4 VXL
• TRX-4 Sport