What is a Short Course RC Truck [Explained] +5 Best to Get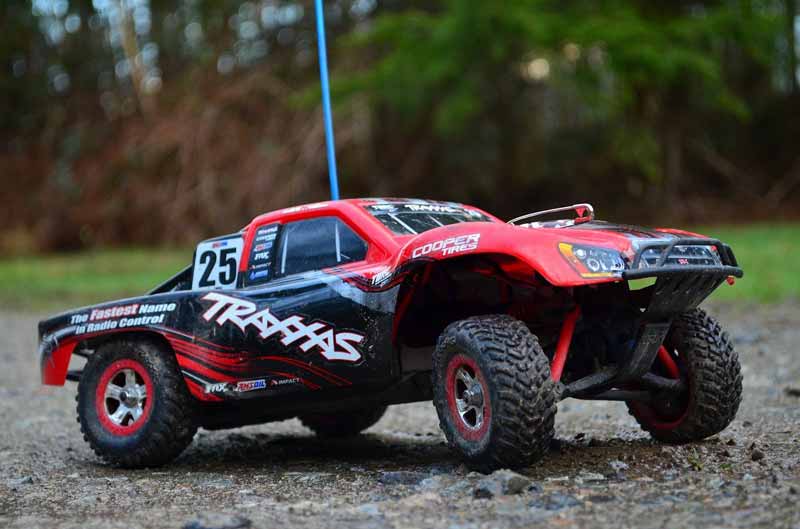 A short course RC truck is a sturdy truck that looks like a typical full-size truck and is used for bashing and racing.
SCT, as it is also called, has become popular among RC trucks. It is built for speed and handling on closed circuits with ramps on mud, dirt or gravel. It can also run on smooth tracks but it is excellent for racing on tough terrains, high grass and large tracks.  Its size is somewhere between a buggy and a monster truck. A short course RC truck is not easily damaged when it flips or jumps and is good for a racer who likes making jumps. A short course RC truck is used for short course races.
What Is an RC Short Course?  
An RC short course or short course off-racing is the racing of modified vehicles on an outdoor dirt road course. The races are short courses and they are also made for off-road RC trucks.
The tracks are different from regular off-road racing tracks. Short course races are shortened forms of long course desert races and are good for beginners in the racing hobby.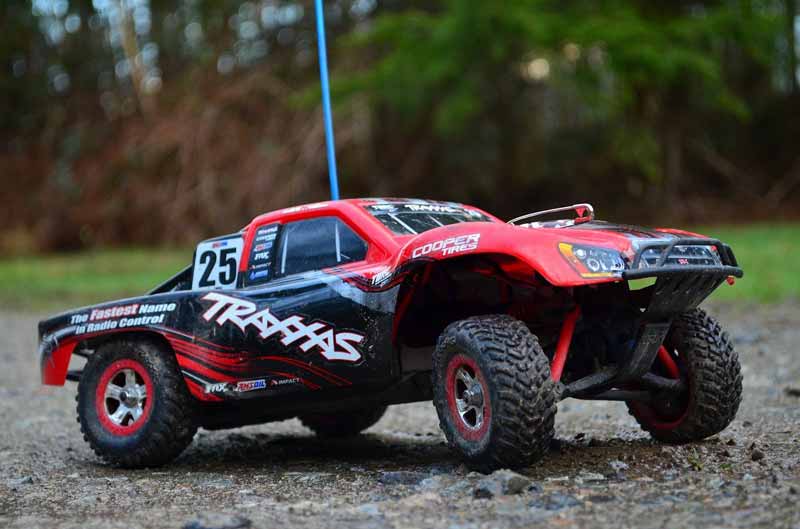 What Are Short Course RC Trucks Good For?
Short Course RC trucks can do a lot of flips and jumps and are very good for bashing and racing. They are rugged and can absorb forceful contact or impact with other trucks which makes racing exciting and fun. 
They survive wear and tear very well. They have larger tyres that allow bashing and racing on rough terrain and larger tracks on gravel, dirt, high grass and mud. Their suspension is one of the strongest when looking at RC vehicles. They also have higher torque that makes them able to pull things.
What Are Short Course RC Trucks Races?
Short course RC races are racing events where all the racers attempt to get the highest number of laps in a set time. It isn't a game of getting to the finish line first. 
The winner in this race will have to complete the most laps in a set time. When buying a short course truck for a race, consider the brand and specifications. A lot of short-course races have specifications on what kind of motors you can use.
What's the Difference Between a Short Course Truck and a Stadium Truck?
A short course truck is a RC truck designed for bashing and racing. It is built for durability and high performance. A short course truck is a competitive race vehicle that can absorb contact with other trucks. Its scale is usually 1/10. It is narrower than a stadium truck and its tyres are smaller and shorter.
On the other hand, a stadium RC truck is a sub-type of RC vehicle that looks like a typical truck used in stadium races but isn't necessarily used there.
The differences between these two models are the style, tyres, size and handling. Most times, stadium trucks are smaller than short course trucks. They can make sharp turns more easily than  short course RC trucks because short course trucks are heavier and bigger and more likely to sway or flip.
Although, they have similar suspensions, motors, and drivetrains on both of these vehicles.  
RC Buggy vs Short Course Truck
An RC buggy is a radio-controlled off-road racing vehicle. It is smaller when compared to a short course truck and is better for racing than bashing.
Buggies are in 2 categories: two-wheel-drive (2WD) and the four-wheel-drive (4WD). They are good for running on dirt and carpets. A short course truck is bigger and heavier and very good for bashing. 
Most models have aluminum shocks that absorb impact or contact from other trucks. Short course trucks have a higher center of gravity and bigger and heavier frames than buggies. They can make flips, bounces and jumps.
How Long Is a Short Course Truck?
RC trucks come in various sizes, 1:8, 1:10, and 1:12. The most common size or scale of an RC is the 1:10 scale (or 1/10th scale). These days, there are even smaller sizes.
Short Course RC Truck Setup
After buying a short course RC truck, proper building or set up of equipment is important to help you get the best out of it.
Chassis: It is important that the chassis of a short course truck should have a smooth bottom.
Tyres: Tyres determine ground clearance. Large tyres have traction on rough terrains.  
Body: A painted and stickered body contributes to the center of gravity. The body should be as low as possible and thin stickers should be placed where the tyres rub.
Shocks: Shocks on either sides, fronts or rear, should be of the same length when fully extended and should extend at the same rate. It is important you build your shocks correctly.
Suspension and steering: The suspension arms should move freely on their own weight when not bound.
Drivetrain: The drivetrain delivers power to the wheels. All bearings on the drivetrain should be properly seated to avoid vehicle slowness.
Wiring and electronics: Hard impacts with other trucks and constant vibration can cause gradual damage to components. Use foam and tape to wrap fragile components like the receiver box. The wiring shouldn't be too tight or too loose.
Best 1/10 Short Course Truck
The fastest and most powerful 1/10 Short Course Truck is the Traxxas X-Maxx.
It is a bash machine designed to conquer the most extreme terrain with its amazing acceleration and 50+mph speed limit. It can go up to 60mph if it is allowed to. As a shaft driven 4WD with good ground clearance, the Traxxas X-Maxx is all about strength and agility. It is easy to access critical components in situations of maintenance or repairs.
5 Best Short Course RC Truck
So far, Traxxas is the fastest name in radio control. They have the fastest, strongest and most capable RC vehicles. Check out this list of the top 5 short course RC trucks with the Traxxas X-Maxx as the overall best.
#1 Traxxas X-Maxx
Traxxas is a top-quality truck that can attain the speed of 70km/h. It has a powerful engine and four big, independent tyres that are low to the ground and can move very fast. Its body has great shock absorbers and it can climb over any obstacle. This makes it excellent for handling. The truck comes fully assembled but without rechargeable batteries.
#2 Traxxas Slash 4X4 Ultimate
The Traxxas Slash 4X4 Brushless Short Course Truck is more like a buggy. It has 60mph top speed, a low chassis and an independent suspension system for navigating rough terrains. It has high-capacity GTR shocks and a high-torque metal gear-servo.  It is quite expensive and is beautiful to look at.
#3 Traxxas Slash 2WD Short Course Truck
The Traxxas Slash 2WD Short Course Truck is a waterproof RC truck that can go through puddles and dry land.  It is good for intense fender-to-fender, high flying off- road action. It can go up to 30mph when it is charged.
#4 Redcat Racing Blackout SC Pro Truck
The Redcat Racing Blackout SC Pro Truck is a waterproof electronic truck that comes assembled. It is a shaft driven 4WD that has good adjustable components for good stability on rough terrain and race track. It has a speed limit of 35mph.
#5 Traxxas 68086-4 Slash 4X4 Truck
The Traxxas 68086-4 Slash 4X4 Truck is an effective model for all terrains. It has a waterproof electronic system and a speed limit of 60mph when on flat ground. It has a fast charger that charges in 45 minutes. The Traxxax has oil-filled extra shocks for a super-smooth performance and a high-torque waterproof steering servo.
Who Should Get a Short Course RC Truck?
Anyone who has an interest in racing should get a short course RC truck. They are affordable and durable. Short course trucks are good for making jumps, bounces and flips and anyone who likes making jumps will find them exciting. There are numerous truck types available in 2WD and 4WD.
Besides, short course RC races are good for beginners and old timers. They bring people together in a fun and friendly way.
Conclusion
Whether you go for a short course RC truck or a stadium truck, having clarity of purpose is important. You have to consider if you are entering a race contest or buying the truck for fun. This will lead you to deciding the motor type and handling aspects. You cannot wish to go climbing on large obstacles in rough terrain and choose a short course truck. A RC monster truck will be a better choice. A short course truck is a RC truck designed for bashing and racing. Meanwhile, a stadium truck is like an oversized buggy and is excellent on rough terrains. It is durable and is better for bashing than racing.
If you are wondering, the difference between bashing and racing is- bashing is a term for anything that involves jumps and doesn't involve racing. Racing is an organized event where speed is key.  So, go on and choose the best RC truck for yourself.