11 best shocks for any RC car (researched Across Many RC's)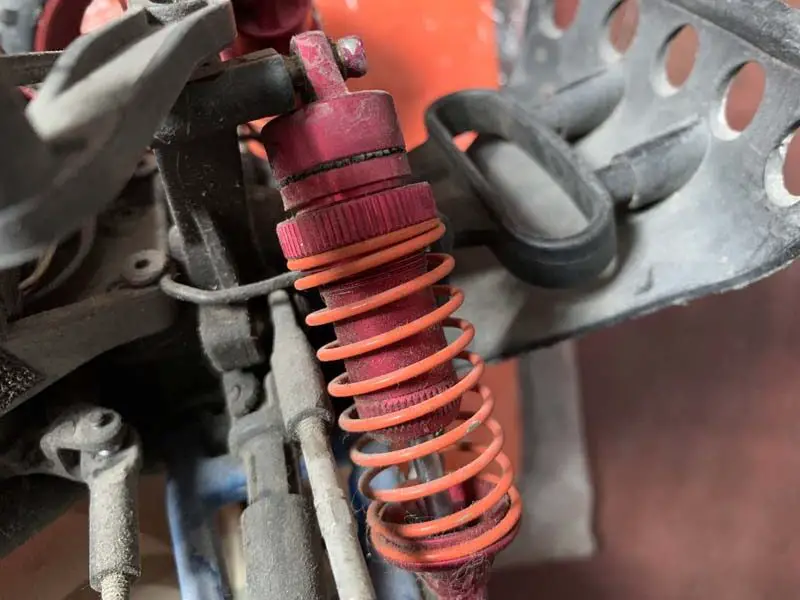 With RC shocks, you can effortlessly reduce the amount of bounce your vehicle produces, so you enjoy a better ride. 
Good RC shocks will also reduce your RC car maintenance cost since they ease the compression and rebound of your suspension system.
Whether you are looking for improved handling and cornering ability on backroads, curvy canyons, or for fast desert running, we highlight in this guide 11 of the best shocks for any RC car. 
Best RC shocks for any use: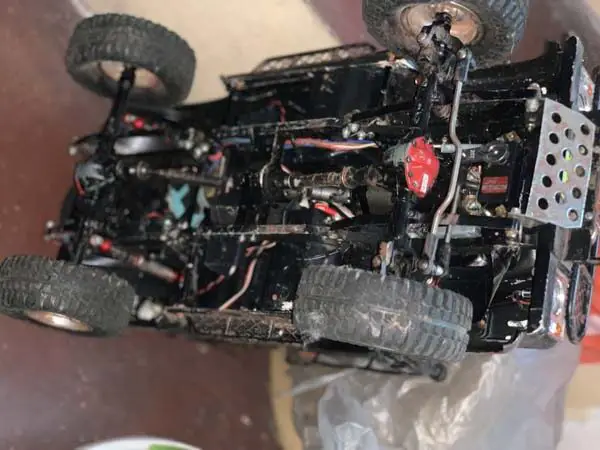 Desert lizard by Yeah Racing
If you're looking for a way to fine-tune your rise, this shock from Yeah Racing is sure to leave a lasting impression. 
The Desert Lizard 100mm Internal Spring Shock comes pre-packaged in an attractive windowed box with a protective foam tray to prevent them from damage.  
It also comes with quality race-level components like the titanium-coated shafts, CNC-machined aluminum part, an anti-leak o-ring system, and a uniquely crafted V-hole piston design.
While this shock is built like every other superior-grade damper, the anti-leak seal it comes with prevents leaks when driving, and you never have to worry about floating pistons since the tolerance between the e-clips and piston is tight. 
The best part is you get to enjoy this high-quality aluminum threaded shock for as low as $25
Injora shocks
Like the Desert Lizard from Yeah racing, Injora shocks are a must-have. 
Available in arrays of upgrades, from the 32mm internal spring model to the 40mm and 100mm models, Injora shocks exceed the performance of many stock shocks. 
They offer ease of compression, free travel, and added adjustability. At a cost price under $20, Injora shocks are a solid add-on if you are looking to upgrade your RC vehicle. 
Losi DB Pro
When it involves looks, the Losi DB Pro shocks rival several top-quality shocks. But that's not the most impressive part. 
It is designed with lightweight CNC machined PTFE-coated hardened aluminum alloy material, offering durability annd improved overall performance. 
Plus, it does not flex as much as plastic when used under stress or high ambient temperatures. 
At a price under $40, the Losi DB Pro shocks will be a great addition to your RC car, no matter its use. 
Best shocks for RC crawler: Traxxas 5862 Big Bore Shock Set
Own a rock crawler and want to make sure they move seamlessly on any surface? The Traxxas 5862 Big Bore shock set is the perfect addition to your crawler. 
Many RC enthusiasts believe this RC shock is the ultimate bump and jump control. The simple reason is because of its quality build and ease of use. 
Crafted with hard-anodized aluminum bodies, this damper can withstand the pressures of massive jumps. 
Plus, the PTFE-coated shock bores and titanium-nitride coated shafts come with providing incredible durability and frictionless operation for ultra-smooth piston movement and long-lasting performance. 
Best shocks for RC drag racing: Hot Racing
Hot racing makes some great electronic parts, and their shocks are no exception since they are resistant to high ambient temperatures and are durable. 
Plus, the o-ring springs come with a collar to prevent unwanted adjustments. 
This shock from hot racing has a CNC machined aluminum construction that offers them a tough surface against wear. The best part is that they come with bleeder screws for easy maintenance. 
Best shocks for short course RC: GTR shocks
The GTR shocks offer a superior advantage in damping performance and consistent lap-after-lap control. 
Designed with a machined, threaded, aluminum body, this shock comes with an oversized spring collar for precise and easy pre-load adjustments. 
Unlike many shocks, it also comes with a vented spring perch that helps you prevent dirt from packing around the X-ring seals. 
The hard-chrome shafts offer you smooth racing action and consistent performance. 
The Traxxas big bore shock sets are a nice upgrade for your RC car, but the GTR shocks are on a whole new level for a far lesser cost. Plus, they are less maintenance.
Best shocks for bashing: Hobbypark Aluminum front rear shock
For a price lesser than $50, this shock is good and works well for bashing. 
Made of quality aluminum alloy and CNC machined for precision, this shock is Compatible with several RC cars from the 1/10 Traxxas Slash 4×4 to the Stampede 4×4, Rustler 4X4 VXL, Rally 4X4, and many other RC car models. 
The only con of this shock is that it is not as durable as other Traxxas stock models, yet, they are great for big jumps and hold well. 
The 4 best budget RC shocks (up to $60 for 4)
Need an RC shock for around $60? Here are some suitable models perfect for any use. 
Pro-Line Racing 1/10 Powerstroke Rear Shocks
A perfect fit for stock Slash, Slash 4X4, and SC10 models, this rear shock from proline has a uniquely crafted aluminum body and shock cap. 
Plus, the infinite spring pre-load adjustment and super durable spring retainer and shock end means you can easily adjust your springs when needed. 
The best part of buying these shocks is that they last longer than the Big bore shocks, can make higher jumps, and prevent high impact collisions with the ground. 
Best shocks for touring: Tamiya TRF Big Bore Shocks
At $65, this shock from Tamiya features powerful components that make them efficient for handling and control needs. 
Compared to the stock TRF shocks, the titanium-coated piston rods offer more traction, especially in lower grip or bumpy track conditions, and smoother travel. 
It also has an anti-friction coating that ensures smooth shock action on all bump and curved terrains. 
Schumacher big-bore touring shocks
Compatible with most touring cars, the Schumacher big bore shocks are good on bumpy, low traction tracks and higher grip surfaces. 
Its built quality comprises titanium nitride-coated low friction shock shafts, PTFE-coated low friction threaded shock bodies and an optional range of 5 CNC machined pistons. 
Team Associated 89047 Threaded Shocks Rear
If you have an RC car from Associated Electrics, you know how durable their build quality is. This shock is no exception. 
With its aluminum build and anti-leak o-ring system, this $60 rear-threaded shock will move seamlessly, no matter the terrain or use. 
Our standards for this list
We understand that tires have the biggest effect on traction, and getting the right shocks will help keep that tire on the ground as much as possible. 
Hence, our selection is based on five criteria;
material, versatility, adjustability, build quality, and price. 
The material used in designing RC shocks determines how durable they are. Every shock in this list is crafted from aluminum alloy material and is CNC machined to last long. 
Versatility for using on different types of RCs
Apart from the material, these shocks are compatible with several RC models in their use range, so you never have to worry about finding quality upgrades. 
This feature ensures your piston is sited solidly without shifting during movement, yet, it allows for adjustments. Every shock in this list offers ease of compression and free travel for added adjustability. 
We also make sure that they are built with an anti-leak o-ring system to prevent wear, break, and leakage when driven. 
The best part, they all have a price range between 20 to 60 dollars. For instance, the Desert Lizard costs only $25, while the Losi DB pro comes at a selling price of $40; quite an affordable upgrade from RC shocks worth over $100. 
The Bottom Line
RC shocks set the tone for your driving experience since they affect the handling and movement of your vehicle. 
When you notice your RC car waivers more around bumps and potholes, it simply means that shocks are not performing as they should. 
Bad shocks result in excessive leaning when traveling over speed trails and corners. Plus, they will produce unusual noises while the tire wears out easily. 
In short, when your shock is too stiff, you risk harsh and bumpy rides. On the other hand, too softs shocks will make the car feel mushy, reducing its performance. The good news is that you can tune them to the perfect shock absorption. 
No matter your driving preference and application, we hope that these shocks listed here will save you cost while improving your ride quality. 
Read More
6 Best RC shocks for bashing (2022)
What Are The 4 Best shock oils for Rock crawler (2022)