6 best 1/5 scale RC basher | Your Research Is Done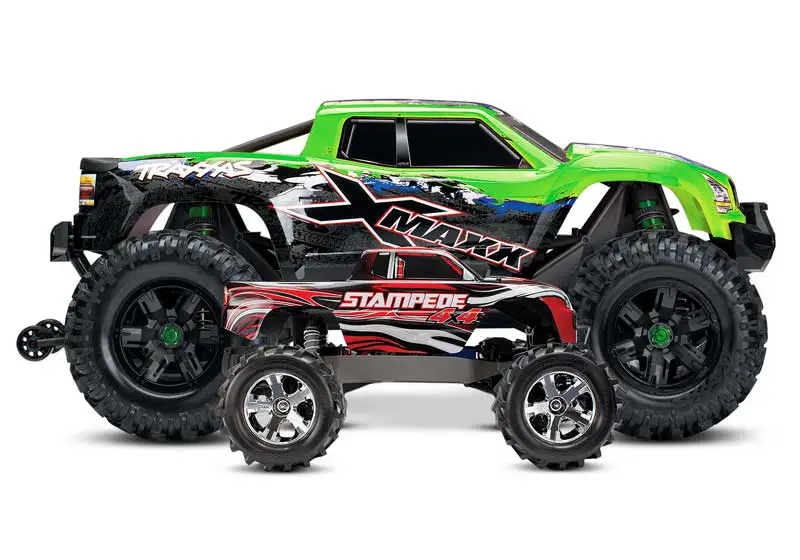 When it involves RC cars, every RC enthusiast knows that there are different scales to meet bashing, drifting, crawling, and racing needs. 
Bashing will involve making high jumps. For this reason, every basher needs a large-scale RC vehicle to meet its performance demands. 1/5 scale RC vehicles offer this performance and functionality demands for bashing. 
If you're considering buying an RC vehicle for your bashing experience, we discuss six of the best 1/5 scale electric and gas-powered RC basher models in the market that will meet your needs. 
Why a 1\5 RC basher Is The Best
1/5 RC bashers are known for their strength, solid build, speed, durability, and increased performance. 
If you've never used or owned a 1/5 scale RC basher, you may find them a challenge to handle. Before buying one, you need to know what your RC basher offers. 
The most fantastic feature every RC basher comes with is a super soft suspension that gives a realistic look, feel, and driving experience. You will also find either a powerful nitro engine, brushless or brushed motor. 
A 1/5 scale RC basher will also have massive tires mounted on bead lock rims for durability to ensure good traction, increased speed, and power. 
Other characteristics of 1/5 RC bashers include a reverse gear slider that promotes easy reverse engagement, a battery mounting plate, high voltage throttles, and receiver servos.
So, what are the best 1/5 RC bashers today? 
Some of the best 1/5 scale RC basher available in the market include:
1. Primal RC V3 RTR
One of the best products by Primal, this Primal RC V3 RTR monster Truck is not for the faint-hearted as it comes with exceptional features for exciting runs. 
Almost as functional as a real-life monster truck, this RC basher is built durable and strong to gear up your vehicle's performance. At 23 inches tall, this gas-powered monster truck weighs 75ounds.
Hence, they are only convenient for advanced RC Drivers due to their size and weight!
However, what makes this truck truly exceptional is the fact that it comes right out of the box with all the upgrades meant for V2 Truck, including the 100KG brushless steering servos, large capacity MEGA shocks with huge 10mm shock shafts, aluminum enclosed battery, receiver, and remote kill switch box with a voltage meter, reformed reverse gear slider and the upgraded hardware with more robust cap head bolts. 
The 1/5 Primal RC basher is strongly reinforced with CNC-cut Aluminum parts from all corners. 
It also has a large 11inches x 4.5inches MEGA MUD tire mounted on its 24mm hex bead-lock Nylon rims, plus an inner tire foam that ensures good traction. 
At 5mm, the chassis is made with thick Aluminum in a six-piece modular form. The best part, it comes with five interchangeable gear ratios to ensure a flexible bashing experience.
With high-speed gears installed, this basher can even reach speeds around 30+mph. 
It also operates a FLYSKY FS-GT5 2.4 GHz 6 channel computer radio, ensuring uninterrupted transmission when run.
This monster truck has a runtime of about 2 hours and is priced at $3,399. 
What's in the box
-Front and Rear Axles
-Throttle servo
-Center driveshaft 
-disc brakes
-Tires
-Chassis
-Body 
2. Traxxas desert racer
No RC Monster truck beats scale realism like the Traxxas Desert Racer. 
The first thing you will likely notice about the Traxxas Unlimited Desert Racer is its massive size. 
From its nose to tail, this monster truck has a length of 27inches. What makes it truly a beast is that the monstrous truck weighs 6.1kg and can run on a 6s LiPo, which is usually impossible for most RC cars. 
It also comes with a 6S capable ESC, a VXL 2200kv sensorless brushless motor, a TQi 2-channel 2.4Ghz radio system, and a high torque servo to power the steering. The truck is 4wd and comes with a solid rear axle. 
It also has independent long-travel front suspension and a unique tube-style frame with an inverted center tub surrounding the chassis.
What's in the box
-VXL-6s ESC
-2200kV motor
-Quick Start Guide
-TQi 2.4GHz radio system
-High-quality maintenance tools
3. Losi 1/5 DBXL-E 2.0 4WD Desert Buggy
When it involves agile handling and impressive speeds right out of the box, the Losi 1/5 DBXL-E 2.0 4WD Desert Buggy is the perfect basher for you. 
It operates a waterproof Spektrum Firma 160 Amp brushless ESC and a Spektrum Firma 4-Pole 780Kv brushless motor with 13T pinion gear that provides wicked speeds up to 50+mph when used with an 8s LiPo battery. 
It also has a 30-kg HV rated Hi-Torque Metal Gear Servo and a 4mm thick 6061-T6 aluminum chassis with a stiffening plate. 
This 1/5 scale basher also weighs, unlike many buggies. At 28.3 lbs (12.8kg) without batteries and 30.5 lbs (13.8kg) with batteries, this RC car will hold steady on any terrain run. 
The Losi basher can also be run on rugged terrains, from dirty surfaces to rough pavements and wet conditions, especially as it is built with a 4WD drivetrain and larger 5mm drive pins.  
The unique part of this Losi Basher is that it also has a gas-powered model. 
The Losi 1/5 DBXL 2.0 4WD Gas Buggy RTR is built big and bold for real bashing excitement. With a powerful Zenoah G320 32cc 2-stroke gasoline engine and 800cc gas tank, the Losi 1/5 scale buggy will offer more displacements that promote heart-pounding thrills and can run at speeds 60+mph.
With a functional gearbox and full-time 4WD 5mm drivetrain, the gas-powered Losi basher is designed for intense vigor. 
It also comes with 6mm thick Aluminum Front and Rear Shock Towers that offer you more durability and tuning options.  
What's in the box
-Losi DBXL-E 2.0 Desert Buggy
-Spektrum Firma 160 Amp Brushless Smart ESC (installed)
-Spektrum Firma 4-Pole 780Kv Brushless Motor (installed)
-Spektrum™ DX3™ Radio System
-Product Manual
4. Redcat Rampage MT V3 RC Monster Truck
Whether you're looking to enjoy an offroad or on-road bashing experience, the Rampage Mt V3 is the ultimate bashing option. 
This Redcat has an impressive size, realistic body detailing, functional wheels, and tire, making it impossibly genius. 
If you're thinking about getting more speed, this basher model allows you to rev up the throttle with its powerful 32cc 2-stroke gasoline engine that offers speeds up to 62mph in just six seconds. 
It also has a 4WD drivetrain and dual steering servos that keeps you in complete control of the beast on rugged terrains. 
The Rampage MT V3 readily comes with a sizeable oil-filled aluminum shock that offers improved stability on both soft and hard surfaces. 
Even the 4mm Aluminium 6061T6 chassis and the four-wheel suspension build won't disappoint you as this RC basher effortlessly tears through all terrains. 
What's in the box
-Battery
-ESC
-Charger
-Receiver
-Radio
5. 1/5 Arrma KRATON 4WD 8S BLX
Like almost all bashers, Arrma designed this 1/5 Kraton 4WD 8S BLX bashing machine to look big, rugged, and powerful. 
This basher can blast through dirt trails, defeat dunes, and take big jumps. 
The most incredible power of this Kraton basher comes from its 1250Kv Spektrum Firma brushless motor that provides good torque and acceleration for improved speed. 
You will find a spiral cut differential gear capable of handling 8S battery power at both its rear and front differential positions.
It also comes with 4mm thick 6061 T6 anodized aluminum chassis plates with composite side pods and a triangular center brace for increased durability. However, the backbone and brain of this basher are its Firma Smart 160A ESC and SR6100AT AVC receiver. 
This 4WD basher is capable of 55+mph speeds when run in optimum driving conditions. 
What's in the box
-Spektrum DX3 3-channel 2.4GHz Radio with SR6100AT AVC Receiver
-Spektrum Firma 160A Smart ESC
-Spektrum Firma 1250Kv Brushless Motor
-Spektrum S905 Metal-Geared Digital Servo
-Product Manual
6. Traxxas X-Maxx
Technically, Traxxas models are known to be expensive; it's no wonder this Traxxas X-Maxx costs $999.99. 
However, this basher is worth it with the advanced setup. 
It has a simple, minimalist, and tough modular composite chassis that looks sporty. You'll find bumpers at its front and rear and a wheelie bar built from hard plastic that provides balance and helps protect the vehicle from high-impact crashes and landing. 
However, this RC basher unique is its self-righting system that ensures your RC vehicle does not flip back due to high speeds. 
Regardless, the Traxxas X-Maxx comes with a Velineon 1200XL Brushless motor, a powerful VXL-8s speed controller, and a 4WD suspension system that gives them more power. 
This RC basher can even speed up to +50 mph and 23minutes runtime when used with two 4S LiPo batteries. 
What's in the box
X-Maxx, Ready-To-Race model with Traxxas Big Block brushless motor
-VXL-8s waterproof electronic speed control with integrated telemetry
-Quick Start Guide
-TQi™ 2.4GHz radio system
-High-quality maintenance tools
| | | | | | | |
| --- | --- | --- | --- | --- | --- | --- |
| | Engine/ Motor | Size | Weight | Price | Power | Materials |
| Primal RC V3 RTR | 49cc 4-bolt 2 strokes pull start engine | L-39" H-24"  | 75pounds |  $3,399 | Gas-powered | Aluminum |
| Traxxas Dessert Racer | Velineon 2200KV Sensorless Brushless Motor | L-27.32"H-10.29" | 13.4lb (6.1kg) | $799.95 | Electric | Aluminum |
| Losi 1/5 DBXL-E 2.0 4WD Desert Buggy | Spektrum Firma 4-Pole 780Kv Brushless Motor | L- 33.25″W-19.5″H- 12.5″ | 28.3 lbs (12.8kg) without batteries, 30.5 lbs (13.8kg) with batteries | $1,199.99 | Electric | Aluminium |
| Redcat Rampage MT V3 RC Monster Truck | Gas 32cc HY 2 Stroke | L- 29.1"W- 23.6"H- 13.8" | 15.2KG (33.4 LBS) | $879.99 | Gas | Aluminum |
| 1.5 Arrma Kraton 4WD 8S BLX | 1250Kv Spektrum Firma brushless motor | L-30"W-23.7"H-10.47" | 24pounds | $969.99 | Electric | Reinforced Metal |
| Traxxas X-Maxx | Velineon 1200XL Brushless Motor | L- 29.84″W- 22.26″H- | 19.1lbs |  $999.99 | Electric  | |
Why go 1\5 scale?
Remember that the larger an RC scale is, the smaller their RC car size and the lesser their performance and speed capacity, primarily when used for bashing. 
Usually, RC trucks come in different scales for outdoor and indoor bashing and racing activities. You want to go big for bashing since bashing equates to racing off-road in an aggressive style with few or no rules and regulations to test your RC car limits.
While some RC bashers are 1/8 scale, the large majority are often 1/5 scale since they require better performance and handling. 1/5 scale RC vehicles are often the largest among other RC cars. Plus, they are 17 inches long and will provide the ideal power-to-weight ratio required for bashing.
Should you choose electric or gas?
The most significant advantage of electric-powered RC vehicles is that they don't demand constant fuel. However, charging a battery can be time-consuming and require costly maintenance. 
Add the fact that electric RC cars have a limited speed range. On the other hand, gas-powered run for more extended periods, offer more speeds, and are super-fast. Yet, they can be noisy. 
If you intend to use your RC vehicle for bashing, you want to go the gas-powered way since these RC vehicles are faster and offer more speed. However, electric-powered RC bashers will be a great option if you are a beginner basher. 
Conclusion
RC bashers are powerful and come with high-quality parts to make them function well. However, they can be costly, especially the gas-powered ones. 
Regardless, they give you the bashing thrill you seek. For seasoned hobbyists considering buying an RC basher, the gas-powered ones work best, while the electric ones are great for beginner hobbyists.