What primer to use on miniatures (brands, Types, and Colors)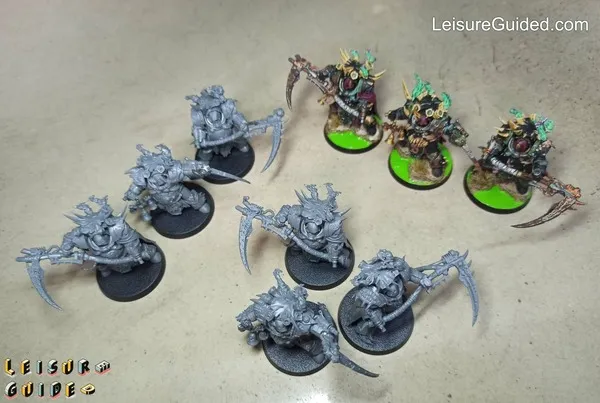 Priming your miniature is quite a tricky task.
The cheap ones will leave lumpy parts, not cover very well, obscure detail in your miniature, or even peel off after a while. A decent primer will do the opposite. For this reason, you need to get a good primer for your miniatures. 
Recommended primers To Use On Miniatures 
Some of the best primers to consider when preparing your miniatures for painting includes:
Vallejo surface primers, whether black, white, or grey color, offer the best priming results compared to other brands. 
When sprayed, this primer provides an exceptional undercoat for your minis. They are smooth and silky and rarely clog detail.
Vallejo Primer Pros
It can be sprayed and brushed
Excellent undercoat coverage
Vallejo Primer Cons
The primers are thickly pigmented, unlike primers from other brands
GW Citadel primers are a good undercoating for Warhammer minis. The only drawback to them is that they can be unpredictable. 
To get the best results, you'll want to use Citadel primers in a room with fine operating temperatures and conditions (a mild room with low humidity). 
Citadel Primer Pros
Levels smoothly on the miniature
Superior quality with exceptional adhesion
It offers excellent coverage in just one single thick coat
Citadel Primer Cons
Quite expensive 
Designed for spraying so it can be toxic in a room with poor ventilation
Tamiya Paints' Miniature Primer is one of the best mini primers you want to use on your small figures, thanks to its enamel-based. 
When sprayed, it provides an extremely thin mist to achieve a finely coated surface. It also works well on metal and plastic surfaces. But, ensure that while using Tamiya primers, you use them in an environment with low humidity.
Tamiya Primer Pros
Retains details even when you apply thin coats several times
Sticks well to all surfaces
High-quality
Tamiya Primer Cons

Rustoleum 2x primer is better suited for large surfaces but will work well on miniatures. 
It comes in a 12 oz can that allows you to spray coats faster and thinner. What this means is you get close-to-thick coats and cover everywhere in the shortest time possible. This primer is also a fantastic choice for miniatures because it works and bonds well on any material, whether plastic, metal, or wood. 
Rustoleum 2x Primer Pros
Large spray can mean you can use the primer on a large number of minis
It comes in different colors, so you can choose whichever suits your paints
Great on any material
Rustoleum 2x Primer Cons
Won't provide thick coats

Army Painter Primers are one of the cheapest in the market as they sell for $15-20, and they even work well on all miniatures, including those made of plastic and metal.
Army Painter primers always find their way onto my list of best primer brands because of their accessibility and ease of use. The fact that there are many colors available for their primers also makes them stand out. 
Army painter Primer Pros
Easy to find at local hobby shops or game stores
It comes in many colors 
It applies thinly when sprayed from a proper distance from the miniature or model. 
Budget-friendly
Its enamel-base solution means it bonds well on a variety of surfaces
Army painter Primer Cons
It requires a ventilated area for safe use.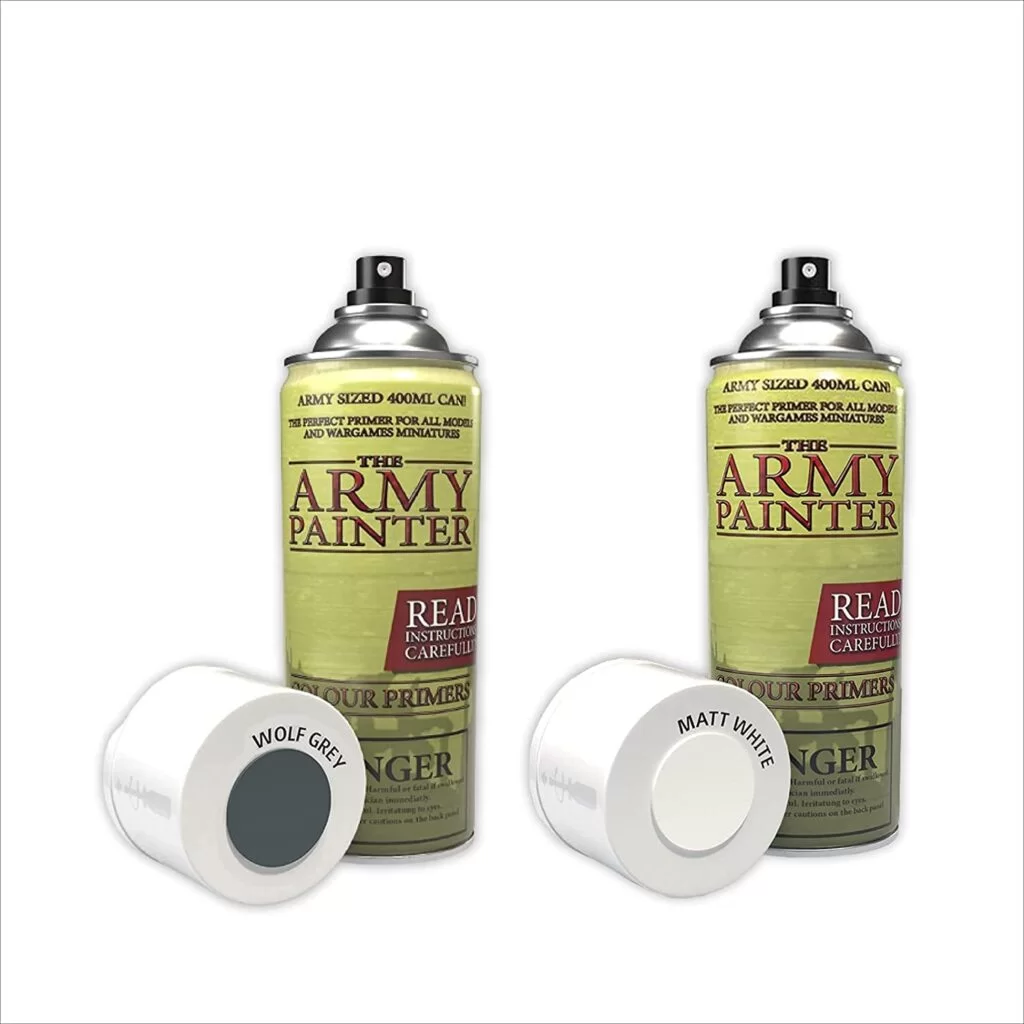 Krylon's primers double as a primer and paint. 
Notwithstanding its multifunctionality, they are good quality primers and have all the basic primer colors. This primer is exceptionally good because applying them as an undercoat won't require many tasks. 
Krylon Primer Pros
It has all the basic primer colors
Great Quality
Multifunctional
Krylon Primer Cons
You'll need to shake nicely before using the materials, else they won't adhere well

The best cheap primer for miniatures
Tamiya and Army Painter primers are the best cheap primer for miniatures in our list. 
They are less expensive and come with a lot more primer for your money.
A single coat of these primers will quickly highlight fine details on your wargaming miniature, even though they are cheaper than big brands like Citadel and Vallejo.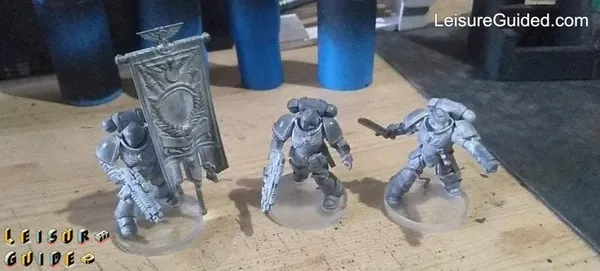 Airbrush primer for miniatures
Airbrushing a primer allows you quickly apply solid, even coats on your plastic miniatures. 
If you're looking for an Airbrush primer, Vallejo's Surface Primer will work well in an airbrush. 
But, you may want to thin them with an airbrushing medium to get a smoother coat since they are highly pigmented. Make sure you thin the primers to the consistency of whole milk before using it on an airbrush. 
Automotive primer for miniatures
Some regular automotive primers that work on par with many hobby-grade miniature primers you should consider are the Rustoleum and Krylon primers. 
While automotive primers aren't hobby-grade primers, the best feature they bring to the table is that they help you smooth out imperfections on your miniature surface. 
They also offer the same advantages as miniature spray primers. 
However, they won't coat as thinly as dedicated hobby primers. Overspray can even obscure fine details on your miniatures. To avoid this, spray these primers with the nozzle far from the miniature surface. 
Priming your minis before painting is essential
Priming is an essential part of the painting process because it gives you a strong undertone on which to apply your colors. This undertone or coat also makes it easy for subsequent layers of paint to bond easily. 
The bottom line is that if you don't prime your minis before painting, they won't stick well. 
Priming the mini helps you get a strong, adhesive undercoat to ensure the sticky adherence of the paints.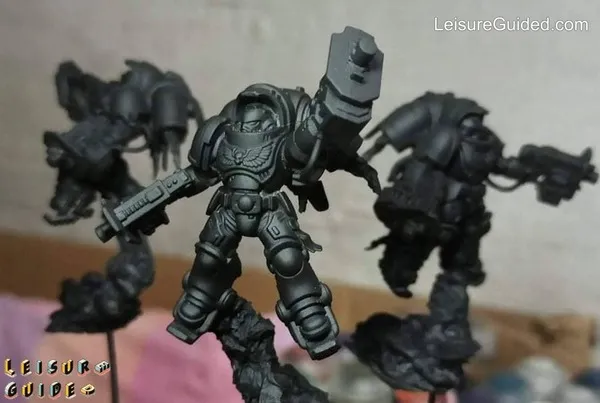 What primer base should you use?
Citadel primer bases are often the go-to choice for bases. Wonder why? They come in a huge variety of different colors and give a great thick pigment to work with. In fact, the base is so good that it can keep your paint thin over the undercoated primer.
What primer color should I use for miniatures?
Black, light grey, or white are the recommended primer colors for miniatures. 
But that does not mean you can't use other colors. The primer provides an undertone for the paint color. 
For instance, if you're painting an orc, you can use a green primer, this way, you get perfect orc details. Or, you can use a red primer when painting dragon minis. Keep in mind that some colors might not cover as nicely as others. 
Always choose spray primer
When priming your minis, the most important thing is to avoid obscuring the details. 
In simple words, you need to ensure that the primer coat is super thin as opposed to thick coats. Hand brushing won't always offer this result. So, spraying is the easiest way to apply thin layers to your minis. 
Hence, you should use spray primers. 
Spray primer is faster if you're doing a bunch at a time and prevents bubbles from forming. But, the spray effect means you are at risk of inhaling toxic chemicals. If you're using a spray primer, wear a mask and gloves to protect yourself. 
Also, Keep a 20 to 30 cm distance (about a foot) from your mini. Spraying too close means the primer will spread unevenly on the miniature.
Does it matter what the miniature is made from?
Technically, primers can work on metal, wood, or even plastic models, it does not matter the miniature materials, it'll perfectly prepare its surface for painting. 
However, you may have challenges priming metal minis due to the greasy, mold-release substance on their surface that repels primer and paint from sticking.
Conclusion 
priming your miniatures ensures they stay durable and last long. 
But, if you skip priming or attempt to cut corners, you trade durability for instant satisfaction. On the other hand, when you apply too much primer, it might cover up fine details and lead to chipped paint. What you want to do is apply enough primer to cover everything, but not so much that it fills the details. 
So, if you need a primer for your minis, Vallejo, Tamiya, Citadel, Krylon, Army Painter, and Rustoleum primers are some of the best in the market.