Miniature Painting Starter Kit (the best+make your own)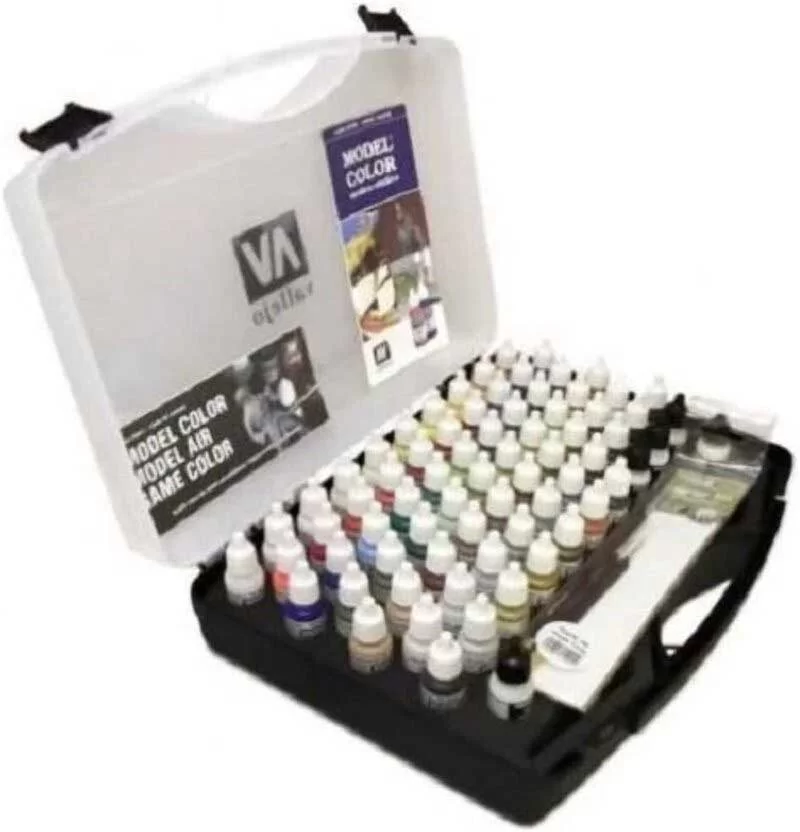 Choosing paints for your miniature can be an overwhelming and sometimes frustrating experience, especially for entry-level painters. It's why paint brands like Vallejo, Citadel, Army Painter, and Reaper always make a starter kit. 
But, if you've asked most advanced painters for advice on a good starter kit for your miniature painting, there's probably one thing they always say, "buy paints individually as you need them instead of sets." Advanced mini painters believe that when bundled in a kit, they are not much cheaper, and you'll get loads of colors you'll probably never use. 
Well, they are right with the amount of paint you get since there will be a few you won't touch at first. But, if you buy paints individually, you won't have the flexibility of choice, and you can't learn to switch up your style.  
So, if you are looking for a good starter kit for miniature painting, we list four below with all the required accessories for your entry-level mini painting. 
Miniature Painting Starter Kit table
| | | | | |
| --- | --- | --- | --- | --- |
| | Reaper Core Skills Painting kit | Vallejo | Army Painter | Citadel |
| Price | $$ | $$$$ | $$ | $$$ |
| Size | 14.78 ml | 17ml | 12ml | 12ml |
| Colors | 11 colors | 16 colors | 10 colors | 13 colors |
| Brushes | 2 brushes (#2 Flat, #0 Round) | 3 synthetic brushes | 1 Hobby Highlighting Brush | 1 Citadel Starter Brush |
| Other tools | -instruction guide-3 bone miniatures | -a color chart | -Painting guide | -Citadel Starter Set Clippers-Mouldline Scraper |
Reaper paints may seem old school for most advanced mini painters, but they are also a good initiation paint for beginners. A good example is the Reaper Core Skills Painting kit. 
This starting kit will perfectly suit Dungeons and Dragons mini fans but with practice can work for other miniatures such as Warhammer 40k. 
The paint goes on well and comes in 14.78ml dropper-style bottles. The only drawback to Reaper's starter kit is their brushes which damage easily since they aren't of the best quality. 
So, what's included in Reaper's kit? 
11 bottles of MSP core colors. They include:
Leather Brown
Pure Black
Polished Silver
Harvest Brown
Candlelight Yellow
Naga Green
Desert Sand
Mountain Stone
Dragon White
Blade Steel
Dragon Blue
Three Bones miniatures
Skeleton Archer
Orc Marauder
Mangu Timur, Evil Warrior
2 brushes 
#2 Flat
#0 Round
Instruction guide by Rhonda Bender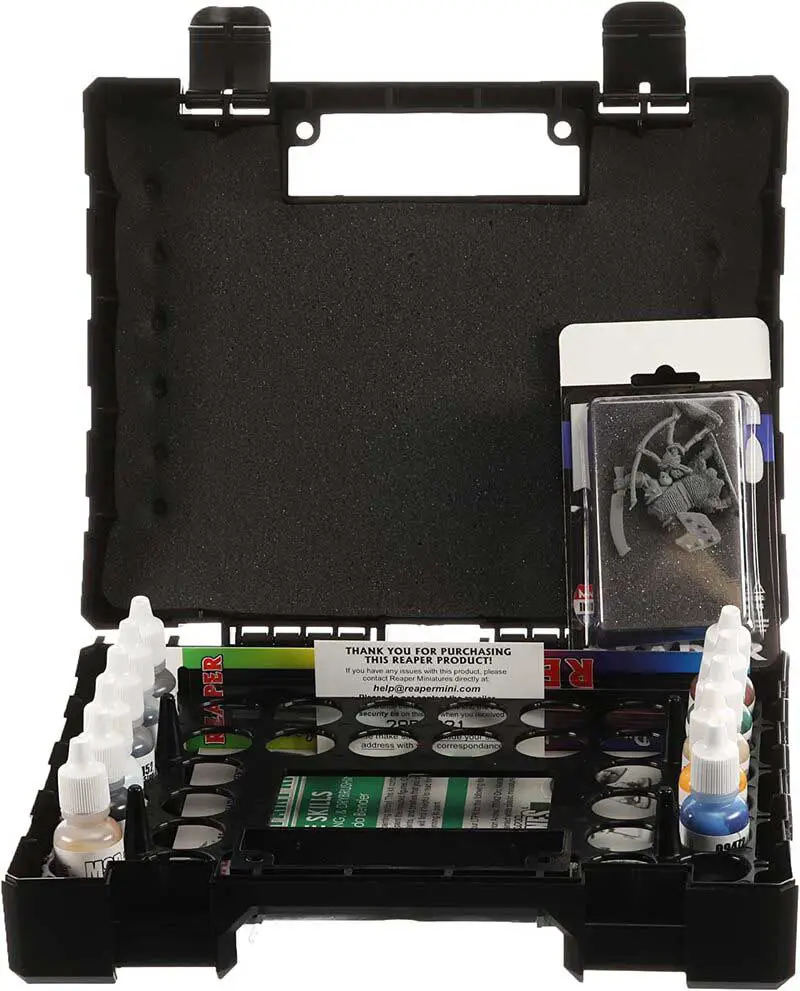 Vallejo has some good starter kits for beginners. 
Yet, the most important thing when choosing Vallejo paints is to know which line of paint to look for certain qualities. 
As a beginner, we'd recommend that you choose either Vallejo's Game or Model Color since they're simpler to use and offer a mix of muted and opaque tones with supreme coverage. Each is a great line of paint, and I even got a selection of both when I started painting. 
So, a good starter set is the Vallejo 72 Basic Colors Set. This starter kit includes:
72 17ml paint bottles with 1 medium, 1 thinner, 3 varnishes, and 62 basic colors. Some of them include:
70.890 Refractive Green
70.902 Azure
70.913 Yellow Ochre
70.950 Black
70.951 White
70.952 Lemon Yellow
70.955 Flat Flesh
70.956 Clear Orange
70.957 Flat Red
70.959 Purple
70.962 Flat Blue
70.968 Flat Green
70.976 Buff
70.984 Flat Brown
70.996 Gold
70.997 silver
3 synthetic brushes
A color chart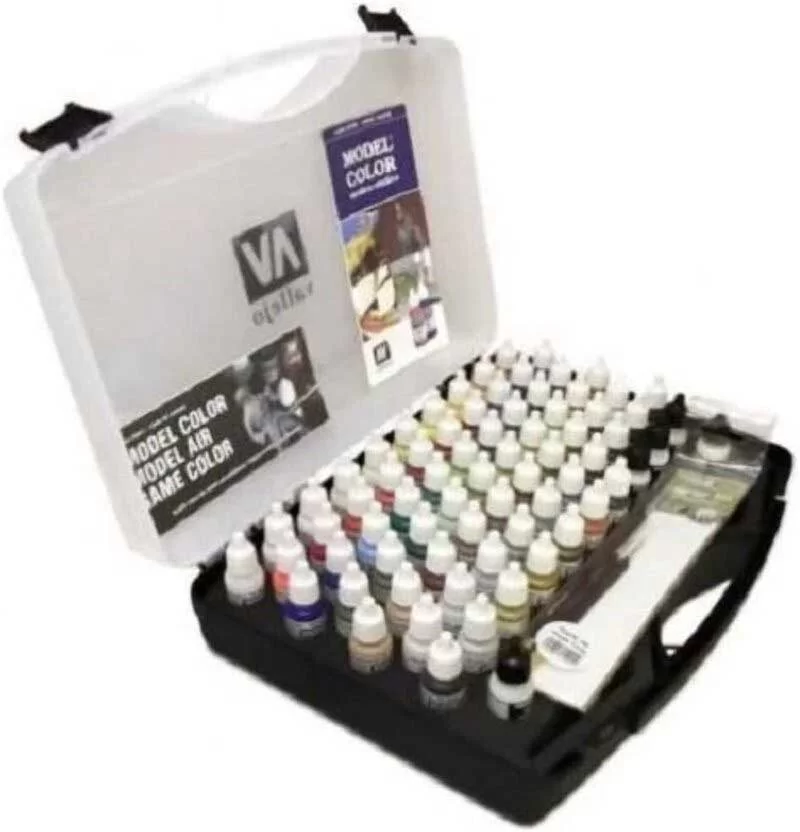 Army Painter also offers triad paint for beginner painters. 
The benefit of using this paint is that the manufacturers are die-hard mini painters who understand your pain points. So, you get paints that always work perfectly for your model at affordable prices. 
If you're a wargaming fan, consider getting the Wargames Starter Paint Set. 
It contains ten basic 12ml warpaints for miniatures:
Leather Brown
Daemonic Yellow
Matt White
Pure Red
Barbarian Flesh
Greenskin
Plate Mail Metal
Ultramarine Blue
Matt Black
a quick shade Wash; Strong Tone
3 Hobby Highlighting Brush 
a file
and a painting guide.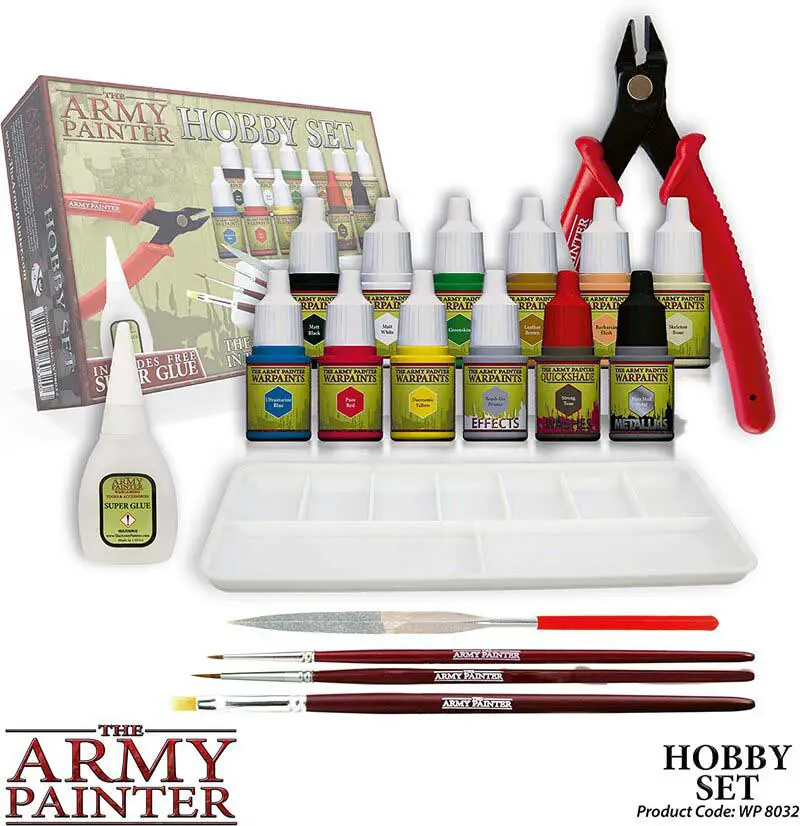 Games Workshop Citadel paint line will also work well for your Warhammer minis. You get solid base colors, shades, and textured paints in a set. 
The best Citadel starter set you want to consider is the Games Workshop Warhammer 40,000 Paints and Tools Set Box.  
It contains one Citadel Starter Brush, a Citadel Starter Set Clippers and a Mouldline Scraper), and 13 essential paints in 12ml pots:
Runelord Brass
Retributor Armour
Runefang Steel
Leadbelcher
Abaddon Black
Corax White
Macragge Blue
Averland Sunset
Mephiston Red
Bugman's Glow
Agrax Earthshade
Astrogranite
Tesseract Glow
The only downside to this paint set is that it is expensive.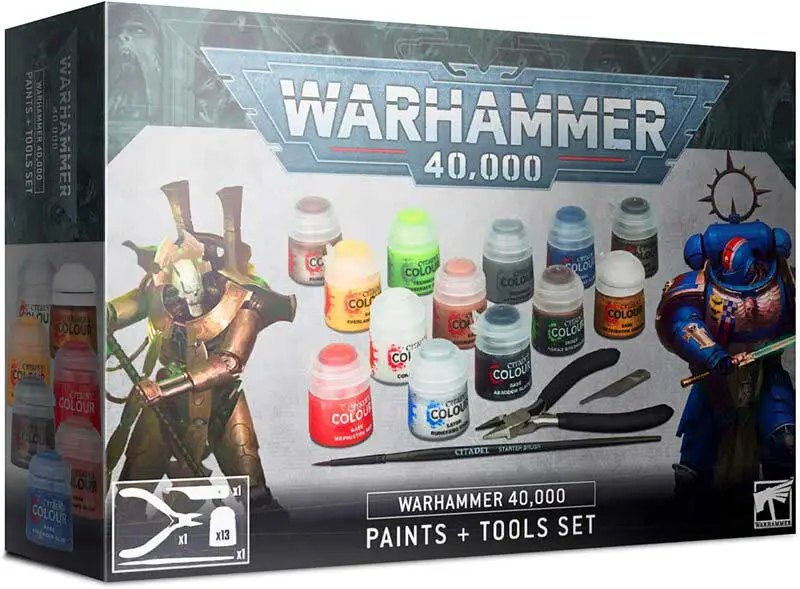 Or make your own Miniature Paint kit
If you prefer to make your kit, why not? Just make sure you choose high-quality acrylic paints with good pigmentation so that when mixed with a medium, they'll maintain their volume on any surface, offer good opacity, and flow well. 
Here are other things you need to consider when making your kit. 
What colors are the most needed in a DIY starter kit
One of the reasons why choosing a color is challenging is because there are so many to choose from. Plus, you'll get each color in a different shade. 
When choosing colors for your kid, the basic ones you need to consider are:
any shade of brown, 
ice yellow, 
dark blue (sea blue), 
light green, 
red, 
yellow, 
black, 
gold, and silver.
What brushes are a must
Brushes also differ in type and size.
You want to look for ones with pointed round ends, bristle length between 8 to 12cm, and belly length between 1.5 to 2cm. 
When considering their size, they can range from #0 to #2. 
What else do you need
Besides the paints, you'll also need a basic toolbox. Other tools you might need include: 
Sandpaper
Good light to illuminate your work area and enhance visibility when painting
Table cover
The cleanser helps you maintain a lush brush
Water pot for thinning
Vanish sealer to protect your paint after completing the project
Dont forget primer, thinner, and varnish
These are three essential tools you'll need when painting your minis. In fact, without them, you risk long-term satisfaction for instant gratification. 
A primer will help you prepare your minis surface for paint application, so the colors stick well and look good.
The thinner ensures the paints are finely mixed to offer great coverage and smooth results
A varnish will seal the painted surface to ensure durability.  
Conclusion 
Miniature painting is a fulfilling hobby when you have the right paint triad.
So, if you're a beginner painter looking for a have-it-all starter kit, consider getting paint sets like Reaper Core Skills Painting kit, Vallejo 72 Basic Colors Set, Wargames Starter Paint Set, and Games Workshop Warhammer 40,000 Paints.