6 Best airbrush for Vallejo paint | Look No Further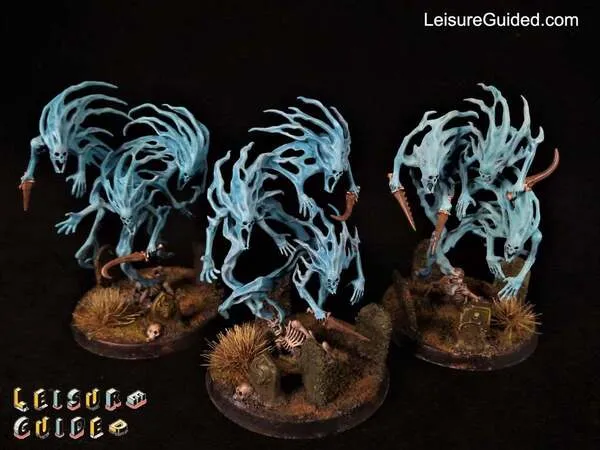 Airbrushing gives you smooth, natural pigments and perfect color blend effects. But, with Vallejo paints, you want to be more careful with the airbrush. 
Vallejo paints have quite a thick concentration that may clog the airbrush nozzle used wrongly. Plus, not all Vallejo paint is designed for airbrushing. 
Best airbrush for Vallejo paints
If you're looking for a good airbrush to use with Vallejo paints, here are some to consider:
When we talk about superior quality airbrushes, we mean something like the Badger Crescendo airbrush. 
This airbrush was made to design on T-shirts but has evolved to meet scale model and miniature airbrush painting needs. 
The trigger action is smooth, the control is accurate, and the steel body is easy to handle. 
Overall, the airbrush is easy to use but would suit professional airbrush painters more. 
Pros
Designed for professionals
The snap-off handle allows for quick cleaning and needle change
versatile
Excellent control
Con
While it is a double-action airbrush, it uses more air pressure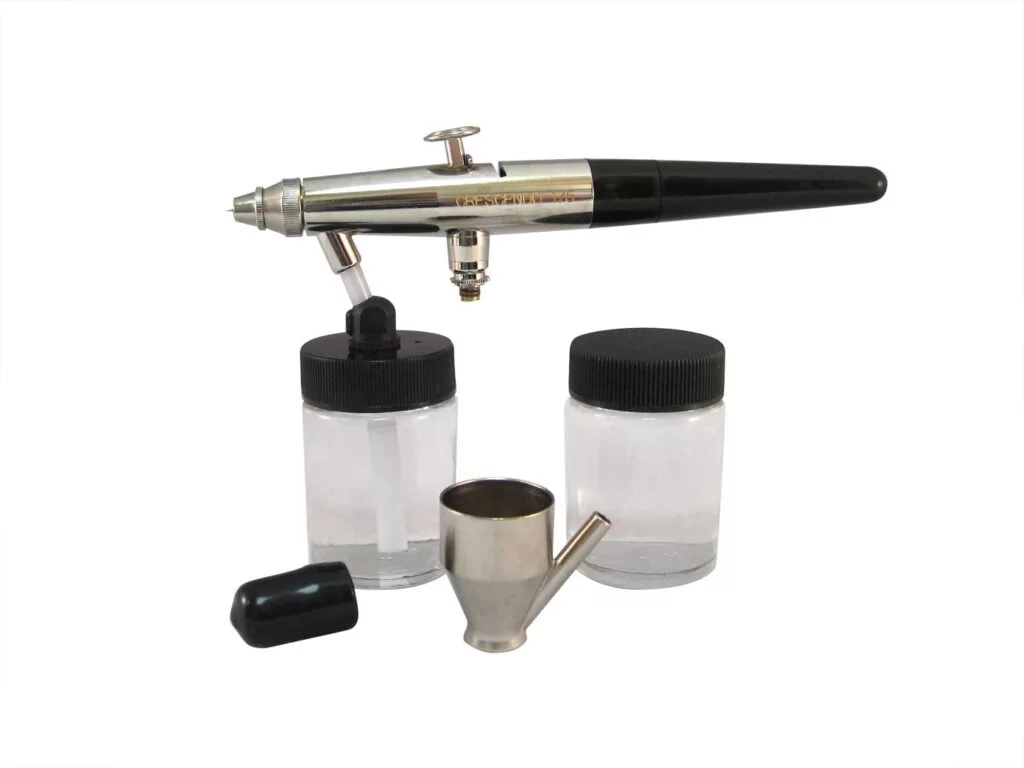 Beginners that use Vallejo paint will love this Badger Patriot airbrush for its reliability, durability, and ease of use. 
For an entry-level painter, the Badger Patriot won't take the bulk out of their finances. It has a solid metal frame but handles well so that beginner painters will enjoy the experience. Plus, it does not pose a high risk of clogging and provides entry-level painters with better control during spray application. 
Pros
Low priced
Handles well
Perfect for casual painters
Easy to disassemble for cleaning
Con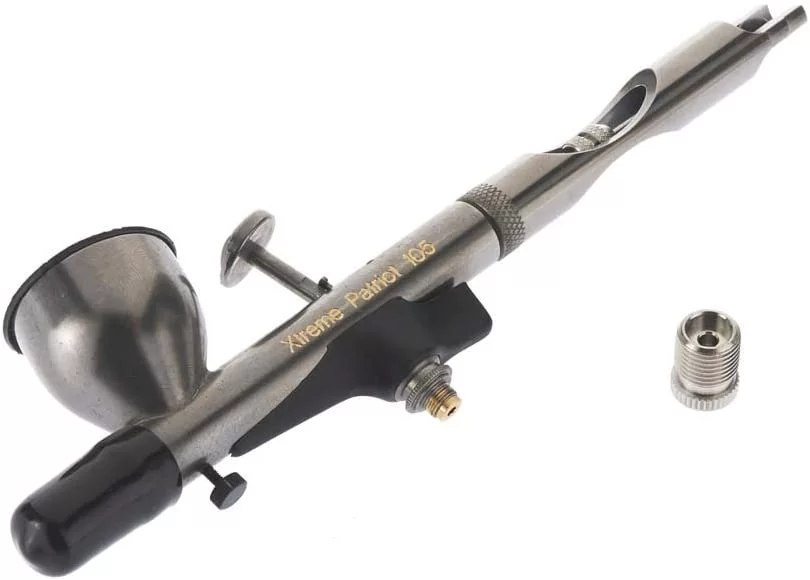 Like other airbrush models from Harder and Steenbeck, this airbrush is well-made with a nickel-plated material that gives this airbrush a classy look. 
But, what struck me using this airbrush is the firm tension on the trigger pull. It's slightly rough on the hands than in other models. 
Nonetheless, if handled correctly, it'll last longer and meet your airbrush painting needs with Vallejo paints in the long term. 
Pros
Excellent balance
High-grade materials
Easy to use
Smooth coats
Con
It weighs a ton with the paint cup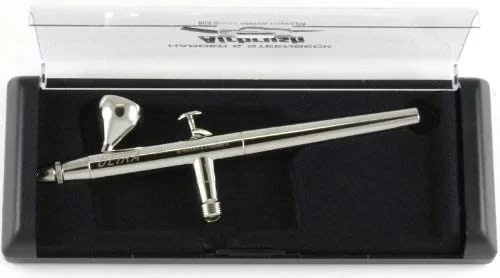 4. Cult of Paint Evolution for Vallejo
Another forgiving airbrush for Vallejo paint is the Cult of Paint Evolution airbrushes.
Its gorgeous gold- and nickel-plated details make the airbrush stand out, but this airbrush owes its fame to the trigger function.
Unlike the Cult of Paint infinity, it has a quick-stop trigger that ensures maximum control over your Vallejo paints.
It has a 0.4mm needle that makes painting on your miniatures possible. However, it might cost a fortune, twice the price of good quality Tamiya airbrushes. 
Pros
it is very easy to control
Excellent coverage
Easy to Clean
Large nozzle size prevents clogging
Con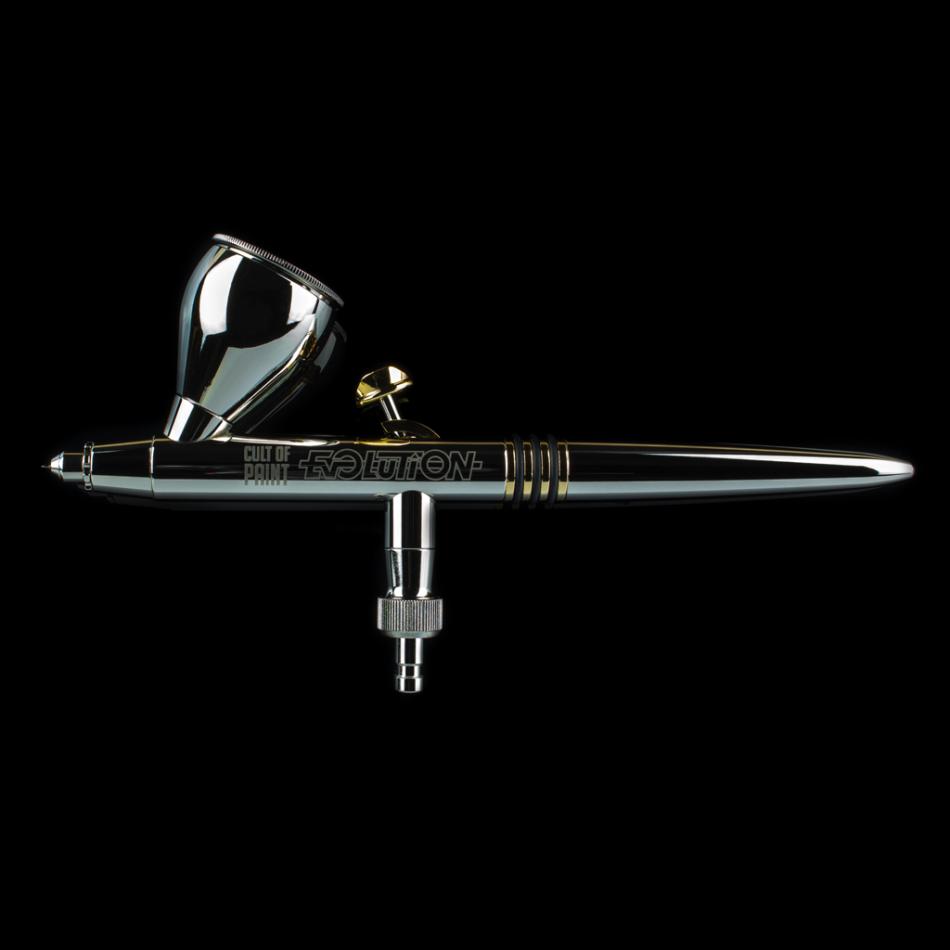 Unlike every other double-action airbrush listed above, this airbrush is a pistol-style airbrush. 
I love this model because the pistol-style grip allows for more stable handling. 
Besides this, the brush has great control, can produce smooth and clean fine lines, and allows you to change the nozzle size easily. 
The only drawback to this airbrush model is that the trigger action can be frustrating, especially if you're used to handling a double-action airbrush. 
Pros
It sprays well
Interchangeable paint cups
Easy to clean up
Cons
Pricey
The one-direction trigger control may cause hand cramps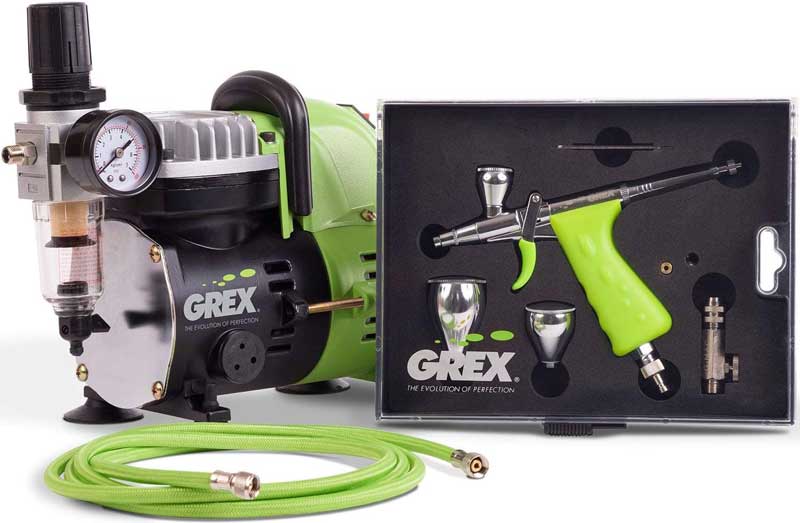 For Vallejo paints, Iwata Eclipse is also a good choice of the airbrush. 
it has a simple design that makes it easy to clean and handle paint to the desired effect when airbrushing. Plus, the smooth trigger feature enables spray paints across large surfaces with fine details.
Besides this, it allows nozzle switches so you get detailed paintwork on any model or miniature kit you want to paint. All you have to do is loosen the screw connection on the nozzle to fix another. 
Pros
Versatile
Good spray pattern
Decent paint tank size
It allows you to change nozzles
Con
It may not work effectively with solvent-based paints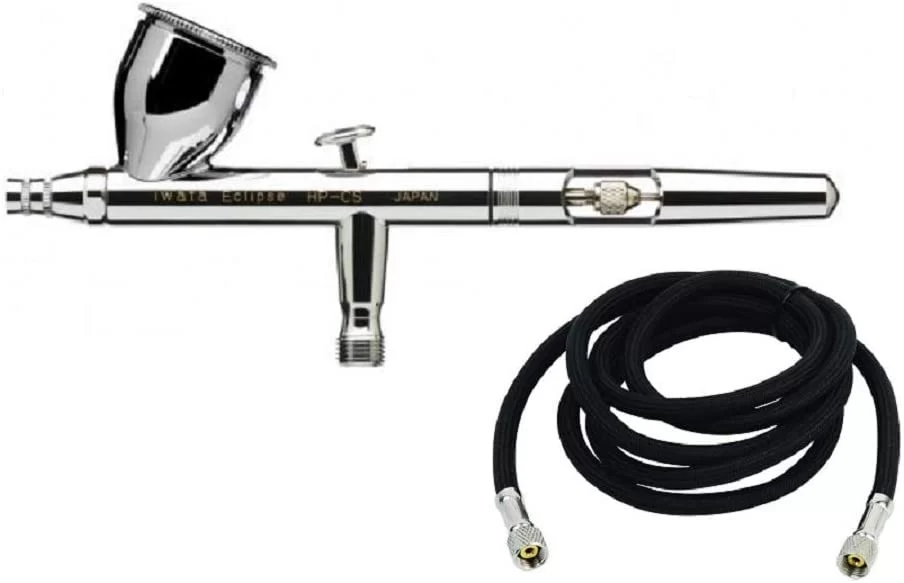 Which Vallejo paint collection is best for airbrushing?
Vallejo has four paint collections, Model Color, Game Color, Model Air, and Premium Color. 
Out of these paint collections, the Model Air range have being specially formulated for airbrushing. 
What is important about airbrush for miniatures
The most significant benefit of an airbrush for miniatures is that it improves your painting. 
With an airbrush, you can do anything you want and achieve finer layers of paint. 
On the other hand, if you want to airbrush your miniature kits like the 28mm Warhammer 40k mini or small sci-fi figures like the Drop Zone Commander, a good airbrush will help you prime, paint, and basecoat the mini. 
It should also be easy to operate, low maintenance, offer good control, consistent coverage, and smooth spray realism. 
Conclusion
Airbrushing is a fun painting technique, no doubt. But, it can leave messy results depending on the paint quality and consistency. Once you get past the task of finding a good Vallejo paint line to use and a good airbrush, creating a smooth and realistic finish on your models and miniature kits becomes painless.