Tamiya paint review | Read Before You Paint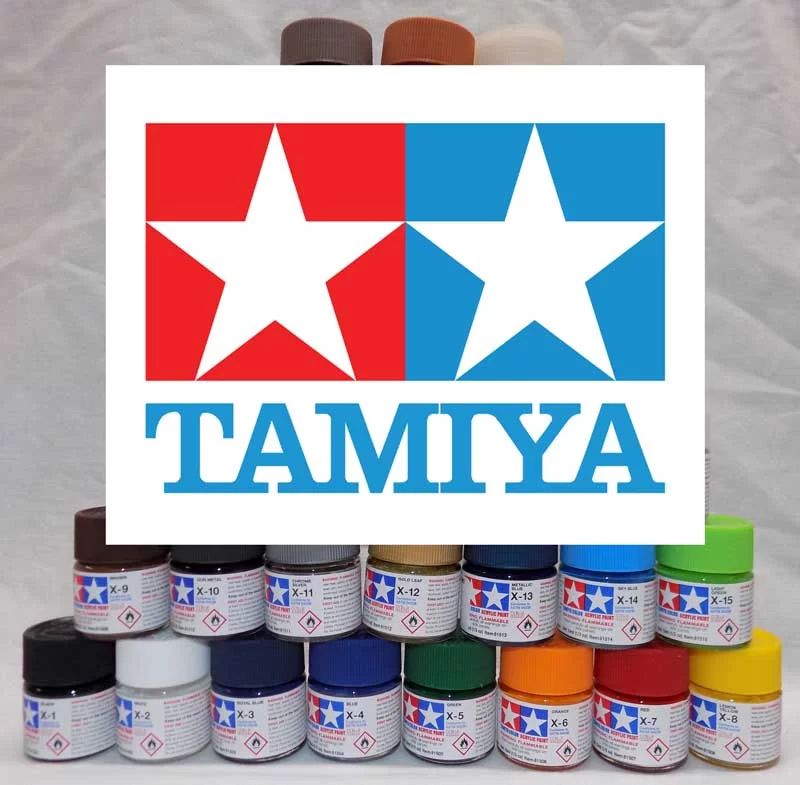 Tamiya is well-known for producing high-quality radio-controlled vehicles and scale model kits. Then again, they are also among the top competing paint manufacturers in the model building market today. 
Tamiya paints are specifically designed for large surfaces. However, if you own a miniature kit, they also work well when primed. When used on small miniatures and large-scale model kits, Tamiya paints won't drag or wrinkle. 
Taniya Paint Pros
Taniya Paint Cons
Airbrush and paintbrush friendly
Popular so sold out often
Does not chip easily
Work's better on larger surfaces (scale
models) than smaller ones (miniatures)
Wide range of colors
It can easily dry on the bottle's lid,
making it hard to open
Widely available
Expensive 
Perfect for beginners
It does not work well with a water thinner
You can use it right out of the bottle
Easy to mix
Is Tamiya paint good for models and miniatures?
if you're considering getting a Tamiya paint, you never know how suitable they are for your project until you learn about their strengths and weakness. 
You'll find that some colors like red won't have the thick pigments of colors like black. Still, they offer the same slick coverage and are easy to use. Besides this, the dense pigmentation and its smooth texture make Tamiya paints truly stand out from other paint brands such as Vallejo or Citadel. 
Tamiya acrylics are not water-based
Tamiya's paint range consists of acrylics and enamels. The acrylics offer a matte finish, while the enamels have a glossy look. 
Unlike other water-soluble acrylics, Tamiya acrylics are alcohol-based. Hence, they won't work well with water thinners. You'll want to get isopropyl alcohol or specialty Tamiya thinners to mix them. 
On the other hand, Tamiya enamels are oil-based and are mostly used on metal surfaces but can be applied on both wood and plastic. 
You can also use them for brush or spray painting, but hands down, nothing beats Tamiya enamel for brush application.
alcohol-based acrylics need a compatible primer
Tamiya paints are alcohol-based. This fact alone is a major downside to how well they bend on the surface used.   
Water-soluble paints won't require a primer to make the paint stick well on the kits. 
So, since Tamiya paint is not water-soluble, it means you will need a primer to get the best results, especially the coverage and finish. 
The primer seals the surface allowing the paint to apply well and look more vibrant. 
Then again, Tamiya paints won't work with any primer. So, you need to choose a primer compatible with it. Specialty primer like the Tamiya Surface Primer helps you prepare your plastic, wood, or metal parts so you can easily apply the paint. 
Tamiya paint Is good for any surface 
Tamiya paints are versatile. Hence you can use them on any surface, whether wood, plastic, or metal. 
However, acrylics work best on balsa wood and every plastic kit. The acrylics are also effective on diecast models (metals), but you will need to prime your metal kits for them to adhere fully to their surfaces. 
The enamels offer better coverage on metal surfaces, adhere better, and offer a more long-lasting coat of color or finish. 
Tamiya paints are better for large surfaces
As mentioned earlier, Tamiya paints are formulated especially for larger surfaces such as wings due to their high pigment levels. 
When used on miniatures, the paint will likely not stick very well to their surface.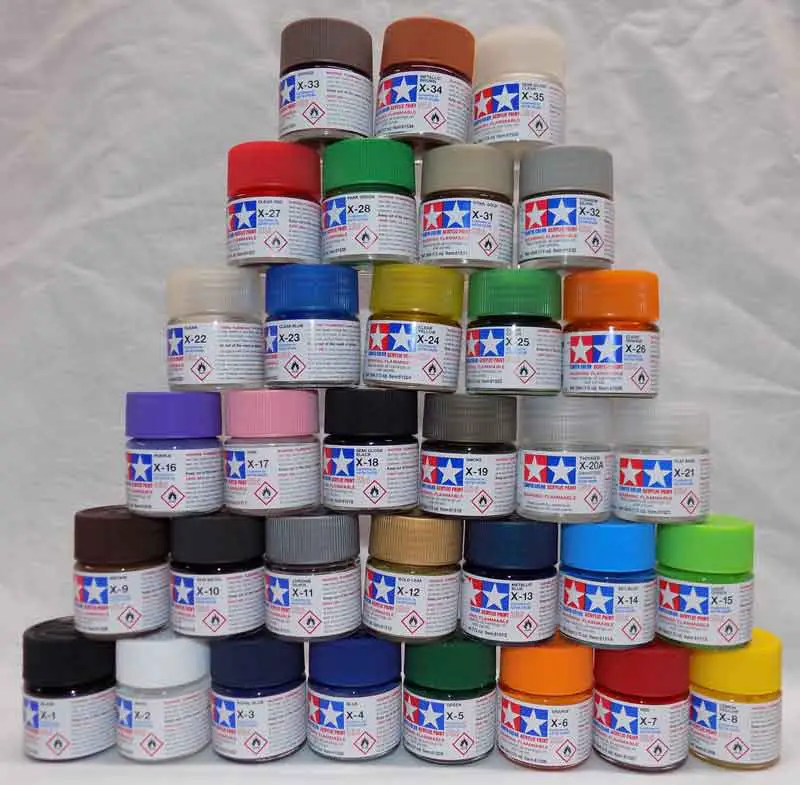 You'll need to learn how to master Tamiya paint for The best results
Tamiya paints have a learning curve, so beginners might find them somewhat challenging at first use. 
Their alcohol base form means you'll need to learn how to mix them properly before use. Plus, when used on large surfaces, they dry easily and won't give enough time to do detailed work. The effect you get are brush marks and smudges.
However, if used consistently, it becomes easier to use during mixture, painting, effects, or drying. 
Overall, Tamiya has great coverage
Tamiya's paints flow effortlessly. 
Even with a few drops on your model with a brush or sprayed with a .2mm airbrush nuzzle, you'll be impressed with the beautiful coverage and results Tamiya paints offer since they blend easily. 
With Tamiya paints, all you need to get a smooth result is one coat coverage. 
But for white and yellow colors, you may need at least three coatings to get the right coverage. 
You should clean Tamiya's paint with alcohol
The cleanup isn't as easy as most paints, but it won't be a pain either.
To clean Tamiya paints, all you need is to spray Isopropyl Alcohol on the paint, and within a minute, you'll see them flow off the brush or airbrush. 
Tamiya paints dry fast, some say too fast
Tamiya paints have a quick dry time, mostly acrylics. Generally, the minimum time they take to dry is between 5 to 30 minutes, while the maximum is 2 hours. 
A thin coat of Tamiya acrylic paint will take 10 to 20 minutes to dry, while a solid film will take a couple of hours (not more than 2 hours) to dry. 
On the other hand, the enamel paints will take roughly 20 to 30 minutes to dry, but you may have to wait another 20 minutes for it to fully cure before applying another coating. When the enamel is fully cured, the next coat goes on smoothly and won't leave any brush marks. 
However, Tamiya paints, whether acrylics or enamels, can dry faster depending on the temperature and humidity of your work area. A room temperature at 70 or 90° F or higher and 75% humidity will dry between 5 to 15 minutes. 
They have a wide variety of colors
Whether you desire a subtle or glossy effect for your military vehicles, ship, figurines, or scale models, Tamiya paints offer a wide selection of colors. 
You'll find over 300 paint options to match your kit. 
If there happens to be a color that you want, and they don't have it, you can mix it easily yourself.
Tamiya paint will last for a long time
While Tamiya paints are quite expensive, an advantage they offer is that they last a long time on your miniatures and models since the paints are highly concentrated.
A single bottle of paint can last a long time. So, even if it comes in 10ml bottles or less, their thickness means you can add a thinner, and they'll last well for your project. 
Conclusion 
Tamiya paints aren't the only popular paints on the market that you can use on your scale models or miniatures. 
Tamiya Paints are high quality, offer good coverage, last long, are easy to clean, dry fast, are perfect for all surfaces, and has a large color range for any project.
The only drawback is that they can be quite expensive. Aside from this, they offer superior results than many paint brands.