Tamiya surface primer review | Is it the best primer?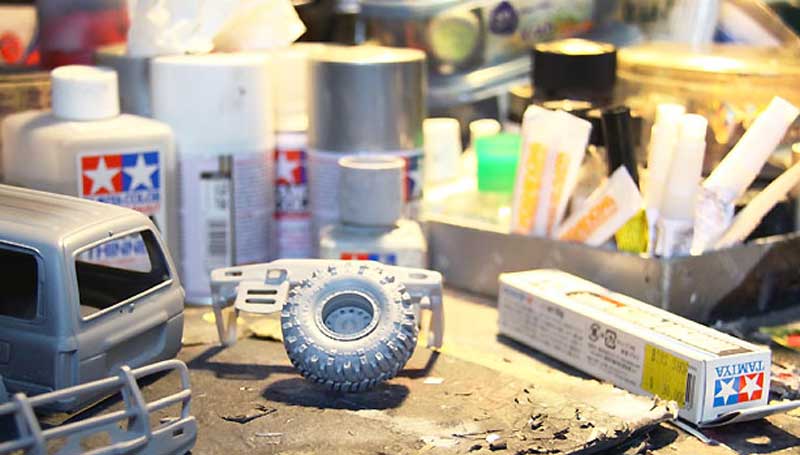 Getting a primer is always one of the first things on your to-do list when preparing for a painting project. But, all primers won't work the same. 
While the major aim of primers is to help paint stick, Tamiya Surface primer differs from the typical acrylic-based primer in the market. They are lacquer-based and are mostly used on scale models than miniatures. 
But, the question really is, what does Tamiya Surface primer bring to the table? Let's find out. 
Is Tamiya surface primers good?
Tamiya Fine surface primer is an incredibly smooth primer. But, what makes it stand out is its appeal to more professional hobbyists. 
Pro builders love Tamiya surface primers because it sticks well to metal and plastic surface. Yet, its attention to detail is its most attractive feature. When sprayed, the primer comes out in a thin mist so that you get fine even coats, even after three layers and details still stay intact. 
Pros – Tamiya surface primer
Works exceptionally in 50-degree temp
Pro quality primer
It sticks nicely to all surfaces
Preserves small details
Buttery smooth coats
Cons – Tamiya surface primer
It is expensive for its small frame
Its aerosol base means it contains bad fumes and won't be eco-friendly
You apply Tamiya surface primer with a brush, airbrush, or straight from the spray can
Tamiya surface primers allow for spraying, airbrushing, and paintbrush application. 
For my armored tank, I usually decant the paint and use my airbrush to apply the primer to the model. The benefit of this application is that it allows much more control and less overspray. 
Plus, it gives you a very thin coat without any texture or scratch-filling power so that you get perfectly leveled detail and don't fill shallow panel lines.
If you're not more of an airbrush fan, then a Tamiya Surface primer in a rattle can also work. It goes on smoothly and won't run. 
Tamiya Liquid Surface Primer can also be easily applied with a model brush. It'll give you a perfectly smooth surface without small scratches, holes, and gaps. 
Tamiya surface primer Is easy to use
While they are not acrylic-based, Tamiya primers are easy to use. In two to three coats, it provides excellent coverage without much hassle. 
Just make sure you use them outdoors or in a well-ventilated environment to prevent inhaling the fumes. Also, be sure to wear a facemask when priming, even outdoors. 
How many coats do you need to paint with Tamiya primer
Usually, two or three thin coats of Tamiya Surface Primer are all it takes to prepare your models for painting. 
But, after the first coat, you may have to wait 15-20 minutes before putting on a second coat. This simple addition of thin coats will give your model solid coverage. 
Tamiya primers dry fast, but not as fast as water-based primers
Tamiya Surface Primers are lacquer based, and like lacquer-based paints, they don't dry as quickly as water-based ones. 
Regardless, their dry time typically ranges between 30 minutes to 1 hour. So, there is no need to blast it with an air dryer. 
Don't paint your model or miniature without priming it first
Paints won't last long without a primer. 
Primers, like the Tamiya Surface Primers, are designed so that when you paint your models, they don't flake or chip off when handling. 
So, if you're wondering whether your paint will last after using Tamiya Surface Primer, the answer is yes. Tamiya Surface Primer helps you prepare your paints, so they stick well on the plastic and last long. 
Tamiya Surface primer's finish 
One of the many reasons hobby painters use Tamiya primers over other brand models is the final finish the primer yields. 
Tamiya primer provides a very smooth finish with a matt sheen to it.
Plus, it won't require any sanding to get a perfectly matte finish with anything other than the primer. 
Tamiya primer maintains your model's details
If like me, you've painted a lot of 1/285 scale tanks, you know it's easy to obscure detail at that scale by priming. 
Tamiya surface primers work efficiently to maintain details.
With Tamiya Surface primers, the coverage is excellent, and details are preserved with ease, especially on Gunpla models. 
It sticks well to plastic models and miniatures
Primer allows for better adhesion of paints to the mode or minil, but first, they have to stick to let paint stick. 
The fact that it is a lacquer base gives Tamiya primers a solid base when it comes to adherence. It adheres well to the plastic, giving you a better base on which to lay down your lacquer-based acrylics on.  
Tamiya surface primer has 8 colors to choose from
If you're considering using Tamiya Surface Primer for your models, you'll find them in varying colors like:
L light grey
L grey
L white
L pink
Oxide red
Metal primer
Clear orange
Black primer
Tamiya primer definitely worth the price
Compared to other hobby-grade primers, Tamiya's surface primers are expensive. 
A 180ml bottle of Tamiya white primer costs between $13.40 to $15.90. 
Regardless of the price, the primer goes on your model like a second skin and gives you a nice and smooth surface worth the money. 
Since Tamiya primers are alcohol-based, they will work with acrylics only if they are fully cured
You can use other paint brands with Tamiya primers, but you need to be sure the paint is lacquer or alcohol-based. If you plan to use acrylic paints, get acrylic primers. 
Tamiya primers are non-acrylic primer bases. When used with acrylic paints, the primer and paint end up melting together. 
It is important to know that Tamiya acrylics are actually alcohol-based and not water-based like other acrylics from Vallejo, Citadel, The Army Painter, Etc.
The only way to use Tamiya primers with other paint brands is to ensure that the primer cures fully. 
Tamiya surface primer is one of the best in the industry, for a reason
Tamiya surface primers allow airbrush and spray applications. They provide the finest mist that lands like dust on your model and covers in just a couple of coats. Plus, it dries quickly and allows you to paint your kit without streaking or running like many acrylic paints.
If you have a Gunpla kit, the thin mist they provide ensures that you get finely coated layers that preserves all the small details like the rivet and panel lines on your model. 
For this reason, they are a good primer for plastic models. 
So, Are Tamiya primers worth it?
Tamiya primers, no doubt, are expensive for their small size, but they play an integral role in keeping your paints durable in the long term. 
They also help the paint stick, so you get eye-catching results and provide an even texture for an easy painting experience. Overall, Tamiya surface Primer is worth it because they make your paint look better than when they're not primed.