What paint to use on miniatures? (best type and Best brand)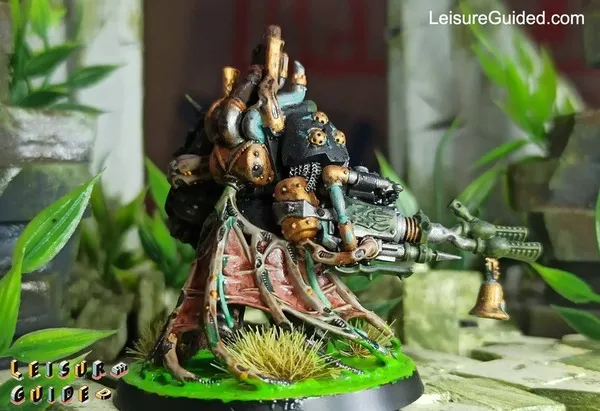 Choosing the best paints for your minis will be the most challenging stage. You'll have to consider the project, the type of paint that suits it (acrylic or enamel), and the best brand offering the exact shades you need for your project.
If you don't choose the right paint it could end up in a bad-looking figure, wasted hours (and money), and sometimes even ruined miniature. 
But, the good news is that I've had some experience painting my miniatures. That's why I've designed this guide to help you choose the best paint for your minis. 
How to choose paint for Wargame minis?
Most paints are so transparent that they allow the surface beneath them to show through the paint. When choosing wargame paints, opaque paints are the best choice since they cover up base details well without being too thick and causing the paint to peel off. 
Mini paints should have fine ground pigments. This way, you won't need to thin them so much to get good coverage. 
Mini paints should be able to dry fast (between 20 to 40 minutes) but not so fast that you can't get smooth results and soft edges. 
Painting miniatures like war gaming minis means you'll often crave a textured look. For this reason, you need paints with high viscosity and more body. 
Miniature paints also should provide a durable finish. You don't want paints that can be easily affected by fading or exposure to sunlight.
The best miniature paints will mix and clean up easier than regular craft paints.
Best Miniatures Paint
Some of the best paints to consider for Warhammer models include: 
 1. GW citadel Paint
Games Workshop Citadel paints are specially designed for painting minis. 
You'll find this in their high viscosity and opaque pigments. Plus, you get constant consistency on all paints. 
GW citadel Pros
Widely available at game and local hobby stores
Consistent
Quick dry time
Easy to use and clean
GW citadel Cons
Poor paint pot which can cause the paint to dry faster
Quite expensive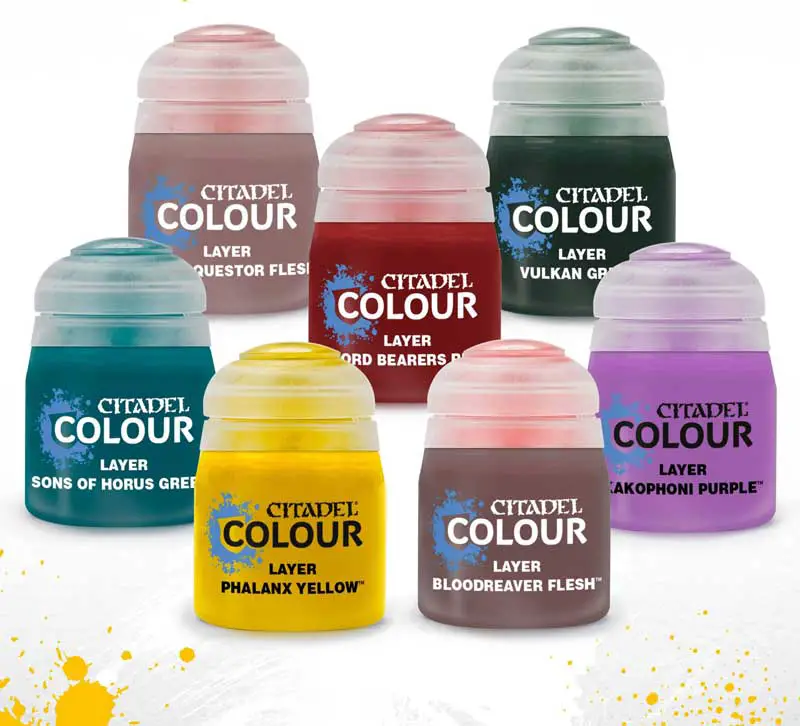 2. Vallejo
Vallejo paints are also popular among die-hard miniature fans for painting their minis. 
Why? Vallejo paints are highly pigmented, so you get the consistent color quality you seek. Their water-based formula provides strong adherence to our game pieces and the finest opaque look. 
Vallejo Pros
Fine Quality
Allows for extremely smooth and uniform paint film with no traces of brush strokes
Available in a set
Budget-friendly
Vallejo Cons
Adherence isn't as long-lasting as enamels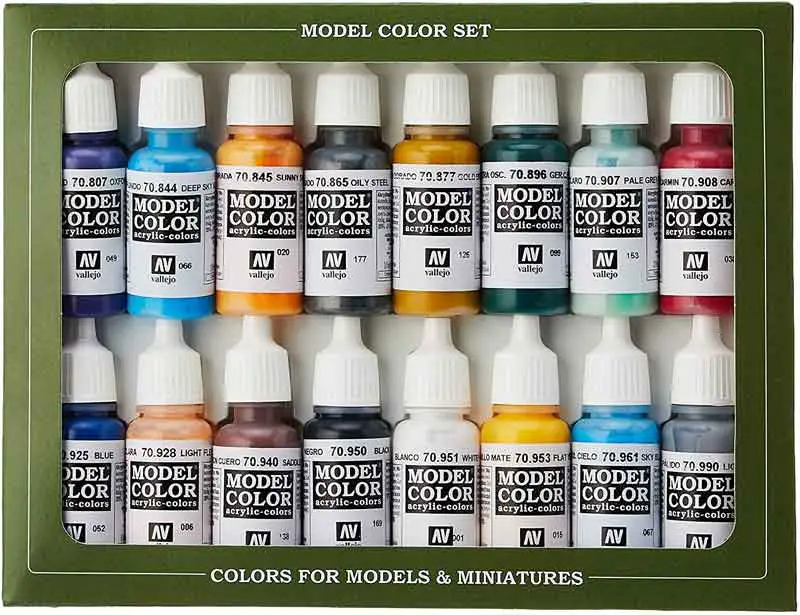 3. Army painter Paints
If you're looking for specialty paints for your minis, Army painter offers them in stock, from their ready-made mid-tones to their washes. 
Army Painter's miniature paints are awesome, from the results they offer to their opacity, pigments, dry time, and durability. 
Army painter Pros
You get more for your money at 18ml of paint in a bottle
It also comes in a budget-friendly set
They offer a good pigment
Army painter Cons
You won't find direct matches for historical colors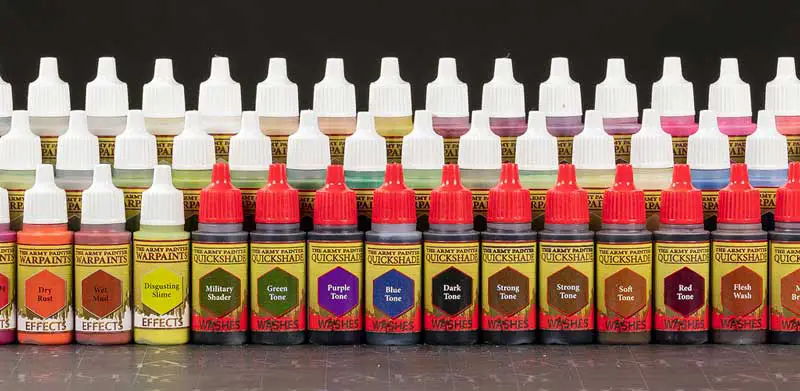 4. Reaper Paints
Reaper is also another miniature paint line you simply can't go wrong using. 
They come in an eyedropper bottle and are highly concentrated. And while they are fantasy-oriented, the paints work well for virtually all miniatures. 
Reaper Pros
Their flesh tones very high quality 
They have paint sets for minis
Finely ground pigments
Dries fast
Reaper Cons
It takes much effort to match their colors to historical colors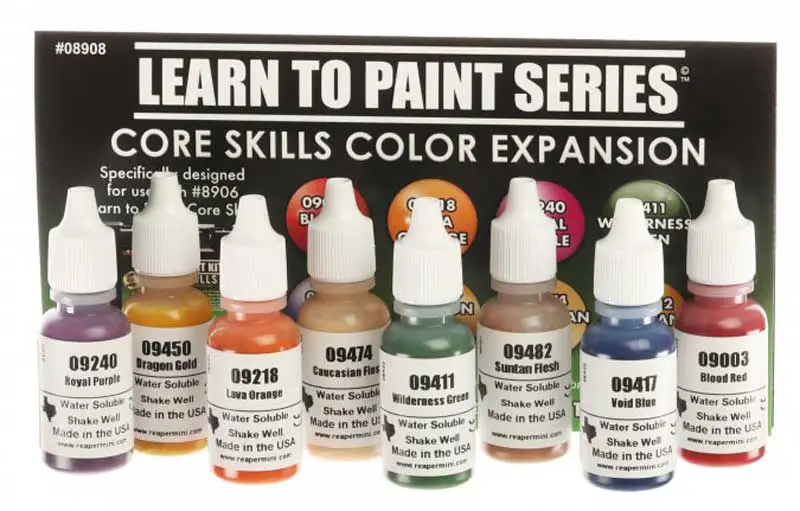 5. Coat D'Arms Miniature Paints
Coat D'Arms paints are similar to the good old Citadel paints but are much cheaper. 
You'll get different paints with fine pigments and opacity, and easily provides good coverage to cover your fantasy, wargaming, and military pieces. 
Coat D'Arms Pros
Wide range of paints for your minis
Offers shades triads
Low priced
Coat D'Arms Cons
The washes aren't as high-quality as Citadel's paints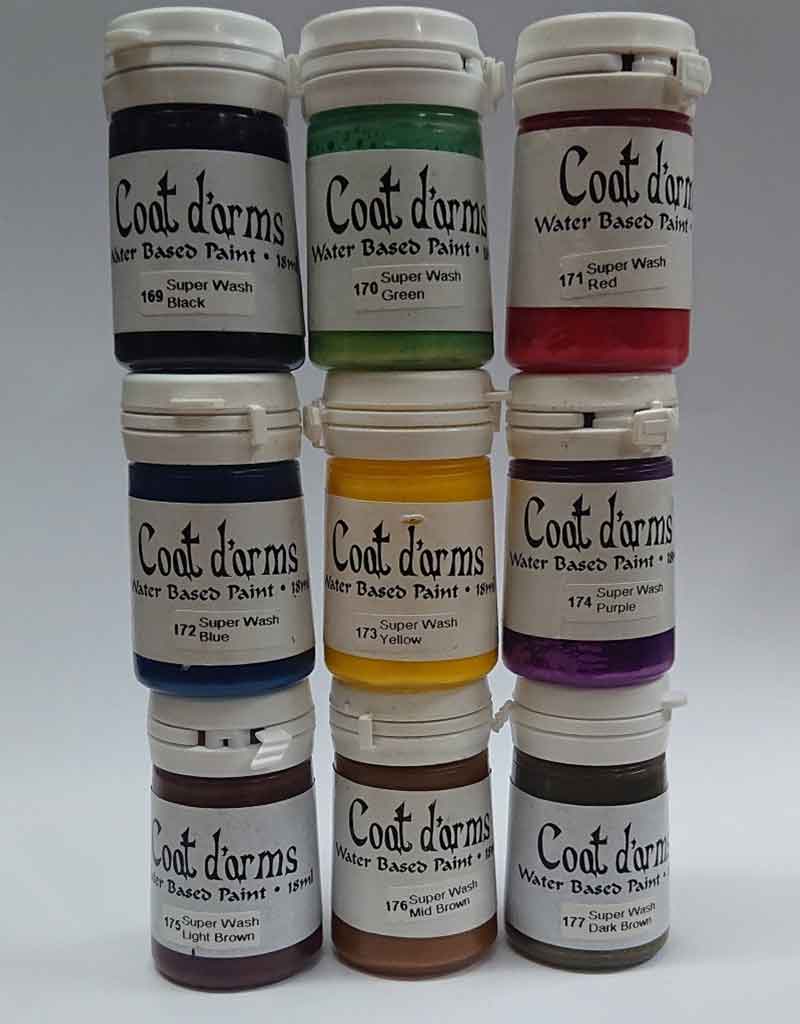 6. Formula p3
Designed by Privateer press, the Formula p3 paint series is an exceptional paint line for miniatures. 
Their Pig Iron color is great for gun barrels and other metallic detailing. Their colors are vibrant and produce smooth results thanks to their high pigments and opaque levels. P3 paints go on solid on your miniatures, and their colors often match your miniature theme. 
Formula p3 Pros
Good choice for beginners
Available in a set
You'll often find colors to match your figures
Formula p3 Cons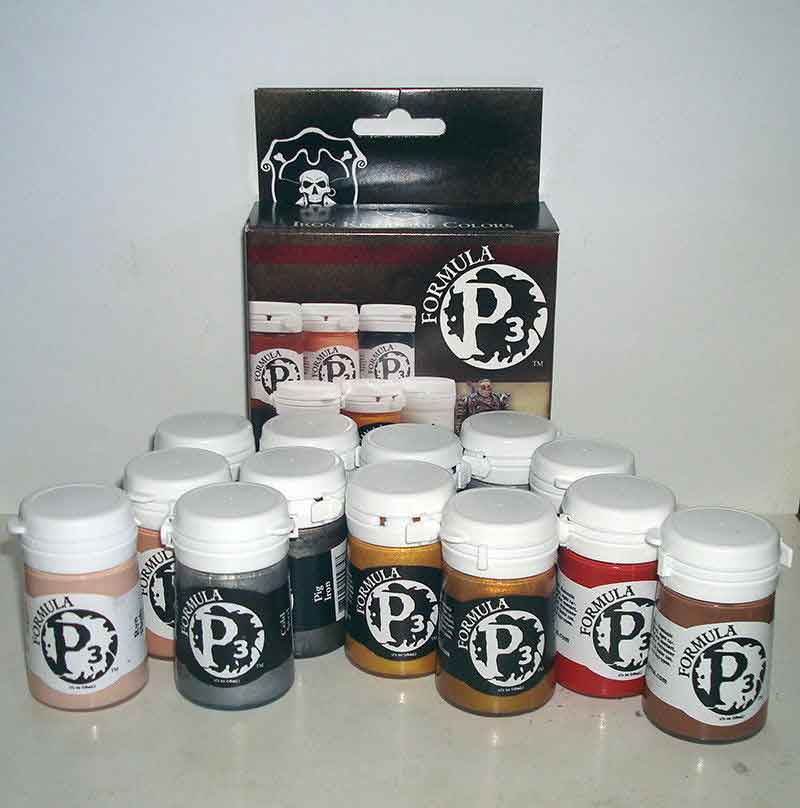 7. Scale75 Paints For Miniatures
Another good paint for your Warhammer figures, Scale75 paints, like the Scalecolor, can easily provide Satin, metallic, matte, and other realistic effects like the popular Citadel Contrast paints. 
Scale75 Pros
Available in a set
Affordable price
Outstanding realistic effects
Scale75 Cons
Availability is limited to online hobby stores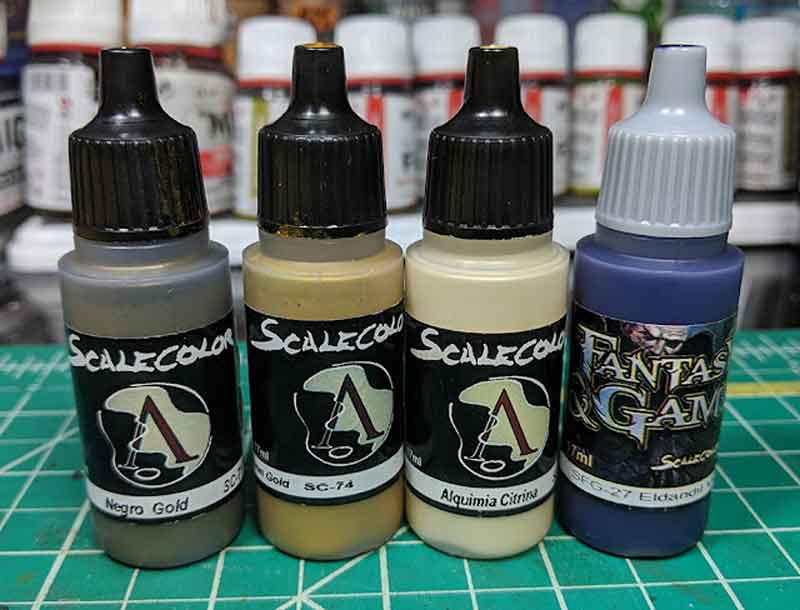 Best Tips For Mini Painters
Besides mentioning the best paints for miniature, I'm also adding some of the best tips for mini painters.
I've painted a speeder bike from Star Wars, Legions, Zvezda's Age of Battles minis, Academy games 1775 Rebellion, The American Revolution, Games Workshop Battlefleet Gothic, and many popular wargaming minis from the early ages to World War II and I.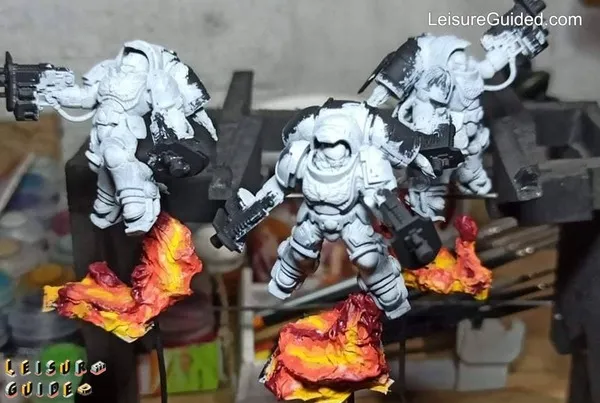 Acrylic, Enamel, or Spray Paint for wargame miniatures
Acrylics are the most common paints used on war game miniatures. I've used them on my Flames of War mini and even a 15mm Russian Infantry. 
For beginners, you're probably thinking, why not enamels since many pro-YouTube Videos for gaming minis exclusively focus on enamel paints? 
Acrylic paints are typically the best go-to choice for minis because they are safer than enamels, has higher pigments than the medium, so they'll be more opaque, and flow well when used on a high gloss surface. 
Should you use only acrylics on miniatures?
Acrylic is the basic paint standard for miniatures because they are non-toxic, dries quickly, and is easy to use and clean. 
Unlike enamels, acrylics are the least likely to melt your minis thanks to their water solvents. But, you don't have to limit yourself to using strictly acrylic paints. 
Enamel and spray paints work on specific projects, although they have a learning curve that beginners might find overwhelming. 
Can you use enamels on Miniatures?
In the 1980s, enamels were the popular paints used for painting mini figures. Sadly, their value is no longer at its peak. But does that mean you can't use enamels on your miniatures?
I've painted a Space Marine tank with enamels and got excellent results. You only want to avoid using enamels when your minis are quite detailed because they can hinder the details, especially during mistakes. 
Once dried, enamels remain soluble to thinners. This means that if you try applying a second layer or try doing detailed work on top of the base coat with enamels, you risk the first layer coming off. 
What About spray paints?
Spray paints also work well for miniatures. But, you want to prepare the minis before using it on them and spray from a good distance.
Wash your miniatures with soapy water to remove manufacturing oil. Then spray the paint two feet away from the minis. 
regular acrylic paint can also work on miniatures, but don't expect amazing results
The most vital paint chemistry that determines whether a paint works well on miniatures is the pigment. 
Miniature acrylic paints have very thin pigments, but they can easily offer superior quality coverage so that it does not cause a significant decrease in opacity.
Regular craft acrylics also have thin pigments like miniature acrylic paints. However, their pigments tend to be lumpier than miniature acrylics.
But that does not mean they won't work on miniatures. Their pigments become more consistent when thinned properly. 
best mini-paint for weathering and shading wargame miniatures
When it comes to effects like weathering and shading, Scale75 and Games Workshop Citadel paints offer the best results. 
They offer specialty paints like washes, shades, and metallics, perfect for creating a weathered look on miniatures. 
Ideal paint for Warhammer models
Acrylic paints are best used on miniatures because they allow easy brush-on and spraying techniques. Plus, they offer a varying range of finishes for minis. 
So, if you're looking for the best paint for your Warhammer model, Citadel is one paint brand to consider.
Citadel has an entire paint line dedicated to Warhammer minis. Plus, they offer excellent opacity and a smooth finish and come in a set. 
Ideal paint For D&D miniatures
Acrylics also work for DnD minis, especially as they can easily adhere well to plastics and metals.
If you need to get paint for your DnD miniature, Army Painters paint is the best acrylic paint for D&D miniatures.
They have lots of dark reds, greys, yellows, and other matted colors perfectly suited for D and D minis, and their Adventure paint Set comes with special paint colors for Dungeons and Dragons painting. 
Conclusion
Miniature paints vary by brand and type.
You can choose acrylic-based ones, enamels, or spray paints, but acrylics offer better results. The trick to choosing the best paint for your miniature is to find one that offers excellent results, high opacity, pigments, quick dry time, and is easy to clean. 
If you need paint for your Dungeons and Dragon minis, choose Army Painter. If you want to achieve good quality results for your Warhammer minis, Citadel is a good choice. If you want high-detail weathering and shading effects, try dedicated brands like Sale75 paints.