Vallejo paint review | Better Than Citadel?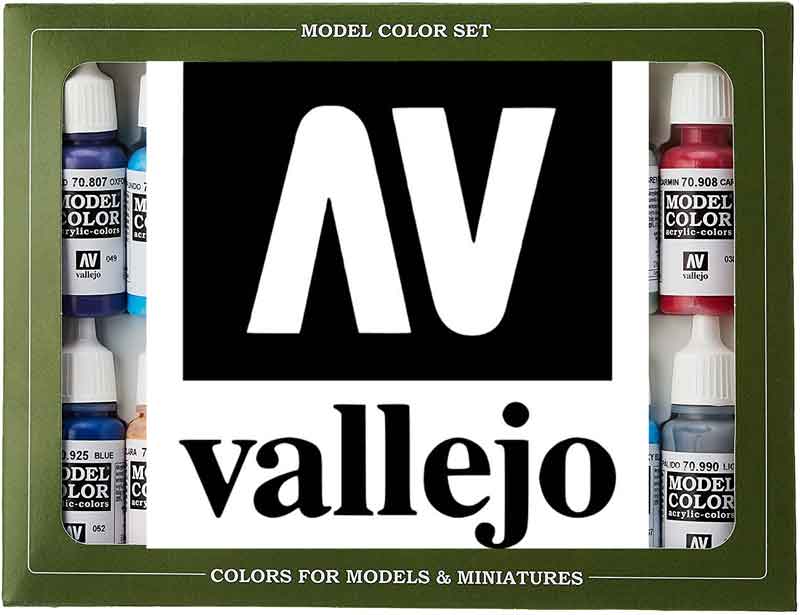 Vallejo paints are quite popular in the model building market due to their low-cost price, quality, and availability.
Vallejo paints are extremely effective for painting miniatures and models. It is inexpensive, of good quality, and they even come in a set, so you get a lot for your money. 

You can use Vallejo paints with an airbrush or a brush. Let's understand how good they are.
Is Vallejo paint good? 
The biggest advantage Vallejo paint offers over other competitors like Tamiya is their use of eye dropper-style paint pots. 
Eye dropper bottles have little openings, so you only get a minimum amount of paint out at a time. Plus, the small hole makes it difficult for air to penetrate the paint. Therefore, ensuring it lasts long. 
Vallejo acrylic paint also allows thinning using just water. However, their metallic air range is the show-stopping highlight of the Vallejo range. 
The metallic pigments are finely ground, so you get excellent coverage with outrageously thin coats.
Vallejo Paint Pros
Consistent quality 
Huge range of colors
Inexpensive 
Eye dropper bottles mean paints last long and won't dry easily 
Readily available in very convenient sets
Vallejo Paint Cons 
The mixture can be challenging due to the dropper bottles used and their high viscosity levels 
Vallejo paint is great for miniatures
If you paint your miniatures and figurines, Vallejo paints will suit your small detailed needs perfectly. 
Vallejo paints are specifically formulated for use on small figurines and miniatures. In fact, most of their color range is designed, particularly for gameplay pieces. 
Plus, they hold up over time on miniatures more than most paints. 
Either brush or airbrush, Vallejo paints are easy to use
The Vallejo paints have far superior ease than most miniature paints. 
When used with a paintbrush, they brush smoothly and offer perfect coverage. On an airbrush, Vallejo paints spray great with little to no need for thinning.
Vallejo paints will go smooth on most airbrushes, and if you are a Vallejo fan, I advise you to choose airbrushes that are suitable for Vallejo paints.
The Dropper Bottle makes it hard to mix
One of the pain points of Vallejo paints is their mixing process. 
Finding the best way to stir them can be tricky since they come in a dropper bottle rather than typical paint cans. The dropper bottle style makes it hard to see the mixing process, so you never know whether all the pigments and other ingredients mix properly. 
The result is different shades of paint which can ruin your painting scheme.  
However, you can easily mix Vallejo paints by adding an agitator ball (a little steel ball that moves in the bottle when you shake the paint) to the dropper bottle.
Vallejo paint has smooth coverage thanks to its fine pigments
Vallejo paints always offer a smooth finish thanks to their finely ground color pigments. 
The best part is that the results are consistent. 
With Vallejo paints, you never have to bother about awful coverage, especially when considering its translucency and viscosity.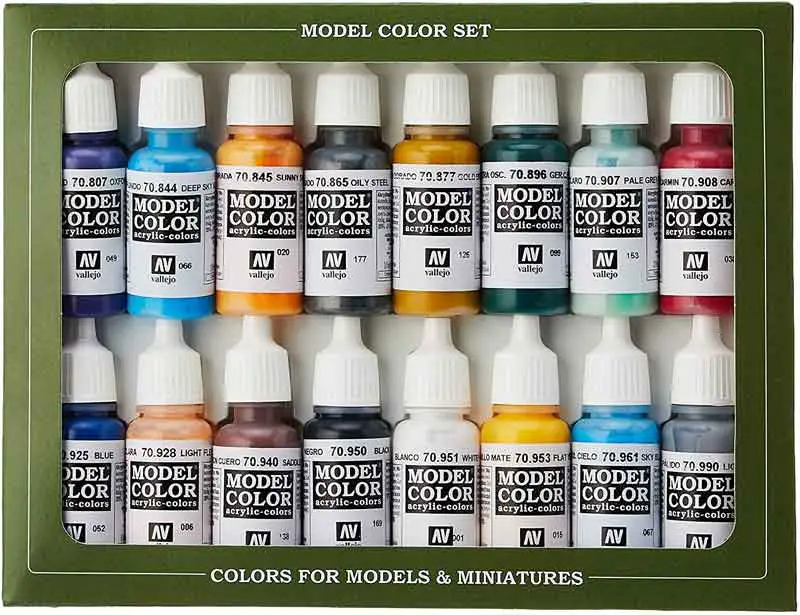 It takes a minute to clean from brushes and airbrushes
Mistakes are inevitable, and that includes painting. On the other hand, after using your paintbrush or airbrush, you'll need to clean the paints off them. 
Another advantage of Vallejo is that they clean easily, whether with water or isopropyl alcohol. 
When you use these cleaning agents on Vallejo paints you get almost instantaneous results. In fact, it'll only take me a minute to clean my brushes or airbrush.
Vallejo will dry in 10-30 mins
For acrylic paints like Vallejo paints, 10 to 30 minutes will give you an almost perfect dried-up surface when applied in light coats and on any surface. 
Thickly coated layers need more time to dry, at least 2 hours. However, for your paint to offer full resistance, you'll need to allow them 24 hours to fully cure. 
More than 500 colors for you to choose from
One of the many reasons Vallejo Paints is popular is because of the extensive color variety they offer model builders. You'll find roughly 254 colors available in the Model Colour line alone!
The Game Color range consists of 119 acrylic colors, while the Model Air line boasts 129 colors perfectly suited for airbrushing. Vallejo's Premium Color also offers a new range of 51 colors capable of withstanding rugged exterior conditions. 
The bottom line is that Vallejo does have an amazing range of colors – over 500+ to suit whatever effect you may need for your models and miniatures. 
Vallejo acrylics Will last for a long time on your model or miniature
Besides their color varieties, high-quality paint is also measured by how well it holds up against oxygen exposure.
Vallejo paints, no matter how long they stay on your model, will last long. 
Technically, when left unopened, it has a 10+ years shelf life, unlike many paints that can only last for five years even when closed. 
Opened, you can expect your Vallejo paint to have a shelf life of five years maximum. Proper storage and care mean it can last for more than that. 
So, when used on your models, you need to make sure that you store them in rooms with proper temperatures and humidity. 
(Really) affordable price
If you're looking for budget-friendly paint for your miniatures and models, Vallejo is a must-have in your collection. 
Vallejo paints are much cheaper than many popular paints. For instance, Citadel. You can get a 17ml Vallejo dropper bottle for $1.80, whereas most brands like Citadel cost $2.25 for 12ml. 
A 10ml Vallejo paint will even cost as low as $1.05.
What collections does Vallejo have?
An added advantage of Vallejo paints is that you'll find four different water-based collections designed for each scale model building range. They include:
The Game Color range is designed mainly for sci-fi or fantasy painter. It offers a similar palette as Games Workshop Citadel paints but has a wider color lineup. 
The Model Color range and Panzer Aces are designed for historical painters and model builders. Since its colors are basically for historical effects, you get more subdued, realistic, and matte colors.
The Model Air range is specifically made for airbrush use. The paints are thinner than the typical thickly concentrated Vallejo paints, and you'll also find a metallic paint range that wasn't available before outside of enamel paints.
FAQs
Is Vallejo paint acrylic?
Vallejo paints have a water-based formula, and every water-based paint is acrylic. So, they are acrylic paints.
Is Vallejo paint water-based?
Yes, Vallejo paints are water-based since they can be thinned with water. 
Is Vallejo paint toxic? 
Water-based paints are non-flammable, but that does not mean they are toxic. With Vallejo paints, the ASTM certification on their dropper bottles verifies that they are non-toxic. 
Do Vallejo paints need thinning?
Vallejo's Game Color and Model Color range are incredibly thick. So, you will need to thin them before use. 
But, how you thin them will vary depending on the paint in each of these ranges. For instance, yellows flow easier than reds, so yellow will need less thinning. 
On the other hand, most of the Vallejo Game Color Air paints comes thinned out of the bottle. So, they require no thinning. 
Should you get the set?
Most paint brands won't come in a set. But Vallejo offers different paints for your preferred segment in a set and at a lesser price than when you purchase them individually. 
For instance, if you want to buy some colors from their Game color range, Vallejo offers up to 72 colors in the Game Acrylic Paint Set. This paint set consists of 72 paints, 3 Toray Brushes, a color chart, custom-case, and they come in 17 ml. bottles.
So, Are Vallejo paints worth it?
Vallejo paints offer a more affordable option for your painting needs. 
Although Vallejo paints may not be the finest acrylic paints you'll find on the market, its quality, availability, wide range and collection, as well as the convenient dropper bottles that keep them long-lasting offer an excellent resource for the miniature painter and make Vallejo paints worth the money.