Airbrush primer Vs. spray Primer | Prime Like A Pro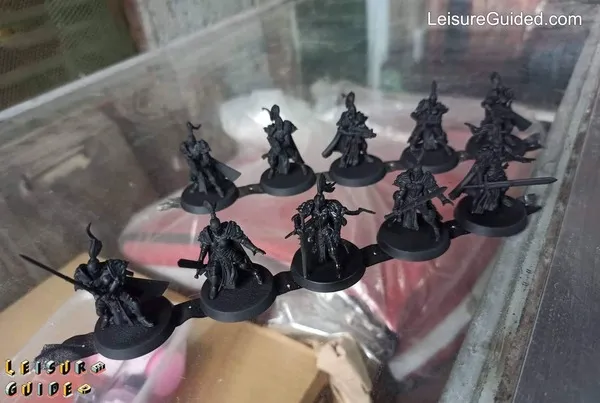 If you've just finished building your model or miniatures, congratulations.  Unfortunately, it doesn't end there, especially if you plan to paint them. 
To successfully paint your model, priming is an essential prepping procedure. It is an undercoat layer that helps paints stick well, increases durability, keeps your painted surface from flaking, and provides additional protection. 
To make priming possible, miniature painters and model builders often use an airbrush and spray can. These two options work excellently in their own way but also differ in results. 
Priming with an airbrush Vs. Priming With A spray can
Winner: Airbrush Primer
Spray primers absolutely have their benefit, from their decent color variants to their excellent dry time, they make getting durable painted surfaces on your miniatures possible. 
Yet, their most significant benefit is their cheap price. You won't have to invest so many dollars in a spray can since they cost as low as $4. The only significant drawback I found with using spray paints is that when the paint starts to run low in the can, the chance for air bubbles in the primer increases dramatically.
Spray Can Primer Pros
Cheap (only in the short term)
Easy to use
Adheres well to your mini
Spray Can Primer Cons
Spray priming is difficult to control (except from a distance)
It's easy to ruin your work with their thick coats
Limited colors
Humidity and temperature dependent
Priming with an airbrush is not without its cons. Yet, its major benefit is that you can easily control the stream of primer to achieve better results. Plus, they are a quicker way to prime several minis at a time. 
The major downside of priming with an airbrush is the constant cleaning process you need to do on the nozzle and needle after every re-fill. Otherwise, it gets clogged and spittle. One way to prevent this is by using a flow improver. 
Airbrush Primer Pros
Better coverage
Lots of color choices
Consistent results even under harsh temperatures and low humidity
Easy to use
Airbrush Primer Cons
Expensive (in the short-term)
It has a learning curve
Thickness – Airbrush Primers are Far better Than Spray
Winner: Airbrush Primer
The biggest advantage of airbrush priming is that you can easily control the thickness to achieve thinner coats. Plus, you can do it indoors. Being able to control the air pressure also means you can spray the airbrush primer much closer. 
In contrast, spray cans don't have that mechanism that allows you to control the amount of thickness of each coating. Once you use a spray can primer up close, you get thicker coats that make you lose details.  
Regardless of this, it depends on your spraying technique. You can get very nice primer coats with spray cans under good conditions and also really shitty ones from your airbrush if you don't know how to use the airbrush properly.  
Which will stick better?
Winner: Spray primer 
Rattle cans make more durable basecoats than when using an airbrush primer, especially on plastic materials, thanks to their alcohol base. 
Airbrush primers are most often acrylics with a water thinner. For this reason, they leave a more fragile end product without specific preparation. 
Airbrush primers stick significantly better when you wipe off any excess grease on the miniature's surface (try using isopropyl alcohol) before priming. 
Details – Applying Primer With An Airbrush will enhance the details
Winner: Airbrush primer
Priming with an airbrush makes the little details on your mini pop, thanks to their control and thin coat. 
With an airbrush, you get much better control over the amount of primer on the model, so you don't lose details. But, with a spray can, it is too easy to spray too much primer on the model since you don't have control over the stream of paint. 
The only way to ensure precise details when using spray cans is to spray from a distance but then you are risking an uneven coat. 
Dry Time – Spray Primer Will Probably Dry Faster Than Airbrush Primer
Winner: Spray Primer
Generally, primers won't need more than 24 hours to dry, but spray primers take the lead against airbrushed primers since they take only three hours to dry. 
Most primers from Krylon even dry within 10 minutes. 
However, an airbrush primer may take 24 hours to dry and form a resistant coating. 
Coverage – Airbrush Primer Will Have A more Consistent Coverage
Winner: Airbrush Primer
Primer goes down smother with an airbrush than a rattle can, thanks to the possibility of control. 
Primer tends to be thicker. For this reason, it needs far more pressure to blow cleanly while offering better coverage. This air pressure control is what makes better coverage possible when using an airbrush primer. 
For instance, priming with an airbrush means you can use different-sized needles and nozzles in different settings. So, when you increase the pressure, you get smoothly thinned without any problem. 
While I've used spray primer for my models and minis before and have had decent results, you'll occasionally find it challenging to get an even spray. Spray cans don't come with a pump or setting like an airbrush. 
So, when you spray prime your model, you may get bad or completely ruined results. 
Control and Use – Rattle Can Primers Won't Work In Any Wheather
Winner: Airbrush Primer
Like paints, a primer has protective qualities that can easily get damaged when the temperature and humidity are extreme. When this happens, it makes priming and controlling the primer difficult. 
An airbrush doesn't really have this problem. Rather, their setup makes them easy to control the primer under any temperature and humidity. 
Hence, an airbrush is temperature independent. Besides this, you can easily prime your minis indoors with an airbrush by wearing a respirator or face mask. With a spray can, the case is reversed. 
On the other hand, spray cans are sensitive to temperature and humidity, which means you can get bad results if the weather isn't right. 
It's no wonder many manufacturers like Games Workshop recommends you use their Citadel Sprays at 15-25C (59-77F) and with humidity at 70%. 
Using a spray primer in hot weather means the paint might dry mid-air while spraying. When this happens, it leaves bubble-like effects on your minis. Cold temperatures also aren't any good. 
Spray primers have potent fumes and leave lingering smells when used. This makes painting indoors a hassle. But, that doesn't mean you can't use them indoors. Don't forget to open the windows to ensure a well-ventilated workspace.  
Color Variety – Airbrush Primer Can Come In Various Colors
Winner: Airbrush Primer
You'd think that because primers aren't typically painted, they won't have color variants, but they actually do, and the airbrush primers boast larger variants than the spray primers. 
With spray primers, you're limited to a few colors only, like grey, black, and white. An airbrush primer offers you more, from olive green to neutral, white, grey, red-brown, and even black. 
Which is better for which size miniatures?
Winner: Tie
Airbrush primers work best for tiny pieces, while spray paints will work effectively on a large surface. 
If you're painting small minis and models around the 1/144th scale, then airbrush priming takes the lead. They offer a finer level of control when priming small surfaces. Spray primers will work best on larger models and minis since you don't have control over how thick the layers will be. 
Price – For The Short Run, Spray Primers Take The Lead
Winner: Spray Can
Airbrush will cost less if you plan to stay years in the hobby, while spray cans offer an instant cost advantage over priming with an airbrush.
The fact is that you can buy a lot of primer cans for the cost of an airbrush primer. Technically, you can get a 12oz spray primer can for under $5, while a 100 ml airbrush primer will cost between $8-$10. 
Conclusion
Airbrush primer and spray cans are great for prepping your minis surface for painting. However, their results differ significantly. 
Spray primers are better, thanks to their superior binding to plastic surfaces, and they cost less. Airbrush primers offer more precision, colors, and thinner coats. With a spray can, if you spray lightly from a distance, you will get fast and easy coverage without obscuring any details, unlike an airbrush that does not require this hassle. 
Priming with an airbrush will offer better results and more advantages in the long run than using a spray can primer.