Army painter paint review | for miniatures and models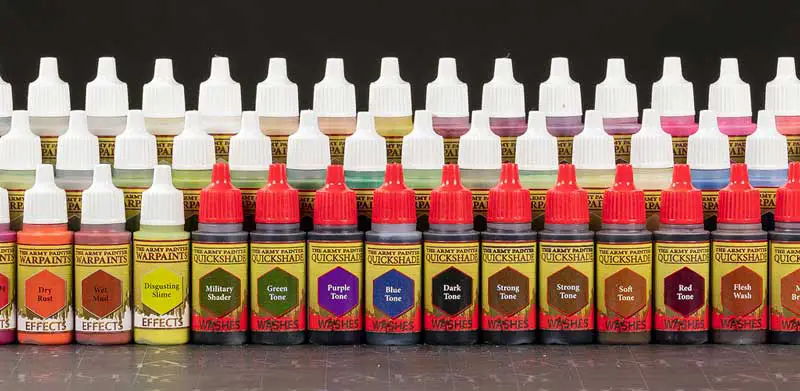 Many modelers are fans of not restricting their choice of paint to a single paint range. If like me, you love cherry-picking several paints, from well-known paint manufacturers, then the chances are that you have some Army Painters paints in your collection. 
Then again, due to the far-reaching popularity of paint brands like Citadel, Vallejo, and Tamiya, Army Painter's paint won't always be on the radar of many entry miniature painters. 
Is army painter paints good?
Army painter paints are on par with the other miniature paint ranges in the market because it offers everything you would expect from a good paint brand. 
The Army Painter's paint is one of the best entry paints for beginners since they come quite cheap without sacrificing quality. 
This acrylic paint is so nice to work with because it flows smoothly, no matter the painting technique you choose to use. They also dilute, blend and mix well. 
army painter Pros
Decent consistency and opacity 
Wide paint range that caters to military wargamers and fantasy or sci-fi kits 
Quite cheap
It comes in a dropper bottle that keeps paint from drying out
Available in a set
army painter Cons
Separates easily
Needs a lot of shakes
A bit watery
Army Painter is easy to use
Army Painter paints work just fine for any painting technique, whether hand brushing or with an airbrush. 
Although when painting, they may require more coating layers and a bit more control due to the slightly thin consistency of the paint. 
But, you can still get what I consider to be above-average results, especially for techniques like wet-blending and non-metallic metals. 
You'll need to learn how to mix the paint correctly 
One of the biggest problems many miniature painters face when using Army Painter paints is due to their very thin consistency. When mixed in the bottle, the heavier pigments settle at the bottom of the paint bottle, and the acrylic medium separates to the top. 
However, this is a common problem associated with many popular paint brands like Vallejo Game Colors. This occurrence does not mean the paint is faulty or mixing it will be a hassle. All you need to do is find the perfect technique to perfectly blend the heavily pigmented paint and its medium. 
The good news is that Army Painter paints are easy to mix. 
Simply pour out any excess acrylic medium in the bottle. Then, give it a long shake or open the bottle and stir the paint with a cocktail stick. Don't forget to add a metal agitator ball to help blend pigments and medium when shaking. 
This simple process makes mixing Army Painter paints painless.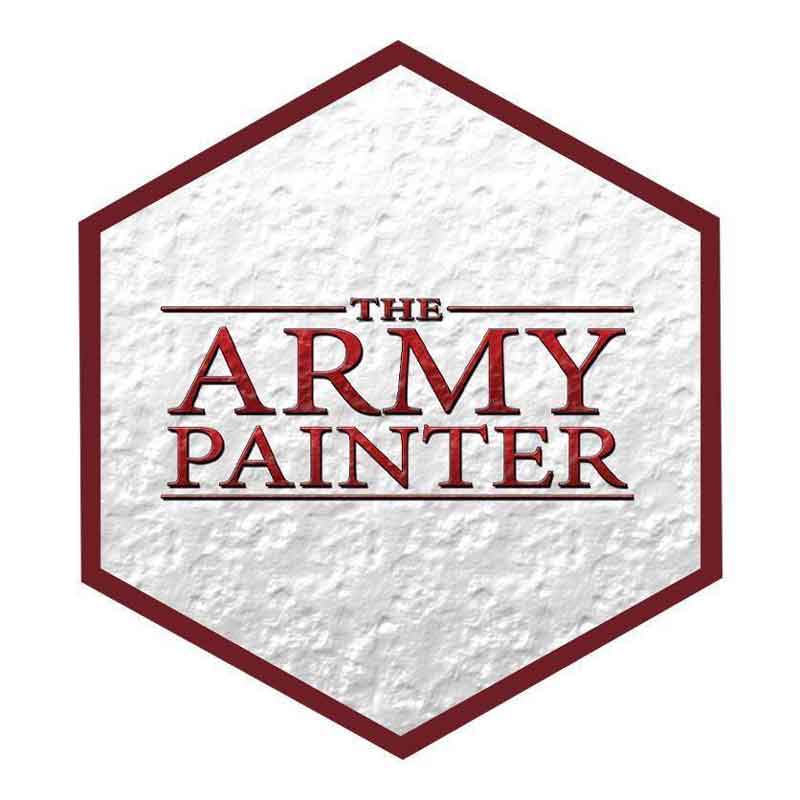 Army Painter requires 3 coats for good coverage
Every paint range has that certain paint that covers extremely well and a few that are more difficult to work with. 
But, when it comes to coverage, we can compare it to the coverage quality Citadel paints offer.
Most painters may feel Army Painter paints won't cover well due to their thin consistency. If your miniature does not cover well after using Army painter paints, the problem is most likely not the paint's fault. 
You probably used a single coat and expected sleek results. With this paint, you want to add at least three layers of paint to get smooth coverage and finish. 
It is easy to clean army painter's paint
Army Painter paints are easy to clean, whether when used with an airbrush or brushes. 
Acrylic paints can be hard on brushes, airbrushes, and even on the model if left unattended after curing for hours. 
But, unlike most acrylic paints, all you need to clean Army Painter paints is water or a little amount of their mixing medium. 
Army Painter has some unique colors
Another plus for this paint brand is that they offer an extensive paint range.
From the onset, they could only boast of 36 paints. Today, the Army Painter color range consists of 124 paints with 96 regular acrylic paints, 9 technical paints, 8 metallics, and 11 washes. The only colors you won't find are dark turquoise, dark blue-grey, and dark blueish green. 
On the other hand, their extensive paint range means there are a lot of hues you won't find in brands like Citadel. 
For example, very light paints such as Arid Earth, Brainmatter Beige, Poisonous Cloud, Gorgon Hide, or Toxic Mist. The grape, plum, and mauve purples range, such as the Wasteland Soil, Mutant Hue and Toxic Boils, are effective paints non-existent in Citadels paint range. 
Army Painter takes about 15 mins to dry
Army painter paints are so thin that it starts to dry at the edges of your brush and airbrush nozzle before you get a good blend, even when moving the paintbrush or spraying continuously over the painted surface. 
The bottom line is that they dry faster than you think. It takes 10 to 16 minutes for the hues to quickly harden so you can place the next coats. Regardless, allow them to fully cure between 24 to 48 hours so they last long. 
A coat of sealer will ensure that this paint will last long
In their bottle, Army Painters paint has a 10+year lifespan. Opened, they can last as long as 5 years. 
While this timeframe may seem too short, the good news is that you can make them last longer on your model when you apply a thin coat of sealer. 
Army Painter also offers sealers, especially for their paints, so you can easily protect its surface from wear. 
Army Painter's Prices
Price-wise, Army Painter paints are one of the cheapest in the market.
Army Painter paints come in dropper bottles like Vallejo paints, and you'll get them at 18 ml. They cost between $2 to $2.50 ($0.111 to $0.138 per ml). 
Their inks and metallics range from $2.25 to 2.75. Compared to brands like Citadel, with prices between $2.75 to $3.60, Army Painter paints are far cheaper.
FAQ
What type of paint is Army Painter?
Army Painter paints are acrylic, water-based paints with good consistency and opacity.
Should you get the set?
Price can be a deterring factor when purchasing your preferred paint range.
But, Army Painter offers several paints in a set to help save cost. You'll find a complete paint set with all 124 colors, a starter set with 10 paints, a mega paint set with 50 paints, a set with all 11 quick-shade inks, and more.
For example, a set like the Warpaints Mega Paint Set contains 36 Warpaints, a 24-page instruction guide, and 6 Army Painter brushes and is priced at $75. 
Conclusion 
So, are Army Painter paints worth it? The simple answer is 'Yes.'
Army Painter paints are high-quality acrylic paints offering decent consistency and opacity, and excellent colors that will suit your historic, wargaming, fantasy, or sci-fi painting project. It has so many colors on par with competitors like Games Workshop, Tamiya, and Vallejo.