7 best airbrush primers for miniatures (Don't kill The Mini)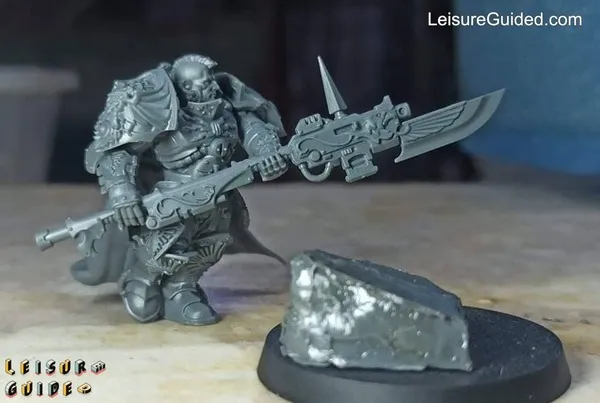 Older and experienced mini painters admit that the problem they've faced with priming miniature kits is that in their day, primers generally came in rattle cans. But, why are primers in rattle cans a problem? 
The simple reason is that they blast on the primer with no control or finesse. Plus, rattle cans are often expensive in the long run, inconsistent, and require several minutes of vigorous shaking to mix properly. For this reason, they often give up the idea of priming their minis surface before painting. This resonates with me. 
The simple fact is that you can't do without priming. Primers help the paint layers adhere properly to your mini's surface. 
Luckily, instead of rattle cans, airbrush primers have made prepping your minis surface for painting easy. 
Best Airbrush Primers for Miniatures
| | | | | | | | |
| --- | --- | --- | --- | --- | --- | --- | --- |
| Features | Vallejo Surface Primer | Badger StynylrezPrimer | Ultimate | Alcald II | Army Painter Warpaints Air Primer | Createx Colors Primer | AK-Interactive Primer |
| Dry Time | 5 to 10 mins | 5 to 10 mins | 30 mins | 10 to 30 mins | 5 to 10 mins | 5 to 10 mins | 10 to 30 mins |
| Price | $6 – 12 | $7.95 – $12.34 | $5 – $10 | $13.93 | $6.49 | $13.49 | $16.15 |
| Base | Water | Water | Water | Lacquer | Water | Water | Alcohol |
| Finish | Glossy and Matte | Matte | Matte | Glossy | Matte | Matte | Glossy |
| Colors | 22 | 3+ | 3+ | 3+ | 29 | 10+ | 3+ |
What is the best primer to use in an airbrush?
If you're in the market for an airbrush primer, the truth is that you'll find so many from different brands. But, you won't get the same quality from them. 
I've used some that make priming more of a frustrating chore than using a rattle can. But, some of my favorites I'll recommend for any miniature painter is:
Vallejo surface primer
Vallejo Surface Primer ranks first in my favorite primers to use for almost any miniature paint job, especially for my tabletop minis. In fact, it is the best airbrush primer to use because it works great in an airbrush and goes on smoothly without compromising the little details on your mini. 
However, some colors are better than others. For instance, the black and gray gives excellent results while white is the reverse. Besides this, Vallejo Surface Primers dry fast. Plus, you'll get over 20 colors to match your paint choice. 
The only drawback to this primer is that it might rub off without varnish to ensure solid resistance. 
Vallejo surface primer Pros
Cheap
Smooth coverage
Dries to the touch in 5 to 10 minutes
Wide range of colors
Vallejo surface primer Cons
It may need a coat of varnish else, it will rub off easily
Badger Stynylrez primer is the contender for 'the best airbrush primer'
Badger Stynylrez could very well fight for the first-place rank of Vallejo Surface Primer, but its downside is that it is a little bit thick, so you'll have to play about with the air pressure on your airbrush to get good results. 
Then again, I've had more luck with Badger Stynylrez over Vallejo's surface primers because they clog less and go on smoothly despite their thick consistency.
The best part of this primer is that it airbrushes straight from the bottle, dries fast, and allows sanding. 
Badger Stynylrez primer Pros 
Fast dry time
It can be sanded
It goes on smoothly on your mini
Won't clog the airbrush
Badger Stynylrez primer Cons
Small bottle (120ml) compared to Vallejo's 200ml bottles and at the same price
Ultimate Primer
The Ultimate primer has similar features to the Badger Stynylrez from its fast-dry time to its possibility of sanding. 
And like the Badger Stynylrez, it is a very capable acrylic primer, which does everything I would ask of a primer. It goes down well and allows you to overcoat it in 30 minutes without fear of the paint rubbing off. 
Add the fact that it is easy to clean with water and lacks foul smell, this airbrush primer has compelling features that make it stand out. 
Ultimate Primer Pros
Excellent adhesion
Allows sanding
Cheap
It does not smell
Ultimate Primer Cons
Less available in hobby stores
Alclad II Airbrush Primer 
Alclad II airbrush primer is possibly one of the best lacquer-based primers you'll find on the market. Although its availability is on the low side, they are exceptional, especially if you're going to do metallic paints. 
The best part is that it is pre-thinned for airbrush application, dries in ten minutes, won't require varnish to seal it, and doesn't lift when masked. It also sands perfectly. 
Alclad II Pros
Pre-thinned
Fast drying time
A perfect base for metal paints
Alclad II Cons
The Army Painter Warpaints Air Primer
Whether you want to prime DnD minis, Orks, and tyrranids figures or even historical WW I and II vehicles, this primer will work perfectly in an airbrush. 
But, what I especially like about the Army Painter Warpaints Air Primer is that it forms a good surface for painting with a matt finish and is compatible with many paint brands. Plus, they are cheap and have wide color variants. For instance, you get a 100ml bottle at $6.49, while Vallejo primers will cost the same piece for a 50ml bottle. 
The Army Painter Pros
No thinning required
Mixes well with water
Dries quickly
Cheap
The Army Painter Cons
Mixing can be challenging
Createx colors primer
If you're planning to prime your large minis, Createx Colors Primer will be a handy and inexpensive primer.
A single bottle of this primer will help you paint lots of minis in the shortest time possible. Plus, they are quite solid, providing your paints with a durable foundation that ensures they stick well. 
The only limitation of using this primer is that the fluid Is quite dense and may obstruct little details in small miniature kits. 
Createx Primer Pros
Inexpensive
Long-lasting
Sticks well
Createx Primer Cons
They are higher viscosity fluid and can obstruct details if not pre-thinned
AK-Interactive Primer
Last on our best airbrush primers for miniatures are AK Interactive primers. Apart from the Alcald II, these are another good solvent-based airbrush primers. Their only limitation is that they smell and might cause harm when inhaled. So, you may want to use a respirator and face mask when airbrushing with this primer. 
Besides this, they do give a good result. All you need to do is to thin them with a little water or airbrushing medium to get a smoother coat. 
AK-Interactive Pros
Exceptional results
Easy to use
Sticks well
AK-Interactive Cons
Its fume and foul smell mean it's not eco-friendly
Expensive
Is airbrush primer better than rattle can primer?
Rattle can primers and airbrush primers will work well for your miniatures if you use them under the right conditions. But, while they both help you apply primer on your minis via an atomized spray application, they have their merits and limitations. 
Rattle cans are more convenient since you won't have to pour them out of a bottle and pre-thin. However, they are temperature and humidity-dependent. 
In cold environments, they won't work well. Aside from this, the primer stream can be difficult to control. So, you'll need to spray it from 6 to 12 inches away from your models. They also smell and won't work well in an indoor workspace. 
Airbrush primers don't have harmful fumes, work well under any temperature and humidity, and you have more control of the primer that goes out of the airbrush. 
For this reason, airbrush primers are far better than rattle cans. 
How I choose a primer for an airbrush
As mentioned earlier, you'll find several airbrush primer models from different brands in the market. Make sure to choose ones that are:
Less expensive
Have a wide color variety
Pre-thinned for airbrushing so that you have a whole milk consistency
Has fine pigments to reduce the risk of clogging
Don't smell
Tips for priming miniatures with an airbrush
Before priming with an airbrush, here's what you need to know:
What PSI I use 
Psi size will change with different airbrush models, but a good PSI size is 20psi. 
Nozzle size 
Use a nozzle opening of 0.3mm or larger. Anything smaller, like a 0.2mm nozzle will make your airbrush clog. 
Thin your miniature primer or use a flow improver
Thin, rather than using a flow improver. Flow improvers are harmful when inhaled and can degrade metal coatings so that their service life is reduced. Thinners help you prevent debris from clogging the airbrush nozzles. 
cleaning after priming with an airbrush cleaner can make cleaning easier
You need to clean your airbrush after priming them. 
Using an airbrush cleaner is not mandatory, but it will prove more effective than water to flush stubborn pigments from the airbrush. 
Conclusion 
Airbrush primers are great for laying down a solid surface for your paints. 
While they're not as durable as enamel spray cans, they are effective in the long term and worth the money. Just make sure to varnish your minis after painting to protect them from wear and tear because you never really know how good the primer you choose is.