Best Hobby Grade Beginner RC Cars (2023)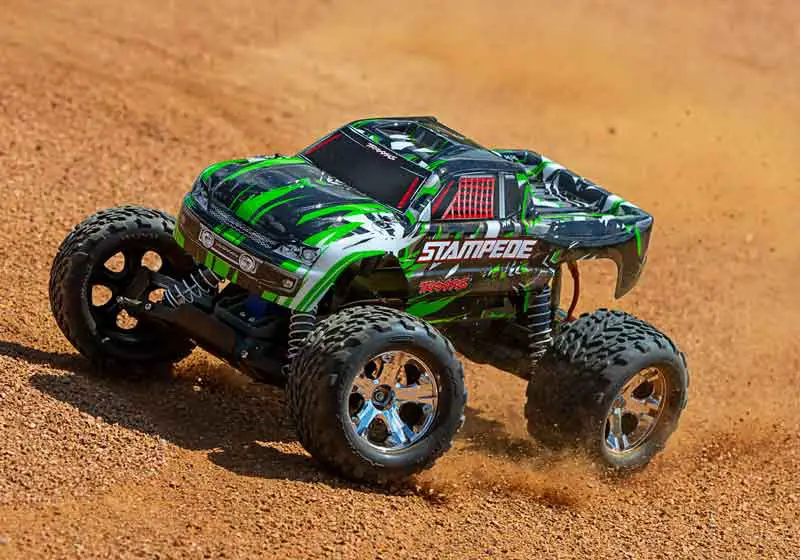 Choosing the best RC cars as a beginner is not an easy task. Since these machines will go with you a long way, it's important to choose the best one that will suit your needs right from the start.
When it comes to advising on the best RC car for beginners, it will be best to ask the ones who know. Trust me, I've been there. and that's why we took the extra mile and created this research of the best beginner hobby grade RC car to start your journey.
If you are a beginner RC hobbyist, Traxxas is one brand you should consider stocking on your collection, especially for your first-time RC car. Traxxas is a reputable RC brand famous for its advanced features that favor professional RC hobbyists, but that doesn't mean they don't make cars for RC beginners. 
The famous hobby-grade manufacturers are also known for their unique ready-to-run RC car, which is one great RC car kit for complete beginners. The Traxxas Stampede is one of these kits you need to consider.
The Traxxas Stampede is probably the most rugged and durable ready-to-run monster truck in the Traxxas lineup. It comes with a modified motor and battery that lasts a long time. Plus, it is cheap to buy and easy to fix when you break it.
The Stampede even offers speed as high as +30mph, a crazily impossible fit for most beginner RC car models. With this vehicle, all you need to do is plug in the battery, charge it and get ready to drive. For beginners, the Stampede set is quite easy and offers exciting thrills. 
The Traxxas Stampede is AMAZING for beginners
Like Traxxas, Arrma is another leading hobby-grade manufacturer in the RC car industry. They provide RC hobbyists with the most exciting experience, and the Arrma Typhon Buggy is no exception. 
The Typhon is a joy on the track that works great on off-road surfaces. It comes designed with a brushless motor that offers tons of power, but that doesn't make them control resistance on the track. Regardless, what makes Arrrma Typhon great for beginners is that they offer the same brutal experience professional RC hobbyists enjoy but with the right electronics and power suitable for beginners.
If you are a beginner, the Arrma Typhon will be one of the BEST options for you
One thing we love about Tamiya is that their cars are not just fun but super easy to drive. Tamiya's Hornet, designed in 1984, continues to rank high on the best beginner RC car.
The simple reason is that it offers excellent performance on both dirt and on-road tracks.
This awesome buggy can take on any terrain. It also features an easy assemble chassis and drivetrain, oil-filled rear dampers, a powerful RS 540 motor, and a high-performance suspension system that makes handling easier for even a beginner RC enthusiast. 
The Tamiya Hornet is a classic beginner's RC car
Losi is also a famous hobby-grade RC manufacturer like Arrma and Traxxas. But what sets them apart is that they make easy-to-use cars like the Losi 1/10 Ford Raptor Baja Rey, different from many Traxxas and Arrma models.
The Losi 1/10 Ford Raptor Baja Rey comes equipped with a Dynamite Fuze 3800Kv brushless motor that can handle 2S or 3S LiPo batteries allowing you to hurl across rugged terrains at speeds of up to 50 mph.
It also has a uniquely designed chassis that allows easy access to the brushless motor. All you need do is remove the three screws in the bottom of the chassis and start working on your engine. 
The highlight of this car is that you can get a bevy of aftermarket parts for this RC car, whether for upgrades or maintenance. 
You won't be disappointed with the Losi Ford Raptor
Since the 1980s, HPI has designed some fascinating RC cars, and the Trophy is one of them. 
Built with the highest quality materials, the RTR Trophy Buggy features a super tough 6061 aluminum chassis, aluminum shocks and wheels, oversized steel gears, and a humongous brushless HPI Flux Scream motor that screams FUN even as a beginner RC vehicle.
All you need to get this car working are some 7.4v 30C batteries to give you the incredible speeds needed to run your RC car. 
Yet, the most exciting feature of the HPI trophy is the buggy handles made with neoprene materials that make it very easy to control the vehicle, even on the most winding terrain. 
Trust me, it is a really (really) good RC car for beginners
Redcar Racing is also one brand that makes affordable and excellent RC car kits for beginners, and the Volcano is a good example. 
The Volcano is a monster-style RC truck that can run over obstacles with superb stability and is designed for off-road use.
However, the unique feature of this car is that the truck is capable of maintaining a constant speed and not wobbling even on uneven terrains. This is because it has large wheels and a well-balanced independent suspension.
So, when you use the truck on rugged terrains, these two features help keep the actual body of the truck safe from abuse. 
Redcat Volcano Is A LAVA Hot RC car
Another reputable RC brand beginner RC hobbyists need to consider is Axial. Like Traxxas, Axial is famous for its vehicles that offer plenty of quality, versatility, durability, and ease of use. Plus, their parts support and aftermarket parts are surplus. 
This Axial SCX10 III Ford Bronco 1/10th 4wd RTR is engineered for adventuring in the mountains and rugged terrain.
The durable brushless motor, sealed gearbox, oil-filled shocks, and divine chassis design that offers easy access to the motor and other electronic components make this Axial model by far the most detailed, efficient, and reliable RC car for new scalers.
All you need do is choose a suitable battery and start driving your first RC car!
The Axial SCX10 III, it's A Ford Bronco!
Team Associated's slogan, "World Champion Radio Controlled Cars," isn't just an overstatement. Since they entered the RC market, Team Associated has made some of the RC cars suitable for beginners and pro hobbyists.  
One thing you will like about Team Associated's Pro2 SC10 is that it comes with adjustable features like the Adjustable aluminum big-bore, coil-over shocks, a sealed-gear differential, and heavy-duty CVA driveshafts that makes driving a scaled replica of real vehicles possible for beginners.
The realistic MethodTM Race Wheels and tires also make speeding and handling on any off-road terrain possible.
The SC10 is another RC classic that you can't go wrong with
best RC car for beginners – The Research
Based on a wide experience with different hobby grade RC cars, we cherry-picked each one of the cars on this list, and organized them by what we think will be the best for beginners.
We then went to the community of RC enthusiasts and ask them which hobby-grade RC car will be their best choice for beginners, and guess what, the list we curated before asking the community was in the same order!
This list is made of the obvious choice, and also with some cool and interesting RC cars that will also be great for beginners.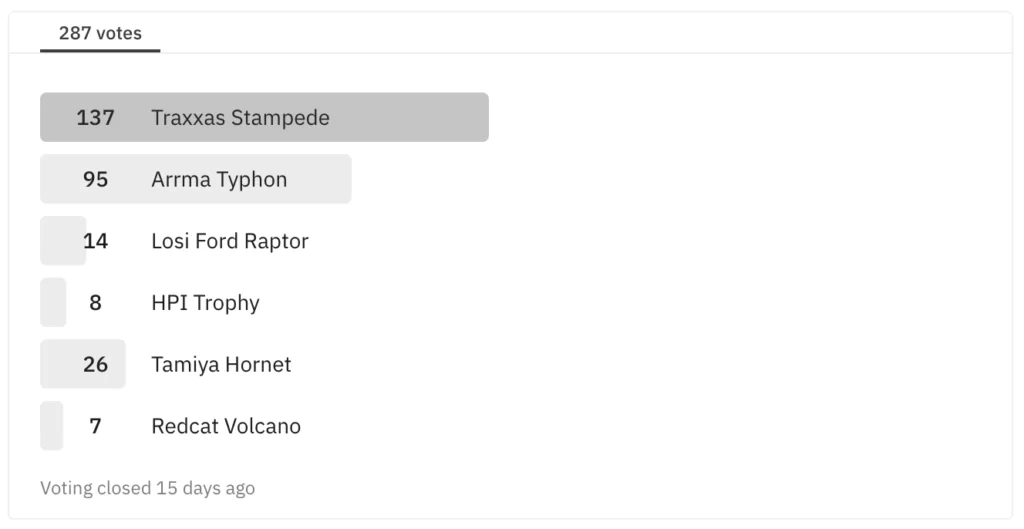 Best Hobby Grade RC Cars For Beginners
As a newcomer in the RC industry, you'll find various types of RC cars and their different models that make the whole hobby seem like technical jargon. To help you make a more informed decision when choosing your first RC car, the first thing you need to know is that there are primarily five types of RC cars, each used in different terrains and conditions that they best operate in. They include:
Touring (Racing) Cars: This RC car type is great for on-road surfaces like asphalt, carpet, and concrete. Manufacturers design them with a 4WD (four-wheel-drive) system so they can do some drifting without damaging the internals. 
Dirt Buggies: RC buggies work great on both on-road and off-road terrains but are faster on on-road surfaces. Due to its all-terrain stability, it means anyone can use them regardless of skill. 
RC Truggy: They work like buggies but are faster on off-road terrains. 
RC Trucks: This RC car type operates well on off-road terrains like grassy or wood terrains. They consist of short-course trucks (which can run on all terrains, whether flat or rough. They also run on four wheels, making them really powerful, durable, and versatile) and monster trucks (a high-powered, all-terrain truck that works well on grass, dirt, dunes, and puddles, allows for fun stunts even in your backyard). In short, RC trucks are great for exciting fun-time on rugged terrains. 
RC Crawlers: RC crawlers are designed to crawl effortlessly on mountains, rocks, gravels, uneven surfaces, and other rough terrains. Their crawling nature means they are slower than most RC vehicles. But, it also means they can easily handle the worst situations on off-road terrains. 
What's important when picking your first RC car?
When picking your first RC car, there are five things you need to consider. They include:
Technically, the power source will determine how easy it is to handle the car. Nitro RC cars are known to have a complex build that makes handling them for the first time difficult.
Plus, their complex build means they are more tasking to maintain. For this reason, you need to consider picking an RC car that won't make handling and maintenance challenging for you. 
As mentioned earlier, maintenance is one feature you should consider when buying your first RC car. No one plans on breaking their new RC car. But, you need to be sure that when it happens, you are covered.
Cost does not play a significant role in this decision.  Rather, parts support do.  Even the most expensive RC cars will need parts replacement when they break down.
So, ensure that whatever RC car you choose to buy has the necessary parts support to make them function well again. 
Regardless of the handling and ease of maintenance, ensure that the care you choose has capabilities that make them easy to do fun stuff like wheelies, drifts, and other exciting stunts for beginners. 
Who doesn't want an RC car that offers just the right speed on their fast drive? Yes, a good RC car must be fast-paced to offer thrilling heart spiking fun.
However, ensure that the vehicle is not too fast to handle since it can be frustrating for newbies. 
Speed, ease of use and maintenance, and fun are four things many RC car brands won't offer no matter how many years they've been in the RC industry.
Make sure to pick a reputable brand like Traxxas, Losi, Axial, HPI racing, Arrma, Tamiya, and any well-known RC car brands that offer all these features, including durability, reliability, and high-quality build. 
Should you go nitro or electric? 
While RC cars range by type, they also differ by their power source. 
Whether a buggy, Truggy crawler, truck, or racing car, an RC car could either have an electric motor and battery or a fuel-powered one (also known as nitro fuel) as its power source.
However, both have their pros and cons which makes it difficult for RC car buyers to choose. 
For instance, electric cars are low-maintenance RC vehicles since they run on rechargeable battery power that is cheap to buy.
Their electric motors also won't require tuning since they don't make any noise. Almost all electric RC cars come with plastic parts but allow for metal parts upgrades to make them more durable.
The only drawback of using electric RC cars is that you may need to wait long for the batteries to charge. 
On the other hand, nitro-powered RC cars can only boast of longer runtime and super-fast speed right out of the box. Their nitro engine also makes them sound like real cars.
Apart from these, nitro RC vehicles are noisy, expensive to purchase, have a complex build, and require high maintenance. Their high noise level means they are only great for outdoor operation. 
In short, nitro cars will perfectly suit people used to driving real cars and professional RC hobbyists. And due to their high price and speed levels right out of the box, a nitro car won't make handling an easy task for beginners. 
So, if you are wondering whether you should buy an electric car as a beginner, get an electric car that makes the RC car easy to handle so you can learn all the ropes of RC driving before diving into the high-speed performance vehicles.  
Should you go brushed or brushless?
Since you know electric cars will suit you best as a beginner, you also need to know what type of motor to use. Electric RC cars uses two types motors, the brushed and brushless motor.
Brushed motors are cheap but have little power to offer. They also have a low life cycle and tend to wear out before a year. 
On the other hand, brushless motors are faster, more efficient, durable, and more powerful. They can also last longer than their brushed counterparts. 
Considering these facts, brushless motors are the best go-to for beginners since it helps them save money and is quite efficient. 
Conclusion
The world of RC is not all that simple, especially for new hobbyists. If you're buying your first RC car, there's a lot to consider, from the type of RC car to buy to the ease of use and maintenance, speed, fun, and engine they use.
However, the fact that there are many famous RC manufacturers today makes choosing the best RC car challenging. Despite this, no matter the RC brand you find in the market, ensure that the RC vehicle you choose has an electric engine that offers easy handling.