5 Best Traxxas RC cars for beginners (2023)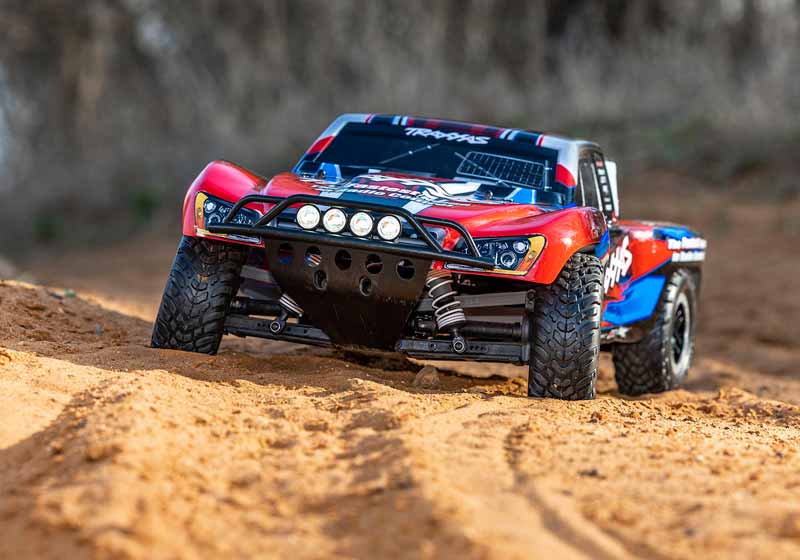 Traxxas has been in the hobby-grade industry for more than three decades, but that does not mean they have lost the unique touch that makes them the leading RC car manufacturer in the RC industry. 
To date, their products are known for their quality and intuitive design suitable for advanced and beginner users.
This list of Best Traxxas For Beginners is based on our own experience and research and on a community survey answered by 180 hobbyists.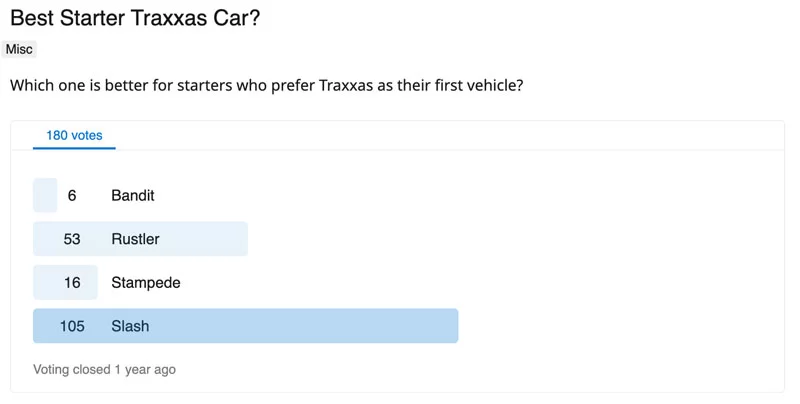 1. 96% – The Traxxas Slash Is The Best Traxxas For Beginners
Hands down, the Traxxas Slash is one of the best Traxxas RC cars for beginners because of its unique features and capabilities. 
One of the most remarkable things about the Traxxas Slash is that it has a low center of gravity that offers beginners more stability even at incredibly high speeds up to 50mph. Apart from this, Traxxas Slash models for beginners comes fully assembled, so you won't need to worry about the stress of assembling them.
The only drawback to buying the Traxxas Slash is that it can be quite expensive for new beginners to afford. Other than this, the Traxxas Slash is durable, easy to use, and handle. 
Pros
Good stability
Capable of speeds up to 50+mph
Comes fully assembled
Easy to use and handle
Durable
Cons
The Traxxas Slash is The BEST RC Car For Beginners
2. 95% – Traxxas Rustler Is Another Great Beginner's Option
When it comes to getting a Traxxas model that combines speed, fun, durability, and toughness, Traxxas Rustlers are the sleek RC vehicles that offer these experiences even for beginners. It's no wonder the Rustler is Traxxas best-selling stadium truck till today. 
Wonder what makes this Traxxas model a good beginner RC car? The Velineon brushless power, ultra-shock suspension, and protective wheelie bar that can blast to over 65mph even on rough terrains make them stand out. With this model, beginners can do stunts without worrying about losing control. In fact, the Rustler comes designed with a self-righting feature that makes this possible. Apart from this, the Rustler is Ready-to-Race as soon as the wrapping paper comes off, so you never have to worry about assembling. 
Pros
Cheap replacement parts
Extremely tough and durable
Fast
Lots of room for modification
Con
Try the Traxxas Rustler, you won't be disappointed
3. 90% – Traxxas Stampede Is A Great Starter Traxxas
Another best-selling RC Traxxas vehicle of all time is the Stampede. Traxxas Stampedes are mostly monster trucks that offer monster thrills on rough terrains. It means that no matter what type of weather and terrain you drive them in, you can count on the Stampede to keep going.
Four defining features make the Stampede a good choice for RC beginners; the Chevron Maxx 2.8 inches tires, Titan12-Turn 550 motor, XL-5 waterproof speed control, and tall ground clearance. With these features, every beginner is sure of two things, speed, and easy fun drive. Like the Slash, a plus of the Stampede is that it is ready-to-run, meaning you won't have to mess around building the truck. 
Pros
Perfect for off-road and on-road terrains
ready-to -run
Easy handling
Cons
Weak steering
Week suspension
When it comes to Traxxas Buggies, the Bandit is the best-selling amongst all Traxxas lineup. It is also a top performer as it is capable of speeds up to 35+mph on a powerful NiMH or LiPo battery.
Plus, they can operate on any terrain, whether mud, snow, or grass. 
Pros
Well-balanced 
Incredibly easy setup
Affordable
Easy handling
All terrain operational
Con
The Bandit is worth every penny
The last Traxxas vehicle on our list you need to consider is the Unlimited Desert Racer. This Traxxas model does not only look like a big truck but also drives like one. But what makes them a good choice for beginners is their incredible performance. 
The Unlimited Desert Racer has an incredible suspension setup that allows beginner hobbyists to move over dips and curves with the right control. The dampers and trigger have enough fine control to balance the throttle perfectly. Plus, it can take an impressive level of abuse, and the independent suspension ensures that when you lean over a bumpy surface, you do so without tipping. It also has a wide-open throttle hat that helps you hold large slides on loose surfaces, especially on sand.
Pros
Incredible performance
Fine control
Can take hard falls
Cons
Less steering power
Heavy
which is better for beginners, 2wd or 4wd?
Whether buggy, truggy, monster truck, crawler, or touring car, Traxxas models will either have a two-wheel drivetrain or a four-wheel drivetrain. However, both differ in performance, meaning one works better for beginners. Let's look at both to know which works well for beginners. 
For a newbie, a car with lots of complexity can be stressful. so, one of the advantages of 2WD RC cars is that they have a simple design that makes it easy to learn the ropes of RC driving. Apart from this, 2WD RC vehicles are quite cheap since they have fewer components compared to 4WD vehicles. Another advantage 2WD vehicle offers is that they have better speed. However, you only get the speed levels when you run them on paved or tarmac surfaces. 
The downside of a 2WD RC vehicle is that they are hard to maneuver and won't work well off-road since they only rely on two wheels, and this can be frustrating for beginner RC hobbyists. 
One of the greatest advantages of using the 4WD is that they are extremely easy to control. Unlike the 2WD, which makes handling almost impossible for beginners due to their 2-wheel drive power, the 4WD vehicles remove this limitation. Plus, they are great for off-road fun. Their four-wheel ability means you won't lose grip on even the most challenging tracks and corners. 
On the flip side, a 4WD vehicle is quite expensive since they have several high-quality components installed in them. And despite their high price, they have higher chances of breaking down. 
Brushed or brushless?
Electric RC cars have a brushed or brushless power source. However, many new hobbyists will often prefer brushed counterparts because they are cheaper than brushless counterparts. Regardless of this, brushless motors are best for beginners.
The simple reason is that they are more energy-efficient, more powerful, faster, long-lasting, and durable. 
If you are thinking of buying a Traxxas model, many of them usually come designed with a brushed motor. However, you can always get a brushless upgrade for them. 
These five best Traxxas RC cars we discussed in this article all feature a powerful brushless system, which means that even for beginners, brushless motors are the best choice that offers easy handling, speed, and power. 
Is Traxxas the best RC car brand?
In the hobby-grade industry today, you'll find various RC manufacturers that make some of the best models offer high-quality, affordable, and reliable components.
However, Traxxas is the best RC car brand that combines innovation, functionality, quality, and easy handling of RC vehicles, whether you are starting out or an advanced user. 
Conclusion
Over the years, Traxxas fans continue to grow because of the high-quality models they make. So, even if you are a beginner RC hobbyist, you never know which Traxxas model will make you a satisfied racer.  
With so many Traxxas RC options available in the market, choosing the best model may seem challenging. We hope these models listed in this guide, will make it easier to pick the best beginner RC car that meets your taste and is worth the money.