Is HSP a good RC brand? | Should you get one?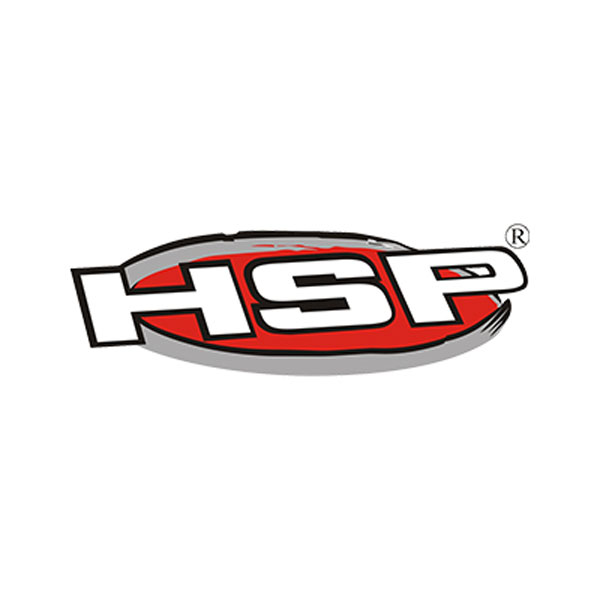 Redcat and Exceed RC car models are made by the same company, the HSP RC brand. And while each model may differ in name, they offer similar drive performance. However, they are one of the best brands that offer high-end entry-level RC cars. 
Is HSP RC any good?
HSP Racing makes exceptional RC cars that are great for beginner RC hobbyists.
However, they don't have near the quality as big brands like Traxxas and Losi. They do have a ton of aluminum upgrades for their RC cars. But, depending on your location, parts can at times be hard to find and are often out of stock for short periods, and sometimes even for a few weeks.
A better option to find your RC car parts would be to check online stores. 
How durable are HSP RC cars?
HSP RC cars are extremely durable. 
You could crash your HSP model mercilessly onto a hard surface, and the only costly damage will be on the body. The shells are brittle, yet HSP RC cars are designed with exceptional drift tires that hold up pretty well. 
An hour of running on asphalt with the regular outdoor tires would have yielded more wear. So, no matter the drift mechanism you use, the only possible damage to your car would be the chrome plating peeling off from the wheel. Even multiple smacks on a hard surface will yield no damage to the chassis and built-in servo saver. 
HSP RC cars can get to 40MPH
HSP cars are incredibly fast.
Designed with super light-weight flywheels and pre-trimmed V-tread double tires, almost all HSP RV car models can reach max speed up to 40+MPH. Plus, even on off-road and on-road terrains, HSP cars maintain their high-speed levels. 
Where is HSP based?
HSP racing has been a well-established budget-friendly RC car Original Equipment Manufacturers based out of Hong Kong, with headquarters in Huangjiang Town, Dongguan city, Guangdong province in China, 
You should try the HSP 1/10 Crusher
The best HSP model is the 94601PRO HSP 1/10 Crusher BL 2WD Brushless Truck.
This model is perfect for beginners as it comes with an HSP slipper clutch to help you complete wheelies, jumps, and other bashing activities.
Built with durable 2WD chassis, powerful 3300Kv brushless motor, 3500mAH 7.4v LiPo Battery, and GT Power B3 LiPo charger that charges the battery in just over 2 hours, this truck can power through grass, dirt, mud, and water and still stay intact. 
HSP makes only RTR
One common feature HSP shares with big-name hobby-grade RC car manufacturers like Traxxas and Losi is that they produce ready-to-run RC cars that work exceptionally for beginner RC hobbyists. 
HSP doesn't really compared to big RC brands
With many big brand RC car manufacturers on the market, it can be difficult for RC hobbyists to leave their favorite brands to buy HSP Racing RC cars. The reason is that compared to these big-name brands like Traxxas, Losi, and Tamiya, HSP Racing cars are considered low quality. 
But, if you're an entry-level RC hobbyist and consider the pricing, HSP Racing RC vehicles are incredibly cheap than these expensive big-name manufacturers.
And while people consider HSP cars as low-quality, their electronic components are pretty durable. 
HSP RC drift cars Are good
HSP RC drift cars are fantastic! 
HSP drift cars have a fully enclosed drivetrain, which will help keep the rocks out of your gears, and a spur gear made of steel. These features make them exceptional drift cars while also incredibly bashable cars. 
The driveshaft is also an aluminum unit, and it features steel dogbones front and rear. It also features adjustable pushrods, so the suspension is tunable.
Apart from this, the drivetrain also comes with alloy shocks that are smooth and perform reasonably when fully oiled. 
HSP is a great entry-level RC car
A lot of tech goes into producing advanced Kit cars and beginner RTR cars. For years, HSP Racing has dedicated its time to making high-end superior-quality RTR cars that compete even with the popular Traxxas brands.
So, if you're a newbie, you'll need an entry-level RC car that makes it easy for you to learn the ropes of RC racing. HSP Racing RC cars will be a great option. 
HSP build and parts quality
Like popular big-name Traxxas and Losi brands, HSP builds, and electronic parts aren't as super-high-end.
However, HSP car parts are engineered with functional brushless motors, LiPo batteries, a 2.4 GHz transmitter, and waterproof electronics. You also get to enjoy a durable, flexible suspension and sub-par body shell at a fair price. 
Two damages that may be prominent in your HSP RC car are broken spur gear and burnt-up motors. The good news, the pro version of most HSP models with these parts are designed with metal spurs and brushless motors to keep them super-tough, durable, and long-lasting.  
Keep In Mind That parts availability May Be Low
Unlike most big-name brands that ensure you can quickly get RC car parts from any location, HSP parts are not available in local hobby shops in most regions.
However, they will be easily sourced over the internet. And, since HSP Racing is the producer of Redcat and Exceed RC cars, you won't have much trouble finding spares for any of your HSP RC car models. 
Should you get an HSP RC car?
Every RC hobbyist has varied opinions on whether HSP cars are good or worth the money. Ultimately, you have to decide if you should get an HSP RC car or not. 
While HSP cars aren't as tough as big-name Traxxas, Arrma, Losi, or HPI models, they are pretty cheaper and will work exceptionally for entry-level RC hobbyists.
And while many may feel they are cheap-quality parts that don't last long, HSP cars are quite durable; even when crashed on a hard surface, the only possible damage to the car will be on the chrome plating of the RC shell. 
Short List – 2 HSP best sellers
Some HSP best sellers' RC cars include:
Features
540 sized 3300kv brushless motor
2.4Ghz radio
7.4v LiPo battery
Ball bearings
Waterproof electronics
Steel driveshafts
1/10 scale
Speed levels up to 55kph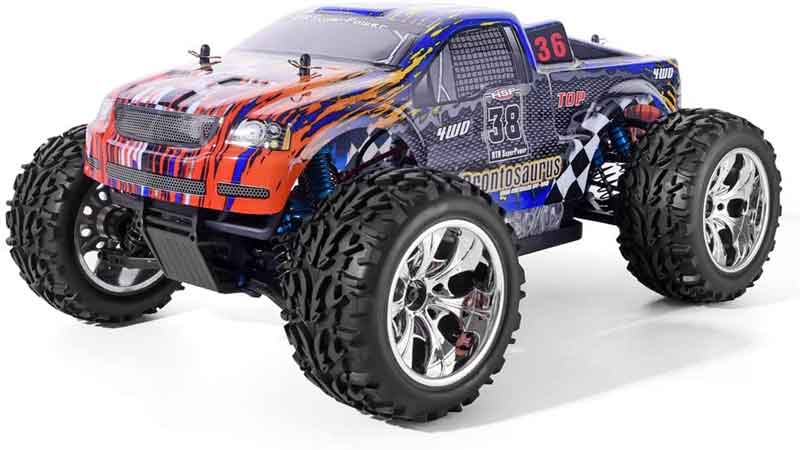 Features
1:10 scale
35+ mph top speed
4WD shaft drive
2.4 GHz, RTR
Nitro fuel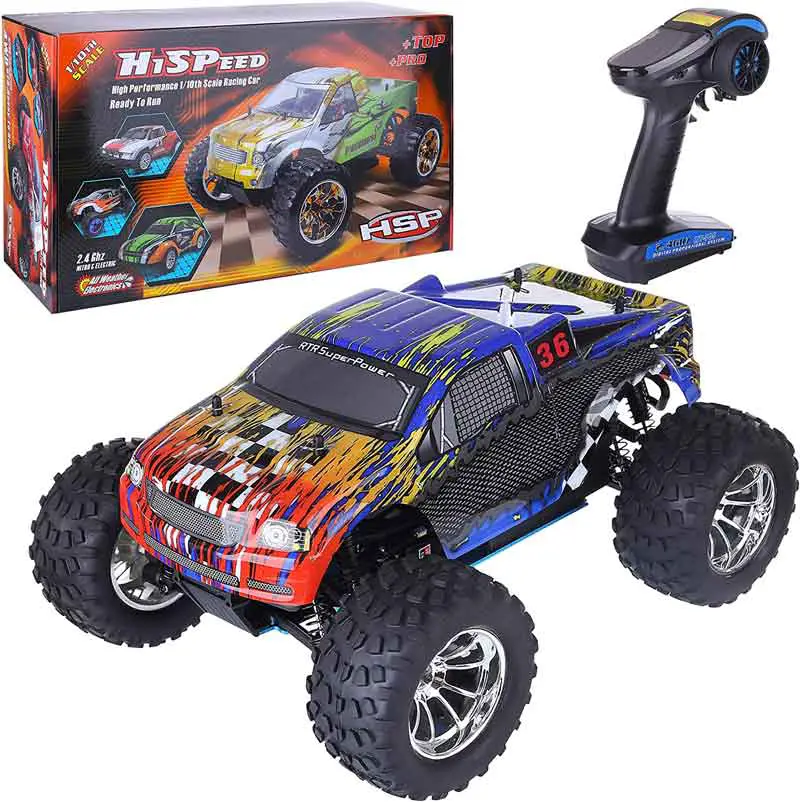 Conclusion
Beginner RC enthusiasts will experience more fun when buying HSP Racing RC car models. These cars are cheaper and durable, albeit slightly lower quality than big name brands like Traxxas and Losi. Overall, HSP is a good brand. 
Sources used for this article