RC kit cars Vs. RTR's – Which One Comes On Top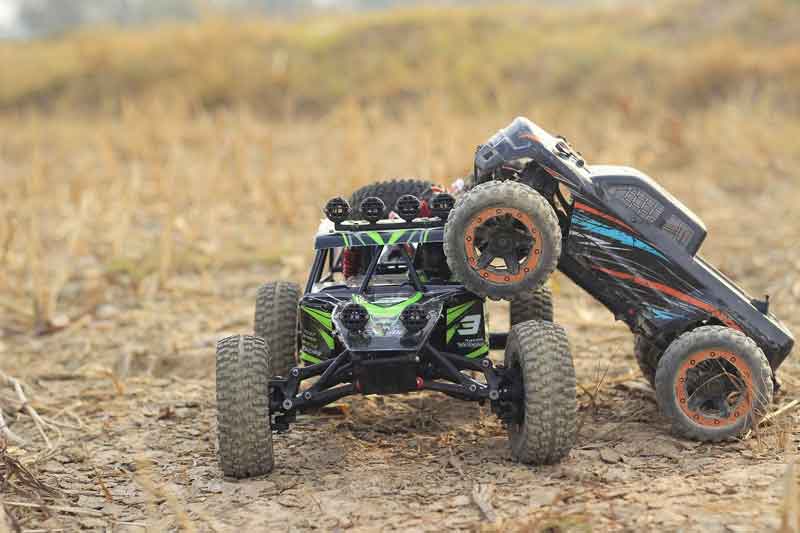 There's nothing like the thrill of having to build your vehicle to suit your taste. However, this can also be a challenge for most people without the technical know-how required to build their vehicles from scratch.
The good news, RC car hobbyist can get their RC cars in their dissembled or unassembled form. 
RC cars that are assembled are called RTR (Ready to Run), whereas the unassembled ones are called RC Kit cars. 
Ready-to-Run are remote control cars that you can run straight out of the box.
Kit cars are Do-It-Yourself cars – you get chassis and body but need to buy and assemble all the electronics.
The Main Differences Between RC Kit Cars and RTR's
RC Kits and RTR differ in various forms. 
The most telling difference is found in the type of materials each component of the RC car is made of and the equipment that makes up the vehicles. 
For the build of your own RC Kit, you get a box of bagged RC car parts to assemble the car yourself. Apart from this, Kits do not come with any electronics needed for your vehicle to run, including radio gear, ESC, batteries, and motor. The only body parts included in the kit are the body rims and chassis.
What this means for RC car hobbyists is that they have to buy every other part themselves and that way they can customize their vehicle to fit their specific requirements. 
On the other hand, the Ready to Run RC cars comes fully assembled from the factory. Hence, you have all the necessary components already installed. For electric RTR's, you simply need to charge and install the battery to get your car started.
The nitro-powered RTR's will require you to install the AAs into the transmitter and car to get the radio gear functioning. Plus, you'll have to fuel it up to fully enjoy their performance levels. The nitro RTR's will also demand you break-in the engine to increase the life span of the engine and increase its performance.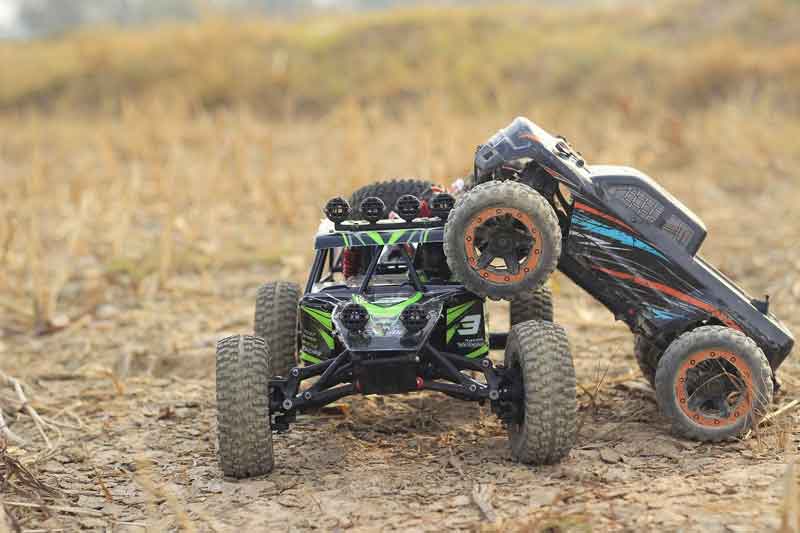 Kit Car vs. RTR – Pros and Cons – Which is The One For You
Today, the vast majority of RC cars offered worldwide are RTR's. This makes sense since you wouldn't have to spend time building your RC car from scratch, and you'll also be able to enjoy racing on the track right away.
However, an unassembled box of RC parts would probably be a go-to choice for pro RC racers. Before crossing to purchase RC kits or the RTR, consider the following: 
– Kits
Pros
You enjoy the satisfaction of building your RC car yourself. 
Allows for customization and modification of car parts.
Give you a better understanding of how your car works.
Cons
It can be time-consuming, especially if it's your first time, as Kits come with step by step assembling guide. 
Has a potential for error in assembling.
It doesn't come with fully installed parts. So, you'll have to buy additional RC car components to make them run. 
– RTR's
Pros
You get instant gratification, as it comes assembled right out of the box and won't demand the installation of car parts. 
You don't have to worry about wrongly or poorly installed parts because they are properly assembled.
Cons
You don't get to educate yourself on the build of your vehicle, making it difficult to find possible solutions to damages in your RC car. 
Some of the RTR's are not included with batteries or chargers, meaning you have an additional cost.
You'll have to worry about the compatibility of different parts. 
Which Will Cost Less Out of The Box
On average, RTR's are cheaper to purchase than RC Kits. However, you can't fairly compare both when it comes to pricing. Why? While RTR's are less expensive than Kit RC cars, owners have to pay a higher cost when they wish to modify their RC cars. In essence, they have to pay more premium if they wish to purchase additional accessories to fine-tune their RTR's. 
On the other hand, unassembled Kits offer owners greater flexibility when it comes to finding high-grade parts. Plus, owners wouldn't need to purchase additional accessories to modify the design of their RC car. For this reason, many experienced RC racers prefer to purchase the RC kit than the RTR's since they won't have to spend more money on purchasing additional accessories for modification in the long run. 
Kits Are Cheaper Than RTR's in the Long Run
When considering purchasing an RC Kit or RTR, the question constantly on many buyers' minds is which would last longer and is also affordable. The truth is that while RTR's are cheaper to buy than RC Kits, Kits are by far cheaper in the long run. That's because owners wouldn't have to bother about modification issues after purchase since they made sure to purchase nicer, high-quality and high-grade components for their car models. 
Which Is Easier to Maintain?
When you purchase a ready-to-run RC car, it means you have a lesser chance to fully understand your car components and how they function. On the other hand, having to assemble your RC car yourself means you know the ins and outs of your car components. Maintaining your Kit car will be easy since you know how they work. You can also easily detect when the components get faulty, and also fix the damaged parts easily. Notwithstanding this, they can also be difficult to maintain since users may be unfamiliar with how to maintain high-grade electronics used in their Kit cars. 
However, RTR cars won't demand much maintenance time because their components are gotten straight from the manufacturers, don't require added installation, and the tuning is already set to perfection by manufacturers. For this reason, RTR cars will be easier to maintain than Kit RC cars. 
Can You Custom an RTR?
RTR's allows for modification. However, customizing your RTR might cost more than buying one since the additional accessories come at a higher price than the fully assembled RTR cars. 
Does RTR's Fit For a Race?
RTR cars can develop faults easily while racing since some manufacturers don't use best-quality materials in their construction. Keep in mind that racing takes your RC car to the edge. For this reason, it's best to avoid racing your RTR on the track. However, RC car hobbyists can race with RTR cars with a little bit of upgrade to the car parts. Owners would simply need to get high-end raving electronics and superior-grade, quality tires to suit their RTR cars. 
Is There a Difference in the Performance of Each Car?
Performance-wise, RTR cars are stiffer than RC Kit cars, meaning that Kit cars will have the upper hand over RTR's.
Why? manufacturers don't always use high-quality materials to construct the vehicle. For the Kit cars, users have the chance to buy high-grade electronics that match each component. However, RTR cars can also improve in performance with a little upgrade on their electronics. 
Who Will Be Better With RTR?
Overall, RTR cars work best for first-time RC car users since they won't have to worry about building the vehicle from scratch. Plus, beginner RC car hobbyists enjoy the full experience of running an RC car both in the cold and during summer with an RTR car, as it comes with a manual to help them get started on running their car all year long. 
Who Will Be Better With Kit RC Car?
If you are committed to building your car yourself and gaining in-depth knowledge of your RC car functions then go for the Kit RC cars. While Kits are more expensive to buy than RTR, these vehicles offer pro RC hobbyists a higher level of satisfaction of not just having to see their dream car come to life but also ensuring an improved level of performance with higher quality electronic parts. 
Final Thoughts About RTR vs. Kit Car
As evident from the discussion, RTR, and Kit cars have their advantages and disadvantages, especially when it comes to the modification process, construction time, pricing, performance levels, and learning experience.
For individuals with less experience with RC cars, purchasing an RTR car will prove more enjoyable. On the other hand, RC car hobbyists willing to spend time building their RC cars from scratch while getting to know every detail of their car will get full satisfaction from purchasing an RC Kit vehicle.