What RC cars are made in the USA (we found only one)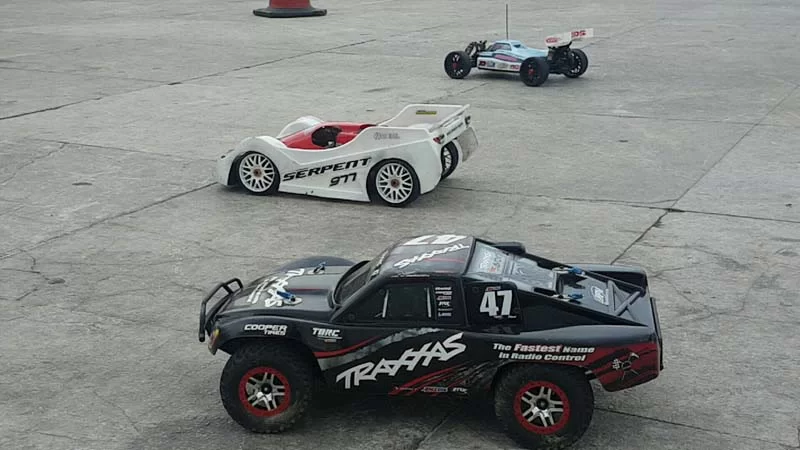 The United States is the country with the most RC vehicle users in the world, and there is also a good number of RC companies that were founded or are based in the USA. 
However, it is quite interesting to note that the actual production of many of these vehicles does not take place in the USA.
Why are these cars produced in other countries, and are there any RC cars that are made in the USA?
Are any RC Cars made in the USA?
It is nearly impossible to get any 100% US-sourced RC vehicles now.
X-factory are the closest you can get to having an all-American RC truck. They try hard to source all the materials and also manufacture everything in the USA but still, there are some parts and processes that they choose to outsource and perform abroad. 
Why are RC cars not made in the USA?
The primary answer to this question is quite simple: cost of production!
Most RC vehicles are produced in Asian countries where producing them is much cheaper compared to producing them in the United States.
With labor-cost so low in asian countries, and the demand of hobbyists to get their RC cars for as low priced as possible, its almost inevitable that RC cars will be produced outside of the US.
That, and the fact that production skills and qualities are increasing in the manufacturing countries, make it not economical for brands to produce their RC cars, or RC vehicles in that manner, in the states.
Were RC cars ever made in the USA?
Yes! Many of these American RC companies started out producing their vehicles in the United States until they all started flocking to Asia because of the lower cost of production.
You can still get some specialized parts of the RC vehicle made in the USA, but it is not likely for you to find a whole truck or car that was manufactured, assembled, and kitted in the USA.
Even trying to buy each element separately and building 'your own american RC car' will face you with issues, as there are components' production lines that simply doesnt exist in the US.
Are RC cars designed in the USA?
Some RC car companies still choose to design their cars in the USA while producing the main parts in other countries.
Thats the junction companies find between providing good RC cars that are well designed, at the lowest price possible.
Are Traxxas RC cars made in the USA?
Although the headquarters of Traxxas is located in McKinney, Texas, the components of their RC vehicles are manufactured in a production facility in Taiwan before being shipped back to the United States for assembling.
So, even though the cars are assembled here in the USA, they are not regarded as "Made in USA" products because the parts are made elsewhere. 
Traxxas is one of the biggest RC brands in the world, with its awesome cool-looking cars and trucks that provide a lot of fun. They also boast a wide selection of products that satisfy different levels of RC enthusiasts from beginners to experienced drivers.
This brand was established in the 1980s, and it is a pioneer in the production of RTR cars. 
Where are Losi RC cars made?
Losi, just like many other RC brands on this list, also has its cars manufactured in Taiwan.
Losi is one of the best RC car brands today, primarily because of its great easy-to-drive cars as well as a wide range of tools and accessories that you can use to boost your bashing experience. 
They have so many tools, parts, and accessories available, and they are very easy to get as well. Losi is also well known for producing cars that have powerful engines as well as great designs.
This company found a way to produce quality RC cars at lower prices, mostly thanks to the possibility to produce their products abroad.
Where is Tekno RC made?
The products from Tekno RC are designed and tested in San Diego, California, but the products are manufactured in Taiwan. 
Tekno RC was established in 2005, and they operate out of their base in Southern California. It is in this location that they test prototypes throughout the year with the primary aim of designing and producing parts that will make a significant difference to the performance of the RC vehicle. 
Like other RC brands, asia, and Taiwan particularly is the go-to country when it come to producing a performance driven RC vehicle and maintaining costs low. 
Where are Team Associated RC cars made?
All the current RC vehicles produced by Team Associated are made in Taiwan.
Team Associated is a brand that is popular for the quality, versatility, and wide selection of great accessories and spare parts for their RC vehicles. They have cars in different scales, road options, as well as styles.
After 2013, when Thunder Tiger bought TA, the production moved to Taiwan, just like any other Thunder Tiger's RC cars.
Where is Axial RC made?
Axial RC cars are made by a company named Kingstar, which is based in Taiwan.
Axial RC was founded in 2005, and it is one of the leaders of hobby-grade RC products in the world now. 
Their products are manufactured to be of the highest quality, with an emphasis on strong construction. 
They are great at producing plastic tube chassis mods, and some of the models even come with a fully waterproof receiver box. 
Where are Tamiya cars made?
Tamiya is an RC company that originated in Japan, but a lot of the manufacturing of its products is actually done in the Philippines.
Tamiya is a brand that has a lot of history, and they are well known for their high-quality static plastic and radio control scale kits. 
Tamiya was established in the 60s, and it was one of the first brands to make RC vehicles that were easy to put together. They continued to innovate and made the RC cars very easily customizable, adding details that were difficult for other brands to compete with. 
Thanks to their great number of RC units, as well as the wide selection of RC vehicle types to choose from, Tamiya has become one of the most respected RC brands in the game.
Where are Arrma RC cars made?
All the RC models from Arrma are produced in Taiwan from the same company as Axial RC, Kingstar. 
This brand is known for manufacturing highly durable RC cars as well as producing large-sized remote control cars. These cars are great for a wide range of surfaces and terrains. Arrma vehicles are perfect if you like having a rough time bashing your RC car, and they also have some petty quick cars and trucks.
Where are HPI RC cars made?
HPI RC vehicles are produced in Taiwan/China depending on the exact model.
HPI Racing is another very popular name in the world of RC racing, and it is a great brand to consider if you want a strong car, although it does not have quite the same level of popularity as Traxxas or Team Associated. This brand has been established since the 1980s, and it has attracted tons of customers with its awesome design creativity and engineering capability. Their cars are very ferocious while also having great style.
You can also drive their cars on different kinds of terrains without fear of damage. They produce some great large-scale nitro RC cars that have made this brand a hit among advanced RC enthusiasts.
Where are Redcat RC cars made?
Redcat RC cars are produced in China.
This company was also founded in 2005, and it has grown into a large RC brand to help improve the lives of its users. In a couple of years since this brand's establishment, they have produced several high-quality vehicles with some amazing unique features to satisfy their many customers.
Redcat Racing continues to grow in popularity, and it has now become a household name in the world of RC racing with its powerful, fast, and affordable RC cars. Their vehicles usually come ready to run right out of the box, so all you need to do is bring it out, install the batteries and start bashing. Their vehicles are also quite easy to handle which is great for beginners. Redcat Racing has many different types of vehicles for you to choose from as well as some great accessories and parts that you can use to upgrade your RC driving experience. If you want a quick, strong, and durable car at an affordable price, then you should consider Redcat racing.
| | |
| --- | --- |
| RC Brand | Location of Production |
| Traxxas | Taiwan |
| Losi | Taiwan |
| Tekno | Taiwan |
| Team Associated | Taiwan |
| Axial | Taiwan |
| Tamiya | Japan/Philippines |
| Arrma | Taiwan |
| HPI | Taiwan/China |
| Redcat | China |
Conclusion
It is quite obvious that the majority of RC manufacturing is done in Asia, and in Taiwan to be precise. As stated above, the cost of production is significantly less when manufacturing is done there. So, these brands choose to go abroad for their manufacturing to help their operations be more cost-effective.