6 Best RC bashers under $200 (for 100% fun)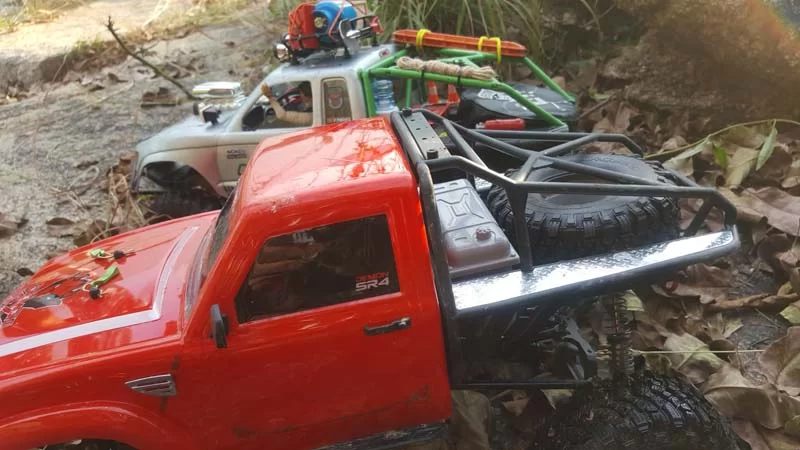 If you love to run your RC car ruthlessly, then you're literarily a born basher. But, as much as you love bashing, finding an affordable yet quality RC basher can be difficult with the numerous highly-priced models in the market today. 
Not to worry, we've got you covered!
Best bashers For Less Than $200
Continuing under our best RC bashers money can buy, we will take a closer look at the best RC bashers under $200, which will still meet your performance needs.
What are the parameters by which we choose the best bashers?
So, before we list our best bashers under the $200 range, it's important you know how we selected these cars. 
The most important quality any basher should have is sturdiness, reliability, and a good amount of ground clearance. 
You're going to be throwing and even crashing the RC car on hard surfaces. Hence, the basher needs to be sturdy enough to resist a great amount of the beatings it will take. Plus, you may have to use your RC car on surfaces other than asphalt, especially on uneven terrains like the lawn and sandy surfaces. For this reason, you'll need a good RC basher with as much ground clearance as possible. 
6 best RC basher under $200
After examining various industry-leading products under the $200 price range, we've come up with 6 of the best RC basher models perfect for bashing. They include:
1. Redcat Racing Volcano EPX 
If you're familiar with the Redcat Racing brand, you know they are known to produce cheap yet high-quality RC vehicles. This model is no different, costing only $179.99. 
This little entry-level buggy RC basher takes bumps and jumps pretty well, has good clearance and looks stylish. Combine this with the fact that this Redcat Racing Volcano EPX can take a great deal of backyard beating, and you'll love to get this model immediately. 
2. Redcat Racing Blackout Monster
As the name implies, the Redcat Racing Blackout Monster is another Redcat basher monster built for extreme RC bashing fun. 
The first distinctive feature of this car is that it comes with reinforced bumpers at the front and rear of the car to ensure it runs smoothly on harsh surfaces. The next quality to look out for would be the adjustable suspension that ensures the basher can easily withstand jumps and avoid damages when driven on uneven surfaces. 
Plus, it has a durability-inclined chassis that ensures the RC car lasts long. Talk about the extraordinary speed levels this little monster can, and you won't want to get another basher model other than this. 
3. Maverick 1502018 Quantum XT FLUX 80A
Another best RC basher on our list is the Maverick Quantum XT Flux 80A from the Maverick Line-up from HPI Racing. 
For RC basher fans on the quest to push these vehicles harder, faster, higher and longer, the Maverick Quantum XT Flux 80A is one famous RC basher built for brutal bashing.
This basher has a great ground clearance built to tear up any terrain. This model will push the boundaries of quality and performance than ever seen before, leaving nothing standing in your way.
4. Maverick Quantum MT Flux 1/10 Stadium Truck 
Another cheap RC basher from the Maverick family is the Maverick Quantum MT Flux 1/10 Stadium Truck. 
When it comes to speed, you enjoy limitless possibilities. With the 4WD shaft drivetrain, larger wheelbase, and amazing ground clearance this HPI model offers, bashers can easily bash through any terrain without fear of damaging their electronic parts. 
The metal front and rear differential gears make this RC basher durable and tough to withstand maddening crashes. The best part, this RC basher will only cost $199. 
5. ARRMA 1/10 Granite Voltage MEGA 2WD Monster Truck RTR
​If you're looking for an RC basher that can bash on all terrains, this Arrma 1/10 granite model is the must-have.
This RC car offers an impressive performance, tough and durable build with more powerful steering. It is also quite the speedster for its price as it can reach speeds as high as 30+mph. 
6. Team Associated SC10 2WD RTR
For a mini truck, this Team Associated model packs a punch. In fact, this model is probably the best short course race truck. Wonder why?
The SC10 basher can perform backflips and jumps, especially when you add more power to it. You could even crash on a skateboard ramp or a rock pile, and the car will remain intact. Plus, even with their low price, on asphalt, this Savage model can reach speeds as high as 30+mph. 
We also covered The Best RC Bashers For $300
And The Best RC Bashers For $500
And of course, The Best RC Basher You Can Get (2022)
What is RC bashing?
RC bashing means driving your RC car outside a rule-governed and competitive environment like when racing. In essence, you can drive without limits and rules holding you back. 
When RC bashing, wrecks are not something you can avoid. Since you're driving for the fun while testing the limits of your basher RC car, you'll engage in damaging jumps and worry about landing wreckages. 
What makes a good RC basher?
Considering the fact that you will be putting your RC car in a rugged situation, you need to make sure it can handle stress well. 
A good RC basher will easily handle all environments you drive them on without breaking or potting severe damage. Plus, it won't have any issue with high jumps or swerving around obstacles. And while the speed isn't always a priority, it would still be nice if your RC basher could go quite fast. 
What is the fastest RC car under $200?
The fastest car under $200 is the Traxxas 37054-1-REDX Rustler XL-5 RTR Truck. 
Whether you use this model on dirt or snowy surfaces, when it comes to speed, this ready-to-run RC basher can reach speeds up to 35+MPH while providing you with unbeatable off-road performance. It's also one of the best beginner RC bashers on our list. 
What can you expect from a $200 basher?
While we've listed sturdiness and ground clearance as the must qualities a good RC basher should have, there are other things you need to know when investing $200 in an RC basher.
First, understand that they won't be as fast as those you get at a high price. In fact, a $200 basher can only reach speed limits up to 30+mph. There's also the fact that they aren't as durable, tough, and reliable as the more expensive RC bashing models. No doubt you'll engage in some hard-crash drive. The best RC basher must be able to withstand a good amount of these hits and crashes without breaking easily.
This is also the case with a $200 basher. But they just don't offer the same quality and effectiveness as a $300 or $500 basher model. Regardless, the major pro of buying a $200 bashing RC car is that you won't spend more money on expensive repairs like you would on the other expensive models. 
Conclusion
RC bashers vary in terms of pricing, and while a $200 RC basher may seem too cheap to offer an amazing bashing experience, well-known brands like Redcat Racing and HPI racing makes some of the best RC bashers under $200. Hopefully, you'll easily find a model within your budget that you love in our list of best bashers under $200.