Best Washes for Model And miniature Painting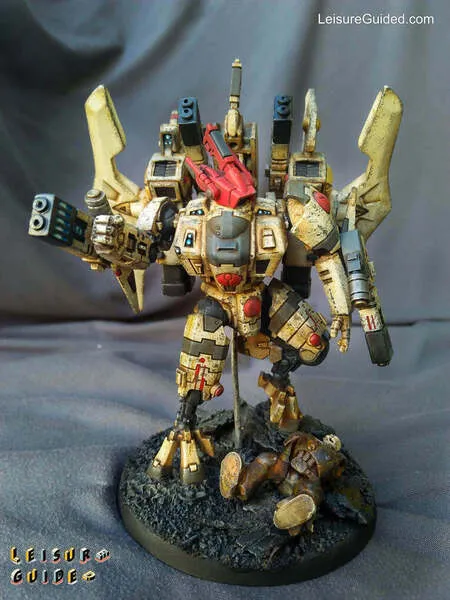 What are the best washes for miniature painting? 
There are over a hundred washes in the market from brands like Privateer Press, Reaper, Vallejo, Games Workshop, and Army Painter to use on your miniatures. While they all contain a mixture of pigment, medium, and surfactant, some are more popular than others because they work more effectively.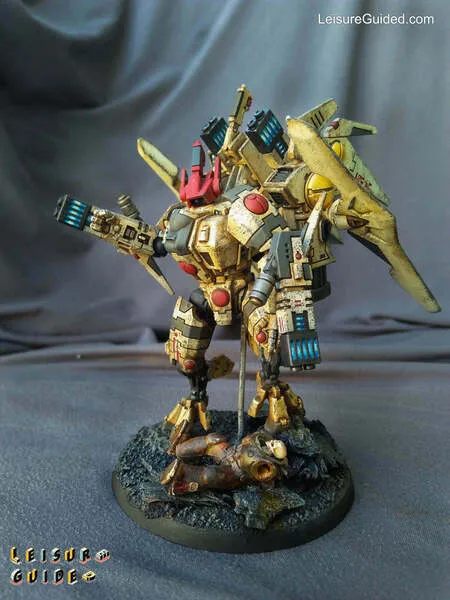 What is wash paint?
A wash paint is a type of paint that helps you cover recesses on your miniature's surface.
Washes have three basic components: 
the medium, which is often water, oil, or alcohol (Acrylics' medium is water), 
the pigment, which helps build the paint hues,
the surfactant, which helps reduce the surface tension of the pigment and medium mixture so that the wash flows well on the model. 
When these components are mixed, they produce the thin, low-viscosity paint known as washes. 
Why should you use a wash?
The primary purpose of using washes is to give quick shadows in crevices while adding more contrast to the small details on your minis. 
Using washes allows you to create weathered and dirty effects on the armor plates of your models and army. All you need to do is apply the paint on specific areas of your model to achieve the grimy weathering effect you desire.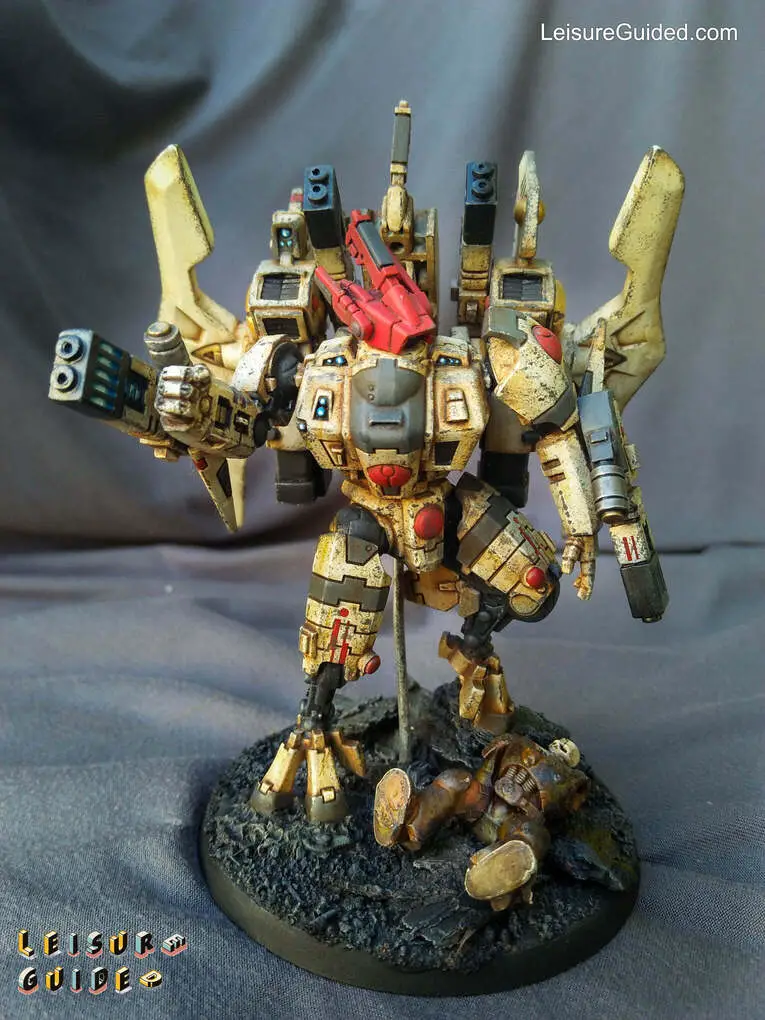 Is a wash necessary for models and miniature painting?
This question feels more like someone asking if you need a hammer every time you repair something. Of course, the answer is no, but that doesn't mean you shouldn't get a hammer. There is a good reason why there is a hammer in every toolbox. The same goes for washes.
Washing your models and miniatures offers a better appearance to your miniature since they will define and add more details to your model so that they stand out. 
Washes are an awesome tool to have. It is one of many tools in painting. But, unlike most paints used in miniatures, it is not mandatory. 
How to choose a wash
Like paints, washes can be tricky to apply if you've never used them. The first thing you should consider when using washes is that you need the underlying paint to be smooth as possible to allow the wash to sit well into recessed lines. 
Regardless of what wash color you use, washes will always tint the color a bit darker. So, always pick a color that is a bit lighter than you ultimately want to have. 
Also, deciding on which wash to use ultimately depends on what look you want to achieve. For instance, if you are painting an elf or a space marine and want a clean look, always use the same color wash as you did with the base coat or a black wash. 
Washes don't often come in a spray can. But, do work with spray application. 
airbrushing a wash paint?
Washes, whether enamel-based or water-based, will work well in an airbrush.
Washes airbrushed won't offer the same weathering, shading, shadowing, or contrast effects as when brushed. When you airbrush a wash, it sits on the raised surface of the model without flowing into the cracks, crevices, or recesses and dries there with a transparent appearance that differs from the underlying paint. This results simply means you end up glazing the miniature. 
Glazing is a process that allows you to use a more transparent color to change the appearance of the dark underlying paint. 
Ensure you take safety measures when using enamel washes in an airbrush and a poorly ventilated space. You may be risking your health and safety. 
What wash colors are a must-have
If you're not buying a set, but need some wash colors for painting miniatures, then you want to get the most essential colors. 
Get a black wash, dark brown wash, and light brown colored wash. 
These paints cover most use cases without needing to buy specific washes for specific colors.
you Can make a wash paint yourself
Washes are thinned-down variants of regular miniature paints. Hence, you can make your washes yourself. It only takes three ingredients to get an efficient wash for your model; a thinner, color pigment, and surfactant or flow improver. 
But, there's a catch! Like painting techniques, there are various methods of making washes. The one you choose depends on the results you aim for. It can be tricky for beginner painters, but once you focus on a single approach, you can get your homemade washes in minutes. 
Here's how to make your wash:
What you need
8 parts acrylic mixing medium
3 – 4 parts color pigments (paint, ink, etc.)
2 parts flow improver
Pour these ingredients into a container, preferably a glazed ceramic palate. Then, check if the mixture is thin enough to your taste, like most pre-made washes. If it isn't, add small amounts of water to get them thinner, or add pigment to make them thicker. Mix to your preferred viscosity, and you've got your homemade wash!
BEST washes for miniatures
I've used different brands of washes. So, I must say, coming to this conclusion was hard. However, I will list my top 5 favorite wash brands and hope they help with your project. 
GW citadel washes – THE bEST WASH
While I have a lot of favorites, I much preferred the Citadel washes over others. They had such nice colors from their Nuln oil that gave my models a classic depth and shadow effect to the Agrax Earthshade that looks great on green and black paints. 
Besides this, if you need a brand with a wide range of wash colors, Games Workshop Citadel won't disappoint. 
Besides Nuln oil and Agrax Earthshade, they have over 17 more colors, from Soublight Grey to Targor Rageshade, Cyptek Armour shade, Reiklandd Fleshsahde, Seraphim Sepia, Mortarion grime, Anthonian Camoshade, Korak green, Biel-Tiel green, Poxwalker, coeliac green, Tyran blue, Drakenhof nightshade, Carroburg crimson, Berserker Bloodshade, and even Druchi Violet. 
Their Best Wash Color (GW citadel washes)
Agrax Earthshade
Nuln Oil
Reikland Fleshshade
Seraphim Sepia
Read our full review of GW Citadel Washes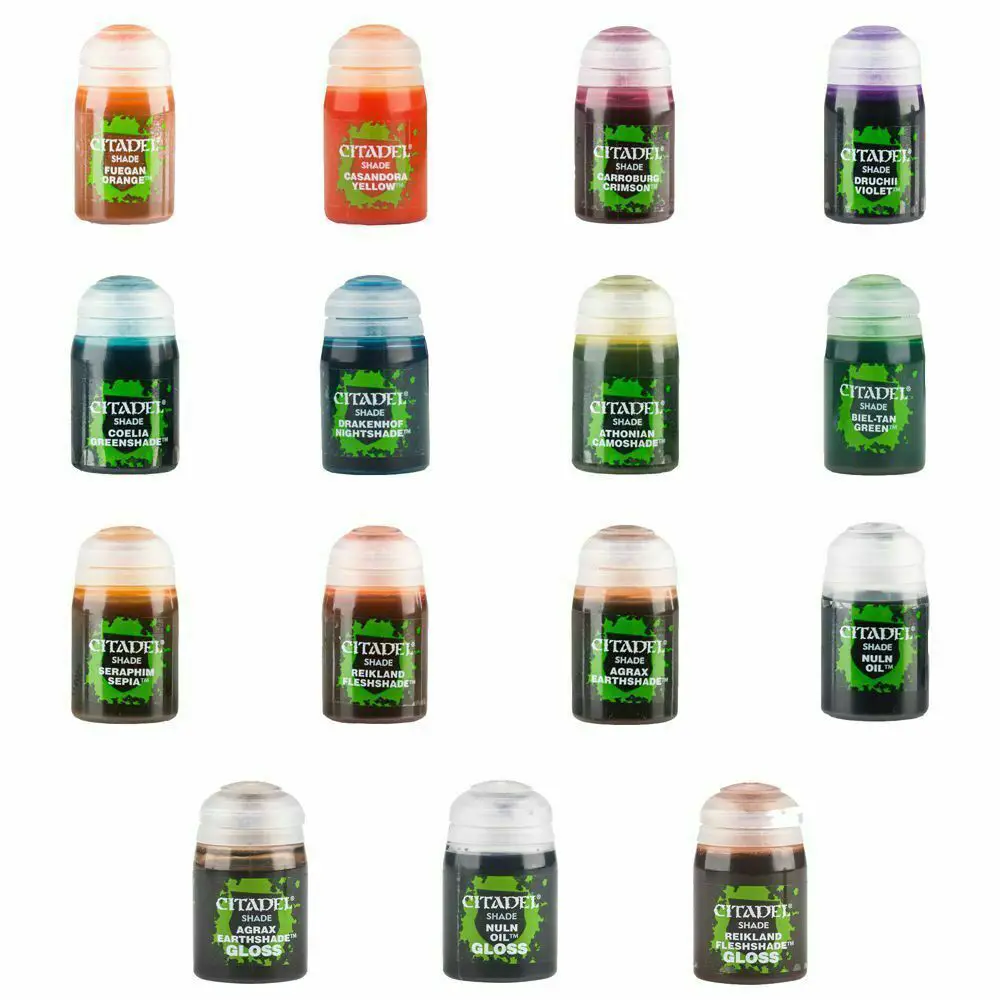 Vallejo Washes
In many respects, Vallejo washes deserve the top spot, from how great they flow to their fast dry time and ease of cleaning. Plus, when it comes to their paint range, they have more to boast of than Citadel. However, Citadel tops them in terms of quality and Vallejo's washes are quite situational in how they can be used. 
For instance, you can thin the Flesh wash to shade skin, dab it on thickly as a base for rust pigments, paint it on smoothly to turn gold a more copper tone, or create a heat bluing gradient for steel. Besides this, you can also thin it and apply evenly as a glaze to dull down reds or warm up browns
Still, that does not mean they don't have some awesome paints. Their dark brown makes your vehicles and larger models look real around the recesses. Plus, I love that they make their colors in dark, light, and mid tones. 
Their Best Wash Color (Vallejo Washes)
Dark Brown Wash
Black Wash
Rust Wash
Read our full review of Vallejo Washes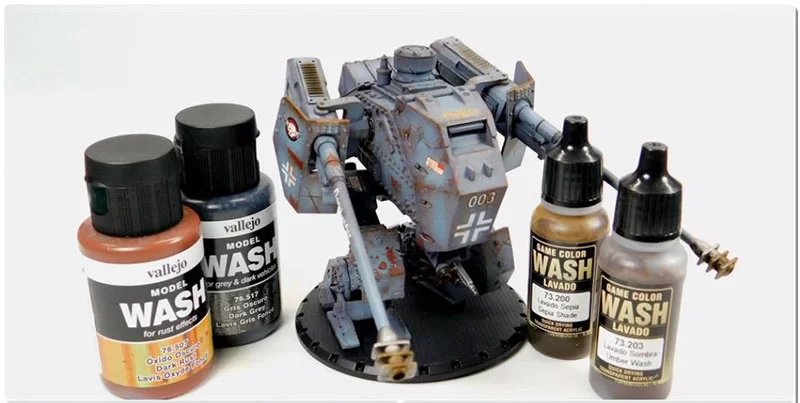 The army painter Wash
Army painter also makes some good washes for miniatures that are easy to apply, flow well into recessed lines and clean up easily. Yet, unlike Vallejo and Citadel, they only have 11 colors in their wash range (from the red tone to the flesh wash, mid-brown, light, soft, strong, dark tone, military shader, green, blue, and purple tone). 
I've used their washes liberally on many models and will often recommend their black tones for armors since it gives armors a dirty look. The mid-brown also stands out with its reddish shade that is unlike any brown wash you will get. 
However, their dark gray wash is a miracle, GW's black is too strong a shade even when diluted. Army Painter's dark gray adds shadow without overwhelming the base color and seems to dry with a smoother finish than the patchy look GW's black tends to have. Their green tones look deep and vibrant on models. 
Their Best Wash Color (The Army Painter Wash)
Dark Gray Wash
Strong Tone
Flesh Wash
Green Tone Wash
Read the full review of The Army Painter Washes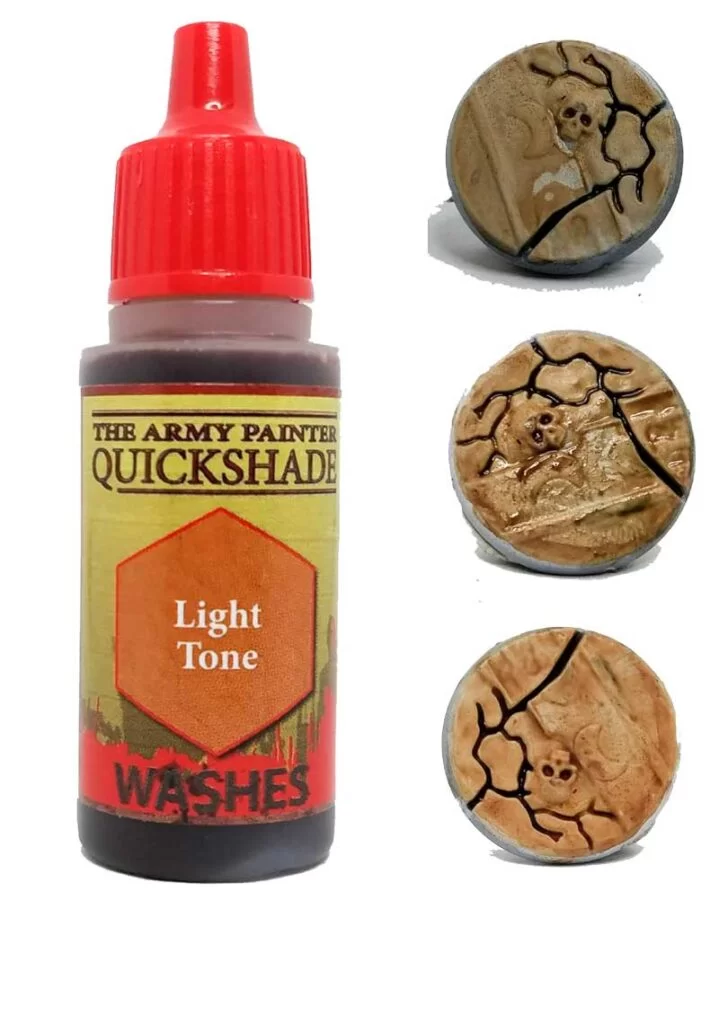 AK Interactive Paneliner wash
AK Interactive Washes offers fewer colors than Vallejo, Citadel, and Army Painter since they only have five shades. Still, I love how subtle their brown and green camouflage is when applied to look on models. They give your figures a toned-down effect that begs for attention. 
Their camouflage colors work perfectly for weathering work on high-textured surfaces like anti-skid coatings on tanks. 
Ak interactive only have five shades, from their Brown and Green Camouflage to their Grey and Blue Camouflage, Sand and Desert Camouflage, White and Winter Camouflage, and Black Camouflage. 
I love how subtle their brown and green camouflage is when applied to look on models. They give your figures a toned-down effect that begs for attention. 
Their Best Wash Color (AK Interactive Paneliner wash)
Brown Camouflage
Green Camouflage
Winter Camouflage
Read the full review of AK Interactive Washes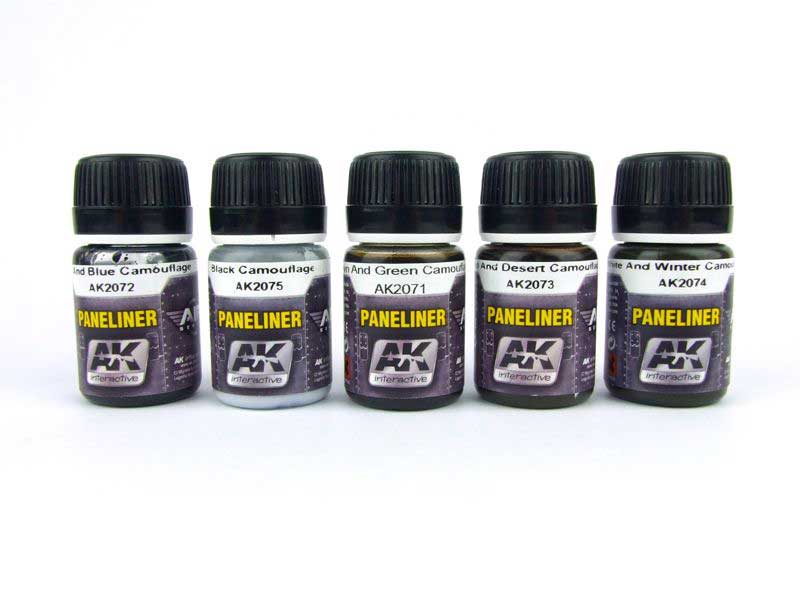 Tamiya panel line Accent wash
After more consideration, I finally decided to add the Tamiya panel liner washes to our best washes range for miniatures. You will probably wonder why? 
It's not because they make the most essential colors like black, brown, dark brown, and grey colors. Nor is it because their black shades are great on any subject and help create amazing contrast and you can use the brown colors on desert-colored stuff, like tanks. 
Tamiya panel liner washes are great for their excellent fluidity, making them easy to handle without pooling on one part of your model. 
Their Best Wash Color (Tamiya panel liner wash)
Black Wash
Brown Wash
Dark Brown Wash
Panzer Grey Wash
Read our full review of Tamiya Panel line Accent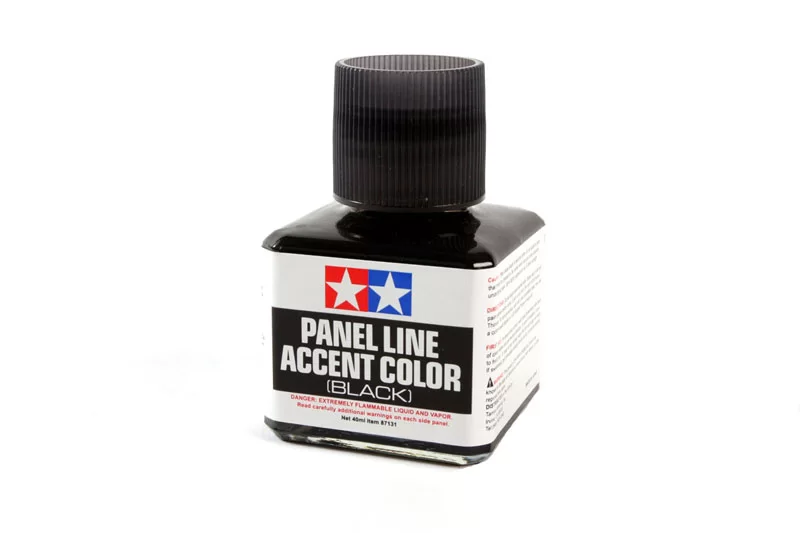 What are the best wash paint sets?
While Vallejo, AK Interactive, Games Workshop, Army Painter, and Tamiya make some of the best wash paint for miniatures, you won't actually get a wash paint set from all these brands. 
Vallejo has a good 8-colored wash paint set with 17ml dropper bottles that cost only $19.42. On the other hand, Games Workshop has a shade (wash) paint set that contains 8, 18ml pots and works perfectly for your Warhammer 40k or Age of Sigmar fantasy models and costs only $37. 
Army Painter also has a Quickshade Wash Set with 11 18ml washes in dropper bottles and a selling price of $26.86, perfect miniatures. 
Conclusion
So, what are the best washes for scale models and miniatures?
The best washes for models and miniatures are those that have all the basic colors you need, flow well, and are quite convenient to use without compromising on the underlying paint or plastic materials. While I quite favor Citadel washes, Army painter, Vallejo, AK Interactive, and Tamiya makes some of the best washes for painting miniatures.
So, you can easily create the weathered, dirty, shadow, shading on contrast effect you need on your model.