Tamiya Vs. Citadel | best Paint for models and miniatures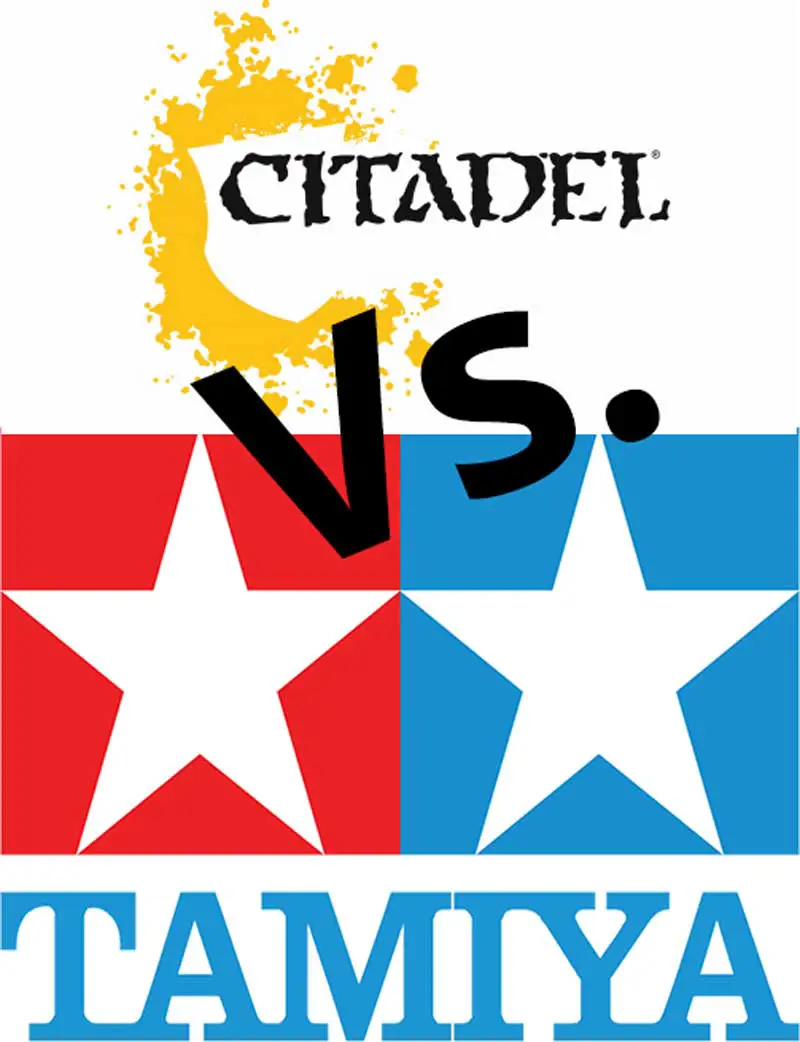 Painting miniatures can be challenging, especially as you need suitable paints for your project. 
Tamiya and Citadel paints are two popular paints used by modelers for decades and are well-known for their quality results. However, each of these paints has a different range of functionality and strong or weak points. 
In this guide, we will compare Tamiya and Citadel based on factors like pricing, coverage, results, durability, usability, and color range. 
Comparison Between Tamyia Paints and Citadel
| | | |
| --- | --- | --- |
| | Tamiya | Citadel |
| Ease of use | Decent | Excellent |
| Dry time | 10 to 30 mins | 1 to 2 hours  |
| Price | Cheap | Expensive |
| Color range | 150+ | 145 |
| Density | Thinner | Thick |
| Thinner | Alcohol | Water |
| Technique | Suitable for airbrushing | Paint Brushing |
| Skill | Advanced modelers | Beginners |
Tamiya Vs. Citadel Paints
Which is the Best Paint, Tamiya or Citadel? | The Results
Tie – Tamiya=Citadel
Both of these paints have their pros and cons so there is not one winner. You can get great results with either Tamiya or Citadel, it really just comes down to preferation.
Tamiya acrylics are great on any miniatures. The paint covers well, allows easy blending, and flows smoothly. You also enjoy a wide range of colors, so achieving any design is possible. 
Tamiya Pros
It doesn't chip easily
Widely available in local hobby stores
Tamiya acrylics are long-lasting
Cheap
Tamiya Cons
Fast drying time
It can't be used straight out of the bottle
It has a learning curve
It does not work well with water thinners
Foul smell
Citadel paints, on the other hand, also deserve some credit. 
Citadel paints work well on miniatures, especially Warhammer kits. 
You'll find a wide variety of colors to paint your models. Plus, citadel paints have high consistency and pigmentation so that when you apply thinner, pigmentation doesn't fade easily and creates detailed textures. 
When it involves its opacity, Citadel paints offer more advantages with a smooth matte finish. But, they do have some setbacks. 
Citadel Pros
You can buy it just about everywhere
They are easy to use and specially designed for beginners 
The metallic acrylics are amongst the best
Scratch resistant
Citadel Cons
Expensive 
It doesn't work well with an airbrush
The paints are quite thick
Perhaps not the best pot design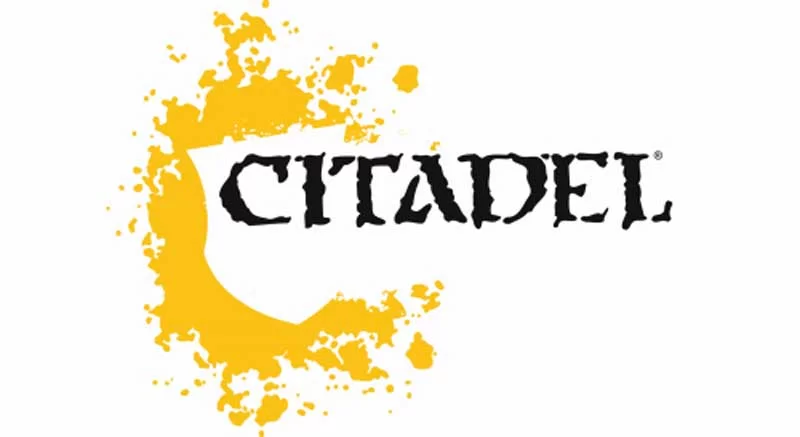 Coverage – Tamiya or Citadel?
Tie – Tamiya=Citadel
Citadel and Tamiya both have good coverage and they will stick well to plastic models and miniatures.
Many paints have inferior coverage and won't stick well to miniatures. But, we've tried these paints and love how well they cover the kits. 
Technically, Tamiya paints are thinner than Citadels, so you would think that because of their thin consistency, they won't cover well. 
When you use Tamiya acrylics on plastics, whether as an undercoat or base coat, they go straight onto the plastic and stick. Even when thinned to a great degree, you get the same coverage expected from paints with high consistency. 
Tamiya paints go on in one coat and only need a couple of touch-ups in raised areas to look good.
On the other hand, Citadel paints also offer excellent coverage as Tamiya acrylics. 
Their high viscosity feature means they generally stick to your Warhammer, miniatures and plastic models without running down. 
Which is Easier to Paint?
Winner – Citadel
Citadel water-based paints are easier to use then Tamiya's alcohol-based paints.
Acrylics are the recommended paints for beginners because they make painting and post-maintenance of the painted kits easy. 
However, Tamiya acrylics are unlike other water-based acrylics. It is alcohol-based. 
Tamiya's alcohol-based form means it dries quickly, so you have a limited time to apply the paint before you have to wait for it to dry out. Otherwise, it'll smudge and leave brush marks. 
The brush might also pick the paint up off the surface. Plus, cold temperatures make the paint stick faster and reduce the amount of time you have to apply it cleanly. 
For beginners, using Tamiya paint can be a hassle, especially when you don't know how to mix the paint to get an even consistency. You need to shake and mix it enough for the best texture. 
Citadel acrylics edges Tamiya paints for ease of painting. 
Their water-based form means when you mix them with water, they don't dry easily like alcohol-based paints. So, you have more time to apply the paint cleanly on your kit's surface and prevent brush marks. 
Looks – Which of These Paints Looks Better?
Winner – Citadel
Citadel paints will give you better results than Tamiya paints.
One of the major downsides of Tamiya acrylics is their finish. When the paint dries, it looks far different from the original color in the jar because they dry darker. 
Also, the finish is super flat (it has zero sheens) when it first dries. But, when you rub the painted surface with your fingers, they look shiny – almost too shiny, which makes it hard to get a sense of what Tamiya paints sheen really is and what clear finish you need for the final desired look.
Yet, an advantage of Tamiya acrylics like the clear Gloss is that it has a glossy result making it easy for you to see details not easily seen on less glossy paints. 
With Citadel paints, you get a more uniform look and colorful pop. Since it is water-based, it mixes well to offer the right consistency and appropriate amount of paint time so the results are smooth and without brush marks. 
Price – Which is Cheaper, Tamiya or Citadel?
Winner: Tamiya
When it involves pricing, Tamiya acrylics offer more price advantage. They typically range between $1 to $2.99. 
However, citadel paints cost a fair bit more than other acrylic paints. They range from $4.55 to $30, depending on the type you choose. 
Long Lasting – Which is More Durable?
Tie – Tamiya=Citadel
Tamiya acrylics, when used and thinned properly, are pretty much indestructible. 
They are alcohol-based acrylics and are among the strongest paints around. Citadel paints will also last for years so long as you keep them moist.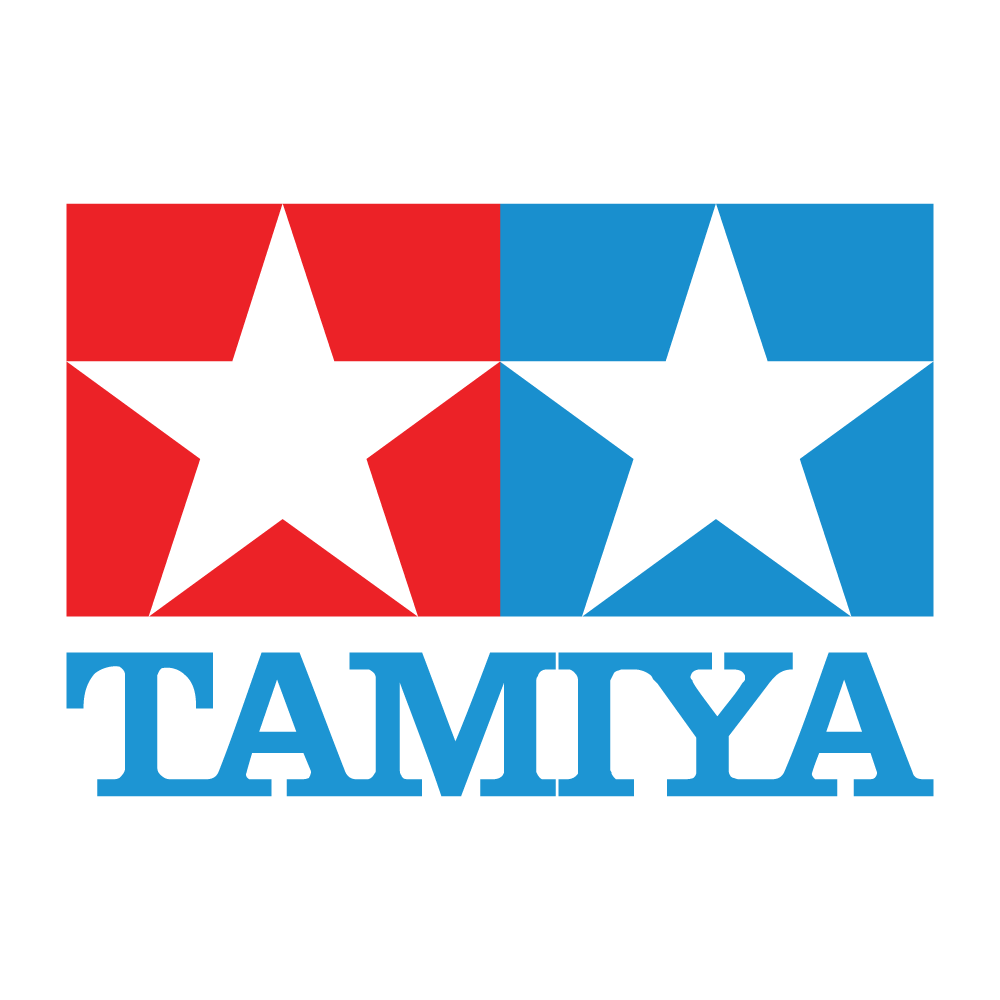 Airbrushing – Which is Better for Airbrushing
Winner: Tamiya
If you prefer airbrushing your models over dry brushing or spray technique, Tamiya paints are more reliable than Citadel's acrylics. 
Technically, Tamiya acrylics are designed for airbrushing. Still, you may have to thin them properly with a small amount of Tamiya thinner for the best drying results. 
If you also plan on using Tamiya flat paints for airbrushing, you may have to do lots of light coats to make it look decent. 
Citadel acrylics don't work very well with an airbrush because of their density which may cause the airbrush to clog. So, when you use Citadel paints on your airbrush, especially with the smaller nozzles, you risk permanent damage to it. 
The only way to use them with an airbrush is to apply a thinning agent to dilute the paint particles. 
This article is part of our Paint Industry Research.
We made several comparisons based on our experience over the years.

Check these as well:
Vallejo VS Army Painter
Vallejo Vs. Tamiya | Which is Better For Miniatures
Vallejo Vs. Citadel | (Part 3 of An Industry Research)


LeisureGuided.com
a Wide Range of Colors?
Winner – Tamiya
When it comes to the color range, other paint manufacturers create paints with a wide range of colors. Nevertheless, Tamiya's color varieties are generous.  
You'll find a wide range (over 150+) of gloss, flat and translucent colors.
Citadel also offers ample colors for bases, layers, shades, glazes, dry compounds, and textures. Their old range had only 72 paints, but a whole lot of new tones have been added so that their current paint range consists of 145 paints. 
Final Thoughts Tamiya Vs. Citadel which is the best
Tamiya and Citadel acrylics are both an excellent choice for painting miniatures, scale model kits, and Warhammer models. 
Not only do they offer a wide range of colors, but they are also durable and offer excellent coverage. However, if you prefer to paint using an airbrush, Tamiya acrylics work better. Conversely, beginner painters will achieve excellent results with Citadel paints.