Team Losi Racing Vs. Team Associated | Which Is Better?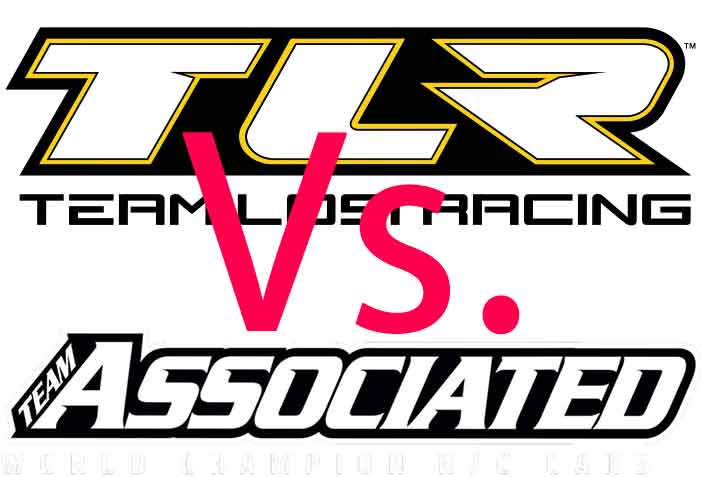 In America's radio-control market today, Team Losi Racing and Team Associated are two of the biggest competitors, especially when it comes to creating race-level remote-controlled cars. 
In fact, during the nineties, these two hobby grade manufacturers were extremely competitive that you would think they were obsessed with beating each other from the pro-level to the track races. It is no wonder why many RC hobbyists today are fond of RC models from these brands. 
But really, who is better, TLR or Team Associated? 
Comparing TLR and Team Associated's Unique Features
| | | |
| --- | --- | --- |
| Features | TLR | Team Associated |
| Bodies | Aerodynamic design | Realistic design |
| Chassis | carbon fiber | Aluminum construction and gunmetal |
| Shocks | Machined pistons, uses copper seals, are super smooth, and don't leak | Uses V2 pistons and X-rings |
| Drivetrain | Direct drive system | Made with adonized aluminum |
| Prices | $200 to $1000 | $100 to $700 |
Is Team Losi Better Than Team Associated?
Which RC car brand is better will depend on several factors such as the model's quality, material, performance, price, and usability based on the user's preference.

Saying which RC brand is better is quite tricky since both brands are well respected.
but it is safe to say that Team Associated are better than TLR.
Their cars have better built-quality, made out of good materials, have great motors and come at a lower price.
TLR RC models are known for their quality build. Likewise, they are great for racing because they integrate functional features like the 1800KV brushless motors and a cooling system. Yet, the best thing that makes Losi stand out is that they produce high-quality RC cars and replacement parts at an affordable price. 
On the other hand, Team Associated's RC cars are popular to last for long distance runs, most especially as they use a powerful 3300KV brushless motor. If you have a model from Team Associated, you will also find it easy to get premium parts at affordable prices. Plus, Team Associated has good after-sales service.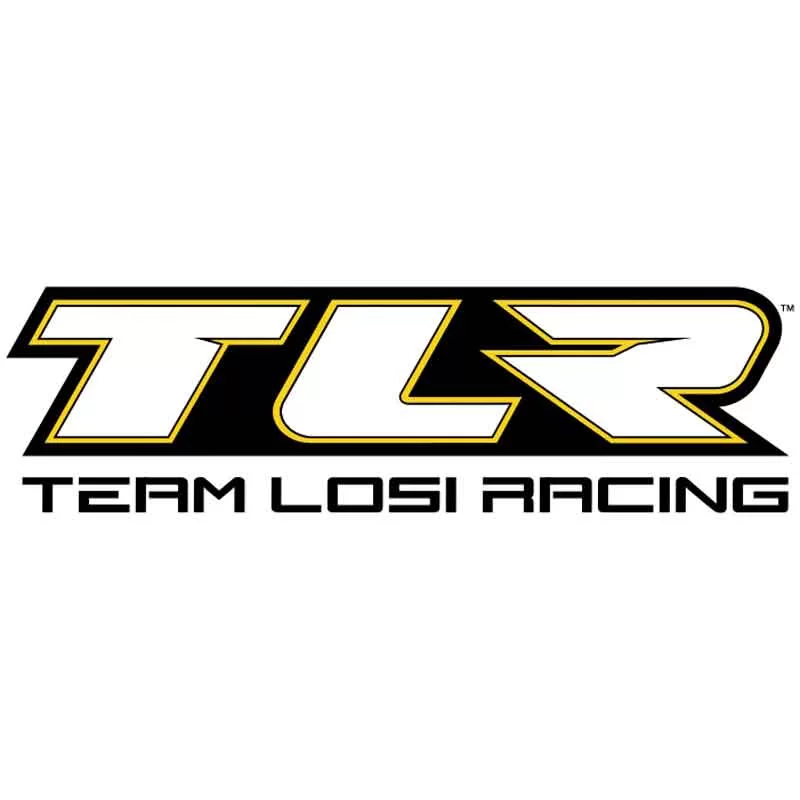 What are the differences between both brands?
There are several differences you will find when you purchase a model from either one of these two competitors.
But, the difference between both brands lies in the type of materials they use, both the plastic and metal parts; the design of their RC cars, the shocks they use, and the tunability of their car parts. 
Plastic
Team Associated uses plastics with more fiber content than Losi's models, and while the plastics are quite firm, they have a softer feel. On the other hand, Losi's plastics usually feel hard. 
Metals
TLR metal parts are usually of the finest make. The metals are sturdy, and the anodizing used in them is clear. Even the ball-stud spacers are great. Team Associated metal parts aren't bad, but they are not as strong as Losi's metal build. 
Design
Losi RC cars have an adjustable design and come with shims for angling and adjusting the kickup. Team Associated RC cars are elegantly built with fewer parts. Rather than use shims like TLR to adjust and angle, Team Associated uses inserts. 
Shocks
TLR makes some of the best shocks in the industry. In fact, Losi shocks are of top quality. The fit and finishing look is stunning, super-smooth, and they don't leak. Its piston caps is designed using aluminum, while the bleeder screws use copper seals. 
Team Associates shocks are not 100% decent and may demand upgrades to make your RC car function better. 
Tunability
It's easy to get factory tuning parts for your Losi model but quite challenging for those models from Team Associated. 
TLR is much more popular than T.A.
If you are keen on getting an RC car, you'll mostly come across these two industry leaders first before other brands. 
In short, both brands are popular for different things. TLR was the first RC brand to complete a lap on the Mint400 racecourse with their 5IVE-T 2.0.
In contrast, Team Associated is known to produce race-level competition vehicles in various sizes, ranging from miniature 1:18 scale to serious nitro-powered 1:8 scale machines.
However, Team associated seems to be winning the popularity contest. 
Why?
Losi is popular for producing affordable RC cars that handle better. But, most RC hobbyists are looking for brands that make quality models from their electric parts to the mechanical components. 
Team Associated is popular for producing better quality RC models.
Team Associated won more races
Team Associated has won more races at the I.F.M.A.R World Championships than all other manufacturers combined, including TLR. 
The RC10 buggy series has won Team Associated over thirteen of the eighteen I.F.M.A.R. World Championships contested since the racing class began, making it one of Team Associated's signature RC race cars. 

Which makes better kit cars?
Both Team losi racing and Team Associated make great Kit cars. In fact, they are two of the biggest industry leaders in race-level competition Kit cars of various sizes. Yet, one functions better performance-wise than the other. 
Team Associated makes better Kit vehicles manufactured using the highest quality materials and workmanship. All of their vehicles are designed and manufactured to ride on-road and off-road.
Which is easier to maintain?
Team Associated has RC models powered by electric motors and nitro engines. Their RC vehicles range from buggies to touring cars, monster trucks, and realistic-looking short-course race trucks.
In fact, their RC vehicles are designed for solid race-level experience to ensure that all the RC models, whether on the 1/8 or 1/10 scale, so it can compete at the highest levels of racing competition. These facts would make you think it would be challenging to maintain them. 
The truth is that both Team Associated and Losi use high-quality parts to construct their models. It is easier to get replacement parts for Associated Electric's models. Their models are also cheaper than those of Losi's. 
In essence, more expensive race-level cars will be difficult to maintain. Losi RC vehicles come at a high price, their parts quality isn't as sturdy as that of Team Associated. Hence, they require more resources such as time and money to maintain.
Parts availability
If you are looking to upgrade or interchange a part of your TLR model, the good news is that nearly all parts are interchangeable. You will find parts in aluminum, brass, plastic and even titanium depending on the make of your model. The availability of so many parts makes it possible to even get confused in the market.
However, you can find it difficult to get factory parts for your Team Associated model. 
In short, parts availability is usually limited to Team Associated but more available for TLR RC cars and trucks. 
Product support
When it involves fining aftermarket product support for your RC car, Team Losi racing is usually more limited. This is because they often upgrade their models, which makes it tough to find the exact part you need except you choose the upgrade option. 
On the other hand, aftermarket support might be one of Team Associated's strengths because no matter the store you check, online or in your local hobby store, you'll always find the part you need for your Team Associated model. 
Price differences
If you're thinking of buying a new RC vehicle, you need to know that both brands charge differently.
Beginner RC enthusiasts can get a car that suits their taste from Associated Electrics for less than $100. Though, you will often find that the price range for Team Associated rdio-controlled vehicles usually falls between $100 and $700. 
On the other hand, Losi kits tend to be a little more expensive than the Associated's. Their price range often falls between $200 to $1000. 
Which is the best value for money
Since we already established that Losi models cost more, you may think because of their high price they offer more value. 
Although their parts are designed with quality materials, they won't usually offer the best value for the money since they often need upgrades and are tough to maintain. 
Team Associated RC vehicles are cost-effective, designed using high-quality materials, even more superior to Losi's, and offer the best value for the money. 
Durability
When you compare the TLR 22 6.0 SR to Team Associated's RC10 B6.1 Kit, you'll observe that the TLR wings seem more durable. Overall, Losi's electronic parts are more durable than Associated's. Losi's shocks are no doubt hands-down top-shelf shocks, and their metals are super sturdy.  
Although, when it comes to the plastic used in designing the electric parts, Team Associated tops the chart. 
Team Associated's 3 best sellers Vs. TLR's 3 best sellers
| | |
| --- | --- |
| TLR | Team Associated |
| 1/8 8IGHT Off-Road RTR Buggy | DR10 Drag Race Car RTR |
| DBXL-E 2.0 | RC10B6.2D Team Kit |
| 3XL-E Monster Truck | RIVAL MT10 RTR Monster Truck |
Conclusion 
Although many people have their personal preferences, especially when considering the quality of both vehicles, price, and product services, Losi is the better RC vehicle for beginners. Seasoned RC enthusiasts will love the advanced technology of Team Associated models.