What Are RC bodies made of | the full research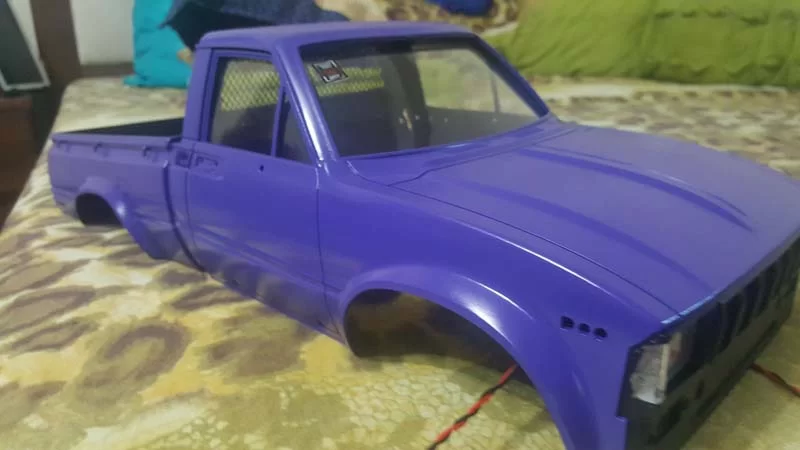 Most RC car bodies are made from a type of polycarbonate plastic that is primarily referred to as Lexan.
It is a material that is specially synthesized and produced to withstand tough conditions without breaking, and that makes Lexan an excellent choice for RC car bodies. 
Most RC car bodies are made by vac-forming some clear Lexan over a mold.
RC Bodies Made Of Lexan
Lexan is a trademarked term in the RC cars and plastics community that translates to polycarbonate sheeting, which is one of the most popularly used types of plastic in the world. 
The trademarked term, Lexan, was coined by General Electric in 1960, and it means a polycarbonate resin thermoplastic. 
This plastic is used for a wide range of purposes, and it is well regarded for its amazing ability to resist physical impact. This material is also well known for its flexibility and ability to handle high temperatures. It also has a low level of flammability and is very resistant to acids and other chemicals like gasoline. 
Aside from its efficient use in the production of RC car bodies, Lexan is also used in manufacturing computers, automobile windshields, transparent visors for hockey and football helmets, and even in reusable drinking bottles. It is a highly versatile material and this is evident in the number of functions it can perform.
How tough is Lexan
Lexan is a virtually unbreakable polycarbonate. It is approximately two hundred times stronger than glass and twenty-five times stronger than acrylic!
This material has an amazing resistance to impact over a wide range of temperatures, and it is also very resistant to heat. Lexan is tough, stable, and resistant to flame and heat, while also being very lightweight so it can be used efficiently for several applications. 
Why are most RC bodies made out of Lexan
The unmatched strength and security that Lexan provides the RC car are primarily what makes it preferable over other RC car materials.
This polycarbonate is the top choice if you need a material that will protect your car effectively. It might not be as glamorous as some other materials like acrylic, but it makes up for it with its outstanding strength and flexibility. 
Other Materials RC Bodies Are Made From 
there Are RC bodies That are made out of carbon fiber
There are some RC cars with bodies made out of carbon fiber.
Carbon fiber is a material that is gradually gaining popularity in the RC community, and it has several benefits as well. It is a relatively lightweight material, and it is also quite strong and stiff. Carbon fiber is rated to have the highest strength per density among the other RC body materials. 
It is also able to absorb energy much more efficiently than most other materials. 
Some RC bodies are made out of fiberglass
There are some RC bodies that are made out of fiberglass.
When compared to other RC body materials, fiberglass is relatively cheap and it is also great at boosting the aerodynamics of the RC car. Fiberglass is a very lightweight material, and it helps to increase the speed of the RC car effectively. 
This material is also very rigid and it can maintain its original shape, which is quite an important feature for people who live in areas with extreme temperatures that could affect the form of the RC body. Cars made from fiberglass are also easily repairable and customizable, especially when compared with other RC body materials. 
Are there RC bodies made out of metal?
Yes, there are RC bodies made out of metal.
Metals like aluminum are also often used in RC cars, and they provide several benefits when used instead of plastic. 
One thing people don't like about these metal parts though, is that they can be quite chunky and add some extra weight to your RC car, which you probably don't need if you want to race your RC car. The metal bodies are also more expensive than their counterparts. 
However, if you want to use your RC car regularly and for a long period, then you should probably get one with an aluminum body. These metal RC bodies are much stronger than the other bodies, but strength is not the only attribute you need in getting an RC car. It is most advisable for you to get an RC car made with a mix of plastic and aluminum. 
What other materials are used for making RC bodies?
As shown above, several materials can be used in the production of RC bodies. Some other materials can also be used, including:
1. Balsa wood: Balsa wood is a material that combines both strength and lightness into one material. It is quite easy to cut and carve, so you don't need to have a heavy power tool before you can make a good balsa wood body for your RC car. This material also comes in several different grades, depending on which part of the body you need it. 
2. Polystyrene foam: Polystyrene foam is an extremely strong and durable material that can be used to build highly efficient RC bodies. It is also very easy to waterproof and paint because of the formation process it goes through.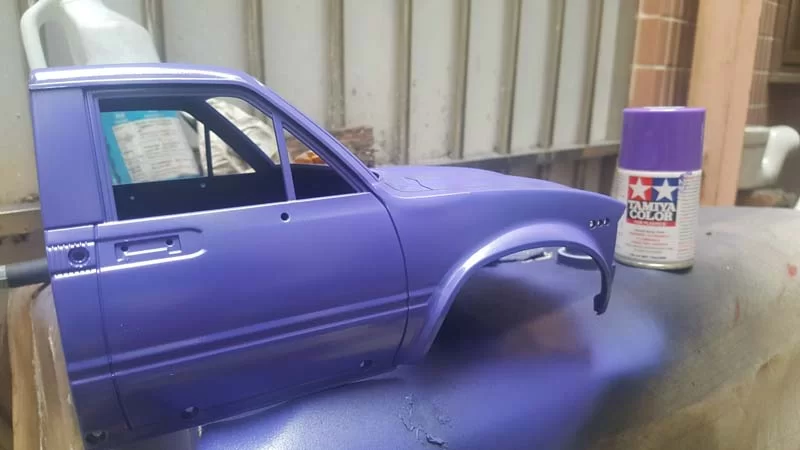 How are RC bodies made
Most RC car bodies are made in a process that involves polycarbonate plastic. This plastic is very tough so it is perfect for RC cars because they usually go through a fair bit of damage or harsh conditions while being driven.
The car body is usually made by vac-forming a sheet of clear Lexan over a mold. When this step is completed, the inner surface of the material is then painted, and this gives the plastic a shiny and thick coat. 
If it has been painted well, then your remote controlled car should have that glossy look for quite a while. 
Read more: How RC Cars are Made – Start to Finish (Detailed)
What are Proline RC bodies made from
The primary material used in the production of Proline RC bodies is molded polycarbonate.
The body material used in the production of the Proline RC bodies is said to be twice as thick as the normal bodies while being very tough and looking modern. They call it the Bash Armor Ultra-Durable material and it can flex instead of shattering. 
The material in use here is quite different from clear polycarbonate because it is not white or paintable. Proline helps in making the bodies a bit more stylish by adding detailed decal sheets to boost the look. 
What are Shark RC bodies made from
Shark RC bodies are primarily made from Lexan. 
As we previously stated, Lexan is the preferred material in the production of RC bodies because of its outstanding ability to deal with the impact, its lightness, and also its resistance to heat and harsh conditions. 
Shark RC uses this material in their RC car bodies to provide their customers with the much-needed efficiency and security of having a strong and durable RC car. 
What are JConcepts RC bodies made from
JConcepts is another company that mainly uses Lexan in the production of its RC bodies.
JConcepts started out producing RC bodies in 2003, and they continue to manufacture RC bodies for different types of racing, including on-road and off-road. 
JConcepts uses the most up-to-date features to produce their RC bodies, and these bodies come with a lot of great benefits. 
Why are RC shells so expensive
The short answer for this question is related to the fact that not only are these bodies made with high-quality materials, but they go through a very strenuous and intensive process of manufacturing. 
The plugs and molds that are regularly used to produce these RC bodies usually cost a lot of money to produce. It is also important to consider the fact that making the mold is an intensive process that costs a fair bit as well. 
Several fees are paid when these bodies are sold in the retail market, especially for name brands as well as other necessities. So, these manufacturers usually have to sell a lot of these bodies to even make any profit, which causes them to make the RC bodies a bit expensive. 
However, you should note that all RC bodies do not cost the same. The way these bodies differ is the same way that their prices differ as well. The different RC bodies are produced by different companies, so what type of body you get is dependent on how much you can afford. 
Still, you should try to check out the best RC car bodies so you know what you can afford. You should also consider the fact that you do not need to break the bank before you can get a good RC body. Just because you buy a more expensive one does not mean it will work better for you or that it will even last longer. Just do good research and know exactly what you need before you make a purchase. 
5 RC bodies that are worth the try
Custom US Flag Body for RC Vehicles:
This is a high-value RC body that is made by The SummitLink, and it is designed with a striking image of the US flag.
It is a great RC shell that comes with pre-drilled holes and it is compatible with the RC 1/10 scale Traxxas Slash. 
Not only does it fit well onto the Traxxas Slash, but this RC body can also fit over several other models, although some new holes will need to be drilled. Depending on the type of model being used, you might also need to alter the height of the mounting posts. 
This amazing RC body also comes along with a custom decal sheet. 
Coolplay PVC Painted RC Body Shell:
This is a great RC body that comes pre-painted by Coolplay. It is a highly valuable shell that can be used for several 1/10 scale racing cars. 
It is very durable and it also comes along with some eye-catching logos. The PVC plastic used in the production of this shell is also resistant to impact. 
One negative that several customers have about this product is that the wheel wells are uncut, which can be a problem because this is a kit customized for us by various RC car models. And cutting the shell can be a bit difficult for people that are not experienced with brand new RC bodies. 
This shell is compatible with a wide range of RC 1/10 scale cars and trucks, usually after going through a few alterations. 
HOSIM Body Shell for RC Monster Truck:
This is an outstanding budget option if you are searching for a good RC body. The HOSIM 1/12 scale shell comes in either a green or blue color, and it has a high-quality paint finish. 
The plastic material used to produce this shell is also quite thick and durable, and it is a great replacement body at a pretty affordable price. This shell is compatible with the RC 1/12 scale GPTOYS High-Speed Monster Truck S911 A, as well as the 1/12 scale Savage Flux XS, although you will need to drill a few new holes. 
RC Drift Car Body Shell for Chevrolet Camaro:
This Chevrolet Camaro PVC body is another high-quality RC shell that is produced by Coolplay. Some good-looking stickers are also applied to the body to make your RC car even more eye-catching. 
It also has a very shiny finish that adds to the beauty of the car. You might need to trim the wheel wells and drill some mounting holes before you use this shell though. 
It is compatible with the RC 1/10 scale drift car. 
HPI RS4 / PORSCHE 911 Body Shell:
This is a top A-grade RC shell that is produced by HPI Racing for the 1/10 scale Porsche RC car. 
It is an amazing replacement body in several different ways. Not only is it durable, but it is very attractive with its stickers, design, and shape. This RC car body is nothing short of beautiful, although it is your choice to say whether or not the beauty is equivalent to the hefty price on this RC body.