Real Grade Gundam Review | Is Real Grade Good?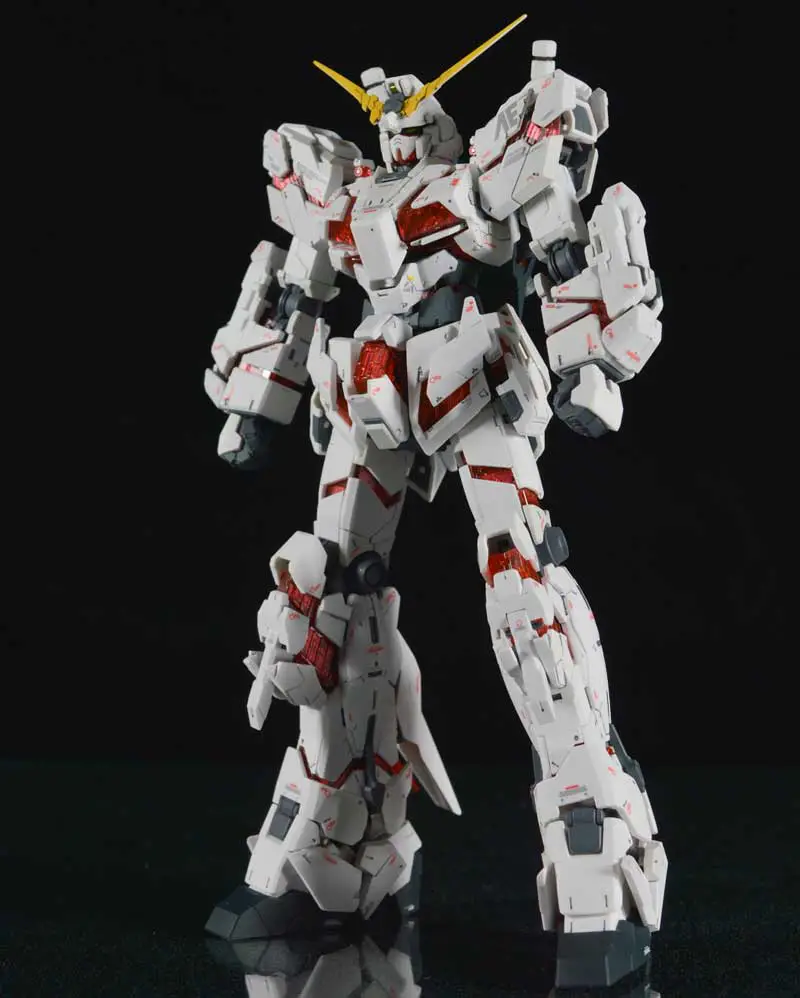 *Make sure to read 12 Best Real Grade Gunpla!
Gunpla kits are plastic mobile suits based on the Gundam anime series.  
These kits are classified into grades with the most common grades being the Perfect Grade (PG), Master Grade (MG), Real Grade (RG), and High Grade (HG).
In this article, we'll be looking at the Real Grade Gundam, its price, properties, and other details that determine whether it's a good line and is it worth it.
Real Grade Gundam models explained
Real Grade (RG) is a line of Gunpla (Gundam plastic models) produced by Bandai.
RG Gundam models feature greater detail and accuracy than other Gunpla versions and are designed to be more challenging to assemble, making them suitable for experienced modelers.
The RG line was first introduced in 2010, and includes a variety of mobile suit designs from different Gundam series. Real Grade models are typically more expensive than standard Gunpla models and have these 6 features:
Greater details: RG models are designed to be more anime-accurate and realistic representations of the Gundam mobile suits they depict, with more intricate and complex parts and a higher level of detail overall.
Smaller scale: Most RG models are made on a smaller scale, typically 1/144 or 1/100. This allows for more accurate proportions and a greater level of detail, but also makes the models smaller in size and sometimes harder to build.
Improved articulation: Real Grade models are designed with a higher level of articulation, allowing for more dynamic and poseable finished models. This feature allows hobbyists to display the model in different poses, making it more dynamic and realistic.
Color separation: RG models come with advanced color separations, allowing for a more diverse range of colors on the finished product and an overall better look.
Inner frame: RG models have a more complex inner frame design which allows for better movement and stability of the model. Inner frame is the skeleton of the model which helps to support the outer armor and makes it more poseable.
Advanced decals and stickers: RG models come with a wide variety of decals and stickers to add more details and accuracy to the finished model.
Is RG Gundams good and worth your money and time?
Any hobby that allows you to build things and see structures come together is always enjoyable and a good way to get away from stress and everything else.
They will always be worth your time and money.
Real Grade kits are sophisticated and contain many small pieces, making them difficult to assemble and time-consuming, but they are well worth the effort. 
Every experienced builder will tell you that the joy of displaying your Gundam model and the fun of using your brain while assembling it far outweighs the stress of building one for hours or even days. 
Don't worry if you're new; you'll figure it out soon enough.
What is the price of Real Grade Gundams?
Prices for Real Grade Gundam kits vary depending on design and vendor.
However, Real Grade Gundams can often be found for as little as $30 and can cost as much as $100 at times.
Real Grade Gundams are fun to build
Gimmicks, articulation, aesthetics, engineering, and accessories determine whether a Gunpla is fun to build. 
Real Grade kits excel in all of these areas. 
Most RG kits have smooth, interesting gimmicks, they're made with beautiful color schemes, and they can easily move and change poses, some while swapping body parts.
The joints on RG kits aren't as strong as those on MG and PG, but they hold together well, and the kits are highly customizable thanks to the extra accessories that come with them and fit perfectly. 
Finally, the enhanced details on these kits make them even more appealing.
The fun and challenge of working out those details and ensuring that the kit is built correctly to form the right suit is something to look forward to. 
Overall, RG gunpla kits are a lot of fun to build.
Real Grade Gunpla makes you use your brain
Simply put, RG Gundams (or Gunpla) are hard to build. 
As a result, we will not recommend RG kits to a beginner who is unfamiliar with the complexities of Gunpla kits. 
This is due, in part, to the scale at which they are produced.
RG kits are in 1/144 scale, which, while not the smallest, it is one of the smallest Gundam kit scales. 
As expected, this means that RG Gundam kits will have small parts, making them more difficult to build than their counterparts on larger scales and with larger parts, such as the Master Grade (1/100) and Perfect Grade (1/60).
Aside from having small parts, the number of parts that Real Grade Gundams have is another reason they are difficult to build. 
More parts require more time and concentration to assemble. 
But, as with everything else, as you get better and improve your skills you discover the fun in this grade.
Real Grade Gundams look amazing
RG Gundams are designed to be both visually appealing and realistic. 
The level of detail in them makes them excellent display pieces. Real Grade Gundams resemble CGI mechas in some ways.
Another area where RG Gundams excel is color separation. 
Most RG kits have nice color contrasts that add to the aesthetic appeal of the mobile suit. 
Finally, the panel lining on Real Grade Gundams is rich, and the seam lines are carefully crafted and ingeniously hidden to satisfy you.
Real Grade Gundams are the best size
Real Gundams are on a 1/144 scale, which means they are about 13 cm tall on average, but this can vary depending on the model. 
Some models are slightly taller, while others are slightly shorter.
This size of Real Grade Gundam kit is convenient because it takes up less room than larger models. 
They are ideal for seasoned collectors who most likely have limited display space.  
RG Gundams doesn't necessarily take long to build
The time it takes to build a Gundam is determined by several factors. 
The major factors are the kit, the number of parts, and the level of detail.
It will also be determined by how long you spend building and your level of experience building Gundams. 
An amateur builder may take up to two days to complete a typical RG Gundam kit, whereas a seasoned builder may complete the same kit in less than three hours. 
It is entirely subjective.
However, as with any other activity, practice makes perfect, so with enough practice and time, you will improve and learn to assemble faster.
Are Real Grade Gundams detailed as MG Gundams?
While Real Grade Gundam kits lack the intricate details of Perfect Grade kits, they are significantly more detailed than Master Grades, especially on newer models. 
The Real Grade is most likely the best in the Gundam universe, taking into account all factors, especially price.
In terms of details, an RG Gundam is the closest thing to Perfect Grade (the name says it all). 
Although Master Grade Gundams have nice details as well, they have better articulation, are more difficult to build, and are more expensive, but they are not as detailed as RG kits.
Keep in mind that Real Grade Gundam isn't sturdy
Inner frames are used in both Real Grade and Master Grade kits, but unlike MG kits, most Real Grades are quite fragile.
Stacking those many small parts has the potential to be rather heavy and unstable, and some RG kits, sadly, do not have the stamina to withstand this. 
So, if you want a strong Gundam kit, Real Grade might not be for you. Instead, consider Master and Perfect Grades, which are stronger kits. 
There are some exceptions in newer RG models, such as the Nu Gundam and the Sazabi, which are not only attractive but also sturdy.
Furthermore, what a Real Grade Gundam kit lacks in sturdiness, it more than makes up for in aesthetics, color separation, and details. 
Stick with Real Grade Gundam if you value unrivaled detail and space management over sturdiness.
Is there a wide variety of RG Gundams?
Yes, there are several RG kits on the market, such as Tamashii Nations, Bandai Hobby, and Bandai Zaku, to name a few.  
A good Real Grade Gundam kit to consider
There are many amazing RG Gundam kits available, and people's interests vary.
The best one will be determined by your preferences. 
However, after considering the necessary characteristics and reviews from other builders, we believe the RG Unicorn is one RG kit that every builder should try.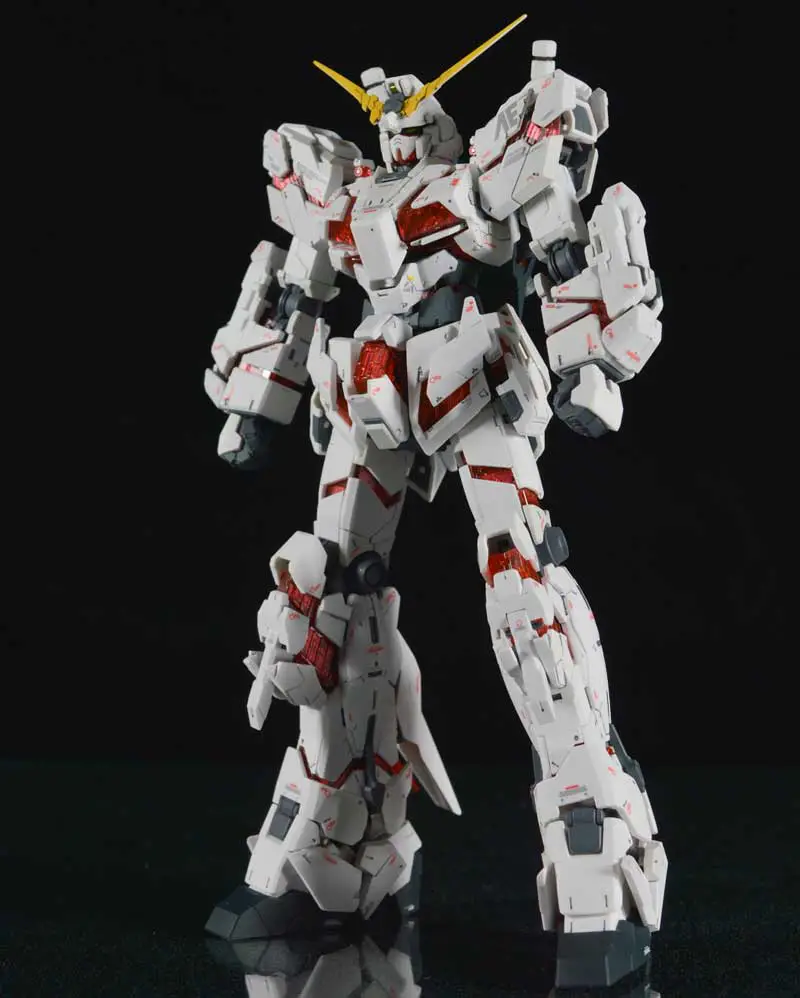 RG Unicorn
This is without a doubt the best RG Gundam kit. 
Some have claimed that it is Bandai's best kit yet. That's how good the RG Unicorn is! 
First and foremost, the kit looks good; its color scheme, when fully formed, is a sight to behold. 
The RG Unicorn has two modes: standard and engaged. 
In its standard form, it does not resemble a typical Gundam. It has a white main color with a dark blue interface for the backpack, feet, and some joints, and has only one protruding horn.
However, in its engaged form, some of the white armor opens up to reveal a clear pink underlayer, the horn splits into two golden fins, and two additional green eyes appear above the eye vents to complete the total aesthetic change and take on the full Gundam look.
The RG Unicorn is not difficult to put together, but keep in mind that due to its scale and mode changes, there are a few things to keep an eye out for. 
It has some small parts that must be fitted into some tight spots, and while they fit well, they are complicated and can be a problem.
It, like other RG kits, features a frame runner, which is the most challenging part. 
Its frame runner is made of plastic and must be bent before being coupled with other parts. 
Needless to say, if not handled properly, this plastic can easily break.
The kit is well detailed and comes with various decals that you can apply to achieve the desired anime look, as well as a set of accessories to bring the model to life, including a hyper bazooka, a shield, beam magnum, and two beam sabers.
So, Are RG Gundam good?
Ultimately, the Gundam kit you buy will be determined by your preferences and budget. 
Hopefully, this has helped your decision and you've discovered that Real Grade Gundams are excellent kits to assemble and display.