12 Best Real Grade Gundam Models (Gunpla)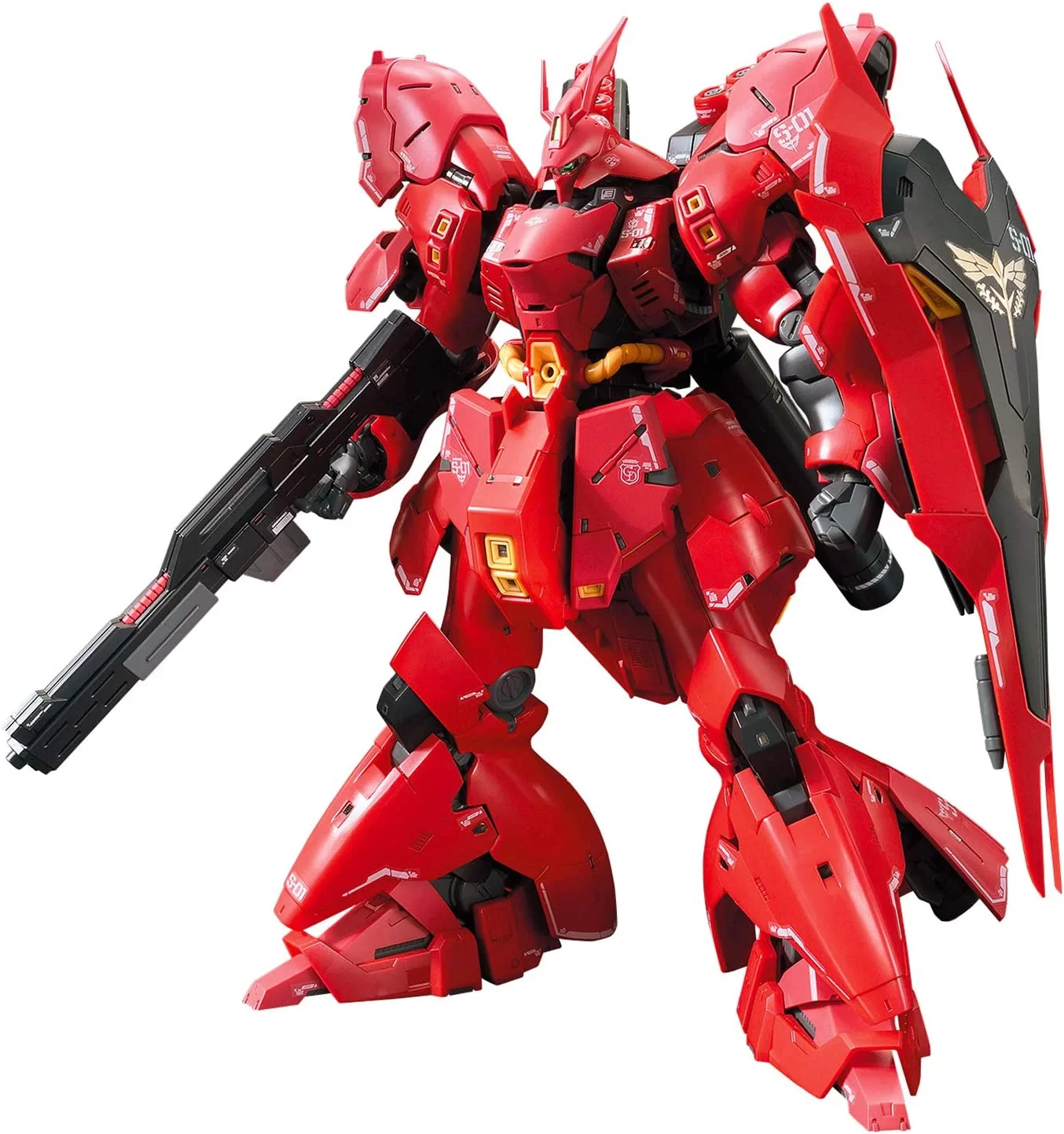 The Real Grade is a special line of Gunpla kits that combines the best aspects of the other three major Gunpla kit lines.
From its advanced MS joint using a dual-molding technique with both ABS and PP plastics to its hand-built inner frames and affordability, the RG Gunpla model stands out from the other kit lines.
There are so many options that you can choose from, but here are the 12 best RG Gunpla model kits you can get.
The RG MK II Z Gunadm is identical to the Titans Version, except it DOES NOT come with the extra Test Suit parts that are found in the Titans kit. 
The RG MK II has special hands for holding different weaponry and it is flexible and sturdy enough to recreate some very iconic hero poses.
Price Range: $34 – $65
Features
It features an advanced MS joint for a very wide range of motion and mechanical detail.
It is relatively small in size.
It comes with a rifle, shield, bazooka, two beam sabers, Vulcan pods, and mesh pipe for use when assembling the legs.
Pros
The first reason why you should pick the RG MK II is because of its sturdiness. The extra inner frame that is slapped onto the main inner frame gives it a more solid and sturdy feel.
It comes with shiny and unique stickers that help you build a more beautiful model.
Cons
The fabric pipes can be particularly stressful to work with.
You might need some glue to keep the thrusters from falling.
It has parts that easily fray.
Read Our Reviews Of Other Gundam Model Grades:

12 Best High Grade Gundam Models (Gunpla)
11 Best Perfect Grade Gundam Models (Gunpla)
11 Best Master Grade Gundam Models (Gunpla)

LeisureGuided.com
The RG XXXG-01W Wing Gundam is a mobile suit that can transform from Mobile suit Mode to Bird Mode. It's one of the best RG model Gunpla that you can own too.
Its buster rifle is one of the strongest in the wing universe, and the wings completely unfold like a bird. It is also the very last RG to use silted mouth vents on the mask.
Price Range: $38-$45
Features
It comes with a Wing Gundam, a buster rifle, shield, beam saber, 3 Pairs of hand parts, a weapon handle right hand, and an action base.
This kit comes with very realistic decals. 
 Pros
It comes with a lot of extra stickers so you have a wide variety to choose from.
It is among the most solid and sturdy builds you'll find.
The molded two-turn color gives it a beautiful and realistic design.
It also comes with an action base that allows you to set it up for the best pose.
Cons
The head and the hand joint feel loose and cannot hold the rifle so you might need some glue to fix this. 
The fin on the shin is also quite loose also and many people don't like the absence of an opening cockpit.
The RG MSN -04 Sazabi is one of the most iconic custom-made mobile suits of the Red Comet, Char Aznable, and one of the best Real Grade Gunpla on the market now.
Price Range: $50 – $100
 Features
Funnels with opening fins and a head that can open to reveal the cockpit.
Muzzle recoil action on the beam shot rifle.
Pistons that move in conjunction with other parts.
One right-handed trigger hand for a variety of display options.
 Pros
It comes with amazing gimmicks that allow it to perform a wide variety of dynamic poses.
Comes with numerous moving parts including a super funnel with opening fins.
You can get a very beautiful finish without even painting.
A lot of the nubs are undergated so you don't have too much to worry about marking the plastic. The under gating makes for virtually no visible nub marks if you choose to build straight.
Cons
The RG MSN-04 Sazabi is quite heavy and chunky.
Requires more time and effort than other Real Grade kits, especially if you are a newbie.
The RG Evangelion Mark.06 is the most popular unit following EVA-01 (available from all the Evangelion Mega Polls), and one of my most preferred RG.
Price Range: $58 – $100
Features
It features the iconic Spear of Cassius and incorporates a spine-like structure to its body parts.
This kit has the Halo effect and includes six pairs of hands.
Pros
It has a super unique build and it comes with a Double theme color design that makes it super beautiful.
You don't have to worry about nubs on it, it is heavily undergated.
This model kit is highly articulated once completed.
It is very sturdy and solid
Cons
The rotating drum thing in the hips can be super finicky. You can use glue,  although it may reduce the movement afterward.
The shoulders could use a slight rework with the pylons to allow for better mobility.
The RG unicorn for the anime series was created to be able to perform its iconic Destroy Mode transformation with stability and ease. It can be a bit fragile but it remains one of the best Real Grade Gunpla kits you can build.
Price Range: $45 – $84
Features
It features the next level of Gunpla technology with an advanced inner framework.
Includes a beam magnum, shield, 2 beam sabers, Hyper Bazooka, 10 runners, sticker sheet, and instructions
 Pros
The new Advanced MS Joint incorporates clear translucent plastic for the Psycho frame along with locking and linking mechanisms to ensure the smoothest transformation possible.  
It can transform between Unicorn mode and Destroy mode seamlessly (Shield can be transformed accordingly too).
Hyper Bazooka is collapsible, and the mount can be made into multiple formations. 
Cons
The joint parts are quite fragile.
You will have to sand down or gently work in the peg well before completing assembly to avoid any issues afterward.
The RG GF13-017NJII Suit from Mobile Fighter G Gundam comes from the new Gundam Universe and centers its storyline around a global fighting tournament instead of the typical conflict between Earth and the Space Colonies.
It is an absolutely outstanding model, and it definitely befits its nickname as the "god of Gunpla".  
Price Range: $47 – $79
Features
It adopts the advanced MS joint structure and features the widest range of motion in RG history by adopting the structure of the human body.
It comes with the God Slash, the sun wheel effect, a PET sheet, and hand parts.
It also has super realistic decals.
 Pros
It has much better articulation and color separation than most other gundam model kits.
It is highly durable because of its solid build and sturdiness.
There is little to no paint required to replicate appearance, except you insist on making a special finish to your build.
 Cons
There are delicate parts with hooked-type dowels, so it's important to be extra careful so as not to damage them.
The stickers sometimes barely fit.
The RG Evangelion Unit-03 appeared in the movie Evangelion: 2.0 and it has the most realistic humanoid crouching and weapon-holding poses across Real Grade Gunpla models.
Price Range: $70 – $89
Features
It features intricately linked parts construction representing the relaxation and contraction of muscle fibers that resemble real human-joints.
It has 7 pairs of interchangeable hands
This kit contains the Evangelion dedicated optical system protective cover.
It also contains the Evangelion Dedicated Independent Defensive Weapon Enchanted Shield of Virtue.
This kit also comes with 2 Progressive Knives, palette rifle, umbilical cable, and decals.
Pros
The 'spine movement' and 'arm twisting' allow for impressive, human-like articulation.
The figure is highly poseable when assembled.
It has an auxiliary pedestal for the shield.
It comes with extra parts, especially the eye visor.
It is fun to build, and in general, the articulation is excellent.
 Cons
It has loose and floppy joint parts. The upper arm and upper elbow armor tend to fall apart. The front ankle armor limits some poses too.
The ZGMF-X56S/A FORCE IMPULSE GUNDAM is from Mobile Suit Gundam SEED Destiny and it is another one of the top Real Grade Gundam model kits.
Price Range: $120 – $131
Features
It features the RG new Advanced MS Joint system in the Core Splendor and chest assembly.
It includes a high-energy beam rifle, a mobile shield, the Vajra Beam Saber xw, a 2x folding razor vs armored knife, and a silhouette flier.
It also contains 8 hand parts (4 pairs).
Pros
The runner comes with a finely designed garter and helps you avoid any ugly nub marks.
It comes with super cool design parts, making the seam lines on the RG Force Impulse parts look like either it belonged there or was hidden well.
The RG Force Impulse's articulation is awesome and you can easily convert it into any form that you want without the worry of parts mishaps.
It is a solid build with the right amount of gimmicks & moving parts.
The color separation is phenomenal
Cons
The plastic is so tight it feels sticky to move and it bounces back a bit when you move it, making flattening the feet quite difficult.
The RG 1/144 Gunpla EXPO ZGMF x42s appears in the series of "Mobile Suit Gundam", robots and battleships called mobile armor. 
Price Range: $49 – $75
Features
It features the RG new Advanced MS Joint system and allows for an unbelievable range of motion.
It comes with metallic stickers.
Includes the sword, shield, and interchangeable hands.
Pros
Beginner-friendly since the kit is by far the easiest RG kit to build out there if you are thinking of picking one up.
Intricate details and beautiful overall design.
Cons
It has fragile wing joints.
The little silver foil squares on the wings don't stick well (they curve under the wing and just pop up after a while).
It is quite heavy too because of the weight of the backpack.
A kit that can not be left out of the list of best Real Grade Gunpla, this katana-wielding Gundam from Gundam Seed Astray features the new Advanced MS Joint system.
Price Range: $49 – $58
Features
It features a sophisticated internal structure that allows for high articulation.
Included are the Gerbera Straight katana, a beam rifle, a shield, two beam sabers, and a pilot figure.
Pros
It comes with an opening gimmick that allows for extra poseability.
It has a completely new unique design that corresponds to the skeleton.
A highly articulated inner frame which means fewer armor parts.
Overall it is stable and solid, and also handles its transformation gimmick well.
Cons
It has issues with joints loosening over time, especially if you are building without painting or coating to thicken it.
If something goes wrong during assembling that requires taking it apart to fix it multiple times, it can significantly weaken some connections.
The MS-06F ZAKU II RG 1/144 is a poseable, Real-Grade injection-plastic kit from the Gundam universe.
It is definitely one of the best Real Grade Gunpla kits available and it was the first RG Zaku II variant to feature a solid weapon-holding hand. 
Price Range: $29 – $67
Features
Included are the Manipulators, fists (1 pair), a poseable (1 pair), and a trigger finger (right).
It also contains a machine gun, one heat hawk, a connector joint, the Zaku bazooka, and a 1/144 Zeon Pilot figurine and an adapter for Action Base. 
Pros
Easy and mostly fun to build.
It comes with lots of stickers to add detail to the unit.
Very beautiful color themes.
Cons
There are seam lines that are awkward in some parts
The RG strike freedom is based on the Gundam of the main protagonist of Mobile Suit Gundam SEED, Kira Yamato.
Price Range: $42 – $70
Features
It features notable armor gimmicks and has side skirts that can transform into blaster cannons and thrusters behind the legs.
It contains the DRAGOON x8, 2 beam sabers, 1 pair of poseable manipulators.
It also comes with a multi-purpose weapon-holding (1 pair), an open-palm (1 pair), and 2 Beam Rifles.
Pros
It is top tier when it comes to its articulation thanks to its internal frame.
Poses in realistic positions better than most model kits.
It comes with a great aesthetic and beautiful design.
Cons
Fragile parts and very tiny accessories.
Why is an RG Gundam Kit Good For you?
The Real Grade kits are sophisticated and worth the effort of building, even if they might be a little bit complex to beginners.
For pricing, Real Grade Gundams can often be found for as little as $30 and can cost as much as $100 at times. It is relatively affordable for such an amazing kit.
The kits are also highly customizable thanks to the extra accessories that come with them and fit perfectly. They are specially designed to be both visually appealing and realistic
What Are Some Of The Features RG Kits Have?
The RG Scale is a super 1/144. These kits are relatively small and allow for the inclusion of extra accessories. This makes the RG kits more customizable than other models.
Also, because of their small parts, they can be complicated to build, but this also helps in the overall frame. Compared to many other kit lines, there are more details and variety in the RG kit line.
The RG grade kits also come with well-engineered gimmicks that allow for great articulation, although many people have complained of issues with the joints assembly, as well as many loose parts.