Best paint for Scale Model Kits (Acrylic, Lacquer, Enamel)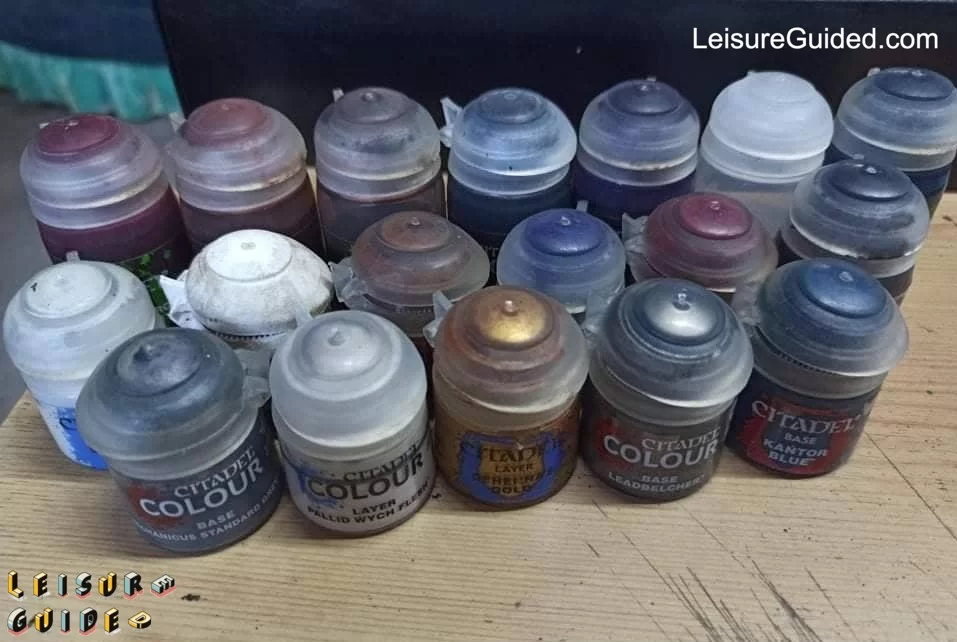 You can paint your scale model kits with one of three types of paint, Acrylics, Lacquers, or Enamels.
each type of paint will give you different results, will behave differently whether with a brush or an airbrush and will require different care.
It is also important to know that not every paint brand manufactures each type of these paints so you'll need to know which type is made by which brand to determine the best paint for your scale model kit.
In this article, we'll review the different types of paint and some of the best paints for scale models.
Types Of paint for scale models
there are three types of paints for scale model kits:
each one of these types of paint has different characteristics, made from different materials, and will give a different finish and use.
Acrylic paints
Acrylic paint is water based and often used for painting scale model kits and miniatures. It is made of three ingredients – acrylic pigments, acrylic polymer emulsion or binders, and stabilizer.
Most model kits painters use Acrylic paints on their models.
Lacquer paint
Lacquers are oil-based paints that are formed using acrylic resin, a synthetic clear polymer, and extracted from trees and waxes. When painted on plastic, metal, or wooden surface, they often form a hard and shiny coat. 
Enamel
Enamel paints are also oil-based paints that contain color pigments as well as drying oil.
The oil, typically Linseed oil, serves as both a solvent for dissolving the color pigment and a binder for hardening the paint when its dry.
Enamel has the slowest drying time, making it ideal for painting with a brush.
Here are Some Of The Best paints for plastic models
Vallejo model color for painting scale models
One of my personal favorites is this Vallejo model color acrylic paint from the Vallejo's line of paints.
Vallejo's model color range has a wide selection of colors and allows painting on just about anything (other than on aircraft). 
Plus, the colors are bright and vibrant, have good coverage, and thin down nicely. 
The single most important reason this paint ranks first in our list is that it has the best self-leveling properties of any hobby acrylic I have ever brush painted.
The only downside to this acrylic is that it dries a bit too fast for brush painting. But its relatively fast drying time means it's easy to apply a few coats, highlighting the beauty of your model. 
How? To get a nice smooth color when brush painting, the trick is to do several coats. 
Pros
Flow well
Provides good coverage
Wide range of colors
Cons
Lifecolor acrylic for model kits
Lifecolor has a lot of aircraft, armor, and ship-specific colors, and they brush well. Plus, you'll find an extensive color range, over 50 basic colors. 
Another good feature of this Lifecolor acrylic paint is that it is non-toxic, non-flammable, and has very little odor. 
The only downside to this model is its leveling properties are quite unimpressive. The paint comes out lumpy from the bottle, which makes them look rough. 
Besides this, this acrylic paint has the best adhesion compared to many water-thinned acrylic paints. 
Pros 
It is non-toxic
It has over 50 basic colors
Dries easily
Cons
Mr. color is lacquer-based paint
If you love lacquer-based paints, Mr. color is another wonderful hand-brushing lacquer paint that offers a beautifully smooth and resilient finish. 
It is suitable for all surfaces, and you'll get a wide range of colors to work on your model. 
Apart from this, it also has a fast drying time, incredible finish, good pigment, and is tougher. However, they have strong fumes. 
Pros
Mr. Color's lacquer paint levels well
Tough and long-lasting
It is water-resistant when dry
Cons 
As any Lacquer, it has bad fumes
Testors enamel to paint your scale kit
Oil-based enamel paint isn't for everybody, but if you want paint that would last on your aircraft and automobile models, Testors' enamel paint will do the trick. 
The first thing you should know about this paint is that you can get over 45 color variants to paint your model. For example, the Testors ¼ oz enamel paints come in over 45 popular colors for various needs. 
The biggest advantage of this enamel paint is that it dries into a nice hard shell giving you a fine and smooth finish free of brush strokes, all thanks to its slow drying time. 
Plus, they flow well and stick well on virtually any surface while providing a rich blend of colors. And while enamels are known for their toxic smell, with hand brushing, you're not really at risk of inhaling the paint particles. 
Pros
Adheres to any surface like a good enamel should
Multiple vibrant and opaque colors
Dries nicely
Long-lasting
Cons
Requires use of protective gloves and respirator when painting
Revell aqua color (acrylics)
Revell's aqua color also brushes well and offers exceptional luster colors (with their blacks and metallics being the best), but the range of color is a bit restricted. 
Adhesion is a big problem with acrylic paints. With this Revell aqua color paint, you won't have to worry about it. 
It is also self-leveling and dries with no brush marks to a nice flat finish. 
Pros
Self-levels
Excellent coverage
Easy to thin to whatever consistency
Cons
Restricted colors to choose from
Never A Miss – Citadel colors (acrylics)
If you're planning on painting your war gaming miniature, Citadel colors work well. 
They have high pigment concentration than many other acrylic paints and flow well. 
A feature that makes this paint stand out is you can easily find light and dark colors of the same paint to do shading and highlights. 
Pros
Good flow
Colors in various range
Perfect for war gaming models
Cons
Tamiya enamel is popular for painting models
You'd think I'd mention the Tamiya acrylic paints here. 
While they are good, they just dry too fast. For this reason, you should use Tamiya enamel paints.
This paint works well on any surface. They cover well, flow smoothly, won't fade, and thins easily. But their unique characteristic is the wide range of colors they offer, especially their excellent metallic shades. 
Like most enamel paints, the trouble with this paint is how long it takes to dry, the foul smell of the thinners, and the pain to clean up.
Pros
You can blend color easily
Covers well
Flows smoothly 
Won't fade easily
Cons
You need to lay it on fairly wet to get a nice chrome effect,
The process to best painting Scale plastic models
Hand brushing isn't really a challenging technique to master. In fact, it is one of the fastest painting techniques for beginners without so much of a learning curve. Regardless, here are some tips to help make the process easier for you. 
like many modelers, I also hate spending time figuring out how to best prime, thin, blend, dry, or layer hand-brushing paints. 
Priming your model
Use either black, white, or light grey colors for priming
Apply the black or grey color in one coat. The white will need multiple coats to cover.
Use a moist and soft brush
Don't thin the primer
When brush priming, you can get bubbles. If you allow it dry, it forms a lumpy effect. So, while the primer is still wet, give it a good blow from all angles so the bubble pops and it dries without hitches. 
Leave the model to dry 24 hours after applying primer
Thinning the paints
For acrylics, water works as an exceptional thinner*. But, if it contains a lot of minerals, it might affect the color and how the paint behaves. In that case, you are better off buying non-bubbling water from the supermarket.
Paints like shades, technical, contrast paints, and enamels won't always work with water. Instead of water, you can use special thinners or mediums designed for the paint.
Get a brush
Stick it into the water or medium pot, then stick your brush into the paint on your palette afterward. 
Or pour your paint onto the wet palette with medium or water to thin the paint. 
Drying the right way
How well the paint dries will determine how good your results are. Some drying tips to keep in mind include:
Let acrylic, enamel, or lacquer paint dry for at least one hour before adding another 3 or 4 thin coats. This ensures you end up with a smooth finish.
Avoid thick coats. If the paint is too thick, it affects the dry time of your paint, but if it is thin enough, it will self-level and dry perfectly.
Layering the paint
Like the dry time, layering also affects the finish of your model. The thicker the coats, the more hidden the details. Layering will teach you how to coat your models. 
Use subtle blends and thin coats when layering to create precise details between light and dark surfaces.
Don't overload the brushes since it will cause the layers to come off too harsh and vivid. 
Avoid front and back movement when layering. You risk leaving brush marks. 
Cleaning the brushes
Clean the brushes immediately after use
Soak the brush in the thinner overnight to get rid of oil paint on the bristles
Use a hair conditioner on it every few months to keep the brush more supple
Conclusion
Model paints, whether acrylic, Lacquer, or enamels differ in the type of finish, color, and effect they offer. Whichever you chose will work well for hand brushing on your model kits.
Just make sure that before investing in any paint model, you know what you stand to gain depending on the painting technique you use.
This way, you won't spend so much on paint that isn't worth the money.