Army Painter Vs. Citadel | only what's important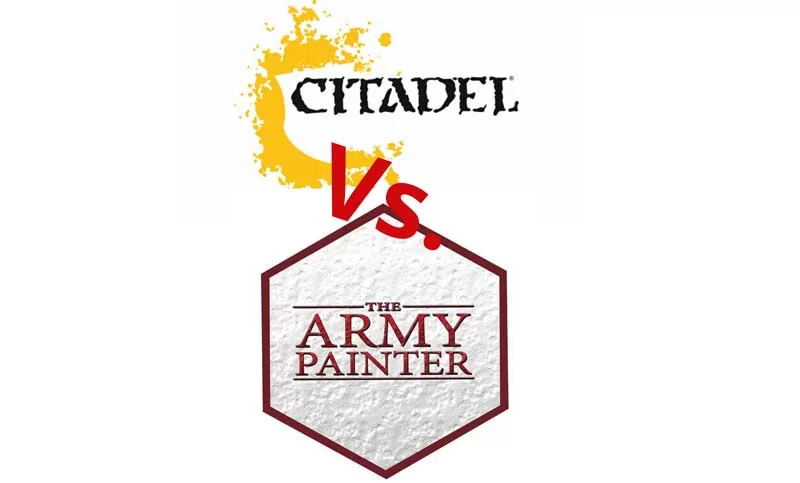 Painting your miniatures and scale models is a fun way to highlight the littlest and most intricate details that make your various kits realistic. 
But, you want to be sure you are using the right paint for the job. 
If you love acrylic paints like Army Painter and Citadel but can't quite figure out which to use on your gameplay figurines and model kits, we'll compare both to help you make your choice.  
Comparison Table Between Army Painter and Citadel
| | | |
| --- | --- | --- |
| Features | Army Painter | Citadel |
| Size | 18ml | 12ml |
| Ease of use | Straightforward | Excellent |
| Dry time | 10 to 15 minutes | 1 to 2 hours |
| Price | $2.99 to $3.25 | $6.10 to $30 |
| Color range | 124 | 145 |
| Density | Thin | Thick |
| Based | Water | Water |
| Technique | Airbrush/Brush Painting | Paint Brushing |
| Skill | Beginners | Beginners |
Army Painter Vs. Citadel
Which is the best paint, Army Painter or Citadel?
Winner: Citadel
Several things make the best paint, from great colors to washes, technical parts, ease of use, consistency, and dry time. 
The main difference between Citadel and The Army Painter is:
Citadel edges over Army Painter in aspects like coverage, mixing, and consistency but Army painter paints offer great effects, specialty sets washes, and their Speedpaints are the classic gold standard.  
With Citadel, you'll have no problems with coverage once thinned. 
Citadel basecoats are great, their shades of contrast paints make Citadel stand out, and the gloss matte varnish helps you achieve accurate details on your models. 
Plus, even beginners can use Citadel paints as they'll find various step-by-step tutorials on how to use citadel paints. 
Citadel Pros&Cons
Read the Full Review Of Citadel Paints
Pros
Great coverage
Great for beginner painters
Easy to find in any local store
Wide range of colors
Cons
Colors are always out of stock
Expensive
It dries fast if you are not careful
It does not work well for airbrushing
For Army Painter paints, the washes and shades, especially the silver metallics, are some of the best parts of the paint. 
They also come with a nice 18ml dropper bottle, larger than Citadels 13ml pots, and are less susceptible to dry-out issues of Citadel paints. 
However, their pigment separation makes them almost impossible to use  
Army Painter Pros&Cons
Read the Full Review Of The Army Painter Paints
Pros
Budget-friendly
Good dropper bottles that help keep the paint healthy 
It comes in a set
Decent availability
Decent color range
Cons
Low opacity and consistency
Coverage – Which is better 
Winner: Citadel
Some Army Painter colors are more translucent than others; some require many coats, while others need one or two coats. On the other hand, they do tend to separate and will only mix well with an agitator. 
Citadel offers better coverage than Army Painter paints, thanks to its thick pigments. 
The paints are well pigmented and allow for more control thinning down rather than trying to apply a million watery coats of paint too thin to cover your miniatures and scale models.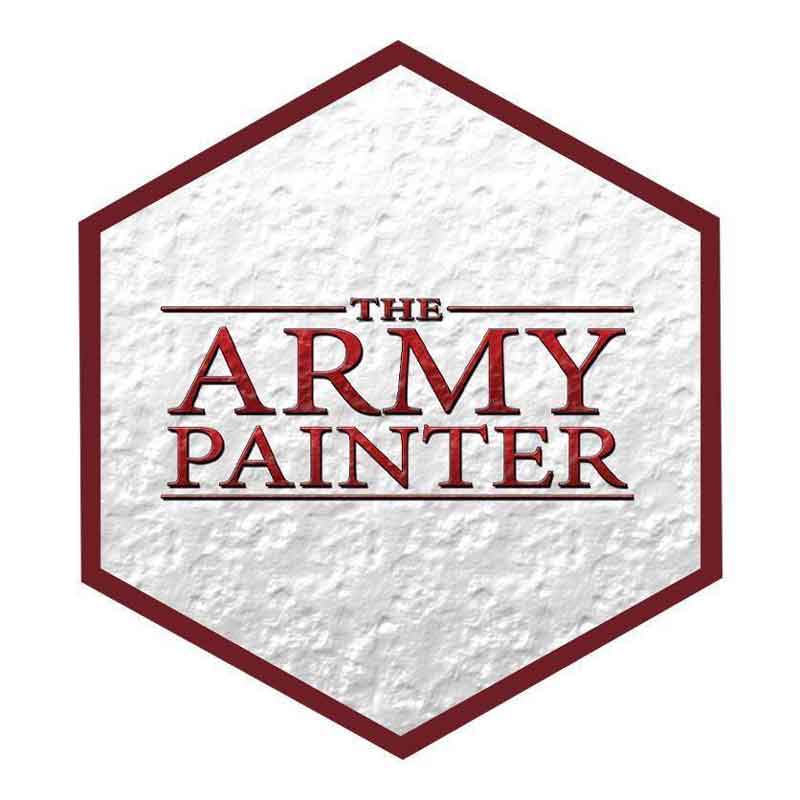 Which is easier to Paint
Verdict: Tie | Army Painter = Citadel
Both brands make painting your miniature and scale models an interesting and stress-free experience. 
While Army Painter paints are thinner than Citadel's high pigmented colors, they are easier to apply smoothly, even if it takes a couple more coats. 
For instance, if you use their washes, you'll get perfectly realistic skin tones that make flesh painting easy and covers everything you need, even with light coatings. 
Citadel paint also offers ease of use, whether you need base paints, layer paints, shades, and highlights. 
While thinning them to the right consistency might be a challenge for many people, their easy-to-follow paint system means you can cover surface details with one single coating, and the surface won't spot any brush marks.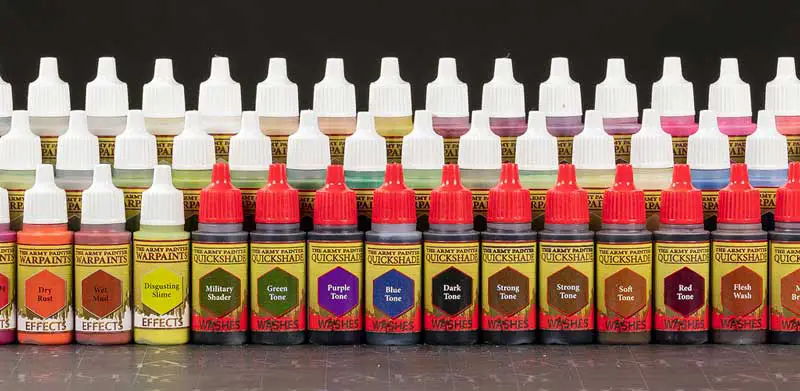 Which of these paints will look better?
Winner: Citadel
Citadel paints take the lead when it comes to the finished look due to its fine consistency, coverage, and thinning. 
Citadel paints are very consistent, especially with the finished results. 
For example, the Mephiston Red, one of their base colors though highly pigmented covers beautifully and gives a glow effect, even without adding other layers. Even the Khorne Red offers smoother and less chunky coverage you'd experience when using other paints.  
On the other hand, Army Painter paints have pigment separation issues, which give your miniatures an uneven coat. However, they offer good results and look good as long as you do a few thin coats and mix them well. 
Price – Which is cheaper?
Winner: Army Painter
If you're looking for cheap paints that offer high-quality results, Army Painter paints is the way to go since their maximum selling price won't exceed $3.25. 
An 18ml Army Painter dropper bottle sells for $2.99, while their washes and metallics range from $3.25. 
However, you'll get a 12ml Citadel paint at $6.10 with the Washes, Contrast, and Air ranging from $7.50 to $7.80. 
Citadel paints also cost as much as $30, depending on the color you choose. 
Which dries faster?
Winner: Tie | Army Painter = Citadel
Citadel paints dry faster than Army Painter paints in the bottle but Army Painter paints dries faster during painting.
One of the winning features of Army Painter paints is their dropper bottle which keeps the paints healthy when sealed. Even left open, they don't dry out easily. 
On the other hand, their thin consistency means they dry between 10 to 15 minutes after each coat. 
Citadel paints in their paint pot are prone to quickly dry out. So, when you leave them unsealed as long as the Army painter bottles, they dry faster and require a thinner to thaw their solid frame. 
But, when used on a miniature, their thick coats mean they may take between 1 to 2 hours to cure.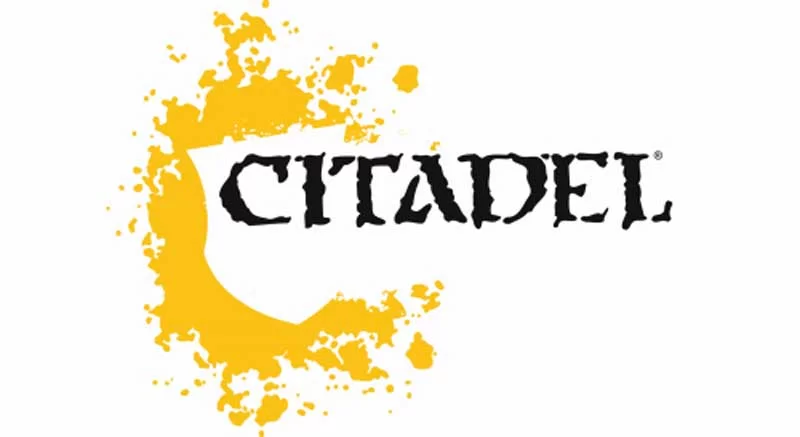 Which is better for airbrushing?
Winner: Army Painter
Army painter paints are designed for paint brushing, so you can easily get perfect highlight, shadow, and wash effects. But, they also work well with an Airbrush (although not all). 
Their recently designed Airbrush Medium makes it easy for you to airbrush your models without the stress of using brushes. 
Citadel's thick consistency makes them an unfavorable paint for airbrushing. 
Even when thinned, they still retain their thick pigments, making it difficult to pass through the airbrush nozzle no matter the size. 
So, if you choose to use Citadel paints with an airbrush, you may damage the nozzles and spend a fortune on replacing them. However, if you thin them properly and they lose their dense form, they may work well for airbrushing.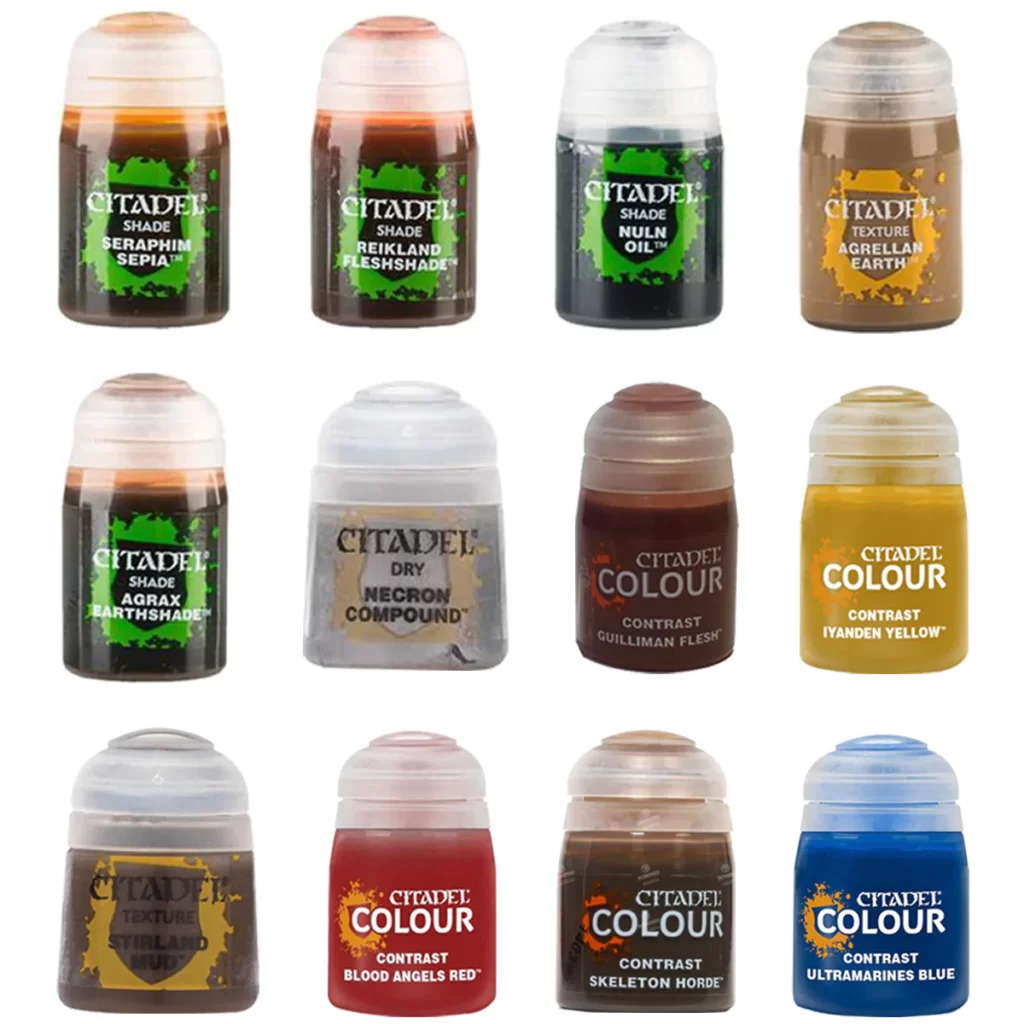 Color Range – which has a wider range of colors?
Winner: Citadel
Citadel's primary selling point over Army Painter is their large assortment of colors. 
Initially, they had only 72 colors, but their current color range consists of 145 paints split into seven categories – bases, shades, layers, textures, glazes, and technical. 
Army Painter brand boasts 124 paints in total. These 124 paints consist of 96 regular acrylics, and the rest make up the metallic paints, Quickshade inks, and effect paints. 
FAQs
What type of paint is Army Painter? Are they water-based?
Army Painter paints are acrylics with a non-toxic water-based solution ideal for painting tabletop games, wargames miniature, and model painting. 
What kind of paint is Citadel paint?
Like Army Painter, Citadel paints are non-toxic, water-based acrylic paints designed for use on miniatures. 
How do you thin out an Army Painter?
Squirt out the excess medium in the paint to allow for thinning.
Try a 1:1 thinner paint ratio (a brush load of water per drop of paint).
Use stainless steel bearings and paint agitators to mix thinned paint and prevent caked pigments.
Conclusion
Army Painter and Citadel are excellent paint brands for miniatures and for scale model kits. 
So, if you're confused about which to choose, the only significant difference is in their price, color range, application technique, and bottle size. 
Regardless, whichever one you choose will work well for your project.