Vallejo VS Army Painter | Which paint is better for you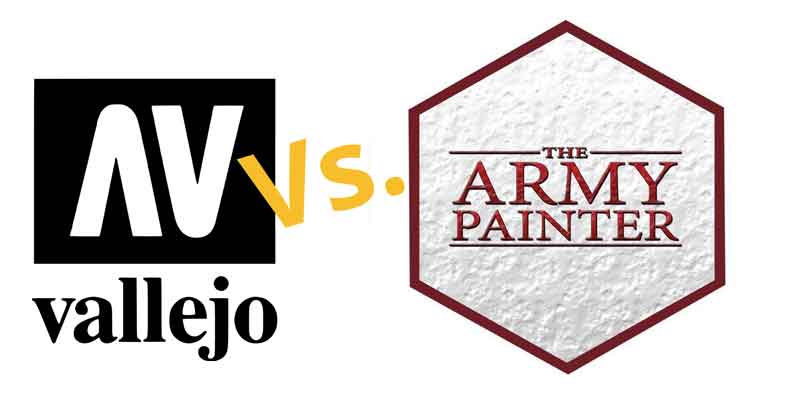 If you're in the market for a model or miniature paint, Vallejo and Army Painter are two of the most common miniature and scale model paints used in the United States. 
However, these two paints differ in features, especially their pricing and painting techniques they allow. 
In the table below, we compare Vallejo and Army Painter paints to discover the different qualities that make them unique. 
Comparison Table Between Vallejo and Army Painter
| | | |
| --- | --- | --- |
| Features | Vallejo | Army Painter |
| Size | 3 inches tall 17ml | 5.1 inches tall 18ml |
| Price | $3.30 – $3.69 | $2.99 – $25 |
| Dry Time | 30 minutes | 10 to 15 minutes |
| Color Range | 700+ | 124 |
| Density | Thick | Thin |
| Based | Water | Water |
| Technique | Hand brushing and Airbrush | Brush painting |
| Skill | More Advanced painters | Beginners |
Vallejo Vs. Army Painter
Vallejo Or Army Painter, Which is the best paint?
| the results
Winner: Vallejo
Vallejo paints are very good. They are high quality, well priced, and are popular among military modelers, display-level fantasy miniature painters, and many tabletop gamers. 
Their most popular model paint, Model Color, has some of the highest concentrations of pigment, perfect for hand and dry brushing. 
Plus, Vallejo's wide range of colors makes it easy to get basic shades for detailing your model kits to those specifically developed for military kits and miniature figures. 
Vallejo Pros
Vallejo Cons
Availability can be a hassle
Chips easily
Like Vallejo, Army painter is also a good paint brand. However, in terms of price, coverage, and color selection, Vallejo still holds the title over Army Painter.
As a paint brand, Army painter only started with a 36-color palette, their color selection has grown to over 124 colors. 
But, a major advantage they have over Vallejo is that they offer decent availability. 
Army Painter Pros
Improved color range
Decent availability
High-quality pigmentation
Available in a set
Cheap
Army Painter Cons
Limited color options
Their low pigment density means they don't thin well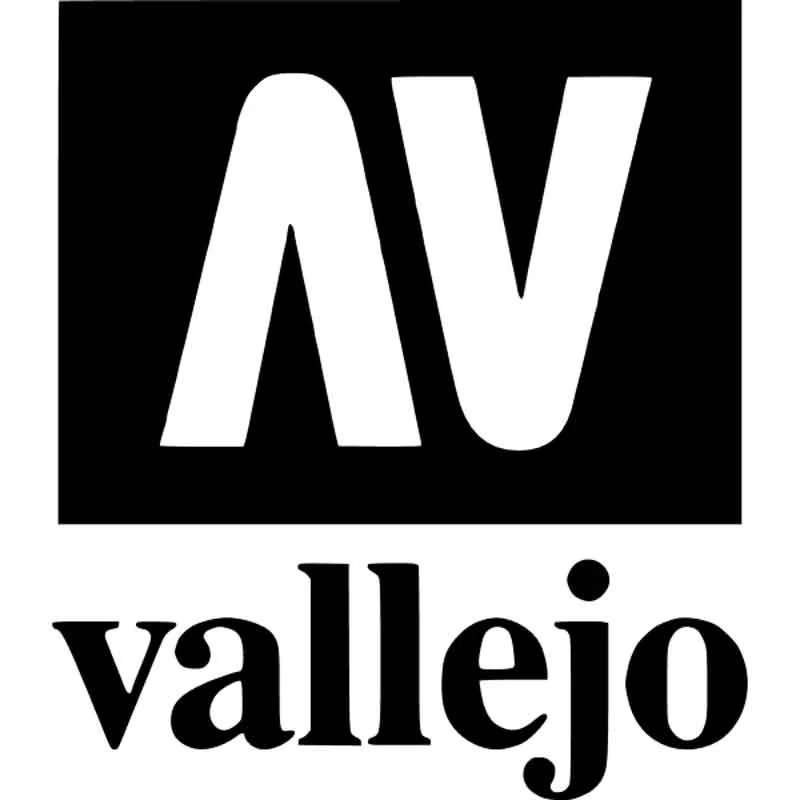 coverage – Vallejo will be 3 times better than Army Painter
Winner: Vallejo
If you need scale models and miniature paints that offer better coverage with one single coat, Vallejo takes the winning spot over Army Painters paints.
Vallejo paints act like the popular Citadel paints in the coverage aspect. They offer good coverage straight out of the bottle and can even be thinned for precise coverage. 
With Vallejo paints, one layer will be enough for a uniform cover. 
On the other hand, Army painters' paint struggle with coverage due to their low pigment density. To get the same effect as Vallejo's one coated layer, you'll need 3 layers to obtain the same effect as Vallejo.
Ease Of Use – Army Painter Is easier to Paint
Winner: Army Painter
Army painter takes the lead in ease of painting because of their low pigmentation characteristics.
Since they aren't as thick as Vallejo paints, thinning them to the right consistency won't be a problem. Beginners might even find their paints much more straightforward than Vallejo paints.
Vallejo paints do deliver excellent paints, making them easy to use. 
However, before using Vallejo paint (especially for brush painting), you need to thin them properly, or else they leave brush marks. When used with an airbrush, Vallejo's Model Air paints make painting easy with their first dry time, which allows you to immediately apply the next coat. 
Looks – Vallejo will look better Than Army Painter
Winner: Vallejo
Army painter paints can be a bit thin, so they are best used for methods that require thinner paint, such as coloring over pre-shading. 
If not applied this way, Army Painter paints appear quick dull and lackluster than the Vallejo color offerings, making your results come out a little less accurate than you projected. 
On the other hand, Vallejo edges over Army painter because of its high pigmentation density. This provides very thick, good coverage on a model and will look better.
However, the paint might be prone to showing brush strokes if not thinned properly. A 5:1 or 2:1 thinner ratio with the Vallejo paint means the paint flows more easily across the surface of the model and is less likely to cover small detailed parts on a weapon, face, or armor on your miniature. 
Price – Vallejo is cheaper
Winner: Vallejo
When it comes to pricing, there is no lengthy margin between both paint brands. However, Army painter paints offer more affordability for many model and miniature painters. 
For example, an 18ml Army Painter paint may cost between $2.99 to $3.25, while a Vallejo 17ml paint may cost between $3.30 to $3.69. 
From the example, it's obvious that Vallejo paints are slightly more expensive than Army Painter paints. 
But, considering the number of layers you will need for good coverage and you'll find that Vallejo will last longer.
Dry Time – Army Painter Takes 15 to dry
Winner: Army Painter
Technically, Army Painter's drying time between coats is approximately 10 minutes.
With Army Painter paints, each coat of paint dries between 10 to 15 minutes. However, you may want to leave them to fully cure for two hours.
Vallejo paints take longer to cure, around 30 mins, especially the Model Color and Game Color paints. This is because they chip easily. So, you may not achieve optimum adherence to the model's surface to make them resist scratch, dents, and chips until after 48 hours.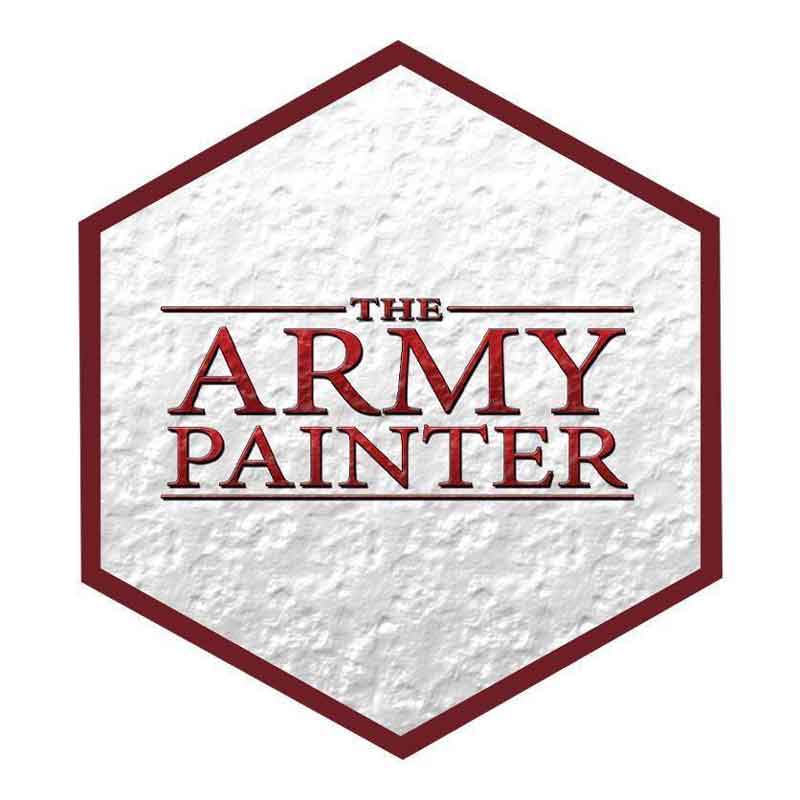 Airbrush – Which is better for airbrushing?
Tie | Vallejo = Army Painter
The painting technique on miniatures differs for each type of paint. For Vallejo and Army Painter paints, brush painting technique is key. 
When you brush paint with these paints, you get the best for detail painting, wash effects, feathering, filtering, highlighting, and shadowing. 
However, the Premium and Model Air water-based formulas by Vallejo are specifically formulated for use with an airbrush. 
Army painter paints are also designed for hand brushing. However, their recently released Airbrush Medium developed as a Warpaint allows for use in an airbrush. 
This article is part of our Paint Industry Research.
We made several comparisons based on our experience over the years.

Check these as well:
Tamiya Vs. Citadel
Vallejo Vs. Tamiya
Vallejo Vs. Citadel

LeisureGuided.com
Color Range – Vallejo has a range of 700+ colors
Winner: Vallejo
The major advantage Vallejo has over Army Painter Paints is the massive range of colors you get for detailing your model and miniature kits. 
Vallejo tops Army Painter hands down when it comes to the color range because they cater to a much wider audience, from miniature modelers to model builders.  
What makes Vallejo stand out is they have a whole division of paints for sci-fi, fantasy gaming, historical figures, wargaming, and even diorama. 
For instance, Vallejo's Model Color and Panzer Aces have over 266 matte colors, the Game Color range consists of 119 acrylic colors, the Model Air range has over 129 colors, and Vallejo's Premium Color has over 51 colors. 
No paint brand can easily beat this color range.
Army Painter only boasts of 124 color varieties even though they are one of the biggest lines of model paint brands.  
FAQs
Are Vallejo and Army Painter the same size?
No, they both differ in size, even if they come in the same type of bottle. 
Vallejo paints are offered in smaller bottles. They are 3 inches tall with a 17ml volume, but Army painter paints are often 5.1 inches tall and have a volume of 18ml. 
What's the difference between Vallejo Model Color and Game color?
Vallejo's Model colors are formulated for painting scale models and miniatures, and its colors provide highly opaque coverage for brush painting miniatures.
Game Color Vallejo paints are designed for tabletop games (small figures), so they have a lower viscosity than Model Color and a resin more resistant to frequent handling. 
Conclusion
Many tabletop gamers have a lot of unpainted models. So, if you're considering devoting time to your miniatures, Vallejo paints and Army Painter are two good brands to choose from. 
Both paints are of superior quality, offer a variant of airbrush paint, are decently priced, are easy to paint, and will look good on your model. 
However, if you need more colors than the basic ones you get in your local hobby store, the Vallejo color range is quite surplus than the Army painters' color line.