Vallejo Vs. Citadel | (Part 3 of An Industry Research)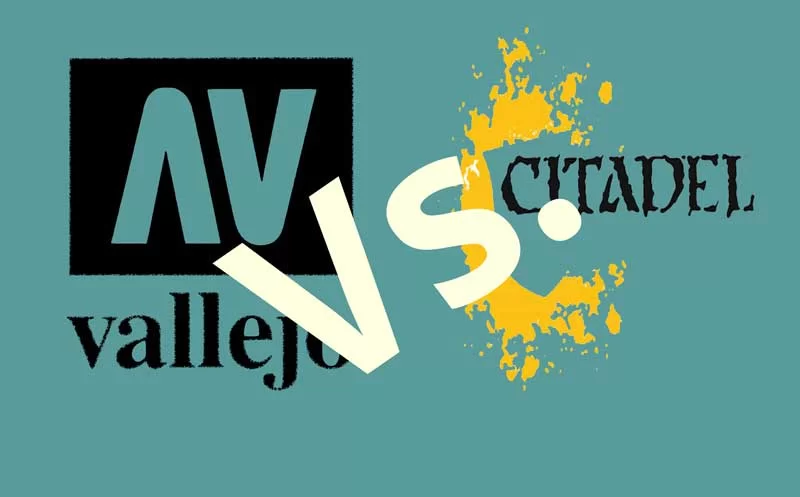 Vallejo and Citadel paints are popular because they are both exceptional brands that offer premium paints for scale models and miniature painting. 
If you paint your scale models or miniatures, you probably have Vallejo or Citadel Paints in your stash (if not both). However, you might favor one over the other due to significant differences that make them unique from other paints. 
We understand this because we know every paint has its pain points and merits. 
That's why we designed this comparison to differentiate both, so you won't find yourself stuck and asking how they are so different. 
Which is the best paint, Vallejo or Citadel | The Results
Tie | Vallejo = Citadel
Whether you are using Citadel paints or Vallejo with an airbrush or a brush, they both will give you great results and good looking miniatures. With these two paints it all comes down to a personal preference.
The reason Vallejo paint is popular is that they apply to most surfaces flawlessly, is very easy to use, and has an extensive range of colors that helps you recreate realistic details on your miniatures. 
Plus, you can mix them to create different shades that suit the theme of your kit.
Vallejo Pros
Various colors to choose from
Better control of the paint
Smooth and even coverage
Vast market reach
Lacks coarse pigment
Vallejo Cons
Citadel is one of the oldest paint brands used by modelers. They owe their reputation to their simple and easy-to-use paints that give miniatures a detailed look like the real thing. 
Furthermore, they have versatile application methods, from the contrast to the classic technique, that allows you to either paint with just one coat or in multiple layers. 
Citadel paints are also thick and much more consistent in color.
Citadel Pros
You'll find colors for different uses, whether base, shades, layer, glazes, or washes
Finely ground pigments
Great quality
Citadel Cons
It can be expensive for beginner painters
Poor pot design
Coverage – Which has better coverage
Tie | Vallejo = Citadel
When used on model kits, Vallejo and Citadel paints apply smoother and give better coverage than many paint brands. 
But, between both paint brands, the white, yellow, and red colors have worse coverage than the other colors.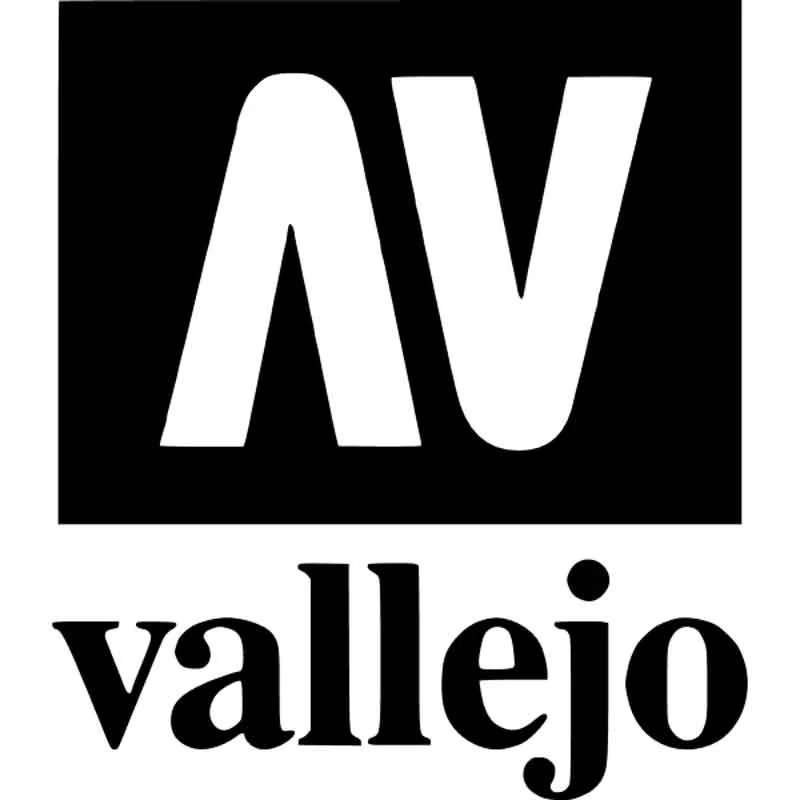 Ease Of Use – Which is easier to paint? 
Winner: Vallejo
When it involves ease of use, nothing about both paints makes them challenging. However, there are a couple of reasons why Vallejo paints are easier to use and paint than Citadel. 
First is Vallejo's dropper bottles which prevent spillage and give you a lot more control over how much you put on the palette to reduce waste. 
Second, Vallejo paints are diluted right from the factory, unlike Citadel's base and layers, also giving you more control over the thinning mixture processes. 
However, for a newcomer, citadel paints are much easier to use and paint. When you absolutely do not know anything about painting and buy a simple citadel army pack, you'll enjoy clear labels and even explanations in the user's manual on how to use it.
The painting instructions and tutorials provided by Game Workshop make painting Citadel paints easy. 
Overall Looks – Which of these paints will look better? 
Tie | Vallejo = Citadel
Between the two, the results aren't that different. 
Citadel paints, especially the washes, work nicely straight out of the pot and don't need any flow improver. When cured, they also have a better finish compared to other popular brands. 
The only exception to this is how you thin the paints. Citadel does not thin without a proper shake. When thinned well, it looks good on the palette but will retract on primed miniatures if you thin them as much as other brands. 
Vallejo also offers exceptional results, especially the cool metallics. Vallejo paints also leave a nice "blend" finish and glossy shine effect that most paints won't offer. 
This article is part of a wide paints research:

Vallejo VS Army Painter | Which paint is better for you
Tamiya Vs. Citadel | best Paint for models and miniatures
Vallejo Vs. Tamiya | Which is Better For Miniatures



LeisureGuided.com
Price – Which is cheaper
Winner: Vallejo
The difference between both brands in pricing isn't that much, but Vallejo edges over Citadel paints by a few dollars. 
Plus, the fact that Vallejo droppers have a greater volume of paint at 17ml compared to Citadel's 12ml gives them an extra advantage over Citadel's paints.
In the US, Citadel paints sell for $4.50 for 12ml, while Vallejo dropper bottles range between $3.50 to $4 for 17ml. That's 3 ml per dollar for Citadel and nearly 6 for Vallejo. 
In the UK, Vallejo costs around 29 cents per ml, while Citadel is about 38 cents. 
The bottom line is Citadel paints are superior quality, but the premium you pay will be significant, especially if you're paying so much for very little.  
Fast Dry – Which dries faster?
Winner: Vallejo
Technically, acrylic paints take approximately 10-30 minutes to dry, depending on the thickness with which you apply them to your miniatures.
Vallejo paints take the lead over Citadel paints because they follow this general rule. 
However, Game Workshop Citadel paints dry after about 45 minutes. Apart from this dry time, they also dry out because of their poor pot design. 
A Citadel paint could dry out in minutes if you don't close the lid right after use.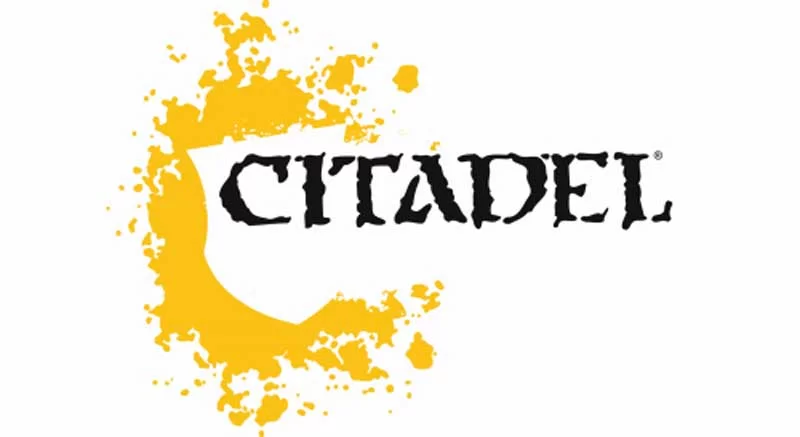 Airbrushing – Which is better for airbrushing 
Winner: Vallejo
An airbrush works well with paint with smaller pigment particles. This is what Vallejo brings to the table. 
The varying color range of  Vallejo paints means they serve different painting techniques. For example, Vallejo's Game and Model color work exceptionally for brush painting while the others won't do so well. 
But that does not mean you can't use Vallejo paints for airbrushing. The Model Air and Premium are specially formulated for use in an airbrush. Any other paint outside this range would leave a mess in your airbrush. 
On the other hand, most Citadel paints are not ideal for airbrushing not because of their rich pigment but because the pigment particles are larger and may damage the nozzles of your airbrush. The only way to use Citadel paints in your airbrush is to thin them properly. 
Color Range – Which has a wider range of colors? 
Winner: Vallejo
Vallejo's several lines from the Model Air, Model Color, Game Color, and Game Air give you more color choices than any other paint brand, even Citadel. 
Compared to Citadel, Vallejo has a pretty decent color range. The Model Color has about 218 colors, while the Model Air has 235 colors. 
The Game Color range is also available in 123 colors, and Vallejo's Game Air, at 51 colors. Overall, Vallejo has over 700 colors perfectly suited for miniatures and scale model painting. 
Citadel also has a very wide range of colors, with over 300 different shades of paint offered. 
You'll find 56 shades of green, 46 brown, 40 blue, 36 greys, 24 different shades of red, 23 flesh-colored variants, 17 shades of purple, 17 bone colors, 14 silver colors, 13 shades of yellow, 13 gold colors, 11  blacks, 10 oranges, 9 whites, 6 pinks, and 1 turquoise. 
These Citadel are exceptional and can't be beaten. Even their washes are top-notch. 
Comparison table between Vallejo and Citadel Paints 
| | | |
| --- | --- | --- |
| | Vallejo | Citadel |
| Size | 17ml | 12ml |
| Price | $3.50 – $4 per pot | $4.50 per pot |
| Dry time | 10 – 30minutes | 45minutes |
| Density | Thick | Thick |
| Based | Water | Water |
| Technique | Brush painting/Airbrush | Hand brush/airbrush |
| Skill | Beginner and Advanced | Beginner and Advanced |
Conclusion
Citadel and Vallejo paints are both incredibly exceptional in terms of quality. 
In fact, their characteristics are on par with each other. So, if you want to choose between the two, it can be a difficult bargain. 
The only significant difference between both is their price range. When you need cheap yet quality paint, Vallejo will be perfect. If you don't need to follow a budget, you can use Citadel.