Vallejo brushes review 2023 | Synthetic and Kolinsky sable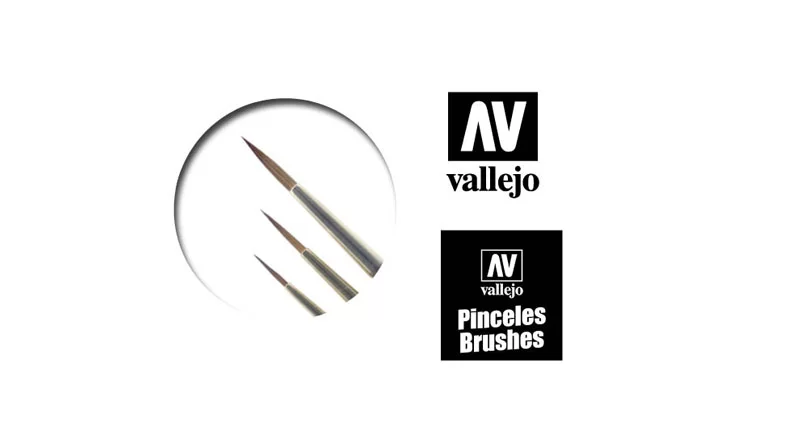 Vallejo has built a tough legacy for other brands to live up to, from their paints to their surface primer and brushes. It's why seasoned hobbyists and new painters wanting to buy a paintbrush won't think twice when they find their paintbrushes in hobby stores. I sure did that. 
So, if you've never used their brush set but want to know how they work, I designed this guide just for you. 
Are Vallejo brushes good for miniature painting?
The best brush for painting miniatures are those with pointed tips, good belly dimension, can serve different purposes, have a snappy fit, holds paint well, and have good spring. 
With Vallejo brushes, you will have a more efficient miniature painting experience because they offer both sable and synthetic hair brushes in various shapes and sizes and serve different purposes, from base-coating to priming applications, layering, and glazing. 
Vallejo brushes have high-bristle hair that holds paint well and offers reliable coverage on miniatures. Their only drawback is that they are difficult to obtain, unlike Citadel brushes.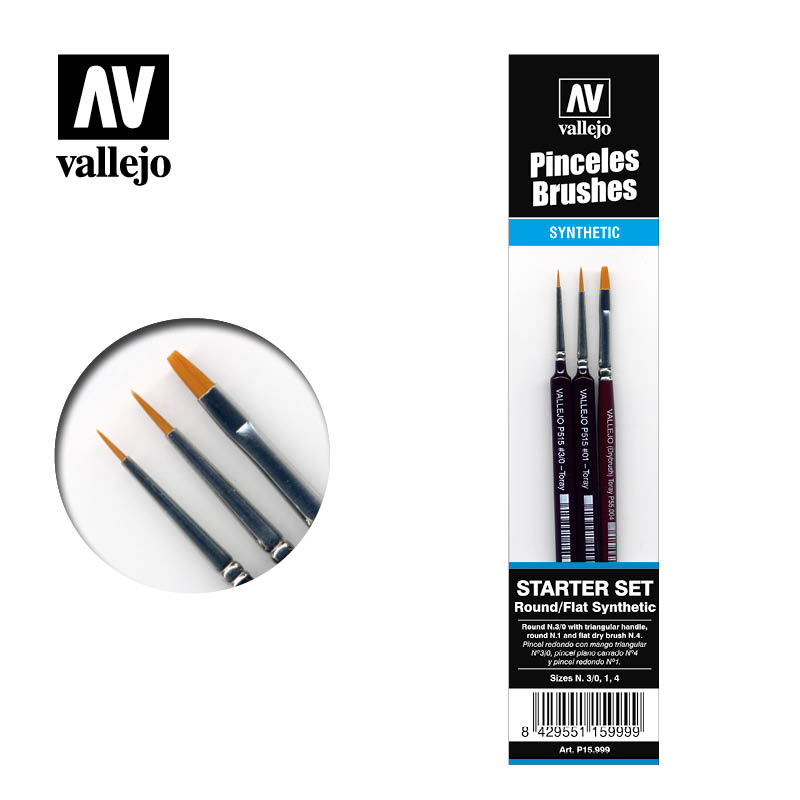 Vallejo has synthetic or sable brushes
Paint brushes are either made with sable bristles or synthetic fibers. The difference between both is that the sable brushes are designed using natural animal hair, while the synthetic bristles are made from nylon and polyester. 
Some Vallejo brushes are designed with Toray synthetic fibers, while others have Marta Kolinsky sables. 
Hence, you can always get a sable brush or one with synthetic bristles from Vallejo depending on your budget.  

Vallejo's brushes have good bristles
The Marta kolinsky sables and Toray bristles are good quality for miniature painting. 
Sable bristles are the most sought-after for painting miniatures because of their natural snappy, springy, and stiff features. Hence, they are good-quality fibers. 
On the other hand, when considering their synthetic brushes, how quality they are, depends on how you look at them. A good quality brush will be easy to clean, handle heavy use, won't shrink easily, and have great elasticity. 
For one, I love Vallejo's Toray fibers because they have more surface area, which means they can handle heavy loads without curling, shrinking, or losing their shape. Plus, unlike kolinsky sables, they are easy to clean and withstand rough handling. 
Vallejo brushes quality breakdown:
Will the bristles keep their shape?
Vallejo brushes have a good snappy tip. They hold their shapes well even after long use. Hence, you will have a much easier time painting with them while saving money. 
Can they hold a lot of paint?
Vallejo brushes have trim bristles. Yet, another winning point of Vallejo brushes is that they can hold a decent amount of paint on the bristles. However, their Marta kolinsky brushes offer better paint-holding capacity. 

A paintbrush that holds paint well will offer precision coverage. Vallejo brushes have thinner handles that may affect good grip. Regardless, their kolinsky brushes have fine tips that make painting over small details possible. 
Do they have a good 'springiness' and stiffness?
A brush with good springiness and stiffness will make it easy to paint your small and large details with more control and confidence. When I used Vallejo brushes, they effortlessly spring back into shape after every stroke. 
Will they survive hard use?
Most people seriously underrate Vallejo brushes, especially when it involves heavy-duty durability. I have more than 3 Vallejo brushes, and none of them have worn out their tip, nor do they have fraying or split ends. They basically look brand new even after a lot of use.
Will they last a long time?
Vallejo's sable brushes, like the RK25 Finest Kolinsky Tajmyr Sable (Marta Kolinsky Tajmyr) and P18 Kolinsky Sable (Marta Kolinsky), are extremely high quality and can last a lifetime thanks to their natural bristles. On the other hand, the synthetic Toray nylon bristles can last more than 10 years with routine care. 
The shapes and sizes in Vallejo brushes' range
Shape-wise, Vallejo brushes either have a flat, rectangle, or round shape. 
for their synthetic brush line their brush size typically ranges from #6 to 4/0, 3/0, 2/0, #01, 2, 3, 4, and even 000 brushes.
For their sable brushes #10/0, 5/0, 4/0, 3/0, 2/0, 0, 1, 2, 3, 4, 5, 6, 7, and 8.
Vallejo brushes are multipurpose 
Vallejo's brushes work fantastic for several purposes, from wet blending to detailing and dry brushing. 
For instance, if you own a #01 Toray brush, it can very well work as a detail brush, while the #3/0 Toray brush will be a fine detail brush for building layers and dry brushing.
Better than other generic brushes
Getting a kolinsky sable brush from a generic brand is quite difficult. Most generic brands even use poor synthetic fibers that make their bristles shrink and lose their shape easily. It's also no news that cheap stuff won't always offer the best results. 
Vallejo offers both sable and high-quality Toray synthetic fibers, making their brushes way better than cheap generic paint brushes. 
Price – Are Vallejo brushes expensive?
Whether you choose the Toray synthetic bristles or the Marta Kolinsky sable brushes, Vallejo brushes run a bit pricey (around $7.20 for each). 
Compared to generic brands, this price is highly unreasonable since you can get more than three brushes for $7. However, their price range almost sits on par with brands like Da Vinci and Princeton. 
Yet, even their kolinsky brushes will be a good value for the money compared to more expensive brands like Rosemary $ Co, Winston & Newton, and Raphael. These brands range as high as $300 for one brush.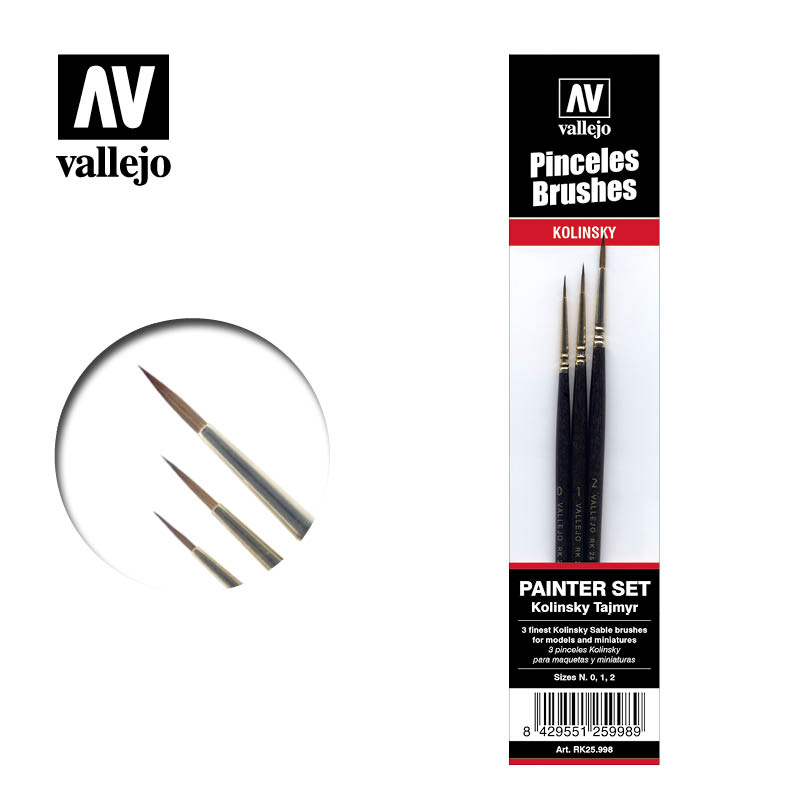 Final Thoughts about Vallejo brushes
In summary, I am impressed. 
Vallejo brushes are quite expensive, although they aren't as premium as the more expensive brands like Winsor & Newton or Raphael. 
Then again, Vallejo brushes are great for people looking for good-quality paint brushes like the Winsor & Newton Series 7 brushes on a budget. So, if you want a good quality paintbrush, Vallejo brushes are great. 
*Images from Acrylicos Vallejo