7 Best gloss coat for models (metal, Plastic, Wood)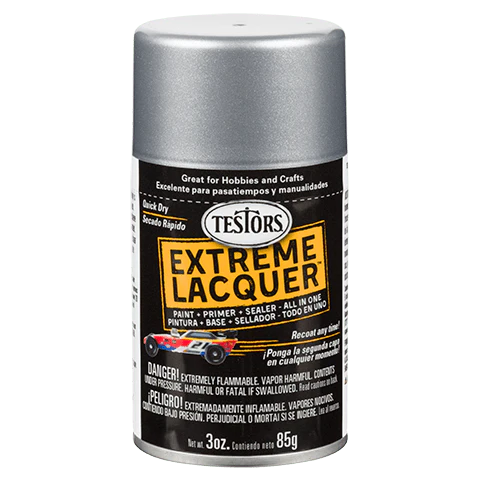 While gloss coats are mainly applied as a final step in the building process to achieve a shiny surface finish, they also help you protect the base paint of your model from wear. 
Sometimes, gloss coats are applied as a preparation technique for parts for decals. 
If you're considering getting a good gloss coating for your plastic, wooden, or metal model kits, we discuss seven of the best gloss coats for scale model building. 
1. Alclad Aqua Gloss
If you use acrylic base paints, you may wonder if using another water-base varnish will be safe for them, if they need thinning, how long it may take to cure and how best to spray them. 
Also called Alclad ALC-600, Alclad Aqua gloss is a water-based acrylic varnish and a good one in its own right Since they are great on metals. With the Alclad aqua gloss, you won't achieve a mirror-like gloss at first. But, with a second coat, you may get to that. 
They also come airbrush-ready, which means when you apply them to a surface, they quickly dry in minutes. 
The best part is that, like other acrylic paints, you can easily re-liquefy Alclad aqua gloss with household ammonia. 
The Alclad Aqua Gloss paint also does not require thinning as it is pre-thinned from the bottle. So, just use it straight from the bottle at 15-20 psi and see your model shine.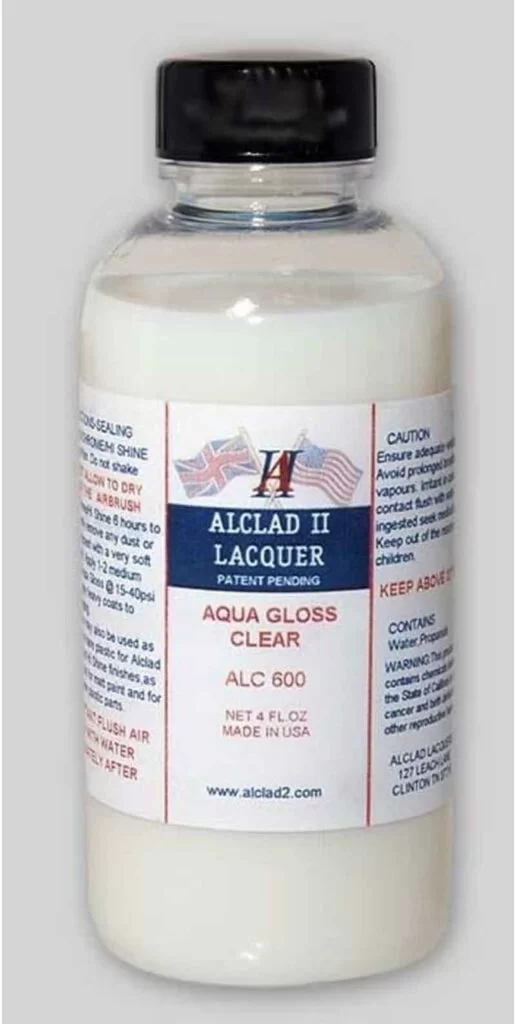 2. Future acrylic gloss (for oil or enamel)
If you are looking for an acrylic gloss to blend your oil or enamel paint, Future Acrylic gloss is a non-modeling material you can still use to gloss over your plastic models. They can be thinned. 
Plus, whether you want to clean or strip them from your brushes, airbrushes, and surfaces, Future acrylic gloss allows this process. Simply get Windex, plain alcohol, or mix ammonia and water. 
The best properties this acrylic gloss offers are that it can be airbrushed straight from the bottle and has quick drying and self-smoothing properties that make them stand out. 
If you let it sit for 24 hours it will smooth itself out. Also, you can easily use the gloss finish on your oil or enamel-painted surfaces 48 after they cure.  
The only downside to using Future acrylic gloss is that when applied too much on a wooden or plastic surface, it can pool in nooks and crannies and turn milky. 
But, as bad as this may sound, it's easy to wick away the excess to avoid pooling. All you need to do is get a paper towel and dip it in the pooled area. 
Overall, Future Acrylic gloss coating will work well for your models, especially since they take less than an hour to harden and always appear glass smooth.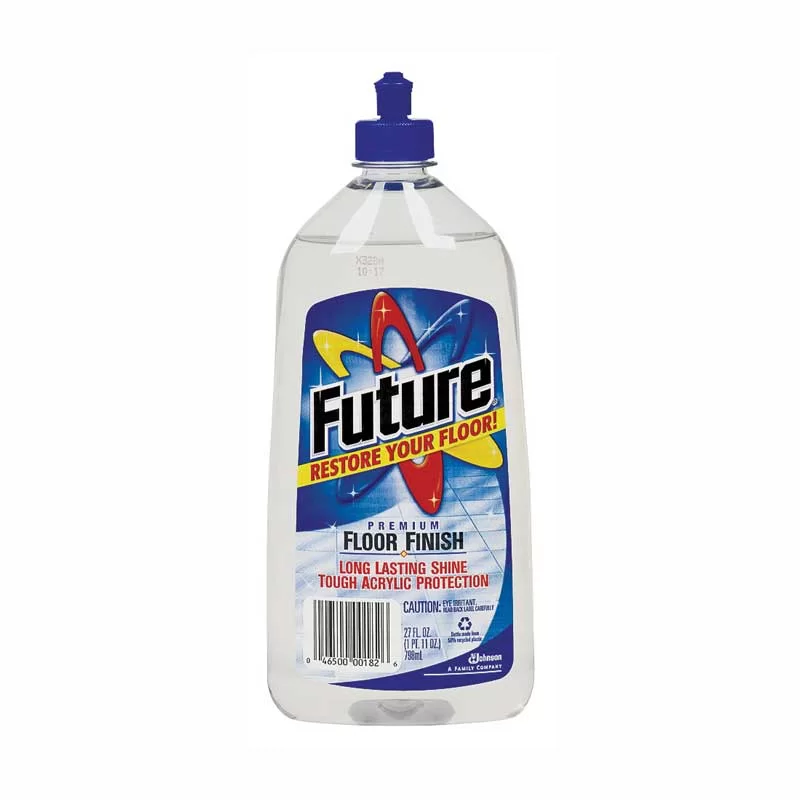 3. Testors Extreme Spray Lacquer
One of the best USA-made gloss coats that would work great on any surface, including wood, metal, and plastic, is the Testors Extreme Spray Lacquer. 
Formerly called One Coat Lacquers, Testors Extreme Spray Lacquer, you can apply this coat directly to your wood, plastic, and metal models without any protective primer. Plus, they are fast drying. 
It only takes 20 minutes for Testors Extreme Spray Lacquers to dry. However, what makes this gloss coat stand out is that, unlike most gloss paints, they are UV resistant and fade-resistant.
Overall, Testors Extreme Spray Lacquers are a great product. They give your model that wet look and deep clear that makes them pop. Plus, they do not yellow like most spray lacquer vanish under the sun.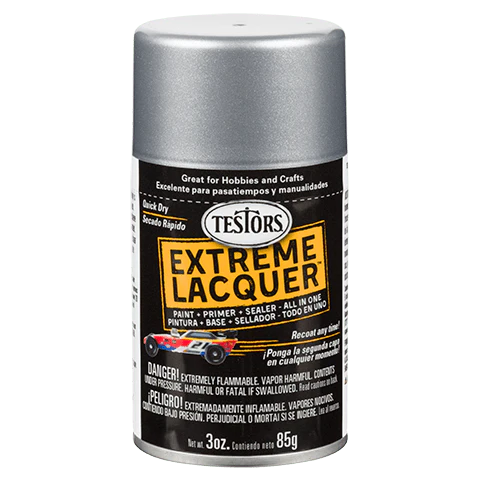 4. Tamiya TAM85013 Spray Lacquer TS-13 Clear
The Tamiya TAM85013 Spray Lacquer TS-13 clear is a synthetic lacquer that provides you with the clear and accentuating protective coating you need for your large models. 
At less than $8, this spray gloss coating is probably the best clear coat you will ever get. It helps you achieve that super smooth finish, almost air brush-like and dries in a short time. 
You also don't need to apply it multiple times to get the best finish you want. 
This Tamiya spray lacquer even works well on the matte finish, and if used right, you can get the wet look, right out of the can. 
Tamiya TAM85013 Spray Lacquer TS-13 clear is the best clear spray you would find that sticks well to resin and plastic models without scratching or flaking off.
5. Mr. Super Clear Gloss
Another gloss coating that works great for hard plastic surfaces is Mr. Super Clear Gloss, designed by a company called Mr. Hobby. 
This gloss coat makes everything on your model look shiny-like permanently oiled bodies.
They are also inexpensive usually at $12 to $15 per can. 
The only drawback of using Mr. Super Clear Gloss is that you cannot use it over oil-based paints. If you do so, you risk damaging the paint. On an oil-based paint, Mr. Super Clear gloss won't seal easily and cause a chemical reaction that makes the oil paint permanently sticky. 
Most modelers also believe that Mr. Super Clear gloss doesn't work well on water-based paints. On the contrary, they do. While it's easy to mess your water-based paints with this gloss clear, it's unlikely you make such mistakes. 
The only time you easily mess up your water-based paint is when you use the wet coat heavily. Additionally, the spray vanish is super sensitive and does not work well under hot temperatures as high as 30°C since they get yellow under sunlight.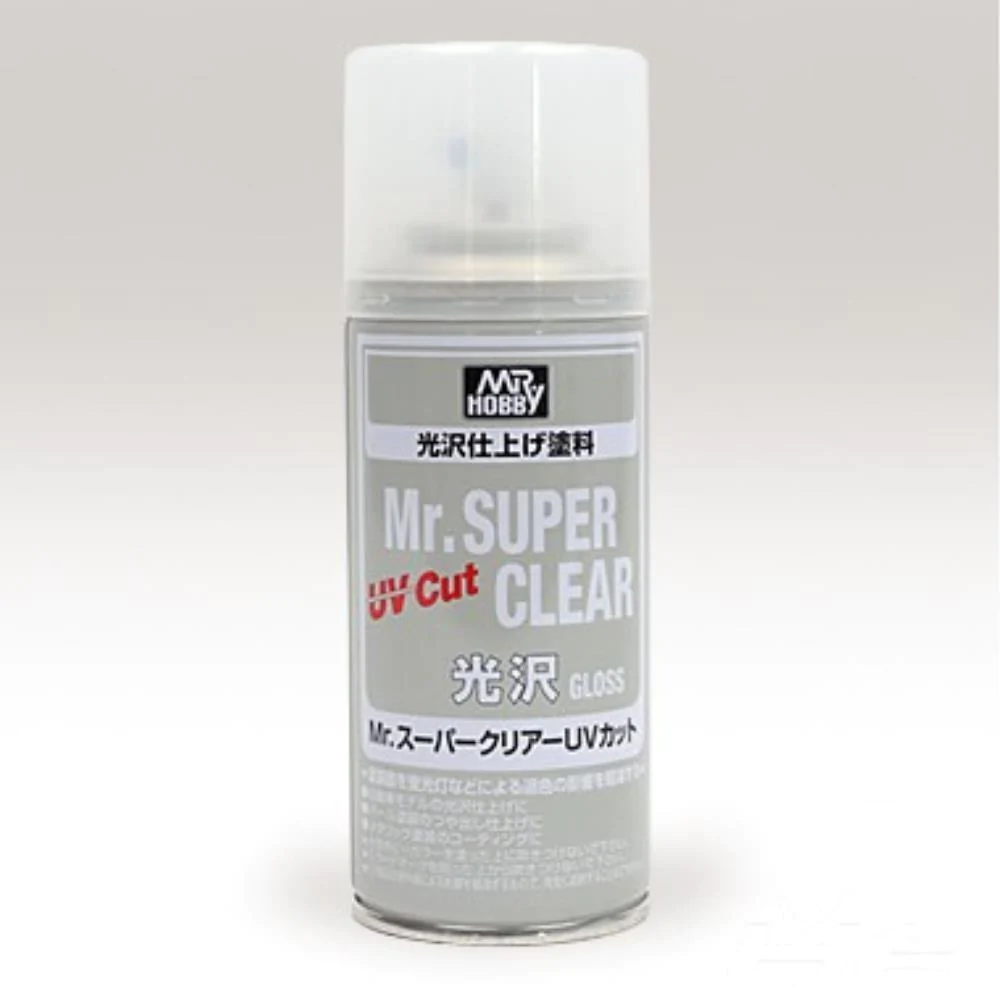 6. Model master ultra-clear gloss
Like the Extreme Spray Lacquer, Testors Model Master Ultra-Clear Gloss is another gloss coating you need to consider for your plastic models. 
Although not a hobby coat, this automotive lacquer ultra-clear gloss offers you a flawless glass-like shine when sanded and buffed. It also dries fast. 
The major drawback of using this lacquer-based spray coat is that they don't do well with lacquer paints. When applied to lacquer paints, they soften and make the paint liquid even when cured for hours. 
If you will spray this clear coat on your lacquer paints, ensure you don't spray it too heavily, or the underlying coat might soften and mix with the top coat. 
Regardless, Testors Model Master Ultra-Clear gloss is great for wood and plastic models.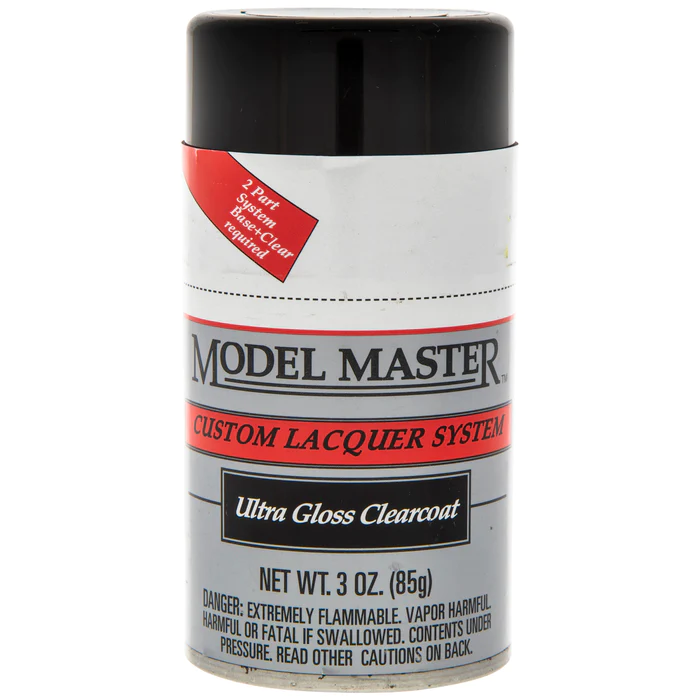 7. MISSION MODELS Semi-Gloss Clear Coat
The last gloss coat on our list today is the Mission Models Semi-Gloss Clear coats. 
These coats are purely water-based acrylic coats that are easy to clean. Plus, they are extremely durable, accept any decal setting solution you use, and give your model that glossy smooth finish that makes them shine. 
The best part is they have a 30-mins fast-drying time and can also be masked over after this time. The Mission Models Semi-Gloss Clear coats also allow thinning to water-like consistency and airdrying. They also allow a spray distance between 10 and 15 psi right out of the can.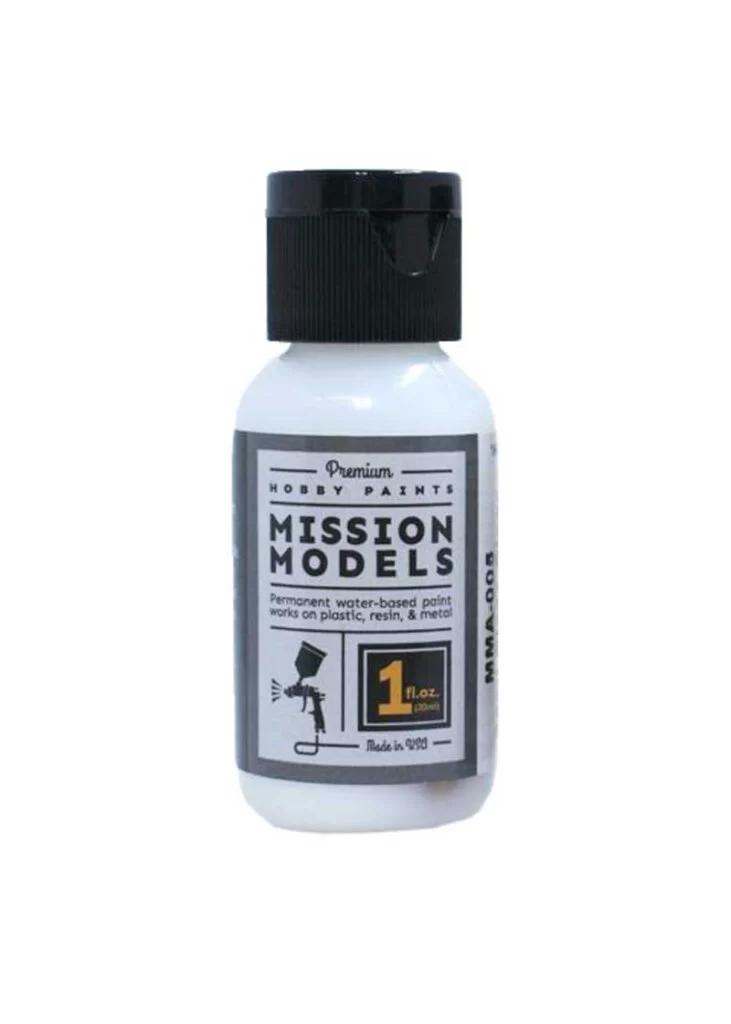 Tips for painting the best gloss coat
When using your gloss coats, here are some tricks to help you get the best finish and shine on your model. 
Make sure to test the gloss paint on something before spraying it on your model.

Remember that preparation is key. The simple step of preparing your models by cleaning them makes the gloss flow better, giving a shiner finish.

Rid the surface of any fixings by removing latches and handles.

Always sand the actual paint before applying the clear.

Don't stick with one light coat. Coat the model at list three times.

You don't always need a primer to make your coat stick and shine. 
How to apply gloss coat On Any Model
To apply gloss coat, here's what you need to do:
First, clean the surface. Many models allow water and dish soap as cleaning agents. So, use them to clean the surface. If your model only allows ammonia, vinegar, or baking soda, use them to prepare the surface. This way, you easily eliminate stains, so they don't show underneath your gloss coating. After cleaning, wipe with a fresh cloth to dry.

Next, sand your models' surface. No matter the surface you are glossing, you need to sand them to release dust that is harmful to breathe in. Then, remove chipped paints and fill holes, and sand again with 220-grit sandpaper to blend in repaired areas.

Apply your primer across your model's surface. Ensure the primer is compatible with glossy paint and the surface you are painting. Then wait for 8 hours to allow the primer to cure.

Apply a second coat of primer, especially if you want to gloss dark woods. Alternatively, sand the primer to ensure the gloss paint sticks well.

Don't forget to clean up the dust afterward.

Get a brush and use it to spread your gloss coat. Make sure to apply the gloss coat in several thin layers. Then wait at least 2 hours for the gloss coat to dry before adding 1 or 2 extra coatings if needed. 
Conclusion
The best gloss coats for your model will provide better scratch and mar resistance, UV resistance, and chemical resistance while providing unsurpassed gloss and slickness.
If you are considering getting a gloss coat for your model, hopefully, the products listed above will prove useful. 
Read more: Waxing model cars tips and tricks