Kinetic Models Review | Are Kinetic model kits any good?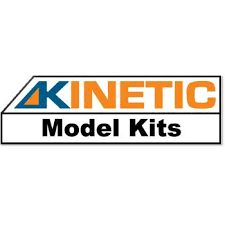 Since its establishment, Kinetic has released several excellent plastic scale models of airplanes and military vehicles on par with popular model kits manufacturers. However, many seasoned modelers still feel Kinetic models are far flung from modern model kits standards. 
To provide a reasonable answer to this question, this article answers one critical question: are kinetic models any good?
Kinetic model kits will satisfy most Model builders
Kinetic's molding quality is high, with minimal ejector pin circles, seam lines, or sink marks. 
You'll observe only a little flash on their surface on their bestselling models like the Su-33, Fuga Magister, and the M-346. Apart from this, Kinetic model kits make a fine statement. 
The cockpit detail is nice straight from the box, with exquisite details on the side consoles and instrument panels. 
However, what makes most of their model unique is that you'll have plenty of additional parts to serve as spare parts in your spares box. 
Kinetic model kits pros and cons
Pros
Great clear parts
Nice cockpit
Clear instructions
Detailed parts
Spare parts included
Cons
Decal instructions could be better
Are Kinetic model kits worth your time and money?
Although Kinetic hasn't been around as long as popular brands like Tamiya, nor do they have the same fame Tamiya has. However, they have come a long way, and they are improving with each new tool.
For instance, their Sea Harrier and Mirage III are some of the best kits on this 1/48 scale. These kits also possess 90% quality in terms of fit like many popular Tamiya models, and they are not particularly difficult to assemble. Their detail is also top-notch. Plus, they come with reasonable weapons in the box and feature excellent decals, better than many aftermarket sets.
Overall, Kinetic model kits are excellent, and provide a good value for your money.  
Kinetic's quality Is Good
Technically, the quality of most manufacturers' kits increases over time, especially if they've had years of practice in the industry. It's no wonder Kinetic's model kits, such as the Big T's A-10 and more recent kits have finely recessed panel lines and accurate fit properties that make them easy to build. 
Apart from this, Kinetic's plastic model kits are made from high-quality styrene that offers crisp surface textures.
Kinetic's parts fitment
Kinetic parts assembly often goes together with no issues. Although in rare cases, you may have to filler some oversized edges, so they fit perfectly in your model. 
Are newer model kits from Kinetic any good?
As mentioned earlier, model kit quality often won't stay the same with technological advancements emerging every day and manufacturers looking to outshine other competitors. This is why even newer kits from Kinetic continue to improve daily. 
For instance, the Kinetic F-5A and B kits have easier build properties with high-quality plastic. 
Most of their parts have a perfect fit; even joining the front and rear fuselage halves is a breeze. These new models virtually require no filler, and the seams form natural panel lines.  
How good are old Kinetic model kits?
Many modelers believe old Kinetic models like the F-16s and F-18s are poor-quality kits. While their convictions may be right to some extent, the fact remains that no old models from even the most popular manufacturers are without mistakes. 
Kinetic has a large line of NATO planes, from the late '70s to early 2000 with their quality on par with modern kits. 
For example, Kinetic Sea Harriers, Mirage III E, and the E-2 C Hawkeyes. Kin's Mirage IIIEs are some of the best NATO plane models to date, in detailing, shape and fit. 

Regardless, there's no old model from different manufacturers that won't have some level of mistakes right off the box.  
Kinetic's instructions manual
Like most brands, you'll often find an instruction manual inside your model kit box. But in rare cases, the user's manual will be absent in the package. When this happens, all you need to do is check online, and you'll find various sites to download Kinetic's instructions. 
Regardless, Kinetic's instructions for their scale model kits are often clear and concise with color and painting guides.
 They also offer decal instruction that describes how to use decals on parts like a weapon. 
Kinetic has a decent amount of spare parts
Most models have low parts count (often less than 30), which makes it challenging to get spruce spares when the need arises. 
But with Kinetic scale models, you never have to worry about spare parts. 
You'll often find Kinetic kits parts ranging from 100 and above, which allows you to own spare parts for future upgrades and repairs. 
Kinetic have 1-5 difficulty skill levels
Kinetic models differ in their difficulty levels. Sometimes, even the most difficult kits for beginners may be an easy fit for seasoned modelers. 
Even the IPMS Canada issue published an article on Kinetics 1/48 scale CF-5 revealing that they aren't the easiest build.  
Regardless, the good news is you will find it easy to assemble Kinetic models if you choose the kits designed for your level. 
You'll often find Skill levels 1 to 5 in Kinetic model kits. 
What are the 3 best Kinetic model kits?
Among the 1/48 scale military jet line, Kinetic's F-104 Luftwaffe aircraft offers a well-designed and engineered kit. Plus, the fit throughout is hassle-free, with only small amounts of filler required in certain areas. 
The kit comprises 220 plastic parts, 28 of which are clean, clear plastic for the canopy sections and lights. Well-engineered photo-etched metal (PE) parts are appropriately detailed, and the fine decals provide markings for three German fighters. Kinetic's F-104 Starfighter also features a detailed cockpit, fuselage-mounted air brakes, and internal parts like the wheel wells, avionics bay, afterburner, and radar.
Unlike other Kinetic models, what makes this kit stand out is the inclusion of an underwing fuel tank and pylon as well as wingtip tanks.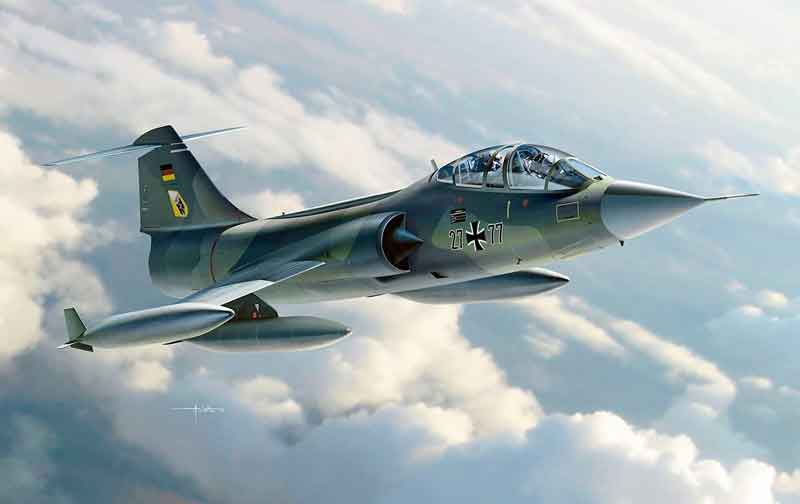 Kinetic 1/48 F-16I SUFA (Storm)
The F-16I nicknamed "Sufa" (Storm) is equipped with a "Pratt & Whitney" engine and advanced systems developed in Israel, such as the Conformal Fuel Tanks (CFT) installed at the plane's rear and AGP-68(V)X Radar, a synthetic aperture radar (SAR) that enables target tracking from the air no matter the time of the day or weather. 
Opening the box reveals well-laid-out building instructions, an exquisite amount of surface details on the exterior and internal parts, and a plethora of spare parts enough for future upgrades and dress a few more Kinetic aircraft model kits. You'll also find a small fret of photo-etched parts, crisply engineered weapons with zero flash, and a brass pitot tube.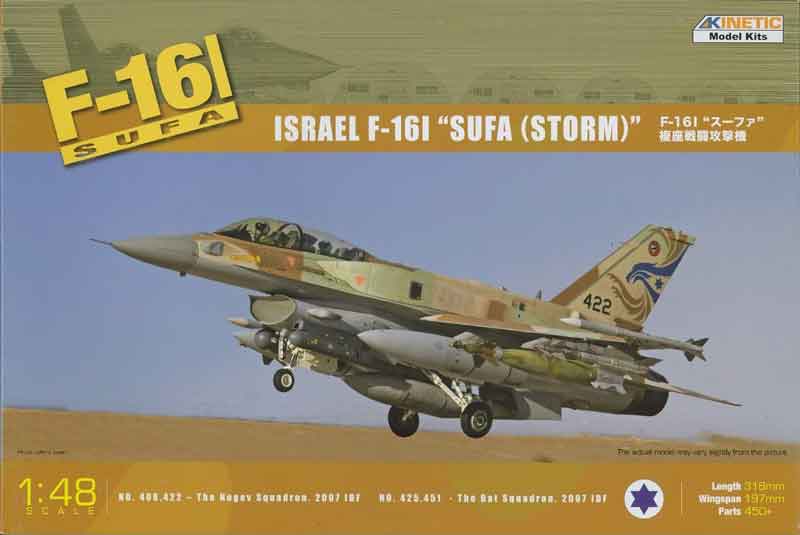 One of the kinetic's best airplane carriers, this 1/48 scale E2-C Hawkeye has over 207 injection-molded parts. Its surface detail features engraved and raised panel lines and rivets, a thick fuselage sprue attachment, engines with good intake ducting, a prop drive shaft, two engine side panels, two propeller blades, and Cartograf decals designed by Fightertown Decals.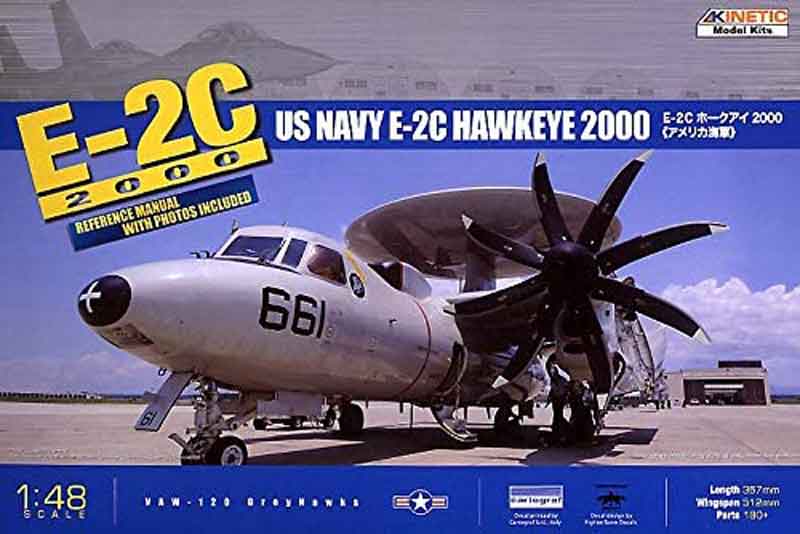 Conclusion 
The Kinetic model kit brand may not be as popular as industry-leading model kits manufacturers like Tamiya, Revell, or Airfix, but their kits are value-adding for the cheap price they come. 
You'll mostly get good quality kits that meet the fit, accuracy, detail, and quality levels of popular model kit brands when you invest wisely in a Kinetic model kit.