Top 10 Traxxas RC cars For Best Performance (2023)
Are you thinking about getting one more Traxxas RC car to your collection but are having a hard time picking a good one? It makes sense if you are, especially since Traxxas has a long list of models with good potential for their RC line. Trust me, I have been there. 
Fortunately, Traxxas cars are often premium quality. So, you hardly make a wrong choice when it comes to their models. If you need the best out of their great rides, we've designed this guide just for you.
The best Traxxas RC cars:
1. Slash 2wd 58024
When it comes to short-course trucks, the Traxxas Slash 2WD is a king in the making with a compelling price of $200. This car ranks as one of my favorites because its features keep you in control of your experience. 
It has a 2.4 GHz precision transmitter that helps you command your turns, a 4 wheel independent suspension that gives your car more stability, a Revo-Soec torque control slipper clutch, and tons of tuning adjustments for a more enhanced experience. You will also find the standard Slash platform on this model and some pretty toned spec SC tires that won't wear out easily. 
While it is equipped with a Titan 12-Turn Motor which gives it plenty of power to reach speeds up to 30+mph, like most Traxxas models, you can easily upgrade the brushed motor with a Velineon Brushless Power System for faster torque and speed up to 75+mph. 
Pros
Easy for entry-level RC car enthusiasts
Works well on bumpy tracks 
Excellent acceleration 
Super lightweight
Cons
Mechanical parts can easily wear out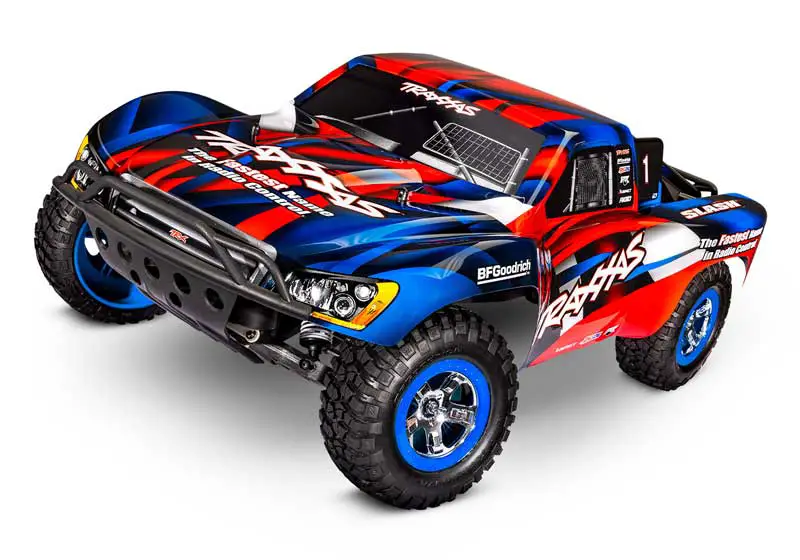 2. X-Maxx with WideMaxx kit 7895 or Maxx V2 if you're on a budget
If you want something more professional, big, more powerful, and tough, go straight for the X-Maxx with the WideMaxx kit. At $1000 to $1500, the X-Maxx may seem like quite a lot of investment, but it is a crazy basher. 
The X-Maxx WideMaxx kit includes heavy-duty wider suspension links and steel driveshafts for a 2.36" (60 mm) wider stance for maximum stability. The widemaxx kit makes this X-Maxx look really mean, while its modular chassis design, Velineon VXL-8s brushless power system, waterproof ESC, and ability to reach speeds as high as 52+mph gives this RC car a big win over many. 
Then again, if you need something more budget-friendly, the Maxx V2 is a good option. With its price between $500 to $799, you can enjoy the same premium experience as the X-Maxx, WideMaxx kit. 
Pros
New and longer chassis design
Best for straight-line stability
Very forgiving in rough terrains
Better cornering performance 
Reaches speed up to 52mph
Cons
The longer body designed to fit the long chassis design makes the car hard to transport.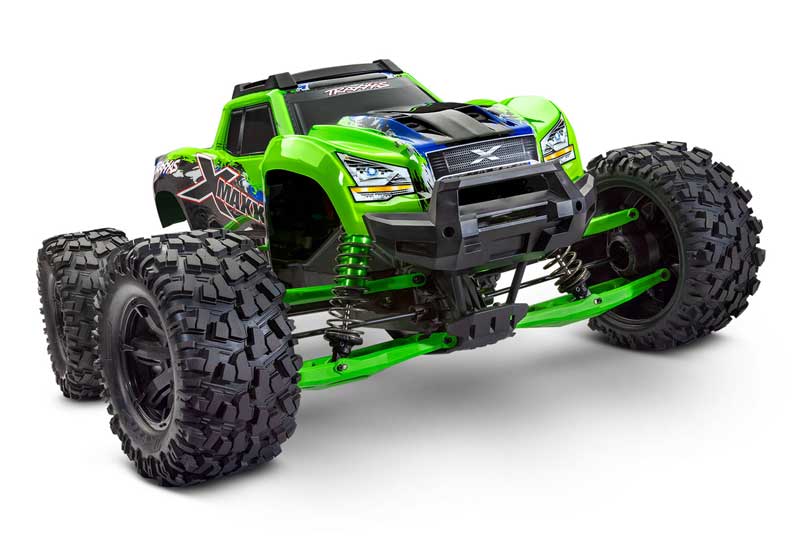 3. Rustler 4×4 VXL 67076-4 (Traxxas' Best Selling RC Car)
The Rustler is another good monster truck that won't disappoint. It shares a similar platform to the Slash but has a chassis 20 mm longer than the Traxxas 4X4 Stampede for better stability and handling. It uses a Velineon 3500kV brushless motor and can reach maximum speeds up to 65mph with a 3s LiPo battery and VXL-3s waterproof ESC. 
Overall, the Rustler is a great choice for its price. It is pretty versatile, with larger wheels and ground clearance. It also has cool shocks and a stability management system that allows you to easily handle and control the car. 
Pros
Effortless self-righting system
Easy to control
Super fast
Good basher
Cons
The rear wing and body near the brake light area can easily get damaged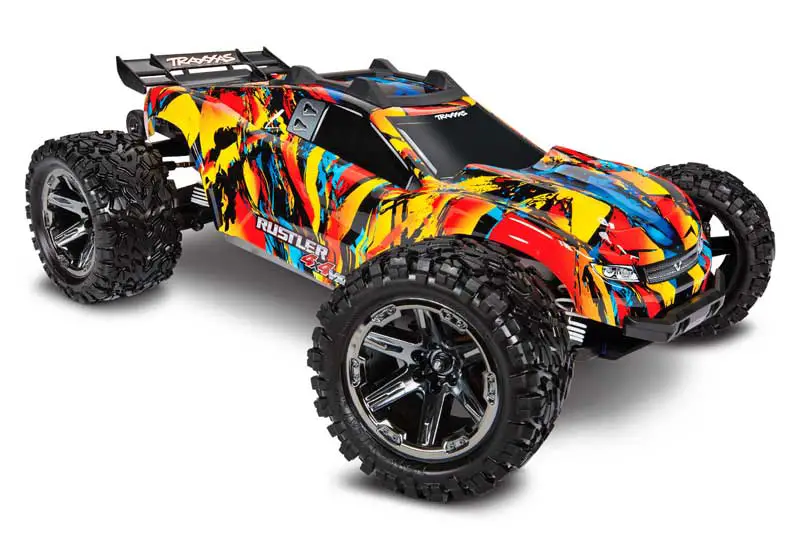 4. 8s XRT 78086-4
Another impressive RC car you want to consider from Traxxas is their 8S XRT model, which costs $899. This vehicle is quite impressive. It runs a high-powered 12000XL big block motor that gives it superior speed up to 50mph and a TQi transmission system that ensures maximum control and unmatched response. 
The 8S XRT models also pack some ultra-durable aluminum GTX shocks that can easily withstand any impact, a TSM that automatically stabilizes your truck when you steer it, and an awesome self-righting system that keeps the vehicle balanced. Overall, it will be a delight for entry-level and professional bashers. 
Pros
Easy to handle
Extremely robust
Super-fast 
Con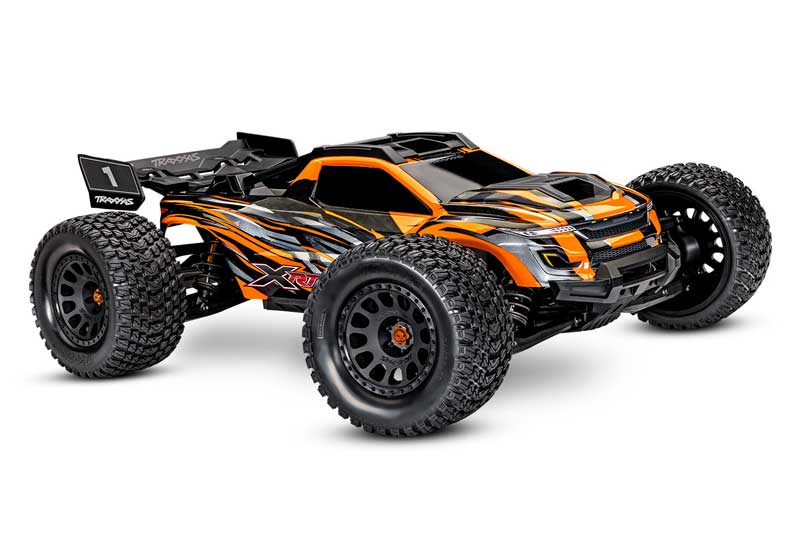 5. The TRX 4M 97054-1 
If you are into off-road crawlers, then Traxxas' TRX 4M Bronco or Defender can handle your rough terrains like the real thing, especially in the rain or mud. But, the most outstanding fact about this model looks like the real Land Rover model for $149.95.  
The amount of details on this RC car is incredible, from the XL-5 HV ESC to a powerful massive 21T Titan 550 motor that accepts 6 or 7-cell NiMH or 2 or 3-cell LiPo batteries, a TQi 4-channel Radio system helps you control the vehicle and the adjustable differential locks. 
Pros
Allows you to change modes 
Exquisite design
Allows for upgrades
Easy to handle
Low priced
Con
It does not have a self-righting system for enhances stability

6. The Traxxas Bandit XL5 24054-4 is Traxxas' best buggy
Traxxas Bandit has a small frame. But, trust me, this RC truck is much more powerful than you think. 
The surprising thing about this RC car is that it is one of the fastest buggies you will ever see at 35+ mph. Its Titan® 12-turn 550 modified motor design and ProGraphix painted and trimmed body design make it more special and memorable than the other Bandit models. 
Still, what I love about this car is how the shocks pop out like that in mid-air with no protection. It looks dangerous but cool. 
Pros
Incredibly fast
Handles well
Easy setup
Well balanced
Quite affordable at $220
Con
It does not have a self-righting system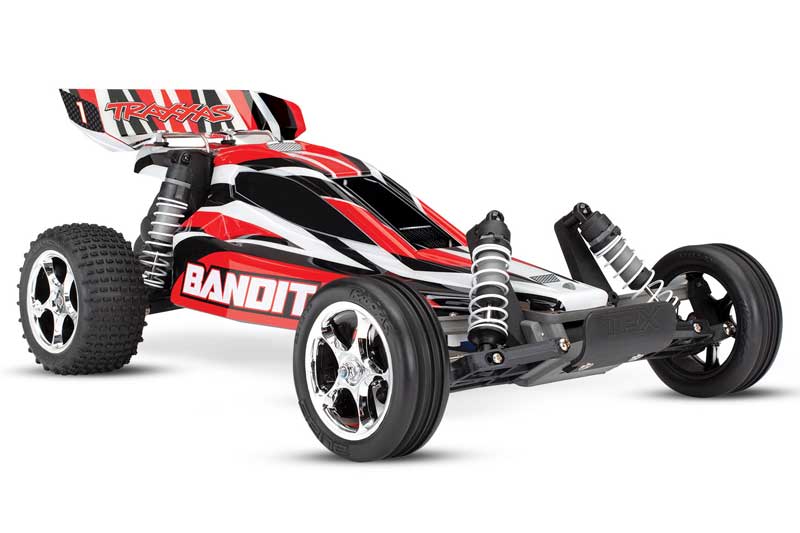 7. The Traxxas Ford GT 83056–4 is their best on-road RC car
First and foremost, I have to say that the aerodynamic design of this car is a beauty and one you shouldn't miss out on if you want on-road cars. 
Then, there's its reliable agility thanks to its flawless chassis design and 12-turn Titan engine that enables it to attain speeds up to 30+mph. Traxxas sure outdid themselves with this model, especially as their Stability Management System makes it easy to perform some mind-blowing stunts. 
Pros
Decently priced at $299.25
Perfect for drifting
Beautiful aerodynamic design
The steering rim doesn't require adjustment
Con
It can easily damage driven over tall grass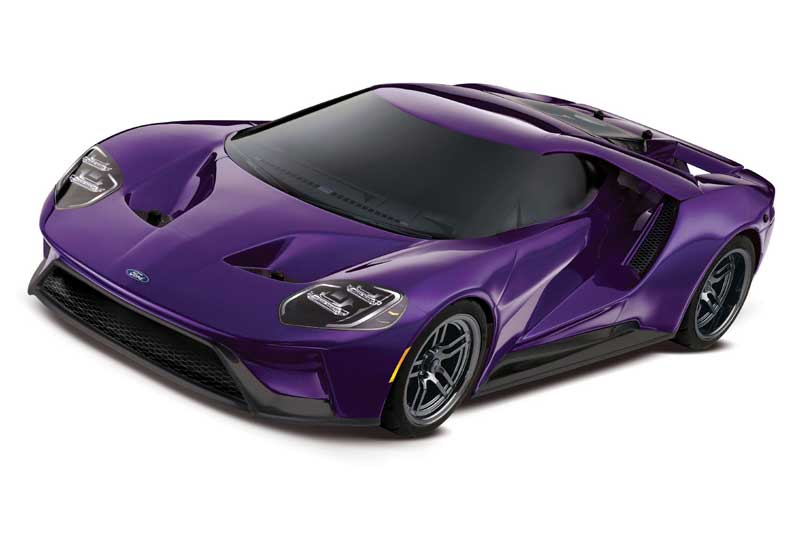 8. Traxxas Factory Five 1935 Hot Rod Truck 93034-4 – A Must Try
Every big-name brand, no matter the industry, has a limited-edition product. For Traxxas, it is this Factory Five 1935 Hot Rod Truck. 
Priced at $229.95, this Traxxas model offers entry-level hobbyists an insight into the earlier years of the hobby, from its gorgeous bright chrome body to the curved steel frame. Like most Traxxas models, it comes with a 12T 550 motor, XL-5 waterproof ESC, Low CG chassis, high-performance suspension, high-torque steering servo, and fully adjustable oil-filled GTR shocks with X-ring technology. 
Pros
It allows driving on carpet, concrete, and asphalt
Durable parts
Easy to handle
Colorful wheels and body
Con
It cannot handle bashing well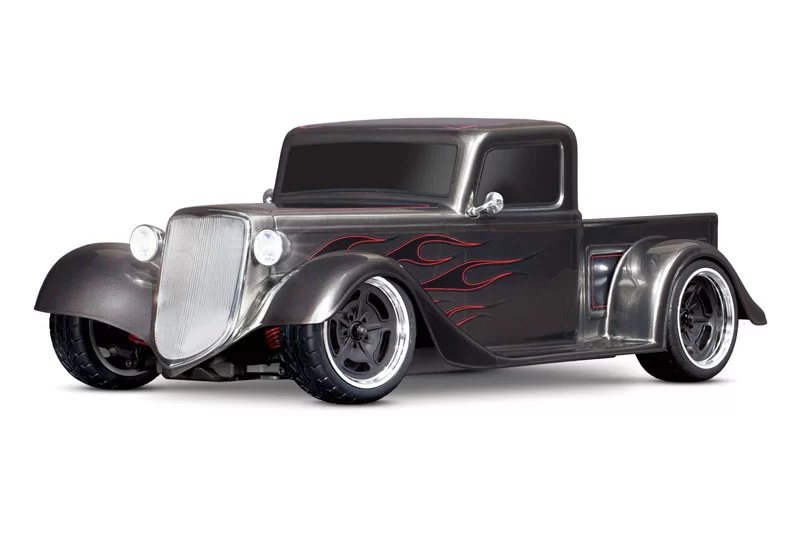 9. Traxxas summit 72054-5 is another great option
No other electric RC car can trail, bash, crawl, and jump like the Traxxas Summit. At $499.95, the Summit is a great all-around RC since it is a hybrid monster truck and crawler. The best part is it is upgradeable. You can quickly get new parts to convert them to an E-Revo. 
It features parts like the Canyon A tires that look like they can grab on any surface, a T-Lock differential system, and ten LED lights on the bumpers that give the car a more realistic appearance. It also uses the Titan 775 brushed Motor like many Traxxas vehicles and can hit speeds up to 22mph on twin 7-cell packs. 
Pros
It looks great
Great for bashing
Perfect for any terrain
Allows easy upgrade
Cons
The stock Canyon A tires are great for crawling but suck for everything else. 
It is quite slow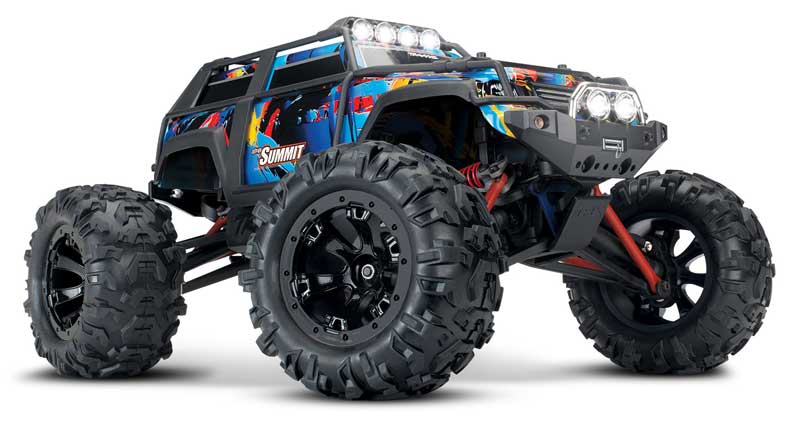 10. The Fastest Traxxas RC car – The XO-1 64077-3
The Traxxas XO-1 is the fastest Ready-to-Race RC car on the market, reaching 60 mph in 2.3 seconds and 100 mph in 4.92 seconds.
The car features aerodynamic design, big block 6s brushless horsepower, 6061 aluminum chassis core, real-time telemetry, 1/7 scale size, aggressive supercar styling, high-downforce wing and splitter, revised front and rear bumpers, machined aluminum C-hubs, and heavy-duty turnbuckles.
This car is designed for experienced drivers and is ideal for those seeking an extreme RC thrill ride.
All in all, if you're looking for a high-performance RC car, the Traxxas XO-1 is definitely worth considering.
Pros
Extreme speed: With the ability to reach up to 100 mph.
High-quality build.
Great handling.
Cons
Price – The Traxxas XO-1 is one of the more expensive RC cars on the market.
Complexity – The Traxxas XO-1 has many advanced features, which can be difficult for some users to understand and utilize.
Why is Traxxas the best RC car brand
Traxxas is one of the most popular for the sole reason that they make very solid cars. They also offer amazing parts support and crazy aftermarket upgrade support. I can't think of any company where you can still get parts for vehicles going on for 10+ years.
When it comes to most brands like Arrma, finding parts support can be a hassle. But, you will often find that local hobby shops stock replacement and aftermarket parts for a Traxxas vehicle.
In terms of durability, Traxxas cars are tough. I bashed my REVO harder than I have any other RC vehicle I've ever owned, and it survived more hits and tumbles than I would ever have expected. 
Traxxas has also been in business for longer than many hobby-grade manufacturers. Their huge history and long-standing knowledge of the RC world give them the advantage to redefine and upgrade their designs so that they stand out from competition. 
Some of Traxxas' cars feature
The satisfying part of using Traxxas RC cars is that they have a full line of accessories, making them unique and easy to personalize your RC car. Some of these features are:
Traxxas Stability Management and Self-righting sledgehammer tires
Venileon brushless power system
Power cell LiPo batteries 
Torque-biasing center drive
Clipless body 
Inboard ultra-shock suspension
Modular aluminum chassis
Their electric cars are the best
A key feature that makes an electric car stand out is that they have to be fast and customizable. 
Traxxas electric RC cars fit this criterion, especially their Rustler, Stampede and Slash. They can easily reach speeds as high as 80+mph. Plus, you can easily convert your electric car to a nitro-powered one or even switch from a brushed motor to a brushless one. With other components, there are tons of parts you can get to tinker with it for more advanced upgrades.
Traxxas electric cars are also versatile, with larger wheels and exceptional ground clearance. 
Conclusion
Traxxas is a long-standing brand in the radio control industry because they have built some of the fastest, toughest, most durable, and most reliable RC vehicles the industry has ever seen. So. whether you choose a car from this list or one of their RC cars, you will be in luck because you are definitely buying something worth the money. 
*Images from Traxxas
Read More
5 Best RC Trucks for Grass (+best Traxxas for grass)
5 Best Traxxas RC cars for beginners (2023)