Traxxas Maxx FAQ | all questions answered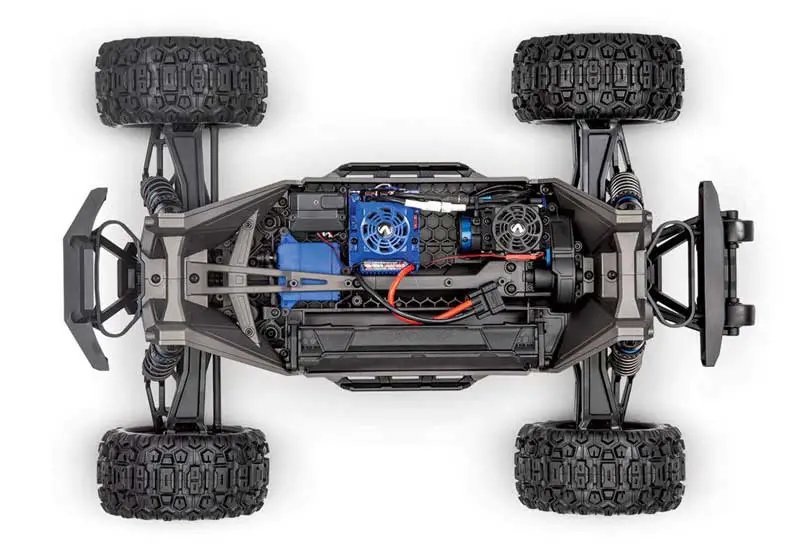 The Traxxas Maxx is one of the most popular and most talked-about models in the remote controlled car world today.
It is a massive monster truck that can tackle just about everything, has great speed and durability, and will also cost you a few bucks.
We asked hobbyists what are their questions were with this RC truck and went searching for the answers.
It took a while but here it is.
What motor does the Traxxas Maxx have?
The Traxxas Maxx uses the extremely powerful and highly-efficient Velineon 540XL brushless motor.
The motor on this RC truck was developed purely for peak performance, and it is also equipped with VXL-4s speed control. The motor is powerful enough to push the Maxx through mounds of dirt with the strong full-throttle launch. 
It is a 10-turn, 3500KV motor with the optimization for running on high power in a 1/10 vehicle like the Traxxas Maxx. 
Is the Traxxas Maxx worth buying?
If you are searching actively for a 1:10 scale bash machine with high efficiency, great power and speed, and also durability, then the Traxxas Maxx should be at the top of your list because it is a great RC vehicle. 
When the Traxxas Maxx was released just over two years ago, it took the RC world by storm. 
This vehicle has many of the features of the widely-acclaimed X-Maxx in a much more compact body. It is a high-quality RC basher that is much easier to handle than its elder brother, the X-Maxx. This monster truck is considerably fast, and it can also ride quite smoothly through rocky, grassy, or uneven grounds. 
It uses a very powerful brushless motor, as well as TSM, TQi radio system, and several other features that make it one of the top RC trucks around. 
Altogether, this Traxxas Maxx is at the top of the list when you talk about the best bashing RC trucks on the market, and it is definitely worth buying. 
Does the Traxxas Maxx come with a charger?
No, the Traxxas Maxx does not come with its own charger out of the box.
To operate your Traxxas Maxx, you will need to buy a charger separately from your RC dealer.
Does the Traxxas Maxx come with batteries?
No, the Traxxas Maxx does not come with batteries out of the box.
Before you can get started having some fun with this RC vehicle, you will need to buy a Traxxas iD plugged compatible battery, and you will also need to purchase 4 AA batteries for the transmitter. 
What is the best battery for the Traxxas Maxx?
It is recommended that you get a 4-cell 14.8V Power Cell LiPo battery for your Traxxas Maxx if you want it to operate at maximum efficiency.
Using a 3-cell 11.1V LiPo battery will not allow the truck to work at its peak efficiency. Also, you can not use NiMH batteries with the Traxxas Maxx as they are not supported. 
What is the Traxxas Maxx battery tray size?
The Traxxas Maxx has a battery tray size of 162mm x 45mm x 43mm. 
This battery tray size is significantly smaller than the X-Maxx, which is the bigger and chunkier of the Traxxas Maxx. To compare the two models' battery tray, the X-Maxx has a battery tray size of 197mm x 51.5mm x 44mm.
Traxxas Maxx battery life
The Traxxas Maxx has a pretty healthy battery life, and it usually takes only about 45 minutes to fully charge the battery using a standard charger. 
If you would be spending a lot of time running the Traxxas Maxx, then you should go prepared with some backup batteries. 
Before they need to be replaced though, Traxxas Power cells usually last for about 500-1000 charge and discharge cycles. This value is also determined by the type of Power cell that you use in your Traxxas Maxx. 
How long does the Traxxas Maxx battery last?
Traxxas Maxx batteries usually last for 30-90 minutes.
The amount of time it lasts is largely dependent on the kind of work you put your RC car through. 
This includes the area you drive it through, as well as how long you run it continuously and how hard you push the car. 
What battery does a Traxxas Maxx take?
With the Traxxas Maxx, it is recommended that you use a 4-cell 14.8V PowerCell LiPo battery to ensure that you get the best out of your truck.
Can the Traxxas Maxx work on 2s?
Yes, the Traxxas Maxx can run on 2s.
This truck actually has a top speed of about 25 mph when running on 2s. This just goes to show the raw power that this RC monster truck contains. 
Can you run a Traxxas Maxx on 3s?
Because the Traxxas Maxx does not have a large rotating mass, it can work on 3s.
Can the Traxxas Maxx motor handle 6s?
Yes, the Traxxas Maxx can be converted to 6s, although we do not recommend you to.
The Traxxas Maxx is already a vehicle with high performance and a lot of power, and there are a lot of upgrades you could make to it although not all are necessary. 
The truck can handle 6s power, but it is not recommended. 
Does the Traxxas Maxx have self-righting?
Yes, the Traxxas Maxx is equipped with the self-righting feature.
The self-righting feature is an innovation that was brought through by Traxxas in the X-Maxx, and they are making it available for their RC vehicles. 
It is a feature that helps you flip your Traxxas RC car back onto its wheels if it has turned up side down. You can simply press the 'Set' button to put this feature into action. 
Does the Traxxas Maxx come with telemetry?
Yes, the Traxxas Maxx comes with telemetry integrated into its system.
Telemetry is a game-changer in the world of RC cars because it allows you to monitor and record the data from your RC car in real-time as you are driving it. 
This Telemetry Expander 2.0 is installed in the Traxxas Maxx and it contains the GPS Module 2.0 that helps to boost the accuracy of the speed, and also allows for the addition of up to six more auto-detectable sensors. 
Does Traxxas Maxx come with lights?
The Traxxas Maxx has a waterproof LED light kit that is built to handle the tough punishment of roads, pavements, muddy ground, and even grass.
The lighting system for the Traxxas Maxx has a high voltage amplifier that can power the bright light bars in this LED kit, while also keeping the loss of heat and current at a minimum. 
This ensures that the performance of the light is very stable, preventing any form of dimming or flickering while the light is in use. 
This LED light kit also includes smart brake lights that work when the brakes are in use, both when moving forward and backward. 
Does Traxxas Maxx come with Link?
The Traxxas Maxx is equipped with VXL-4s, and if you install the Traxxas Wireless Link Module on the TQi transmitter, you can get to use some amazing features on the vehicle.
Link provides the Traxxas Maxx user with features that you can't get with any other vehicle brand. 
The Link interface fits well with a range of devices including iPhones, iPads, and Android devices. 
It helps you learn and understand the car much better while providing you with some excellent Control Drive Effects settings like throttle and steering sensitivity, TSM assistance percentage, throttle trim, as well as steering percentage. 
After getting the firmware update, you should also be able to see the battery voltage, temperature, speed, and RPM of your vehicle in real-time. 
You can also record these vitals while you drive your RC car. 
How fast does the Traxxas Maxx go?
The Traxxas Maxx is a pretty rapid RC monster truck, with a top speed of 60 mph.
Apart from its amazing design, great strength, and mammoth power, the Traxxas Maxx is also a very quick truck. 
It was developed with ferocity in mind, and that is the exact adjective to describe this monster truck. It has power and speed unmatched by any RC car of its size. This is a monster truck that is very fun to drive, especially when running at such high speeds as 60 mph.
How much horsepower does a Traxxas Maxx have?
The Traxxas Maxx is defined by its amazing power and it has magnificent horsepower of about 16+ volts when its 4s brushless motor is in full flow.
This RC truck punches hard off the floor and accelerates to its top speed in very little time. 
The power it contains is almost excessive for the relatively small frame of this truck, but that makes it even more fun to drive. 
When did the Traxxas Maxx come out?
The Traxxas Maxx was released by Traxxas Inc. in September 2019.
What scale is the Traxxas Maxx?
The Traxxas Maxx is a 1/10 scale RC monster truck that packs a lot of power. 
Is the Traxxas Maxx waterproof?
Yes, the Traxxas Maxx is fully protected with the innovative waterproof features from Traxxas.
With Traxxas vehicles, waterproofing is an expected feature now. 
This Traxxas Maxx blocks out the water so that you can run through different wet conditions and even hose off your truck if it gets dirty.
Is the Traxxas Maxx 4×4?
Yes, the Traxxas Maxx is a 4×4 vehicle.
It is a 4-wheel drive waterproof vehicle that is ready to drive and race right out of the box. 
What servo is in the Traxxas Maxx?
The Traxxas Maxx uses the highly efficient and waterproof Traxxas 2075X as its servo. 
This servo contains ball bearings that allow the Maxx to be easily and smoothly steered as well as some metal gears to provide additional strength. 
You can be sure that this vehicle is only made from the highest quality of parts and components. 
What tires fit the Traxxas Maxx?
The Traxxas Maxx fits four 3.8" (with 6.3" outer diameter) tires.
These large 6.3" tires are great at providing the monster truck with grip when it is driven off-road, and it also helps in providing extra ground clearance for getting past big obstacles and deep ruts. 
It works exceptionally well on a wide range of different surfaces, and the treads work very aggressively to dig deep into the ground and provide great bite. 
When used on pavement, this grip allows for just the perfect amount of scrub to help in providing a balanced and natural feel. These tires also come with effective foam inserts.
Where is the serial number on the Traxxas Maxx?
The serial number for the Traxxas Maxx is printed in the right battery tray.
Can the Traxxas Maxx drive on water?
Yes, the Traxxas Maxx can drive on wet surfaces.
The innovative waterproofing feature provided by Traxxas allows the Traxxas Maxx to efficiently withstand punishing conditions. That also allows it to drive through surfaces or roads covered with water or even snow. 
It smoothly moves through uneven surfaces with the impact-absorbing suspension working to receive the impact and dissipate it across the entire vehicle.
What bodies fit the Traxxas Maxx?
You can fit your Traxxas Maxx with several body mounts including: 
the Jeep Wrangler Unlimited Rubicon Clear Body, 
the Jeep Gladiator Rubicon Clear Body, 
the Dodge Ram 1500 Clear Body, 
the 1973 Ford Bronco Clear Body, 
the Pre-Cut 2020 Ram Rebel 1500 Clear Body, 
and the 2017 Ford F-150 Raptor Clear Body.
You can fit different bodies onto your Traxxas Maxx using a body mount kit. This can be a must-have accessory for your RC car especially if the body goes through some serious damage. 
You could choose any of these other great body options, and make the switch. There are several body mount kits available for you to choose from, and use whichever one would be the easiest and most efficient for you to use. 
Ensure that the body is fitted well though, to prevent it from popping off and flying away when you start using the RC car. 
How much is the Traxxas Maxx?
The Traxxas Maxx is currently valued at about $579.95 online.
This is a highly valuable RC monster truck, with a rad design, loads of power, brutal strength, and great size. 
It is a top-class 1/10 scale monster truck, and it should be at the top of your shopping list if you're looking for a bashing RC truck. 
Also, if the Traxxas X-Maxx is slightly too big or chunky for you, then the Maxx is perfect because it has the features of the X-Maxx in a much lighter and more compact body to make it much easier to maneuver. 
Don't be fooled by the size though, because this monster truck packs quite a punch in terms of power.