Army painter primer review | Is It As Bad As They Say?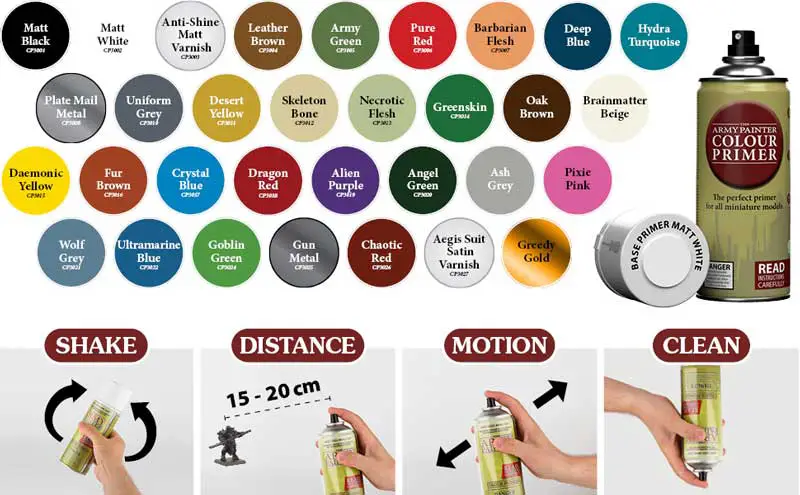 If you're an avid miniature painter, you'll likely have some Army painter paints in your paint collection.
Still, it's not just about pilling up paints for your next painting project. You also need to get a primer to help your paint level well and last long.
The good news is that Army painter also has some line of primers to match their paint colors. But, are they really worth the money? Will they apply thinly and consistently enough to retain detail, hold paint well and sit properly on any material they're applied on? 
Are army painter primers good?
Army Painter primers are great if you don't mind the semi-gloss look they offer. 
The biggest compliment I'll give to Army painter primers is that they provide your paint with a fine flat surface, so they stick well. Plus, they're not so thick that applying thin coats and good consistency to retain details is impossible. 
Pros – Army painter primer
Perfect for miniatures
Low priced
Sticks well 
It doesn't hide details
Easy to use
Cons – Army painter primer
it may give chalky or grainy results
Will army painter primer make your paint look better?
There are so many brands out there producing top-notch primers, so the paints look exceptional. Army Painter paints won't match up to many of these brands, like Vallejo, but their primers make your paint look better. 
You can get your painted miniatures looking like branded showroom models by ensuring it's well shaken at least two minutes before use and spraying from a correct distance from the miniature. Else, the paint may dry faster and cause grainy textures. 
The finish you'll get with the army painter primer
Army painter primers come out with a slightly glossy and matte finish, depending on the results you want. 
However, you could also get chalky results when spraying too far away from the model or when the primer is too hot (or dry out). The chalky finish is caused by the pigment separating from the medium when you spray too far. 
To minimize this effect, always shake the primer, whether in the spray can or pot, for two minutes before use. Alternatively, warm the can under lukewarm water (avoid using hot water as it might cause more harm). Also, don't hold the can too far from the model when priming. 
Will army painter primer maintain the miniature's details?
Army painter primers make small details visible even after laying two thin coats. 
Then again, that doesn't mean it can't go on a bit thicker and mute the details on your minis. How well the primer maintains the miniature's details depends on how well you shake them and how thick the coats are. Just make sure to lay only thin coats and shake the primer well before use. 
How is it to use the army painter primer
Whether you prefer a brush-on, airbrush, or spray application, applying Army painter primers with any of these techniques is possible, and you'll get a fine-leveled and primed surface. 
The only downside of using the spray can is that it doesn't seem to last very long, and controlling the stream of primer can be tasking. 
If you are using The army Painter Warpaint Air primer with an airbrush, the case is reversed. An airbrush allows for quick and satisfactory results. Plus, the 17ml bottle of primers lasts longer.  
Just get an airbrush with a 0.3mm needle.
Humidity and temperature make priming a hassle. With the Army painter primers, you'd have more success spraying below-freezing temperatures. The fact that you easily clean these primers with water also makes them easy to use. 
*Read The Ultimate Miniatures Priming Guide
How many coats do you need with The Army Painter's Primer
Army painter primers, especially color primers combine color pigments with the primer solvent to form a primer. 
Hence, they may have a slightly thicker concentration than most primers. On the other hand, a single thin coat won't properly cover base details, so paints may likely not blend well. 
For this reason, with Army Painter Primer, two thin coats are better than a single thick or thin coat. 
How long does it take to dry?
Technically, the humidity of the environment or workspace often determines the drying time of this primer. 
At normal humidity (70°F to 75°F), you can expect the primer to fully cure in 2 hours. 
Does it stick well to miniatures?
As far as coverage goes, Army painter primers will stick well to your small figures. It doesn't hide details either. Once dried, they form a resistance surface that makes it possible to lay several coats of paint. 
Will it make your paint last longer?
One of the biggest benefits of Army painter primers is that they are hard-wearing. 
While most miniature painters that because they are on the cheap side, they'll be low quality, Army painter primer is pretty solid. They won't rub off easily, especially after painting your minis. 
In fact, the paint can last up to 10 years without losing its shine.
this miniatures primer has Almost 30 colors to choose from
If you're thinking of painting an infantry or the Charnovokh dynasty from the Necron codex, the good news is that Army painter has over 20 color-based primers that match perfectly with the colored paints. They include:
Wolf Grey
Leather brown
Uniform grey
Green skin
Gunmetal
Daemonic yellow
Matt black
Matt white
Barbarian flesh
Skeleton bone
Desert yellow
Fur brown
Pure red
Dragon red
Angel green
Ultramarine blue
Chaotic red
Goblin green
Crystal blue
Necrotic flesh
Alien purple
Greedy gold
Plate mail metal
Ash grey
Oak brown
Brainmatter beige
Deep blue
Pixie pink
Hydrai turquoise 
*Read all about Colored Primers
The army painter's primer is priced competitively
Army painter primers are typically cheaper than many from brands like Citadel. In fact, you'll get an Army Painter primer at half the price of a Citadel primer. 
For instance, the Matt Black in 400 ml cans is priced at a competitive rate as opposed to Citadels Chaos Black, which sells for $13.50. 
The army painter primer is a great option for miniatures
I've used Army painter primers on my miniatures ad love them for their wide color range and the fact that they go down perfectly smooth. Plus, they worked well for tiny or fine details on my 10mm micro armor mini. 
Hence, they're a great choice for miniatures. 
Important tips when using this primer of Army Painter
Shake the can thoroughly for 2 minutes before use, so the color pigment mixes well and doesn't look grainy. 
If the workspace is cold, let the primer sit in warm water (at 90 to95°F) for several minutes.
Always shake after removing from the warm water.
Be sure to spray from a distance and shake the primer can thoroughly before use. 
Conclusion 
So, with all that said, the simple question is, are Army painter primers worth it? 
Army painter primers are definitely worth the money, it's why my hobby shelf holds over ten of their primer cans. Besides this, the fact they have so many colors that match perfectly with Army Painter paints and getting them at cheap prices makes them desirable.