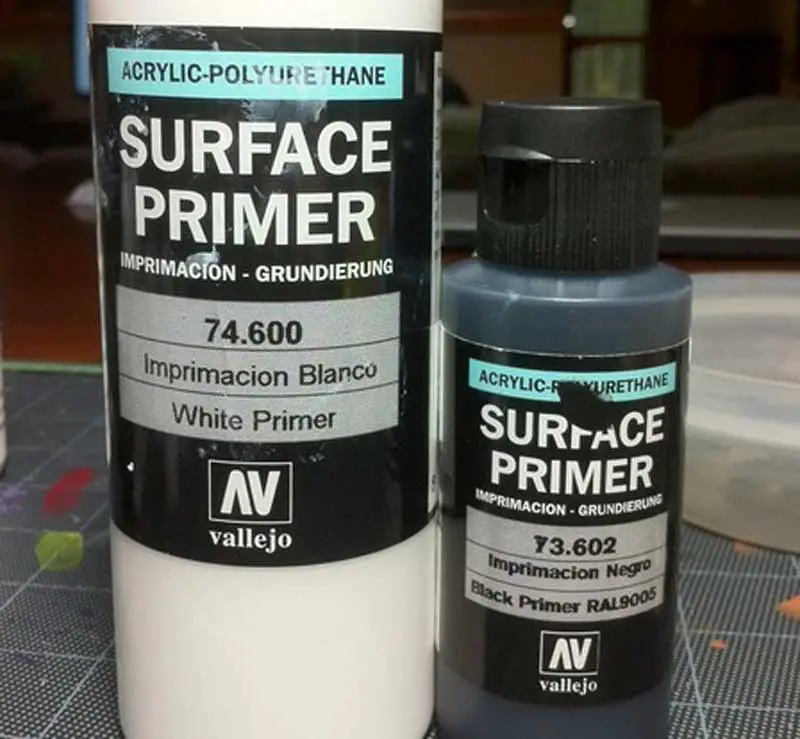 Priming your models and miniatures is no easy task, especially when you have to do it by hand. If you're looking for a primer that can perfectly work for different applications, whether hand brushing or airbrushing, that's where Vallejo primers come in. 
Besides their multipurpose application technique, are Vallejo primers really good? 
Are Vallejo primers good?
Vallejo primers are designed airbrush ready straight out of the pot, so it doesn't require thinning. 
Another great thing about this primer is you can apply it with a brush. It still self-levels and leaves no brush marks for a smooth coat. Plus, it gives thinner results which look like they show more detail without sacrificing strength or durability. 
Vallejo primers are a favorite choice of many mini painters because they have good consistency and surface tension, which makes them easy to apply. 
Pros  – Vallejo primer
You'll feel comfortable spraying indoors
They come in 17ml, 60ml, or 200ml bottles
Environmentally-friendly
Works well in high humidity, more extreme temperatures
Cost-effective
Cons  – Vallejo primer
It is very thin and may require more coats than usual
Vallejo primer is probably the easiest to use
Vallejo primers are one of the easiest to use in the market. 
They work great when applied with a paintbrush. All you need to do is put a few drops of the primer onto a palette and start brushing with your favorite base coating brush. Even with an airbrush, Vallejo primers are easy to apply and come out with effectively coated and smooth layers. 
Vallejo Primers – Two Coats And You're done
With Vallejo primers, you only need to apply two coats of primers because the first coat always goes on thinly, and the plastic color will still show through. A second coat will sort it right out and produce better coverage.
Vallejo Primer Dries Fast, Real Fast
At room temperature (25°C or 70°F) and normal humidity, Vallejo primers will only take about five to ten minutes to dry, especially when airbrushed.
If you use a paintbrush to apply the primer, it may take a bit longer, up to thirty minutes. This simple reason is that in a brush-on application, the primer often comes out thicker than when airbrushed. 
However, for a truly durable surface for painting, it's best to leave the primer to cure fully for a few hours or overnight if hand brushed.
Vallejo primer's thin coat will make your paint job look better
The best part about using Vallejo primers is that whether you use them for hand brushing or airbrush, you'll always get even results so that your paints look good at the end. 
When you use Vallejo primers you get a thin adhesive coated layer on your mini, which helps to easily seal the microscopic imperfections on their surfaces. The result is smooth and advanced paint color blending to give your miniatures and models a finely detailed sculpt.
You Can Get Different Types Of finish with Vallejo primer
The finish you get varies, especially with the primer you use. 
For instance, the Gloss Black primer will give you a glossy mirror finish. On the other hand, the neutral colors dry to a smooth matt self-leveling finish so you can easily use your mini for showroom display. 
Will Vallejo primer maintain the miniature's details? Definitely! 
Brush application preserves the smooth and fine details of your miniatures. The nice thing about using Vallejo primers for brush-on application is that it dries smoothly stretched out to create a durable layer that doesn't hide small details on your mini. 
Plus, when airbrushed, the small details remain visible. Airbrush application creates a much thinner surface, unlike with brushes, so the thin coats keep little details visible. 
The Primer From Vallejo Will stick well to miniatures
Primers are chemically formulated to bond to the surface of the mini. 
It means that when you use Vallejo primers on your miniature kit, you create a surface that not only stays durable in the long term but also helps paint last longer. This way, your paint won't chip and will go on smoother. 
Use Vallejo primer With A Brush Or Airbrush
You can apply Vallejo primers with a regular brush or an airbrush. Either of these methods will create a smooth surface on your miniatures. 
Just get a regular brush or an airbrush with at least a 0.3mm nozzle or larger to ensure the primer does not clog. A 0.2mm nozzle will likely clog. 
Vallejo primer has so many colors to choose from
Vallejo primer colors are vast. The best part is that they often match historical and modern military colors. They include:
VLJ70624 Pure Red
VLJ70625 Ultramarine
VLJ70626 Leather Brown
VLJ70627 Skeleton Bone
VLJ70628 Plate Mail Metal
FS34087 US Olive Drab
German Panzer Grey RAL 7021
Gloss black
White 
Grey
Black
RAL7028 German Dark Yellow
RAL8012 German Red Brown 
RAL8000 German Green Brown 
U.K. Bronze Green
Russian Green 4BO
Parched Grass (Late)
Earth Green (Early)
FS34094 NATO Green 
Desert Tan
IDF Israeli Sand Grey (61-73)
FS36375 USN Light Ghost Gray
Affordable price for best results – Vallejo primers
Vallejo primers are low-cost and will save you a lot of money. 
In fact, they are so cheap that you can buy two v60ml or one 12ml Vallejo primer can for the average cost of Citadel primers. 
Vallejo primer will work with other paint brands
Vallejo primers can work with all other paint brands, especially if they are acrylic paints. Just make sure that the primer adheres well to the miniature surface and fully cures before using any paints from other brands.  
Is Vallejo primer the best primer for miniatures?
Whether you are speed painting for tabletop quality, showroom display, or normal fun painting, Vallejo primers are great for miniatures. 
They won't melt plastic minis and also sticks well to metal figures. Plus, they aren't toxic and allow you to adopt different application techniques to ensure small details on miniatures stay visible. 
So, Are Vallejo primers worth it?
Vallejo primers are one of the best primers for prepping your minis surface for painting. They are easy to use, accessible, low-priced, and safe. Plus, they allow brush on and airbrush application to ensure a properly prepped surface for painting. Hence, they are worth the value.