Best kolinsky sable brushes for Painting miniatures & models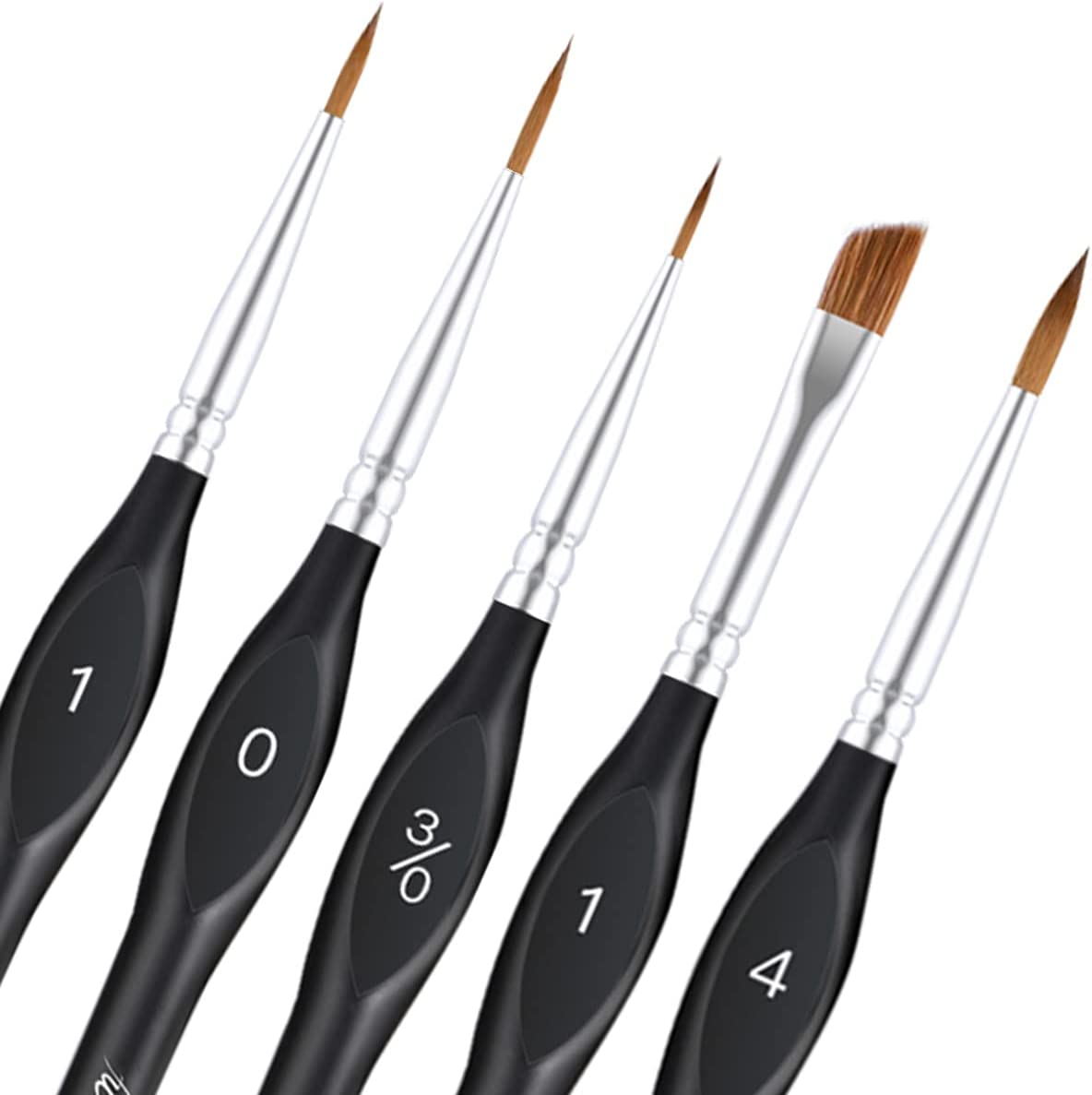 Miniature painting is fun, but a painter is only good as his tools allow. 
Paintbrushes with natural bristles are the best brushes for painting miniatures because they hold their tips for a long time and help painters paint better and more precisely. 
So, if you are considering buying a kolinsky sable brush for your miniatures, here are the best kolinsky sable brushes we recommend for painting your Warhammer and tabletop figures. 
Over the years, I have used several kolinsky brushes from different brands, and I can say that kolinsky sable brushes from Rosemary & Co are definitely worth the investment. 
Their size #1 from series 22 or 33 ranks high on my favorites because they aren't just quality bristle brushes. 
They also ensure precise handling. 
Rosemary & Co's size #1 brush from Series 22 has a belly diameter of 1.59 mm and a pointed tip that promises good paint holding capacity, so the paint flows controllably on your kit's surface. 
When I paint, I love popping details that look real. This brush size also has longer bristles so that detail painting won't be a hassle. Then again, the most alluring feature of their Kolinsky brush is that you can choose between short or long handles to ensure good grip and brush control. 
The only factor that may deter people from getting this brush is its expensive price. But, remember that you are paying for quality.  
Pros
Exquisite design
Responsive bristles
They are long-lasting
Great snap and spring
Con
Less available, except in the UK
Highly-priced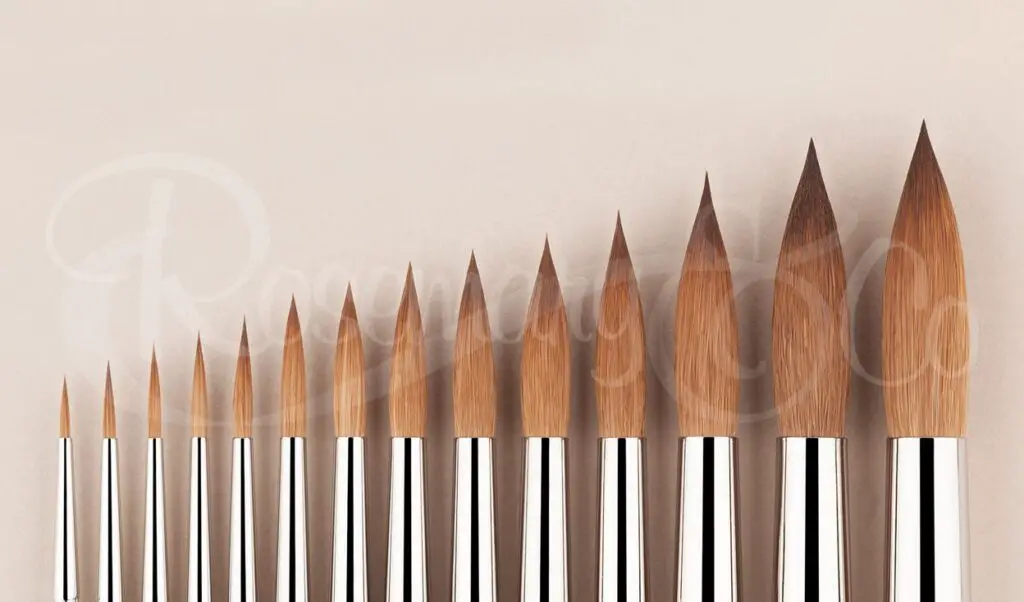 When I decided to dump my synthetic brushes and started looking for a good quality natural paintbrush, the Winsor and Newton series 7 was one paintbrush many experienced painters recommended. 
Was I disappointed? Definitely not!
Winsor & Newton Series 7 kolinsky sable brushes, especially sizes #1 and #2, are absolute professional standard paintbrushes for miniature painting. 
I loved this brush mostly for its snap and precision. The only challenge I faced using this brush is they almost sprayed out after using them with my metallic paint and for dry brushing. 
On the other hand, they were quite more expensive than my Rosemary & Co Series 22 brushes since a single #1 brush costs around $15. 
Regardless, Windsor&Newton kolinsky's were appealing and always held their point after a thorough cleaning.
Pros
Perfect for experienced painters
Excellent snap
Holds their point well
Con
More expensive than Rosemary $ Co brushes
Won't work well with metallic paints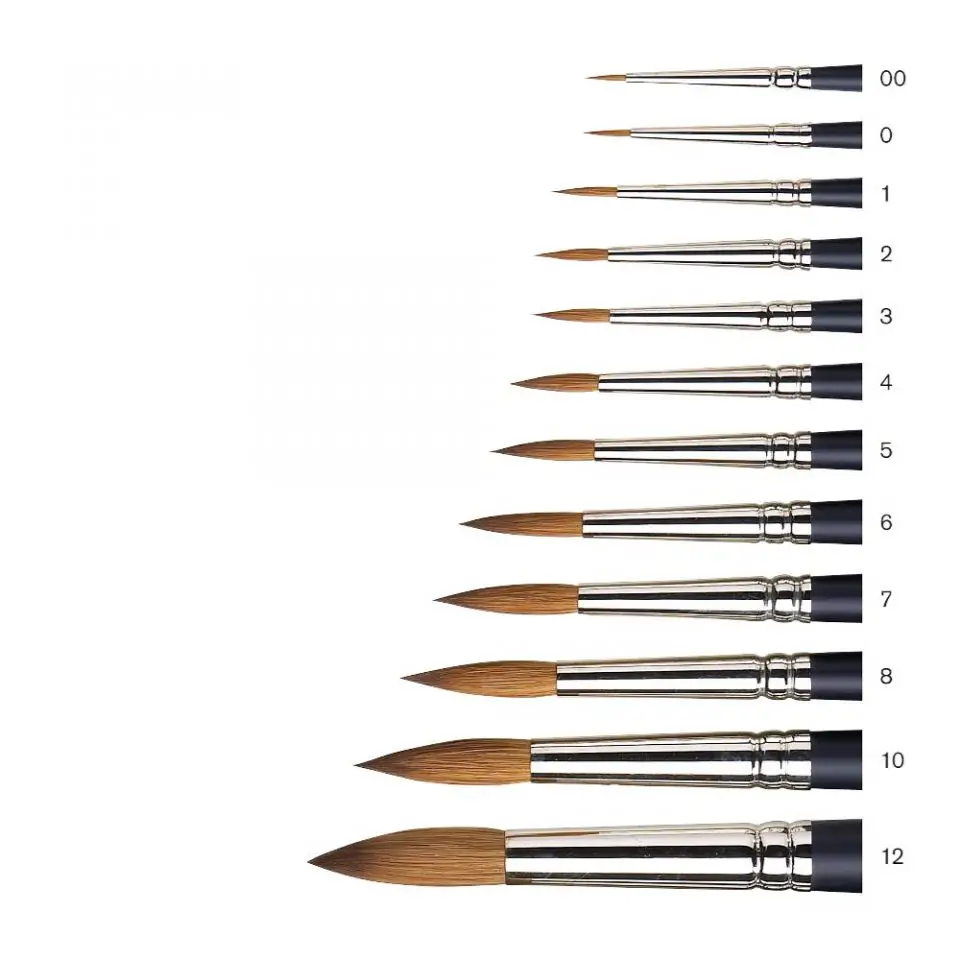 Another good kolinsky sable brush I'll gladly stock in my toolkit are models from Raphael, especially their Raphael Series 8404. 
I've only tried them once, and I must say, they are as good as the Winsor & Newton paintbrushes, and an added plus, they are cheaper. 
The best part of the Raphael 8404 Series is that if you need paint brushes in various sizes, you can easily get them. Yet, their most distinctive feature, as opposed to Rosemary and Co series 22 and W&N Series 7 brushes, is that they are manufactured with high-quality and durable Kolinsky Red Sable.
Again, these brushes are one of my favorites because of their perfect precision work and fine details. They will hold the shape after months of painting minis.
Their only drawback is that it can be quite hard to find these brushes in local stores. 
Pros
Cheaper than W&N Series 7 brushes
Ideal for professional painters
Available in different sizes
Made with red kolinsky sable
They can hold their shape for long
Con
Availability is a hassle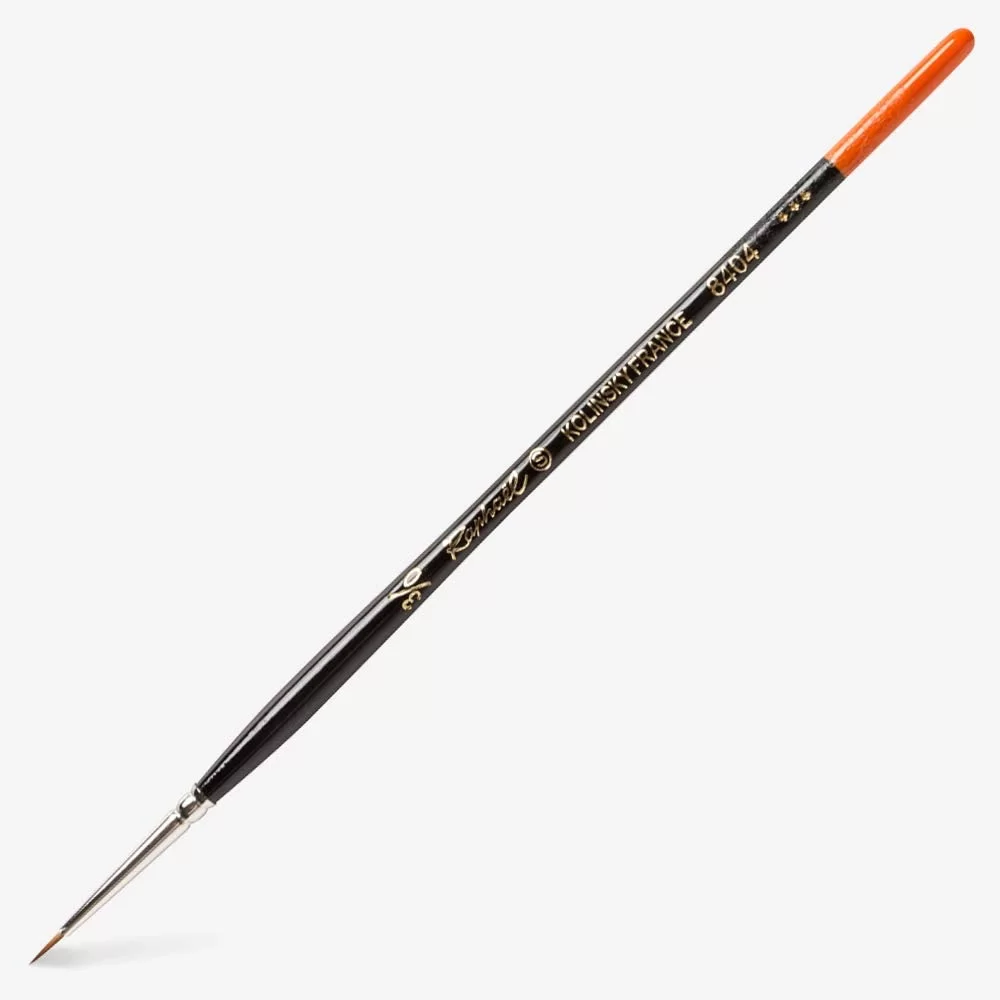 More like the Raphael Series 8404 brushes, most Da Vinci brushes are designed with red sable hair. For instance, the Da Vinci Maestro Series 10 Size #1 kolinsky paintbrush.
This brush has an exceptional paint holding capacity, good snap, and spring that guarantees precision, controlled paint flow, and exceptional results. 
I love that the brush has a short handle of 11mm, making it easy to do detailed work on my miniatures. 
Still, the fact that Da Vinci Series 10 kolinsky sable brushes offer diverse sizes is worth noting. 
Pros
Designed with quality red sable 
It holds paint well
Promotes precision and better paint flow
Diverse sizes
Con
Cleaning can be a hassle

Artis Opus is another natural paintbrush brand that makes top-quality, elegant, and expensive natural bristle brushes for painting miniatures. Then again, if you are on a budget, you will be happy to know that they also make kolinsky paintbrushes in a set. 
A good example is the Series S set. The paint brush set offers 4 brush sizes from 000 to 00, 0, and 1. 
Unlike most brands that offer paintbrush sets at prices up to $300, this Artist Opus Series S paintbrush set cost much less. 
Pros
Aesthetically beautiful 
Good quality 
Offers diverse sizes
They make paintbrushes in a set for the better price value
Con
Expensive in singles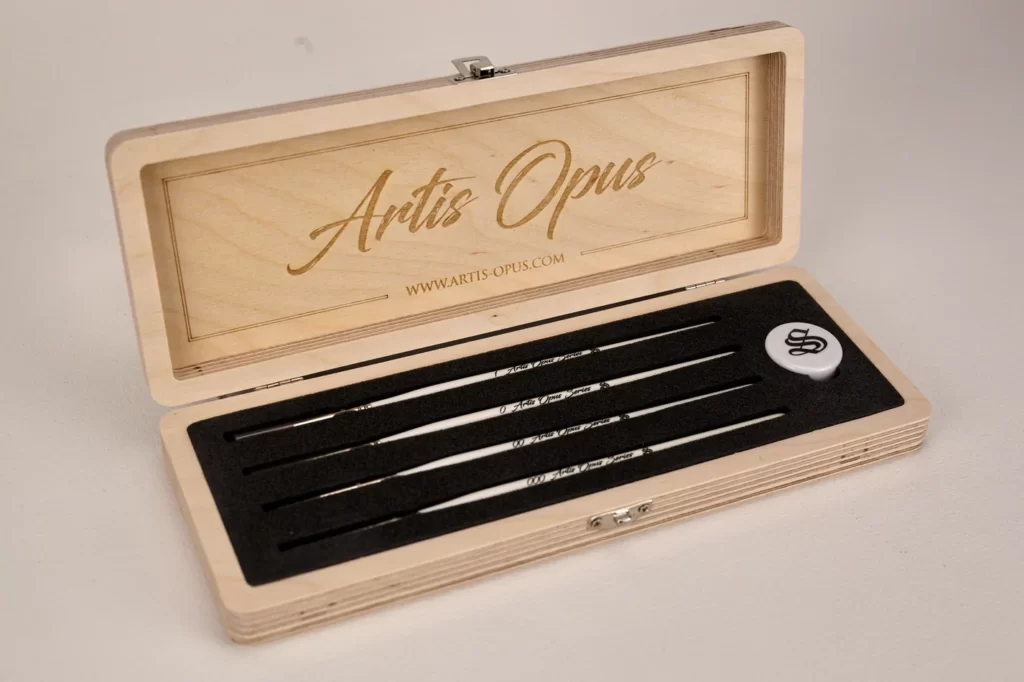 Broken Toad is a high-quality brand that makes precision kits. It's no wonder their MK3 Kolinsky paintbrush set is highly sought-after. 
They are handmade with natural hair from a male Siberian Kolinsky sable. 
Now, if you've ever heard one thing about a male Siberian weasel, it's that their furs are lightweight, offer fabulous snap, control, paint holding capacity, and boast razor-sharp tips. It's why every painter needs to have them in their toolkit. 
The Broken Toad MK3 Kolinsky paint brushes set includes; 4 brush sizes 2, 1, 0, and 3/0. Yet, they are not readily available in the US. 
Pros
Varying brush sizes
High-quality natural bristles from the male Siberian weasel
Super lightweight bristles
They have razor-sharp tips
Con
Hard to access in the US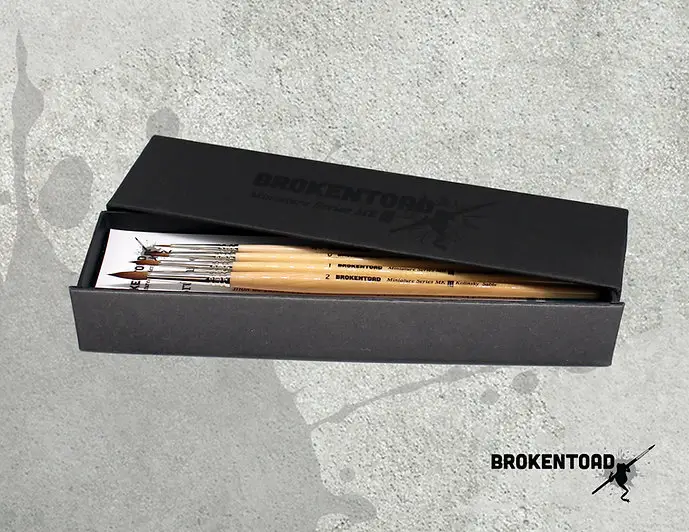 When painting your small RPG miniatures, from your mini tabletop roleplaying games to Dungeons & Dragons figures, Vallejo's kolinsky sable brushes are a must-have. 
Vallejo is a brand already known for producing high-quality products, so I wasn't surprised when I used their P18 Marta Kolinsky sable brush and loved how good they were. 
Their Marta Kolinsky sable brushes are very durable, maintain a sharp point far better than other brushes, and hold paint extremely well. 
Painters looking for less expensive kolinsky sable brushes will be happy to know that Vallejo Kolinsky sable brushes don't cost as much as brands like Winsor & newton. However, their sizes are limited.
Pros
Perfect for experienced painters 
They come with protective caps
It lasts a long time
Maintains a sharp point well
Cons
Limited sizes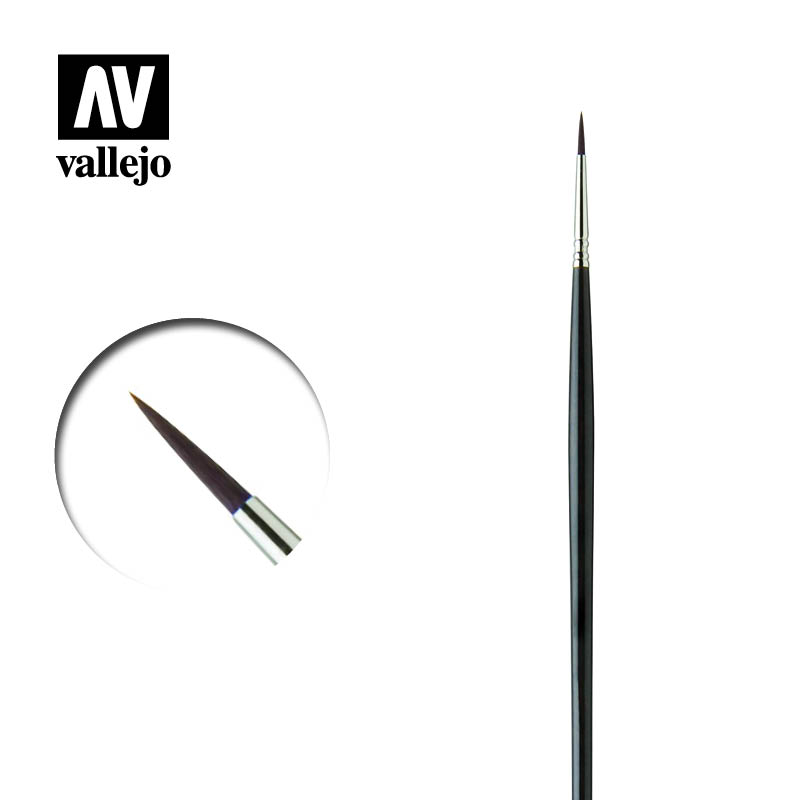 Are Kolinsky sable brushes worth it?
Kolinsky Sable brushes are, no doubt, worth it. You enjoy quality for what you pay, so they are worth the money. 
They have long-tapered points, and the brush snaps back crisply into shape thanks to the softness of their natural hairs.  They also have the right degree of spring that synthetic brushes lack, allowing mini painters superior control of the brush, painting surface, and the paint. 
Besides this, they are perfect for multiple uses, from detailing to edge highlighting. 
What size brushes do you need for Warhammer, DnD, and other miniatures?
Brush sizes typically range from #000 to #12 and even #50, depending on the brand.
For painting miniatures, a size #0 and #1 will be good brush sizes. However, a size #2 paintbrush will work well for base coating.
On the other hand, if you plan to paint larger curved surfaces, a size #2, #3, or #4 brush will be a good start. 
Conclusion
This is a sum-up of the best kolinsky sable brushes for miniatures:
Rosemary&co series 22 or 33
Winsor & Newton Series 7
Raphael Series 8404
 Da Vinci Series 10
Artis Opus series S
Broken Toad MK3
vallejo P18 Marta
Kolinsky sable brushes are often high priced, no matter how you look at them. However, with some, you can easily save some dollars.
Of course, everything is personal preference, but we've selected the best among our favorites to make your job easier. I hope that with these recommendations, you can better choose a good kolinsky sable brush for your miniature painting project.