Kolinsky sable brushes alternative | 6 Ethical Paint Brushes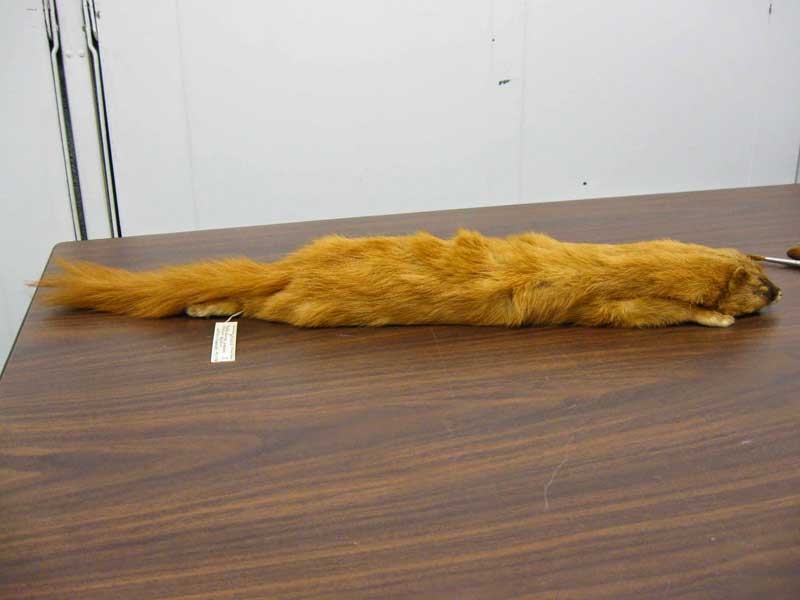 Kolinsky sable brushes are the best quality paint brushes for painting miniatures. Yet, there is a major problem with the fact that sable bristles are harvested from animals.
If you can't think of harming a defenseless animal so you can paint your model, we explore some good kolinsky sable brushes alternatives in this guide to help you find the best synthetic kolinsky replacement to a kolinsky sable brush for your painting project. 
Why would you look for an alternative to kolinsky sable brushes?
Everyone has their reason for wanting an alternative to the more expensive kolinsky sable brushes.
However, many painters considering kolinsky sable alternatives are often concerned with the way the hairs are 'harvested' and the fact that almost every animal-sourced product is involved with animal cruelty. 
They often do so because the bristles of kolinsky sable brushes are made from natural animal hair, and this can be disheartening. 
On the other hand, for some, a good reason is to minimize cost, while others seek alternatives to breach availability issues, especially in the US.
Do all kolinsky sable brushes have animal cruelty issues?
All kolinsky sable brushes made from Ox hair, Siberian Weasels, squirrel, and camel hair have animal cruelty issues. 
Even when ignored, most animal sourced products have animal cruelty issues. whether its the way the animals are 'stored', the way they are 'harvested' and the fact that they are grown or hunt just to be part of the products supply chain.
Basically, using a kolinsky sable brush that contain natural hair bristles is no different than buying fur or eating meat. In all of these cases the animals are being raised to be a product and they are livestock.
So the truth is that kolinsky sable brushes are part of the fur industry. most of them are grown in China or Russia, without any modern world regulations, and their hair is shipped to Europe or the US to make high-quality brushes.
However, Faux Kolinsky's sable paintbrushes do not. 
Faux Kolinsky sable hair paint brushes duplicate the texture of natural sable fur without harming animals by using Synthetic Nanofiber Bristles.
the alternatives for kolinsky sable Will be as good as the 'natural' fiber bristles
Kolinsky sable alternatives have similar performance and durability as the natural bristles of the kolinsky sable paintbrush. 
Their only difference is that they are high-grade synthetic fibers. 
They have the same sharp, pointed tips, can retain their shapes easily, holds paints well, are long-lasting, and offer the same precise control as kolinsky sable brushes. 
6 Kolinsky sable brushes alternative:
If you want a cruelty-free brush, one of the best alternatives you can consider for an expensive kolinsky sable brush is Broken Toad's Fugazi Series MK3 paint brush set.  
Unlike the Siberian weasel origin of kolinsky sables, they are made using 100% synthetic nanofibers. These fibers imitate the properties of Kolinsky sable paintbrushes. 
It's no wonder when I tested them, I observed they have similarly high standards as the regular Kolinsky hair brushes. 
What really got me hooked on this brush is how sharp the tip is and how easily they retain their shape throughout use. Plus, they have good spring and stiffness. 
I was also painting my minis with this paintbrush and finished 5 in a day without the bristles spraying.  
Pros
Unique design
Tips are as sharp as kolinsky paintbrushes
Good control
Holds paint well
Durable
Con
A good alternative but expensive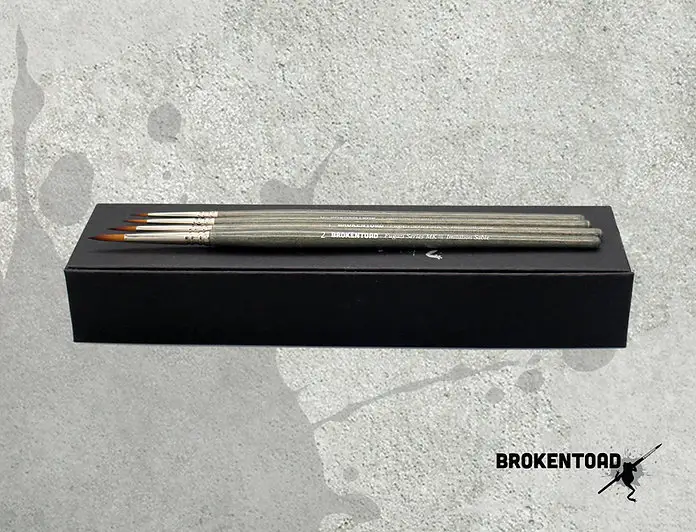 Another synthetic paintbrush with high performance just like a natural kolinsky paintbrush is the Aqua Elite Series 4850 set from Princeton. 
These synthetic brushes are made with Faux sable and have a wider midsection. So, they hold more water.
On the other hand, while some synthetic bristles are rather hard to clean, these Aqua Elites brushes clean like a breeze, making it easy to switch between colors fast. 
Their pigment release is also above average for a synthetic brush, and their wicking ability is more than adequate.
However, I did run into a minor issue with the Aqua Elite's paint-holding capacity. The brush held less pigment than kolinsky's sables. 
Regardless, they won't fray after heavy use like most synthetic brushes. Their bristles also have decent springiness to ensure precision and brush control. 
Pros
They are fairly stiff and have good snap
They are easy to clean
Designed with high-quality faux sable hair
They have varying shapes and brush sizes
Con
They won't hold paint well

Monuments hobbies have had some of the highest sales when it comes to their synthetic brushes. However, their brushes, especially the Pro synthetic 6 brush set, are classic. 
Unlike their earlier synthetic brushes, the Pro synthetic brushes have more snap. They also have a fine paint loading and control capacity, and their feel is exceptional. 
I used this brush on my Warhammer 40K models to paint the eyes and for edge highlighting, and the detail was great. 
The only real challenge I had using this paintbrush was with the handles. They were quite narrow, making brush control a hassle. 
Pros
They retain their shape easily
Excellent paint loading and wicking capacity
Perfect for edge highlighting 
Reasonably priced
Con
They are narrow and make handling the brush difficult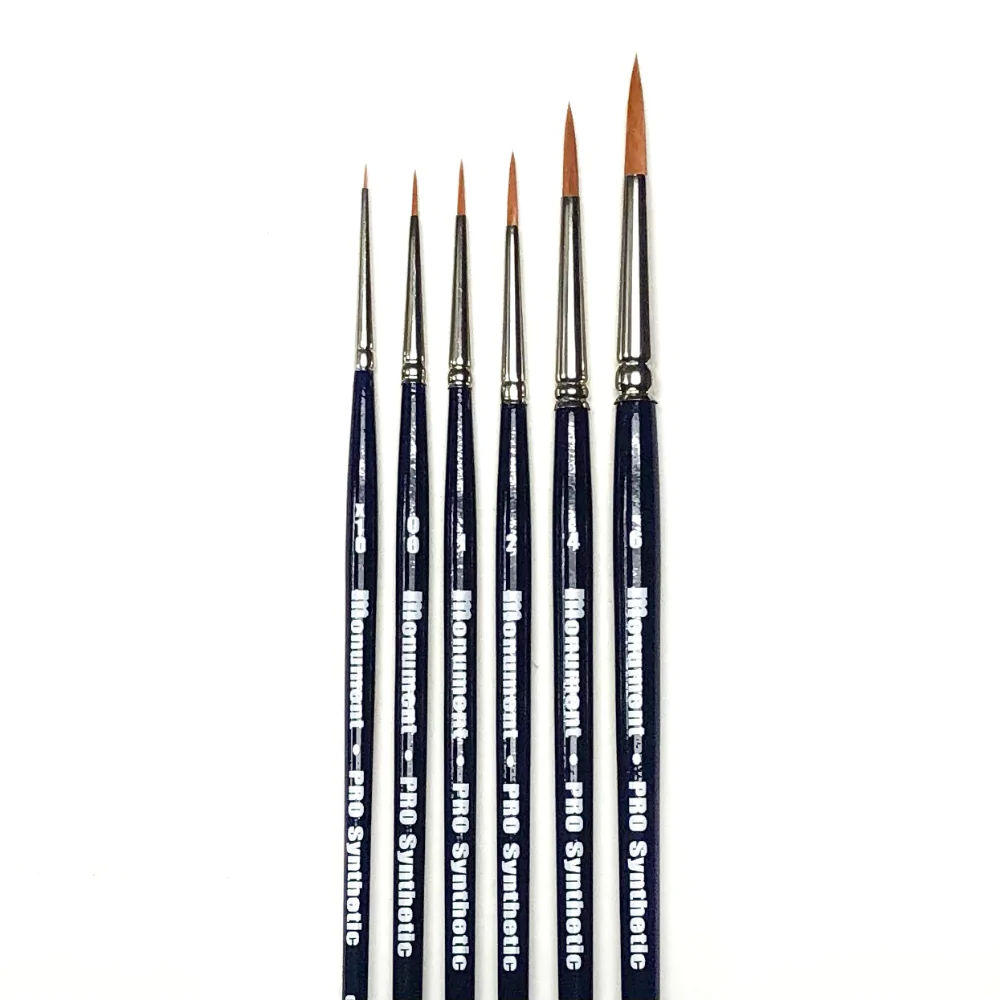 If there's any synthetic brush that should be called sexy, then it should be this Rosemary and Co. Red Dot synthetic brush. 
They are made with synthetic bristles, but this brush looks and feels more like the Winsor and Newton's Series 7 brushes.  
However, I love them because they hold paint really well, and the point is tiny and crisp. 
I hardly use my expensive brushes to mix paint because they damage easily. Yet, when I used this paintbrush, I was practically wowed because they remained undamaged even mixing paint. 
So far, so good, they are one of my favorites. Yet one drawback I noticed with these brushes is that they lose their point after painting three to five models. 
However, the tip doesn't become completely compromised and remains pretty sharp. Just apply a brush restorer to get their perfectly pointed tips. 
Pros
They hold paint well 
They are great for mixing paint
Reasonably priced
Long-lasting
Con
The tip loses its shape after some time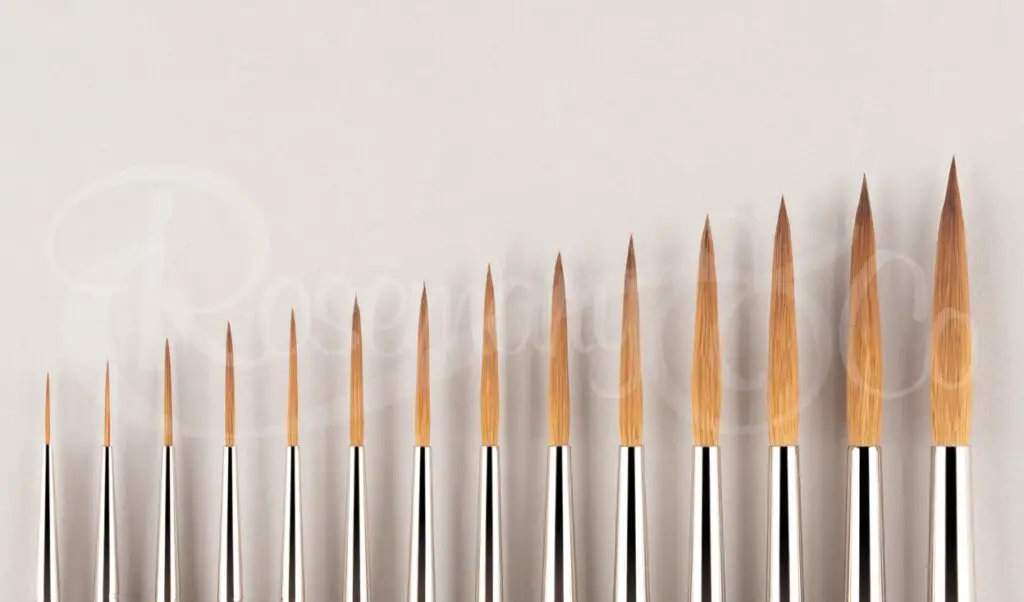 Like the other brushes listed in this guide, I've had a good experience painting with Winsor and Newton's professional watercolor synthetic brushes, especially the round series 111 set.  
This brush is made from 100% synthetic fibers but holds a good amount of water, has a sharp tip that makes detailed painting possible, and can go back to its shape easily. 
Plus, unlike the W&N Series 7 brushes, they are significantly cheaper and last longer, even after hard use. 
However, as much as they hold water well, they don't hold paint well, and their snap is not consistent. 
Pros
Cheaper than the Series 7 brushes
Holds water well
Durable
It has a sharp pointed tip
Great for applying washes
Con
Their snap is not consistent

Da Vinci is another good brand that makes kolinsky sable paintbrush alternatives. A good example is their Casaneo Series 5386 paintbrush set. 
This brush features Kazan Squirrel synthetic bristles, which in terms of water capacity are insane. 
In fact, the squirrel bristles do not seem to be any different from the real squirrel sables because they hold paint well and release it consistently. 
The only drawback to this brush is that the tips are sharply pointed when wet but not when dry. However, they have terrific springiness since, unlike natural squirrel brushes, they have thick synthetic fibers that allow them to go back to their original shape after each stroke.
Pros
They easily snap back to a point when wet
Excellent springiness
They hold paint well
Cheap
Con
They may look frayed when dry

Conclusion
Kolinsky sable brushes are great, no doubt. But, they are expensive and promote animal cruelty. 
If you are against animal cruelty, follow a vegan lifestyle, and have been looking for good alternatives for kolinsky sable brushes, these models listed here are a must-have since they have little to no complications like regular synthetic brushes:
Broken Toad Fugazi
Princeton Aqua Elite
Monument Hobbies Pro Synthetic
Rosemary&Co. Red Dot
W&N Professional Synthetic Sable
DaVinci Casaneo