Best synthetic brushes for miniature painting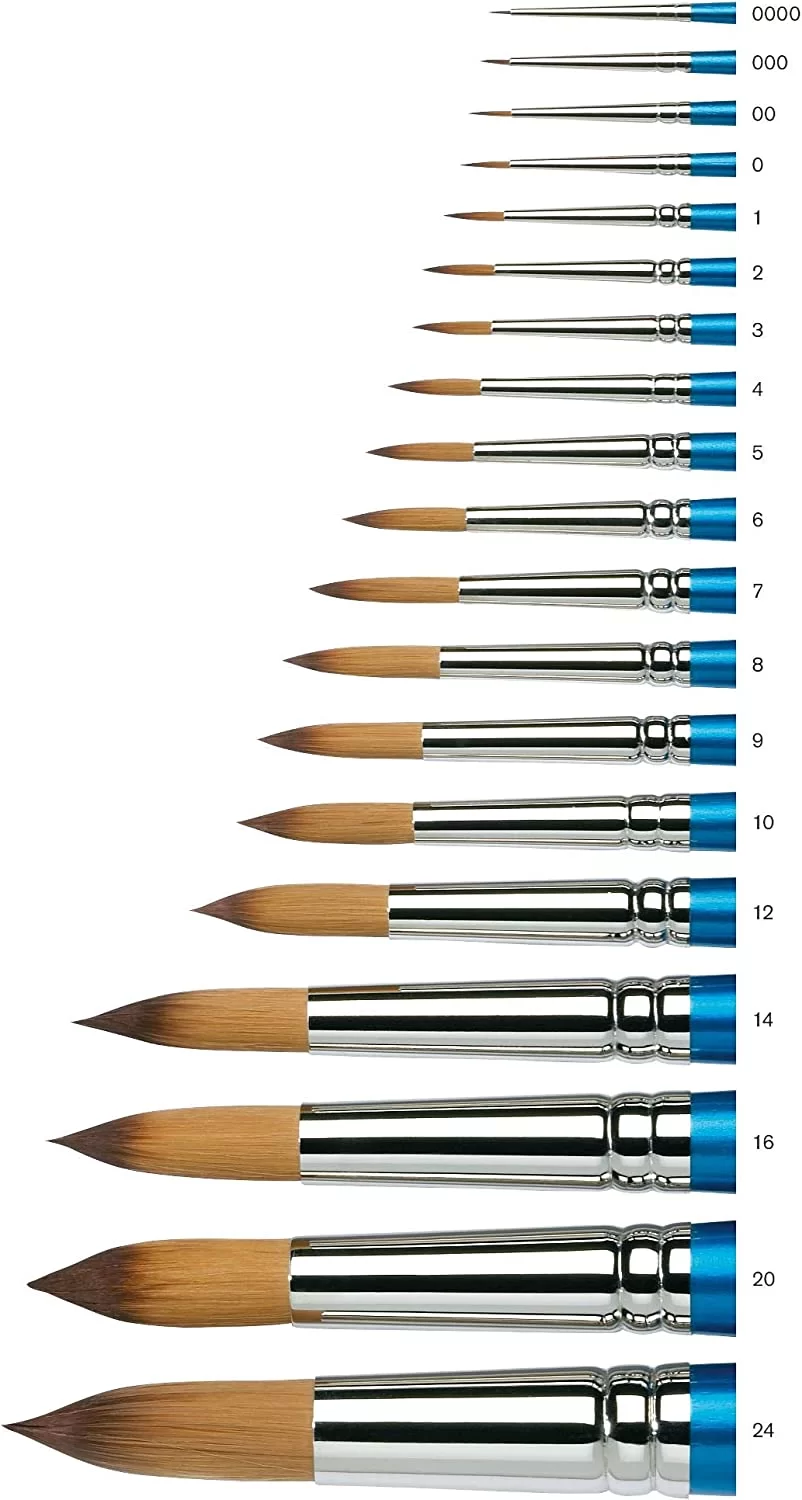 A paintbrush is an essential painting tool every painter can't do without when adding pigments to their miniatures. 
Not every mini painter wants to use sable brushes, and many prefer to use synthetic brushes. 
But, for ethical reasons, many painters, especially vegans, won't buy brushes using animal hair. This can leave painters in a tough spot, especially if they want premium stuff that keeps a good tip for a long time. 
I've used some decent synthetic brushes. So, I designed this guide to help you find some good quality synthetic brushes doe your painting techniques.  
Will synthetic brushes make a good paint job?
A synthetic paint brush has durable and flexible bristles that can hold paint decently. Plus, many paintbrushes with synthetic hairs render similar properties as natural hairs. For this reason, they can present stunning performance for detailed work, so your paint job on your miniatures looks pretty good and with no brush strokes. 
Read our guide on "How to Paint Miniatures Smoothly" to learn the right way to prevent brush strokes when painting miniatures. 
What exactly are synthetic bristles?
Synthetic brushes are brushes made from nylon and other plastic fibers. 
Specifically, synthetic bristles are made of melted and spun plastics, like nylon, and other plastics polymer, like Taklon Nylon, designed to mimic hair shape. 
synthetic brushes' quality
Will the bristles keep their shape?
Synthetic paintbrushes have short-lived snaps, which means they can only hold their shape for a short while. 
Can synthetic brushes hold a lot of paint?
Cheap quality synthetic brushes have poor paint-holding capacity. However, there are alternatives to kolinsky sables made with Faux fibers have excellent absorption properties. So, their flow and release rate, when dipped in paint, is top-notch. 
Are synthetics precise?
Miniatures require precise applications. Synthetic brushes can hold a sharp tip or crisp point for a while but not as long as natural paint brushes. 
Do they have good springiness and stiffness?
Synthetic brushes also have decent spring and stiffness. They can respond and adapt to your hand movements to ensure precise and accurate applications. This is thanks to their nice bounce that allows you to move the brush in any way or shape you want to.
Will synthetic brushes survive hard use?
Synthetic brushes can survive being washed and cleaned after every paint job. But, they won't hold a point as long as natural bristles do after hard use. 
How long will a synthetic brush last?
Synthetic brushes are made with nylon and polyester fabric, so people think they won't last long. The biggest advantage of these fabrics is that they are rigid, and synthetic brushes also have high-quality handles and ferrules. So, when you buy a synthetic brush, you get a paintbrush that can last a while even if they curl easily. 
Which brands have synthetic brushes, and which is the best:
If you're looking for a good synthetic brand, Citadel is a good brand to consider since they are very high quality. For instance, their STC Synthetic brushes are pretty decent for a paintbrush with synthetic bristles. They come in various shapes and sizes and look stylish. Their only downside is that, like all Games Workshop products, they are somewhat overpriced.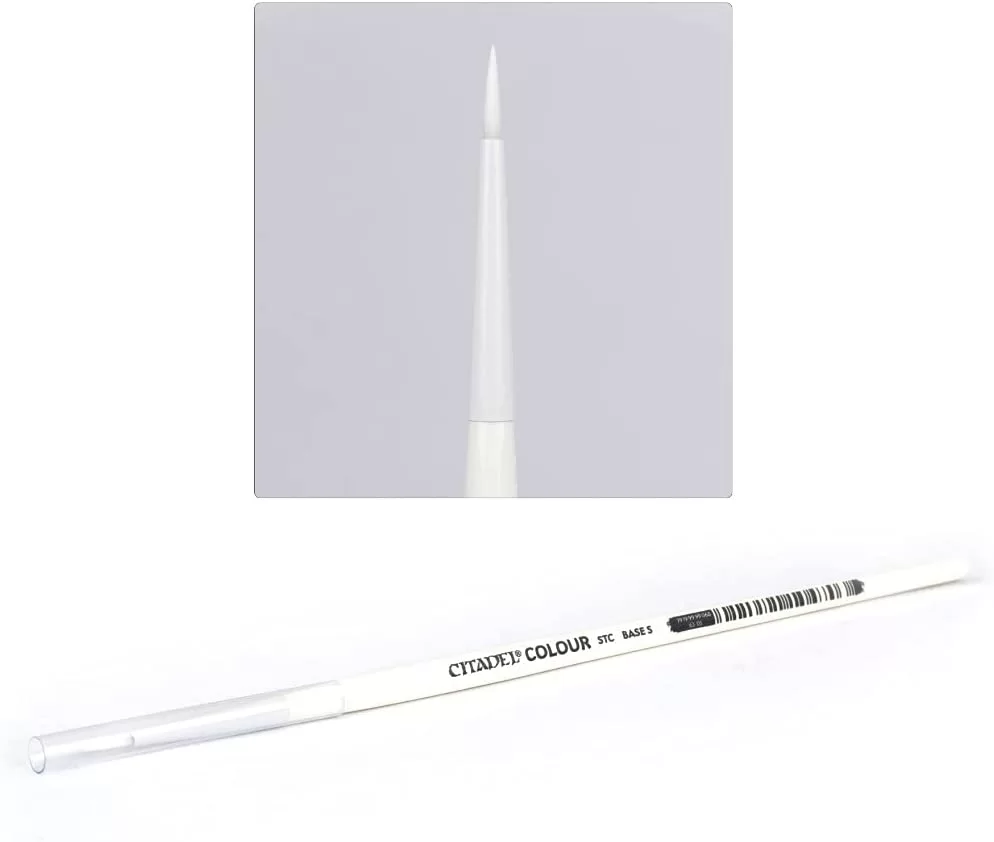 Army Painter makes some good synthetic brushes for miniature painting. One of my favorites is their monster, small and large dry brushes. 
The army painter's synthetic brushes are flat and angled with soft bristles. Plus, they release paint more quickly than natural hair, a key feature of any brush used for dry brushing. Their flat shape makes it easy to pick out edges and sharp corners. 
The most alluring feature of army painter brushes is that they are readily available and with a good price point.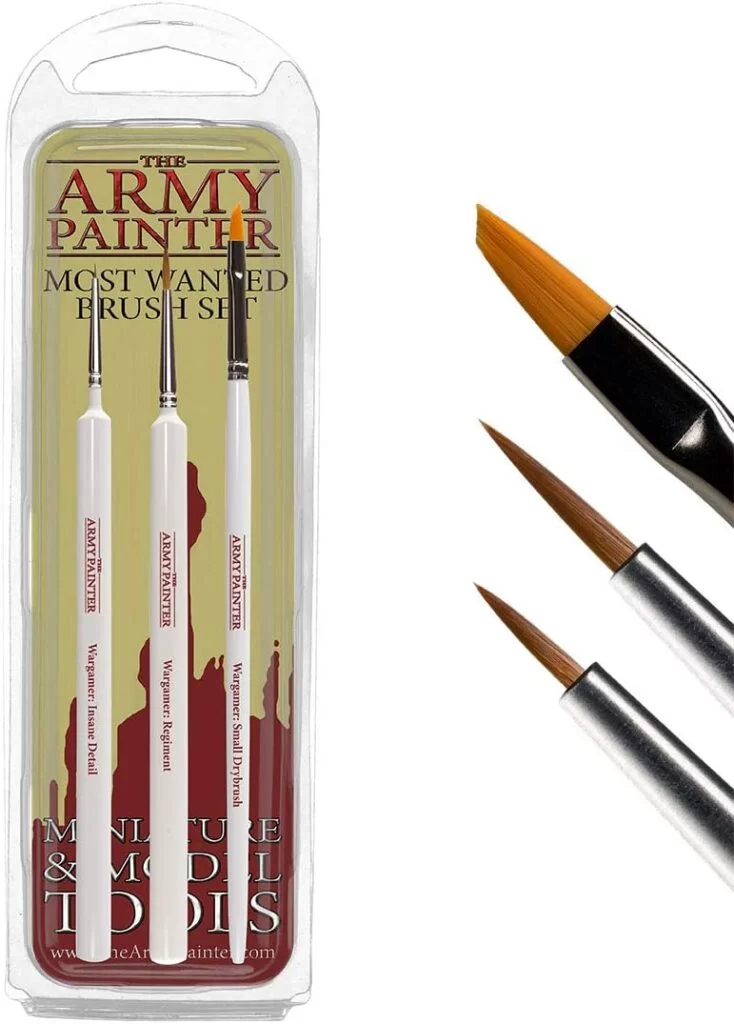 Winsor and Newton's Cotman brushes are also a popular synthetic brushes for miniature painting. 
They are the synthetic version of the Series 7 that everyone loves. 
I love how the brush blends various thick fibers, giving it enough strength, springiness, and good color-carrying capacity. 
Unlike a synthetic brush, this brush retains a perfect point every time, and you can find a wide selection of head shapes and sizes to suit your painting techniques.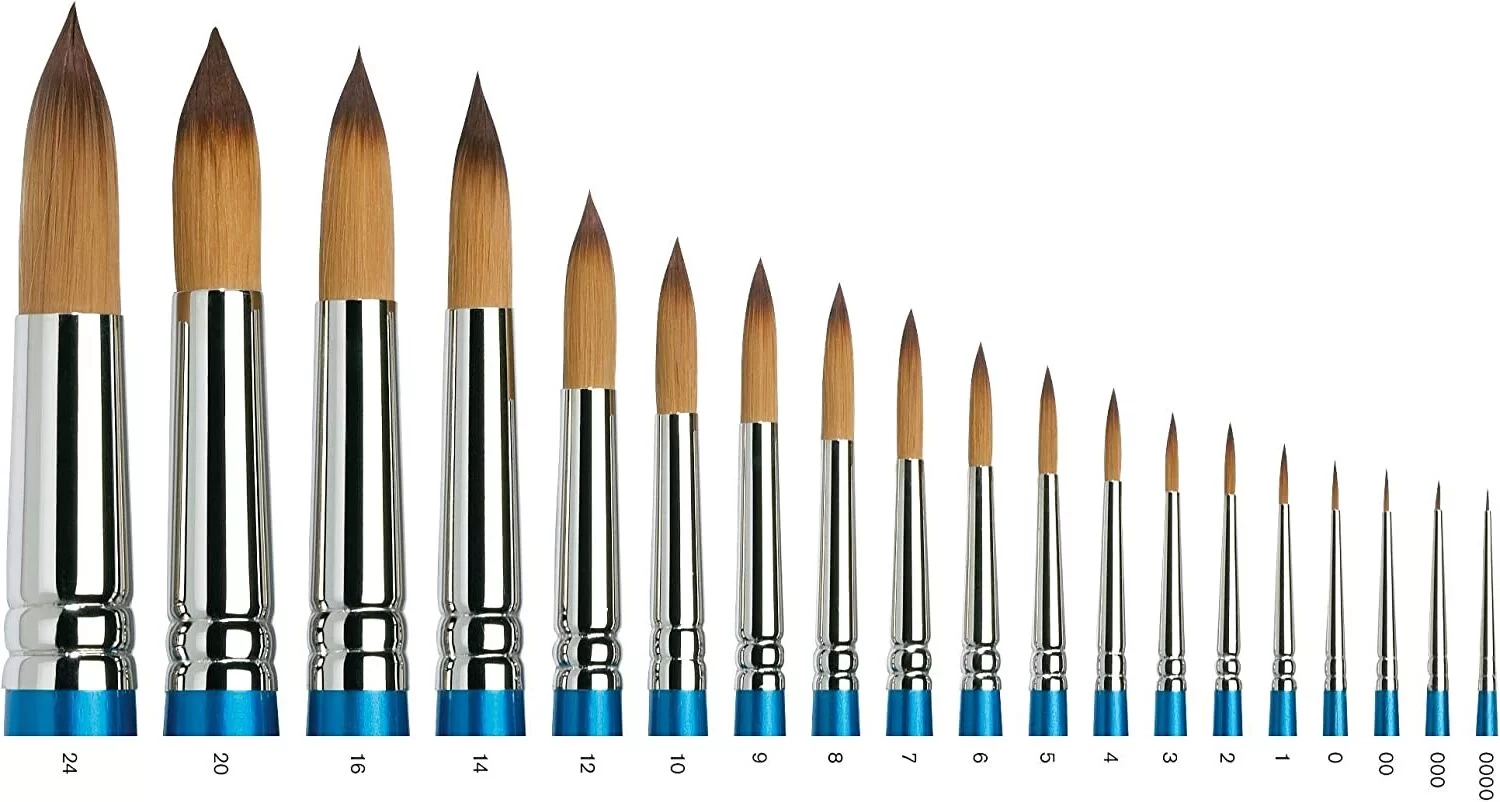 This brush from Broken Toad imitates the supreme features of a natural paintbrush. 
They have sharp tips and can retain that tip throughout use like a kolinsky brush.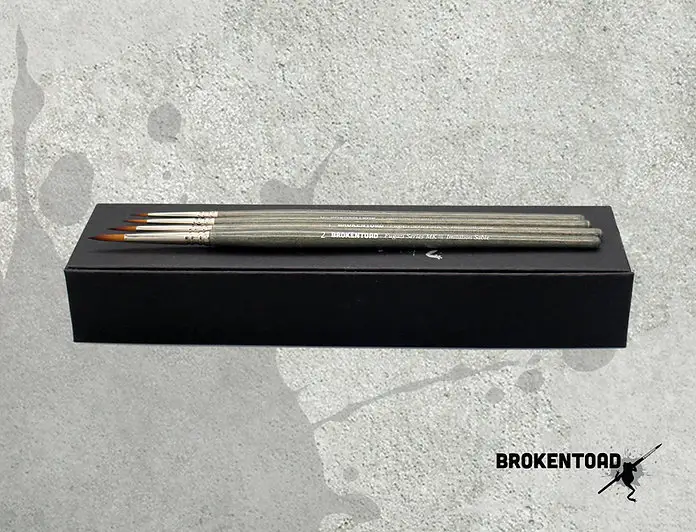 Princeton's Select Artiste paintbrush series is also a good synthetic brush line to consider. 
The brushes are great for oil and acrylic paints and also have over 29 different shapes. They have a nice snap, spring, and precision that makes painting miniatures fun. 

What size synthetic brushes are best for miniature painting?
Like natural paint brushes, synthetic brushes have all the basic sizes from #000 to #20 and more needed for painting applications. 
If you want to use them for miniature painting, choose the #2 and #2 brushes. These brushes are multi-purposed and suit all painting techniques, from dry brushing to zenithal highlights.
How to take care of synthetic brushes?
Synthetic brushes are of decent quality but are prone to stains and fraying more than natural paint brushes. To ensure they last long, consider the following care tips on cleaning, drying, and using the brush. 
Tools 
Dish soap
Small waterpot
Vinegar
Paper towel or soft rag
Brush soap or hair conditioner 
The process 
Always make sure to clean them in batches
Get some dish soap and rub it into the brush, and set them aside
Since synthetic brushes have nylon fabrics, you can use boiled water to rinse them. 
Pour the hot water into a heat-safe container to minimize accidental burns 
Add some vinegar into the water to easily remove stubborn paint pigments 
Dip the brushes into the water and swish them around until the paint pigments come out
After some minutes, take it out and wipe with a rag with a back-and-forth movement
Avoid jamming the tip of the brush
If the brush still feels excessively stiff or leaves some stains ok the rag, dip them in the water again and clean it with a rag
After cleaning, apply a brush restorer or hair conditioner to prevent the synthetic bristles from spray
Shape your brush in the crease of your palm 
Then, dry with the tip facing away from hard surfaces on the desk or facing up in a pencil holder
Be sure to rinse again in water before use to remove the brush soap or conditioner applied to keep its tip pointed
How much is a synthetic brush?
Synthetic brushes are cheaper than natural hair paint brushes. 
The price of synthetic brushes typically ranges from $1 to $9.99 
Then again, you can get an Army Painter small dry brush set at US$22.99 and one large dry brush at $6. 
synthetic brushes Are worth it
As far as higher-end recommendations go, synthetic brush tips will always curl, regardless of how good they are. But that doesn't mean they aren't worth their price. 
Synthetic paint brushes make a painting with metal paints possible and can help with heavy-duty techniques that can damage natural bristles. 
Honestly, I have been using the same cheap synthetic brush for years and still use them. Just take care of them and they will last longer than you think.
Is it worth buying a cheap non-branded synthetic brush?
Branded brushes like the Winsor and Newton brushes have often been termed more high quality than cheap no-branded paintbrushes. 
And that is not for nothing. 
There are actually different types of nylon or polyester fibers and a quality synthetic brush from a respected brand will be made from a type of nylon or polyester that is more suitable to paint brushes.
most of these synthetic fibers have been developed especially for using paints and went through years of research and development, such as this synthetic bristles patent.
not every manufacturer, especially a small one, can afford this kind of research or have access to high-tech fibers.
It is well common to think that synthetic brushes are synthetic brushes and that they are all the same, but it is not always true. 
synthetic brushes have all shapes of brushes
Synthetic brushes have brushes in different sizes, from round paintbrushes and flat- rectangular shaped brushes to filberts and fan shapes.
synthetic brushes Are good for miniature painting
Synthetic brushes, while not as high quality as natural bristles are perfect for painting miniatures. 
I've never used a synthetic brush that didn't curl. So, not using a sable brush means I had to replace my synthetic brushes regularly. 
But, what most people don't know is that many times, you can get away with painting with a curled tip. It's really just things like eyeballs, fine freehand, and the tiniest details where a curly tip can be an issue, especially when painting Warhammer and DnD miniatures. For these, I use more of my kolinsky sable alternatives. 
If you want to get one like me but don't know which alternative to choose, read our article on "Kolinsky Sable Brushes Alternatives" to find some of the best synthetic brushes on par with natural bristles. 
Conclusion 
Synthetic paint brushes, especially the cheap ones won't really have the superior shape-retaining properties of natural bristles and only offer decent precision.
 However, the best synthetic paint brushes from brands such as Army Painter, Citadel, Winsor and Newton's Cotman Series, Princeton select series, and Broken Toad's Fugazi series offer intricate aesthetics and superior control that makes them good for painting miniatures.