kolinsky sable brushes worth it? | Kolinsky Brushes Review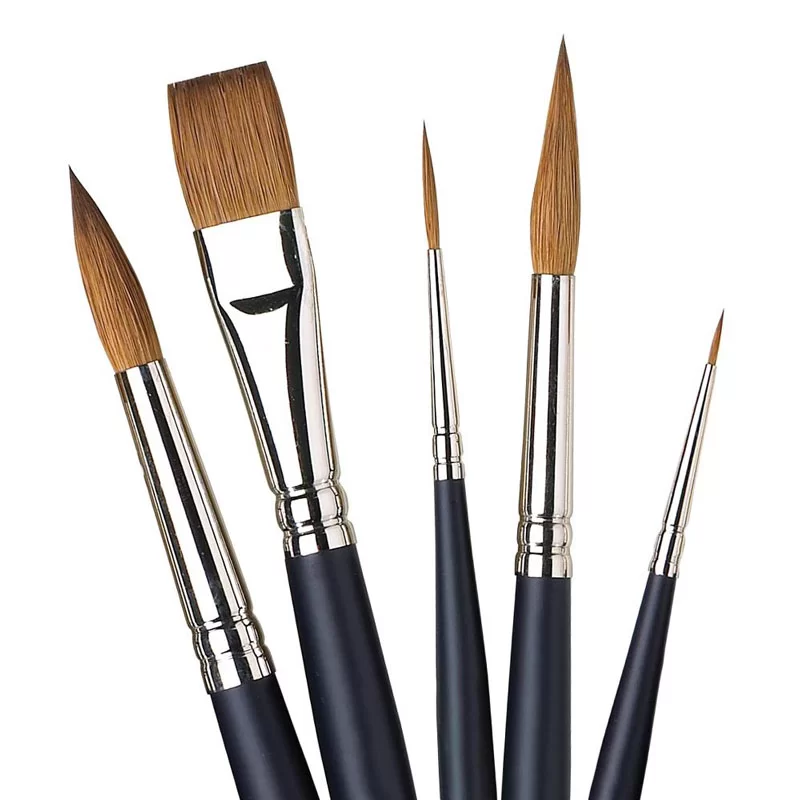 Natural hair paint brushes are among the trendiest brushes used by advanced miniature painters because of their high quality. 
Mini painters believe that a good quality natural brush will easily hold paint well, release paint evenly, and won't shed or split. 
Kolinsky sable is a popular natural brush for painting miniatures. But, considering how expensive they are, you really need to ask yourself, are they worth the expense? 
Will kolinsky sable brushes make your paint job better?
Kolinsky sable brushes have very thin, tapered, elastic yet soft and long bristles. These features make them excellent for a good paint job. 
When used with acrylic, watercolor, or oil paint, the thin and soft form of the brush means they can absorb the paint well, while its long tips ensure the brushes run beautifully on your figures without leaving brush strokes. 
The brush is also designed with a long and ultra-comfortable handle that provides painters enough length control of the brush and how to move it. Hence, using a kolinsky sable brush to paint your miniatures will give your paint an impressive finish than synthetic brushes. 
What exactly is a kolinsky sable?
The kolinsky sable brushes are unlike any other natural hair brushes. 
They are made from the tail of a kolinsky, a specie of weasel native to cold climate environments, especially in Asia. 
While a kolinsky sable is typically obtained from the tail of a weasel, most manufacturers use the male hair for their kolinsky brushes. Then again, that does not mean that the female tails are inadequate. Some paint brush manufacturers also use a mix of 60:40 male and female kolinsky hair. 
Some people prefer not to use Kolinsky sable brushes since they are part of the fur industry, and they prefer using kolinsky brushes alternatives.
Are kolinsky sable brushes good quality
To determine a good quality paintbrush, you should consider how pointed they stay after long use, their precision, how well they hold paint, their springiness and durability. So, are kolinsky hair brushes good quality? Consider the following:
Kolinsky bristles will keep their shape
Most Kolinsky sable brushes have a dense bristle belly, while others have doubly crimped ferrules that ensure the brush head won't become loose. An advantage of these two features is that the brush will often retain its shape after use so long you don't store than with the bristles down. 
Kolinsky brushes have long bristles that can hold paint. The long bristles also ensure that paint flows evenly and consistently to the point of the brush. 
they offer great control while painting
As mentioned earlier, kolinsky brushes are incredibly soft and long. Due to this feature, the brush easily glides across the miniature while allowing the bristles and tips to run well without any resistance. 
Simply put, the soft texture of the brush and long handles mean you gain a significant amount of control so that the brush bristles and tips can easily respond to gestures with precision. 
Do they have a good 'springiness' and stiffness?
Kolinsky sable brushes are satisfyingly springy and have an excellent snap. This is thanks to the fact that the hair on the brush is cured for extra spring. 
The springiness of these brushes ensures excellent control when painting miniatures. 
Will they survive hard use?
Synthetic brushes are known for how easily they fade used for long hours – but natural sable brushes can still retain their shape even when used for heavy-duty tasks. They won't lose their crisp point even on rough surfaces.
Will they last a long time?
Kolinsky brushes can easily last a lifetime as long as the painter takes care of them correctly. However, if used constantly, their lifetime may lessen. Yet, the biggest advantage of a kolinsky brush is that even when they wear out, it can still outperform a synthetic brush and can be restored to its previous pointed tips!
Kolinsky sable brushes from brands like Escoda even have a triple-crimped ferrule, which ensures that the brush lasts long. 
Do kolinsky brushes need special care?
Kolinsky brushes are called hair brushes for a reason – they behave like human hair. For this reason, they require special care. 
When stored with some hidden paint pigments, your kolinsky brushes may deteriorate over time. The good news is that there's always an easy technique to help them keep their pristine form. 
What is the right way to take care of these brushes
To help your kolinsky sable brush last as long as possible, consider these tips:
Make sure to clean the bristles thoroughly with brush soap and water at the end of each painting session.
Never leave the brush soaked in water for extended periods, as it may cause the bristles to stick out or damage the ferrule.
Do not leave the brush resting on its head or bristles.
After use, always re-shape the brush using a brush restorer to help keep its pointed tips. 
If you need more information on proper ways to care for your kolinsky sable brushes, we have a guide on "How to Care for Kolinsky Sable Brushes" to help you out. 
How much is a kolinsky sable brush?
The price of a kolinsky sable brush varies with the brand and model. However, they typically range from $10 to hundreds of dollars for one brush.
For instance, a Winsor and Newton series 7 small size 000 brush is typically priced from $14, while a Size 7 kolinsky brush costs $115. Any brush size above this cost more. A good example is the size 14 brush, which ranges up to $420. 
Are they worth the price?
As we've seen above, kolinsky sable brushes are quite expensive. But they are a good investment for long-term miniature painting because you get what you pay for. 
Kolinsky sable brushes hold water well, can easily retain their shape, are flexible, and are easy to control. Also, if maintained well, these brushes last for a long time.
When I started painting my miniatures, I used more synthetic brushes and always felt frustrated because I had a really difficult time building layers and glazing with synthetic brushes. But, when I switched to kolinsky brushes, they felt like magic. Layering, glazing, and washing pigments away became super easy, and they retain a fine point even after heavy use. 
Does kolinsky sable have all shapes of brushes?
Yes, kolinsky sable brushes offer a wide range of shapes. 
From the pointed round sables to the round and flat shapes, you can get any shape you want for your miniature painting with a kolinsky brush.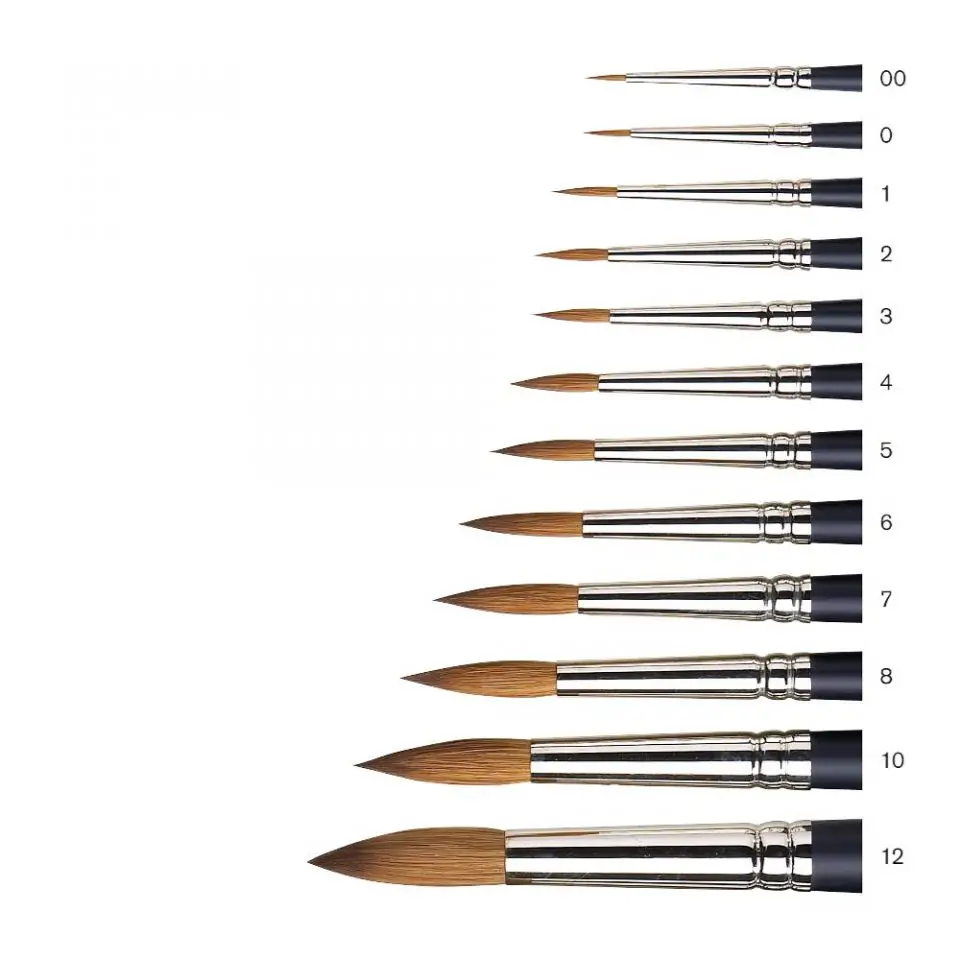 Red sable vs. kolinsky sable explained
Red sable and kolinsky sable brushes are very similar. In fact, they are both designed from the tail of the Siberian Kolinsky weasel and often have a long, dense, and luxurious feel. 
The only significant difference between the red sable and kolinsky sable brushes is that the red sable brushes are made from Siberian weasels with red hair so that the brush head or bristles will often appear red. 
Which brands have kolinsky sable brushes, and which is the best
If you're in the market for a sable brush, the good news is that you will find more than one brand offering high-quality models at varying prices to suit your needs. Some of these brands include:
Roubloff
Rosemary & Co
W&N (Winsor and Newton)
Raphael
DaVinci
Artist Opus
Broken Toad
Then again, to get the best professional results from your painted work, Winsor & Newton may be the best choice, especially for advanced painters.
Read our full comparison and review of the best kolinsky sable brushes for miniatures on the market today.
Final Thoughts
Whether or not a kolinsky sable brush is worth it depends on how much you like painting and how much you can afford to get the brush.
For experienced painters, a good brush that is easy to clean, springy, holds paint well, is precise, and lasts a lifetime is everything. Just remember that better-made tools provide better results no matter how expensive they may seem. And while cheap brushes may give good results at first, you will keep buying new ones when they damage because they wear out without much effort.