Traxxas 3.3 engine Specs (exact numbers)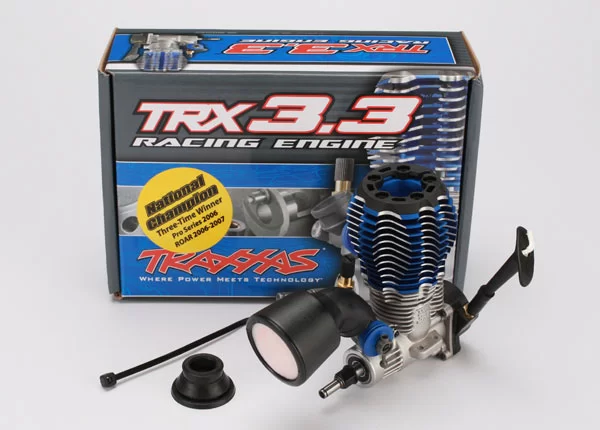 Like the TRX 2.5 and TRX 2.5R racing engines, the TRX 3.3 engine is also designed by one of the biggest hobby manufacturers, Traxxas. 
These engines deliver extreme power and thoroughbred performance like no other model. In fact, they produce over 60% more horsepower than every other Traxxas race engine model. Their larger displacement and advanced porting generate class-leading horsepower ratings. 
If you're wondering how much horsepower the Traxxas 3.3 nitro engine has, you want to know that it has exactly 2.128 HP straight out of the box. 
Read on to learn more about the Traxxas 3.3 engine and its horsepower ratings. 
How much horsepower does a Traxxas 3.3 engine have
Traxxas 3.3 engine max rpm
A Traxxas TRX 3.3 engine at 0.97HP will generate 31,250 rpm with a pull-start, and at a torque of 37.49 oz-in, the maximum rpm will range between 19,500 and 37,750 rpm.
At a torque of 38.32 oz-in, the maximum rpm falls between 22,700 rpm and 38,100 rpm, especially when using a Traxxas 33% Top Fuel. 
Traxxas 3.3 engine 
Created in 2006, the TRX 3.3 engine is one of the most powerful racing engines ever developed by Traxxas.
Designed for more power, reliability, and ease of use, the TRX 3.3 racing engine is so powerful that it produces 2 HP, an extreme 60% more peak horsepower than the TRX 2.5 and 2.5R racing engines.  
It comes equipped with an EZ-Start push-button electric starting and a two-needle composite slide carburetor for reliable tuning. 
Traxxas 3.3 engine size
RC engine size is also called displacement, often measured in cubic centimeters (cc) or cubic inches (ci).
The displacement defines the volume of space a piston uses in a single stroke. But, how do you know the size or displacement of your Traxxas 3.3 engine?
You can determine the engine's displacement when you check the specs for that engine. Traxxas often places the engine size in the name of the engine or vehicle to differentiate them from other models. 
For this reason, the size of a Traxxas 3.3 engine is 3.3cc, which is also equal to a .20 engine when conveyed in cubic inches.
Is the Traxxas 3.3 engine is the most powerful Nitro RC engine
Yes, the Traxxas 3.3 racing engine is the best and most powerful nitro RC engine on the market today.
For RC enthusiasts searching for big, high-performance and reliable engines, this engine has extremely high power, is easy to use, and is incredibly reliable. 
With the addition of the EZ-Start electric starting system, they offer more speed and acceleration on the race track. 
What nitro mixture should you use to get the best out of this engine?
How the engine performs is directly linked to the fuel and air mixture, which takes place in the carburetor. Hence, to know the right nitro mixture, you need to understand how the carburetor works because it controls the engine's speed by restricting air and fuel intake into the engine. 
The right air/fuel mixture will ensure the engine runs at its best. However, the wrong mixture can cause excessive heat, leading to trapped heat and vapor lock. It could also lead to excessive wear or the engine stalling every time. 
When you richen the fuel mixture, you increase the amount of fuel in the air and the fuel mixture ratio. A rich fuel will deliver cooler running and more lubrication but offer lesser power when run. On the other hand, leaning out the fuel mixture decreases the amount of fuel in the air and fuel mixture ratio. The fuel mixture delivers more power and stronger and more efficient combustion but lesser lubrication when you slightly lean the fuel mixture. What then does this mean?
The lean mixture is the best nitro mixture that would work perfectly for a Traxxas 3.3 engine.
It is recommended by Traxxas to use their 33% Top Fuel to get the best out of the 3.3 nitro engine. 
Can you increase the HP of this engine?
It's easy to increase the HP of a Traxxas 3.3 nitro engine. All you need to do is know the right nitro fuel mixture that works best for you. 
TRX engines work well on a 33% nitro as it offers cooler temps, more power, and a smoother throttle response. 
The best way to increase the HP of a Traxxas 3.3 engine is to keep the engine warm and running in a rich setting. Then, gradually lean the high-speed fuel mixture in 1/16 turn increments. 
Is TRX 3.3 A small block?
A small block engine is one whose size usually falls between .19, .18, .15, .12 and lower. Plus, they'll also have the same size motor and mount dimension.
A 3.0cc nitro engine is a .18ci, while a 2.5cc is a .15ci. So, if you think that the TRX 3.3 nitro engine is a small block, you've got it wrong.
A big block nitro engine is .21 or bigger. Traxxas 3.3 engine is a .20, hence it is not a small block. 
What Traxxas models use this engine?
Since Traxxas designed the TRX 3.3 engine, it'll fit several Traxxas models. But, due to the mount dimension, it'll likely work better for Traxxas models like the:
Traxxas Revo
Traxxas X0-1
Traxxas T-Maxx
Traxxas Jato
Traxxas Slayer Pro 4X4 Nitro RC
Conclusion
In an RC car, horsepower translates to speed, meaning if you want a faster thrill race, you'll need more horsepower.
The Traxxas 3.3 nitro engine has 2HP and can reach maximum RPM between 19,500 rpm and 37,750 rpm and 22,700 rpm to 38,100 rpm depending on the engine's torque.
This feature indeed makes the Traxxas 3.3 engine the most powerful nitro engine in the market, especially as they are no small block with an engine size of 3.3cc at .20ci. 
Sources
https://traxxas.com/sites/default/files/TRX-Engines_Manual_130103.pdf