Arrma Kraton vs Typhon | Goes Head to Head On Our Track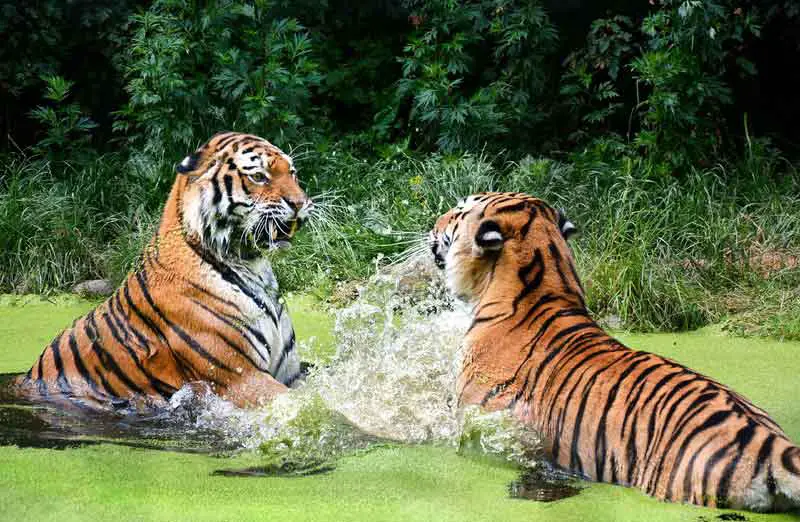 Arrma models are super-tough, fast and offer high-speed RC action. 
Like Traxxas, Arrma is one giant hobby-grade manufacturer in the RC car industry, providing RC hobbyists with the most exciting experience and incredible speed performance on both off-road and smooth terrains. 
With various models built for extreme bashing, Arrma models offer RC hobbyists worldwide the opportunity to enjoy thrill-blasting RC driving anywhere, anytime. 
This post compares two impressive speed ready-to-run Arrma models Arrma Kraton Vs Typhon, to know which functions better. 
Which Is Better – the Kraton or the Typhon?
Arrma Kraton and Typhon are two of the best Arrma models used for extreme bashing and suitable for beginners. However, they both are engineered with diverse functions and electronics that make them stand out. 
If you're contemplating which is better, it all depends on what you want to do with the truck and the looks you want. Typhons are the way to go for bashing, incredible power, and extreme driving since they are strong and designed for speed. Kratons, On the other hand, are typically smaller than Typhons and while they work exceptionally for bashing they only serve experienced users right with the truggy tires installed. 
Arrma Typhon
Typhon is a joy on the track and also a good basher. However, they are primarily used on off-road surfaces since it comes with a brushless motor with a ton of power. But, this doesn't mean you can't use them on-road. You'll only have to drive at a slower speed than driving off-road. Plus, they are also on a 1/8 scale. 
No matter the model you choose, whether the Typhon 4X4 3S BLX Speed Buggy or the 6S Speed Buggy, Arrma typhoons are fast, brutal, designed with waterproof electronics, styled to turn heads, provides unrivalled traction on any surface and will put you in control of exhilarating RC driving action. 
Arrma Kraton
While Typhon's offer an incredible bashing experience, Kraton also works pretty good on the track, especially their Truggy tires are installed and also functions exceptionally for bashing. 
However, the difference between both lies in the diverse scale sizes they offer. A 1/8 buggy RC vehicle provides added stability on rough terrains while bashing due to their increased weight. Plus, they offer more speed. On the other hand, a 1/10 RC car can be hard to control, especially in rough terrains due to its small size. 
All Typhon models run on a 1/8 scale, so also does the Kraton 6s and 3s models. However, Kraton 8s and 4s offer a 1/10 scale RTR RC vehicle for various environments. You'll also get a 1/5 8S BLX Kraton model. 
Comparison Table of Arrma Kraton and Typhon Models
| | | |
| --- | --- | --- |
| | Typhon | Kraton |
| Price | $319.99 to $899.99 | $399.99 to $999.99 |
| Max Speed | 60mph, 112km/h | 50mph to 60mph, 112km/h |
| Power Type | brushless | Brushless |
| Scale  | 1/8 | 1/5, 1/8 and 1/10 |
| Weather  | Fully waterproof electronics | Waterproof ESC, servo and radio-controlled box |
| Weight  | 3.2kg/7.52lbs 9oz (no battery) | Ranges between 24.21lbs to 4.85kg/10.67lbs depending on the scale |
| Use  | Off-road and on-road | Suitable for all terrains |
| Assemble time | No assembling required | Ready-to-run |
| Release date | 2014 | 2014 |
How Fast Does the ARRMA Typhon Go?
Arrma typhoons provide users with a mind-blowing and unforgettable RC experience as they are extremely fast no matter the surface run. In fact, they can reach extreme speeds up to 70mph at 112km/h. Users can even add a LiPo battery to their Typhon model blast up the speed limits.   
How Fast Does the ARRMA Kraton Go?
Every RC hobbyist that owns an Arrma model knows that Arrma are pioneers of fast, brutal acceleration, and top speeds RC cars; this is also the case with the Arrma Kraton models.
Every year, each model is updated to resolve performance issues.
Like the Arrma Typhon models, Kratons can also reach a mind-blowing speed up to 60mph. However, models like the Kraton 4X4 4S BLX are designed to reach speeds up to 50mph. 
How Much Does the Kraton Weigh?
Arrma Kraton weighs differently from Typhons. Depending on the scale, they usually have a mass that ranges between 24.21lbs to 4.85kg/10.67lbs. 
How Much Does the ARRMA Typhon Weigh?
When it comes to the weight of your Arrma Typhon, they are usually lightweight with lesser mass than the Kraton.
On average, an Arrma Typhon will weigh 3.42kg / 7.52lbs 9oz without a LiPo battery installed in it. It's no wonder RC hobbyists can easily control them even when driving on rough terrains. 
Is the ARRMA Typhon Waterproof?
Arrma Typhon models are not fully waterproof. Only their electronics like the ESC, steering servo and radio receiver box are fully waterproof. The electronic components can hit the roughest terrains with this quality, even in the most extreme conditions. 
The strong and durable waterproof Steering Servo provides fast and reliable control, while the waterproof ESC provides consistent power control.
Is the Kraton Waterproof?
Kraton electronics are fully waterproof so that RC hobbyists can drive in extreme cold, rain and desert-like temperatures. This waterproof feature assures users increased strength and long-lasting durability to reach its estimated life expectancy rate. 
What Scale Is the Arrma Typhon?
Arrma Kraton models are usually on the 1/8 scale size. These RTR vehicles on a 1/8 scale deliver power, strength, style and up to 60mph top speeds multi-terrain RC action on any track. 
What Scale Is the Arrma Kraton?
Like Armma Typhon models, most Arrma Kraton, like the 6S BLX and 3S BLX, have a scale of 1/8. However, Arrma Kraton, like 8S BLX and 4S BLX, are popular 1/10 scale RC cars. The Arrma Kraton also has a 1/5 scale size.  
What Motor Is in the Typhon?
ARRMA powers their Typhon models with a brushless motor that provides speed and torque and is perfectly balanced for use on any surface, whether off-road or on the road. The brushless motor keeps the power supply smooth and consistent. 
What Motor Is in the Kraton? 
Arrma has engineered their RC cars with high-powered four-wheel drive brushless vehicles for years. This brushless motor makes your RC car unstoppable on trails, race tracks, and muddy courses. Plus, the brushless motors come with a waterproof ESC that ensures added speed and performance when running on any terrain. 
When Did ARRMA Typhon Come Out?
Arrma has long been in the RC industry since 2009. While they've produced some of the best RC cars since their establishment, the first release of Arrma Typhon was in 2014. 
When Did ARRMA Kraton Come Out?
Arrma started producing Kraton models in the second quarter of 2014. However, many RC hobbyists only learned about these models in 2016. 
Is the Arrma Kraton RTR?
Arrma has been a known producer of Ready-to-run RC cars since their creation.
So, whether you're looking for a powerful Arrma model for off-road and rough terrain, these RTR kits offer users more strength speed and are more extreme on all surfaces. 
Is the Arrma Typhon RTR?
Arrma Typhons are ready to run out of the box. They are distributed fully built, with their superior-quality waterproof electronics pre-installed.
An RTR Arrma Typhon will typically include a high-quality 2.4Ghz radio transmitter and receiver, wheels and high-performance compound tires, waterproof ESC, steering servo and a pre-painted bodyshell. You'll only need to add batteries and get a charger. 
Prices for Each Model
Arrma RC cars are some of the most expensive in the market today. When it comes to purchasing your choice model, prices vary.
Whether you're getting an Armma Kraton 8s BLX, 6s BLX, 4s BLX, or a 3s BLX, the cost ranges an average between $399.99 to $999.99. On the other hand, all Typhon models have a median price of $319.99 to $899.99. 
Conclusion
Arrma produces some of the best buggy RC monster trucks today. So, whether you're considering getting the Kraton or Typhon, they will work exceptionally for you. However, Arrma Typhon is best for bashing, while Kraton also functions exceptionally for bashing, but only when you use them with Truggy tires.