Best Nitro Engine For Your RC Car (Broadest Research)
Nitro-powered cars are also known as "gas" cars, but they don't run on gasoline.  Instead, they utilize nitro fuel, which powers the engine's speed and performance. The best RC nitro engines are made with superior-grade materials, durable, have a high-performance level, and move at an ultra-high speed.
If you're considering getting a high-speed performance nitro engine for your RC cars, we've compiled a list of the best nitro engines for your RC car.
What Makes a Nitro Engine the Best?
Nitro engines are designed with unmatched support, have extreme power, speed, and performance level, and are easy to use. Most nitro engines offer race engine performance capacity.
Plus, the sleeve and pistons are produced from superior-grade materials to prevent them from quick wear and tear. 
RC car racers enjoy extended engine life like never before. The best part, the engine is designed with an innovative crankcase, advanced porting and cooling features to prevent overheating, and a slick carburetor that makes airflow less restrictive and regulates temperature levels. 
There's more! Some other significant features that make the nitro engine better than most include: 
The best nitro engine depends on horsepower. The horsepower is the way to measure the power of an engine and it determines how fast your RC car will go. It increases when the RPM goes up and mostly never declines.
Fitment to various RC cars
Any nitro engine that can fit into various RC cars could be considered a great nitro engine. To know if your engine will fit any nitro RC car, consider if the clutch will work with the spur gear or if the long shaft of a big engine will suit well without damaging something.
When it comes to engine lifespan, some are designed with high-quality metals that last for long while others come with a low-grade build. The best nitro engine won't make you worry about wear and tear or maintenance issues easily. The best part, they might last up to 20 years, and you could only replace the piston twice. 
The best nitro engine would also come with an affordable price even when they work powerfully than others. Although most nitro engines today are expensive to purchase, you'll be surprised at how possible it is to get a powerful engine lesser than the high-priced ones.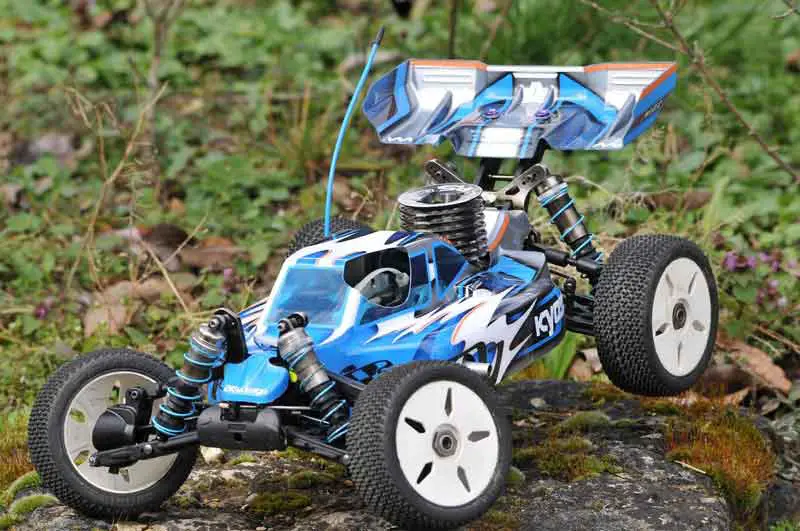 Best RC Nitro Engine by Scale
RC nitro engine comes in different sizes to fit your car and trucks. The four scales you want to consider when getting a model for your car include: 
| | | | | | |
| --- | --- | --- | --- | --- | --- |
| Engine Model | Scale | Cu. in. | CC's | What is the best | Unique features |
| NB16-T Nitro by Nitrotek | 1/16 scale | 0.07 cu. in. | 1.15cc | 33,000rpm | Ultralight, yet great for bashing |
| HPI Nitro Star F4.6 V2 Engine | 1/12 scale | 0.28 cu. in.  | 4.6cc | High horsepower | Huge power band |
| Dynamite .19 mach 2 | 1/10 scale | 0.19 cu. in. | 3.11cc | Drop in replacement for all Traxxas (with EZ-start) | Incredible acceleration |
| HSP SH-CXP21 Nitro engine | 1/8 scale | 0.21 cu. in. | 3.48cc | Speed of 50+ mph | High torque and speed |
Fig 1. The chart above best represents the scales for RC nitro engine sizes.
Best nitro engine for 1/8 RC car
1/8 RC car hobbyists will love the speed and acceleration thrill of using one of those nitro engines. 
The best 1/8 nitro engines include: 
1/8 Scale HSP 94763 Lacerea Nitro engine
Dynamite .2 
Team Losi Racing TL M26SS 26 size 1:8 Nitro Performance Engine Lst Dynamite Mach
3.5 cc.21 SH big block
OS Engines – 30VG 1:8 Nitro Performance Engine .30 OS30 
Best nitro engine for 1/10 RC car
Some of the best nitro engines by 1/10 scale includes: 
Dynamite .19 Mach 2,
HPI NITRO STAR .18 G3.0 T3.0 REBUILD
Traxxas 5407 3.3 TRX Engine
TRX 3.3 Racing
os max 18 cvr m
.18 (18 CXP)
VS-B03 nitro engine
Best nitro engine for 1/12 RC car
1/12 nitro engines are great buggy engines that won't require breaking in. 
Some of the best 1/12 engines are: 
Dynamite .21 RTR Nitro Engine w/Pullstart [DYNE0570]
HPI Nitro Star F4.6 V2 Engine
O.S. Maxx 21TM Drop-In T-Maxx Motor w/Manifold OSM12240 by OS Engines OSMG2083
4 Stroke RC Engine Gasoline Model Engine
AMR 09CZ-T 1/12 high power racing engine 
Best nitro engine for 1/16 RC car
The 1/16 scale nitro engine models are perfect for background bashing. Although the engines appear smaller and lighter than others, they are extremely quick and fun. Its small size makes it easy to transport. So, you can have din bashing anywhere. 
Some of the best nitro engines for 1/16 RC cars are: 
1/16 Scale Kyosho Nitro RC Car 
NB16-T Nitro RC Truggy
Meteor 1:16 Scale Nitro RC Buggy 
NB16 NITRO RC BUGGY 2.4GHZ 
Best Nitro Engine for Monster Truck
RC monster trucks offer a fun and exciting experience for both beginner hobbyists and pros. However, the engine power may differ. To get the most fun out of your RC truck racing experience, consider getting the best nitro engines. 
Those are the best nitro engines for a monster truck: 
CEN GST 7.7
Thunder Tiger EK4 7.0
MGT 8.0
Best Nitro Engine for Truggy
Unlike buggies, truggies are easier to drive and are fast. 
The best nitro engines for your Truggy RC's are: 
Werks Racing B5 Pro .21 engine
BLOK 21aP .21 
Samurai R03
FX K501
Maxy's Cinco 2.0
MX B2R
Best RC Nitro Engine for the Money
Most engines today are great and less priced. Some, on the other hand, can dig a hole in your pocket.
Some of the best, powerful yet cheap nitro engines to consider buying include: 
Dynamite .19T Mach 2 
O.S. Engine 46AX II ABL Engine
Trackstar SEG-H-28 Two Stroke Glow Racing Engine
Xiangtat Racing S30 Sh-28 Hsp Rc Model Engines 4.57cc 
FLMLF 32CC 2 Stroke Engine
Xiangtat HSP SH 28 
6 of the Best Nitro Engine Brands
The best nitro engine brands these days are:
Nova-Rossi
Picco
FX
Reds
OS
Triton engines
When considering a hobby-grade brand to get your nitro engine from, it's not that easy as you have to consider the quality of their products. Those 6 brands are the best brands in the industry and they sure have an engine that will fit your requirements.
Bonus: What Is the Biggest Engine You Can Fit Into a Nitro RC Car
The biggest nitro RC engine that can fit into any nitro RC car is the Traxxas 5407 TRX 3.3 Nitro Engine. This engine produces incredible power more than any other model of nitro RC engine. It is a 2 horsepower and offers excellent race performance.  
This engine is an upgrade of Traxxas' TRX 2.5 and it produces 60% more peak horsepower. It has an innovative crankshaft design, a new generation of electric starting, rear exhaust with a "straight-through" flow, and many other new upgrades.
Conclusion – The Best Nitro Engine
Choosing the best nitro engine can be difficult with so many brands in the market and the high-level performance levels of each engine. However, the best nitro engine will have a high speed, reliability, durability, less prices, can fit various RC cars, and also has incredible torque acceleration power. The most significant feature that would however place a nitro engine over others is the horsepower. To know if your engine works better than others, you want to measure the horsepower value of your nitro RC engine.