Perfect Grade Vs Master Grade | All The Differences +Photos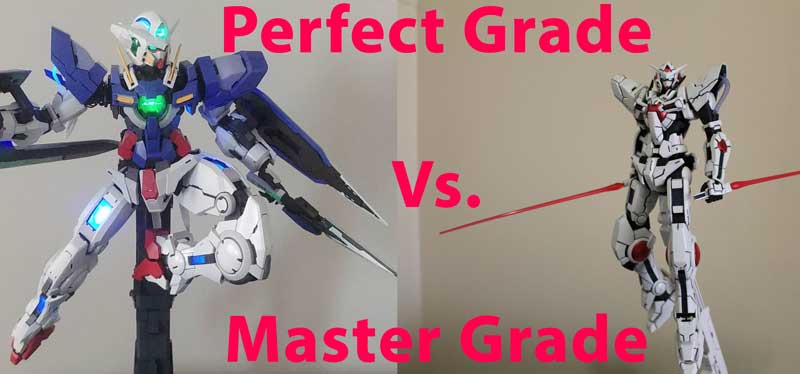 A common dilemma in Gunpla building that every builder, new or experienced, faces from time to time is the decision of which kit to purchase. There are many different grades and types of Gundam kits on the market.
Perfect Grade (PG) and Master Grade (MG) are two of the best kits for superior details and color separation.
These grades have some of the best kits and share some similarities, but they also differ.
I'll go over the differences in detail later, but first, take a quick look at the table below of the key differences between PG and MG.
| | | |
| --- | --- | --- |
| Feature | Master Grade | Perfect Grade |
| Frame | Detailed | Hyper-detailed |
| Ease of Building | Normal | Difficult |
| Color Separation | Good | Excellent |
| Gimmicks | Normal | Advanced |
| Scale | 1/100 | 1/60 |
| Size | 18cm | 30cm |
| Variety | Fair | Poor |
| Shelf Space Consumption | Economical | Requires Large Space |
| Price Range | $30-$60 | $150-$250 |
The key Differences Between a Perfect Grade And Master Grade 
· Size is the most notable difference between a Perfect Grade kit and a Master Grade kit.
A PG kit towers over any other kit in the main Gunpla range.
· Another difference is their stability. MG is more stable than most PGs.
Perfect Grades are quite heavy due to their size and the amount of plastic used in their production. They may appear stable, but they are not, and they usually require additional stands. 
Frame – perfect grade Vs. master grade
An inner frame increases a model's stability. Not all grades have inner frames, but MG and PG do, though they are not the same:
· Most MG kits have full-body inner frames, but some may have part frames.
These frames typically have springs, and a few moving parts and some may even have small pistons, all to allow for some gimmicks and improve the depth and complexity of the model.
While this distinguishes the MG from other low-cost kits such as HG, it pales in comparison to what is included in a PG.
· PG uses a highly complex full inner frame that strengthens the model's entire body and improves articulation. A PG inner frame will almost always have features that set it apart from other grades.
This may include features such as screws and full metal parts to increase stability and possibilities.
Which Is Easier To Build, Master grade or perfect grade?
Size, detail, and gimmicks are major determinants of how easy a Gunpla kit will be to build. 
PG is larger and more detailed than MG, but it is also more difficult to assemble.
· A typical MG kit takes one to a few days to build, but a standard PG kit can take several weeks or even months. Building a Perfect Grade Gunpla model takes time and dedication, but it is well worth it.
Another reason that PG is more difficult to construct is the large number of parts. 
Every PG kit has between 600 and 2000 detailed body parts, compared to 150 to 250 for MGs.
This is not to say that Master Grades are easy to build; they're just a lot easier than Perfect Grades.
So, if you need a fairly simple kit to assemble but don't want to forfeit too many details and sophistication, I recommend skipping Perfect Grades in favor of Master Grade.
Details – Which Has Better Details
The details on MG are fantastic; most MG kits have an abundance of details that make them realistic and appealing. Some even use LED lights. This is an improvement over HG and other lower grades, but it is not on par with Perfect Grade.
PG has the most details, both internally and externally, of any kit in the main Gunpla line. 
PG kits are made of high-quality plastic materials in well-crafted designs that look good and are detailed even before assembly.
PG kits also include cool LED lights that are fitted in the model and its accessories, making the model look better and highlighting every detail.
Color Separation – PG and MG
Color separation is an important feature of a Gunpla kit that will largely determine how it looks after assembly. A kit with good color separation and variation is always a good sight and will have a great overall outlook.
Both MG and PG have excellent color separation. 
MG kits are typically four colors interfaced well and can be used without painting, but as with all other characteristics, it is much better in PG kits.
You'd be hard-pressed to find a PG kit with mismatched or "miscolored" parts, regardless of how many there are. 
Color separation in Perfect Grade kits is on a whole new level. Parts are made of distinct high-quality colored plastics that are layered to reflect the best color possible.
PG will Look Better Than MG
A Perfect Grade is superior to every other grade in terms of appearance, details, size, color, and so on.
Both grades are pretty similar; MG kits typically have either a hyper-detailed or rugged cartoon-like appearance or both. And PG kits are basically MG kits that are larger and more beautiful.
A fully assembled PG kit is a sight to behold and will capture the attention of anyone.
Do master grade and perfect grade Have The Same Gimmicks?
Gimmicks are what add poseability and realism to a Gunpla model. Some can even change modes and transform into different figures.
· Master Grade have some impressive gimmicks, especially when you consider the price. Most MG kits include some nice, complicated mechanics such as opening hatches, or a working cockpit.
Nonetheless, it is not PG in terms of gimmicks.
· Perfect Grade Gundams are at the top of the Gunpla pyramid for a good reason. They are the most complex, with the most articulation and gimmicks of any grade.
 When completed, an average PG kit will have features such as armor hatches, pistons, sliding panels, springs, or even removable parts, and will look like full mechanical structures.
Proportions, Size, And Scale
The scale of a Gundam kit describes how small it will be in comparison to real-life sizes. The larger the scale, the smaller the kit, and vice versa.
Master Grade kits are 1/100 scale and measure around 18 to 20cm (7 to 8 inches) in height. 
Perfect Grade kits are 1/60 scale and measure around 30cm in height (11 to 12 inches). *These are average figures however; they can be larger or smaller.
· Needless to say, Master Grade kits are decently sized and have a good presence, but they are not as large as Perfect Grades.
Perfect grade Gunplas are much rarer than master grade
In terms of variety and availability, MG is on the moderate side, with around 200 Master Grade kits on the market. While they do not have the sheer volume of High Grades, they are still relatively available and not as rare as PGs.
MG also has a special subline called "Ver. Ka" that contains well-detailed MG Gundam kits redesigned by experienced mecha designer Hajime Katoki
PG, on the other hand, is extremely limited in quantity and variety, with only one antagonist suit, the Zaku II, and a few protagonist suits available.
This is due to the complexity of their construction, detailing, and engineering, as well as the time and resources required to produce a full kit.
MG Will Take Less Shelf Space than PG
I enjoy displaying my Gundam models in one place. Nobody wants to buy a kit, assemble it, and then store it in the basement because it is too large to fit on the display shelf.
If you prefer to display your collection on a shelf, PG kits may be too big unless your shelf is very large; instead, go for MG or a lower grade.
· MGs, like other lower grades, are shelf models, and they look best when displayed on a shelf. They take up less room than PGs.
· PGs, on the other hand, are rarely seen on a shelf. They look best as the focal point of any room. They come in various sizes, some as large as 3 feet!
MG Is Cheaper Than PG
The fact that PGs are so expensive is probably their biggest disadvantage.
· A typical PG kit will cost between $150 and $250. Special kits are even more expensive, with Millenium Falcon and PG Phenex costing at least $400 each.
· Master Grade kits are significantly less expensive, with an average MG kit costing $30-$60 and some specials costing $100-$180.
Conclusion – Perfect Grade Vs Master Grade
Perfect grade and master grade Gundam models are two of the most interesting and complex gunpla's you can find, each with its own specifications and characteristics. 
The differences between PG and MG are distinguished and they include size, details, color separation, frame, gimmicks, and of course, price.