Best varnish for miniatures (Brush, Airbrush, Spray Can)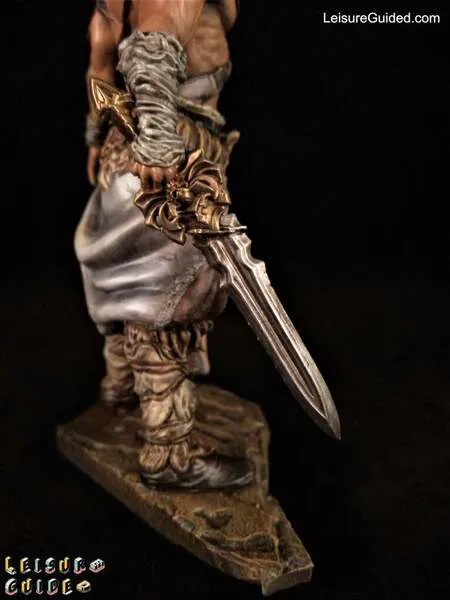 The best varnish for miniatures makes the paint job look flawless while preventing chips, cracks, dust, and imperfections. 
However, the various options you'll find, from matte, satin, and gloss varnish to aerosol, brush, and airbrush varnish, will make choosing the best varnish for miniatures difficult. 
 This guide answers every miniature painter's most pressing question when choosing varnish for their minis, what is the best varnish for miniatures? 
*It is not recommended to varnish with Kolinsky Sable paintbrushes.
Why should you varnish miniatures?
A varnish acts like armor on paint. So, you should varnish miniatures to protect the paint. 
After painting miniatures, the paint may rub off with constant handling. This is most common for gaming minis. A varnish remedies this situation. 
The varnish is the finishing layer of a paint job and always dries to a hard-solid frame like cement. So, if the miniature falls when used or if you use your figures constantly, the varnish takes the impact of falls and handling so that the paint won't chip or look worn out. 
Airbrush, brush, or spray varnish?
Varnishing miniatures can be done with an airbrush, spray can, or painter's brush. However, these techniques work differently. 
When To Choose Airbrush Varnish 
An airbrush varnish makes it easy to apply varnish to miniatures in thin, even coats. However, the most significant difference between an airbrush varnish with the spray and brush-on options is that they need to be thinned down before use. This way, it doesn't clog the airbrush. 
Pros
Allows thin coats 
Saves small details 
Reasonably priced (in the long run)
Gloss, matte and satin options are available
Con
The airbrush may clog if you don't thin the varnish
When To Choose Brush-on Varnish
It is one of the easiest and cheapest ways to varnish miniatures. A brush on varnish only requires a paintbrush and the varnish to seal the miniature. 
The only drawback of using a brush-on varnish, especially with matte, is that when applied thickly on the miniature's surface, it will dry to a satin-like finish and cover details.
Pros
Easy to use with a wet or dry palate
Works well under any environment (temperature and humidity)
It comes in matte, gloss, and satin
Con
It can be tricky to get smooth, even coats with brushes
Should You Settle For Spray varnish
Then again, when using a spray can varnish, you may want to consider varnishing miniatures in a low-humidity environment. Also, be sure to get protective gear when spraying indoors so that it does not harm you and the environment. 
Pros
Spray application allows for even coats
Cheap 
It has gloss, matte and satin options
Con
It does not work well under low temperatures and humidity
Matte, satin, or gloss Varnish
These are what we call the finish you get by using a varnish on miniatures. 
A glossy varnish makes miniatures look shiny, while matte makes the color dull, and satin is the middle point where gloss and matte meet. 
If you're thinking about varnishing your miniatures, which will work best?  
Gloss Varnishes
Pros
It provides your miniatures with a reflective shine
Perfect for military miniatures
It will look realistic on anything other than metallics
It does not frost when applied with a matte varnish
It will easily highlight wet surfaces or slime effects
Cons
It is not the best varnish for the flesh, skin tones, clothing, or other non-reflective surfaces
It gives your miniatures a cartoonish look if applied everywhere
Matte Varnishes
Pros
It makes your models look like the real thing
When applied in layers, it creates a soft blur effect
It retains details well
It makes miniatures look very detailed when photographed
Cons
An overload of matte varnish may make your miniatures appear really dull 
They may frost or fog when applied in a high-humidity environment directly from a spray can 
Won't last long like gloss varnishes
Satin Varnish
As mentioned earlier, satin is the middle point where gloss and matte varnish meets. With satin varnish, miniatures won't look too shiny or too dull. 
Pros
It adds contrast to the paint
Perfect for miniature vehicles and wet effects like blood and gems
 It combines gloss and matte effects
Con
It may add reflective light to the wrong place 
Best varnish for miniatures
When it comes to choosing varnish for miniatures, there are several options to choose from. Then again, some of the good ones that will actually work well on your small figures include:
Best airbrush varnishes
Vallejo makes some good airbrush products as evident in their model air paint range, However, this polyurethane gloss varnish is super tough. 
It isn't like the typical acrylic-based varnish. Instead, the polyurethane medium used in it ensures that the paint lasts long and has high resistance to yellow effects that may occur due to UV rays.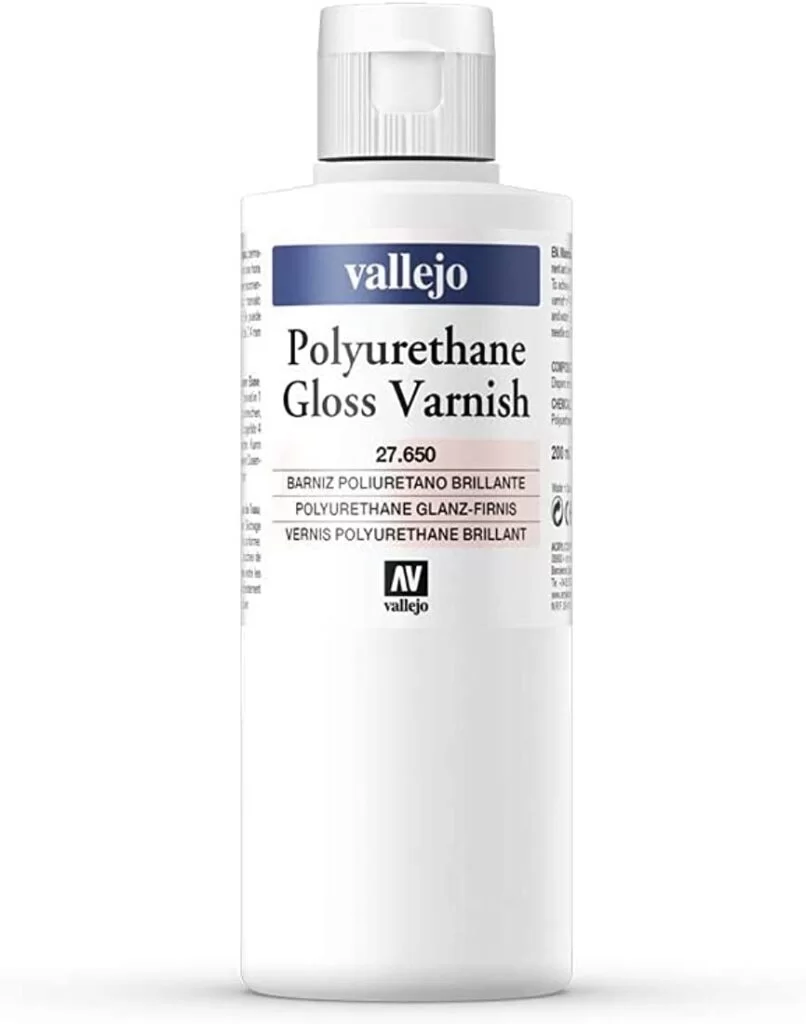 Vallejo's mecha matte airbrush varnish has great resistance to scratches, friction and rough handling. It mutts and dull color on skin tones and fabrics so they won't suffer from reflective light. 

The airbrush matte varnish was designed to give miniatures realistic muddy tones and it does not fail. Unlike the regular matte, this airbrush varnish is really matte. The "Ultra Matte" in it means when used over glossy surfaces on figures, you get fine dull tones tat stands out. 
Read our article, "Miniature's Airbrush varnish," to find more good varnishes for use in an airbrush.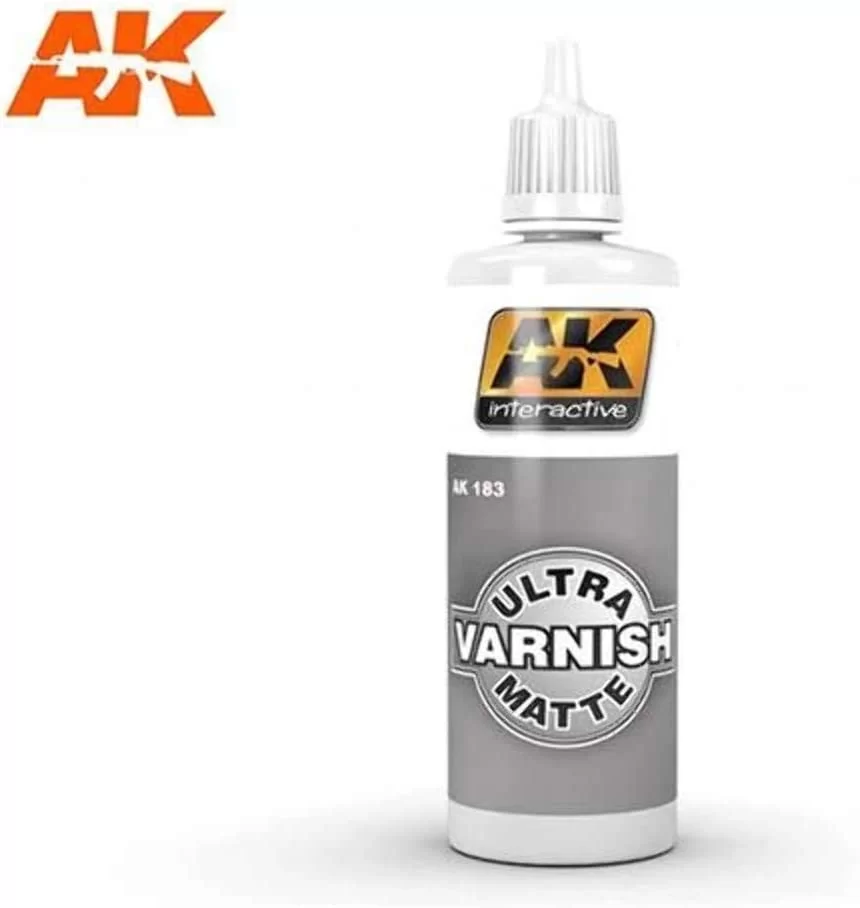 Best brush-on varnishes
This is a lacquer-based varnish but a favorite for many painters. The varnish seals paint but does it extremely well, so that you get extra fine smooth lines as the paint cures. 
I also love this varnish because it is easy to use and leaves a very dull tone that saves details on miniatures.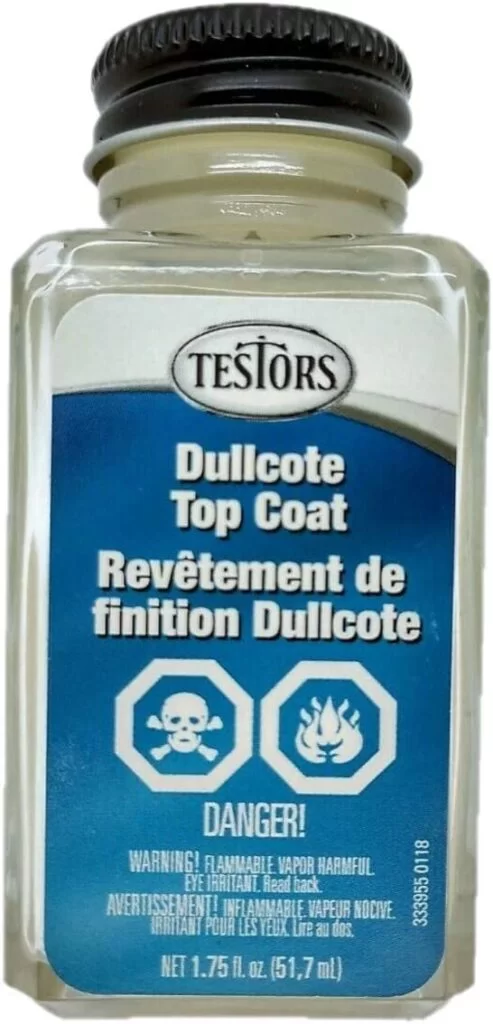 The best feature of this brush-on varnish from Army painter is that it leaves no sheen at all due to its matte agents.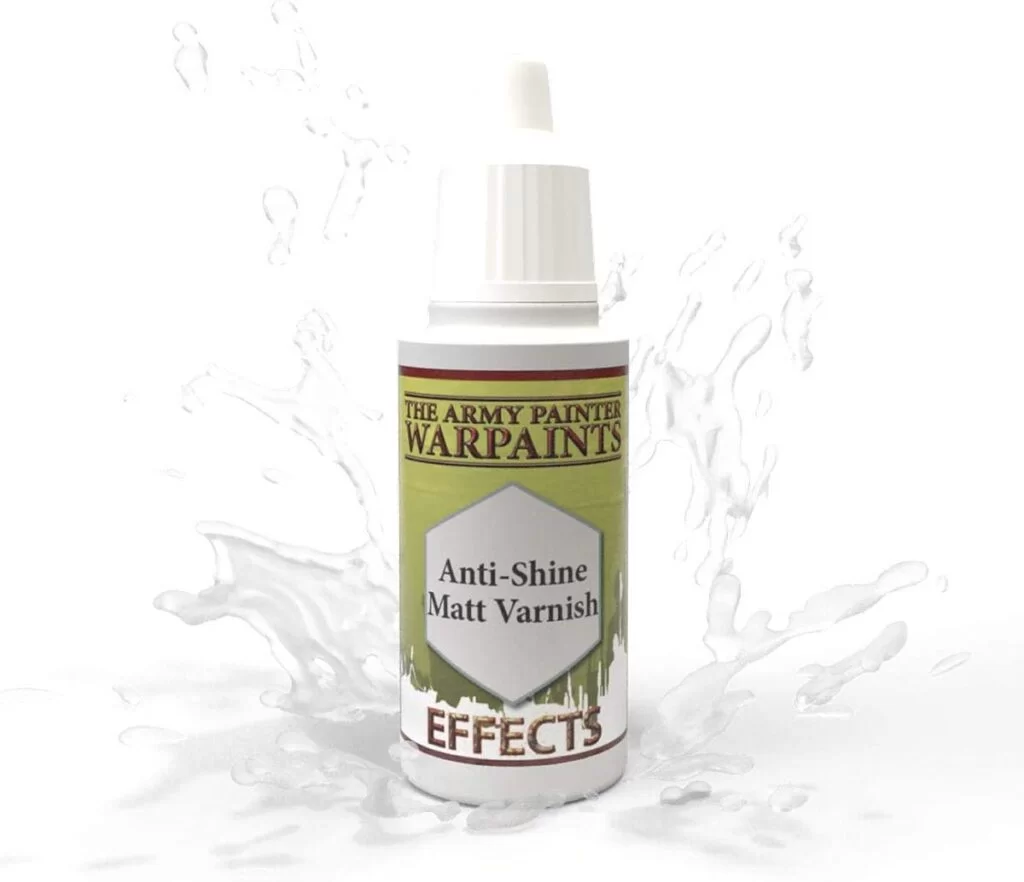 This Vallejo varnish is a water-based acrylic varnish. It dries quick on the paint and provides good resistance during handling. On the other hand, while the matte is quite matte, it dulls the paint so that it looks extremely dull. This varnish works well on plastic, resin and metal miniatures. 
Want to know more about brush-on varnishes? Our post on "Best Brush-on Varnish for Miniatures" explains everything you need to know about applying varnish with a brush. 

Best spray varnishes
Spray varnish protects painted miniatures and this Dullcoat Lacquer from Testor is no exception. It works well on acrylic and enamel paints and dries to a flat matte finish. This spray varnish will give military vehicles a weathered, aged look that enhances the details on the piece.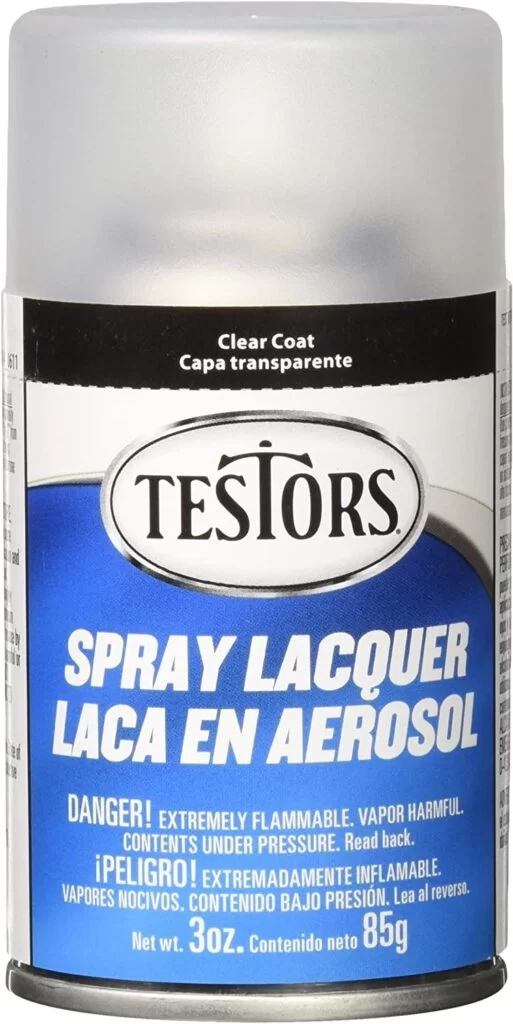 Like the Testor's dullcoat lacquer, this spray varnish is lacquer based. But, its best offering is its quick dry time. Besides this, the varnish works well with acrylic and enamel paints. It also does not frost as much as most spray varnish.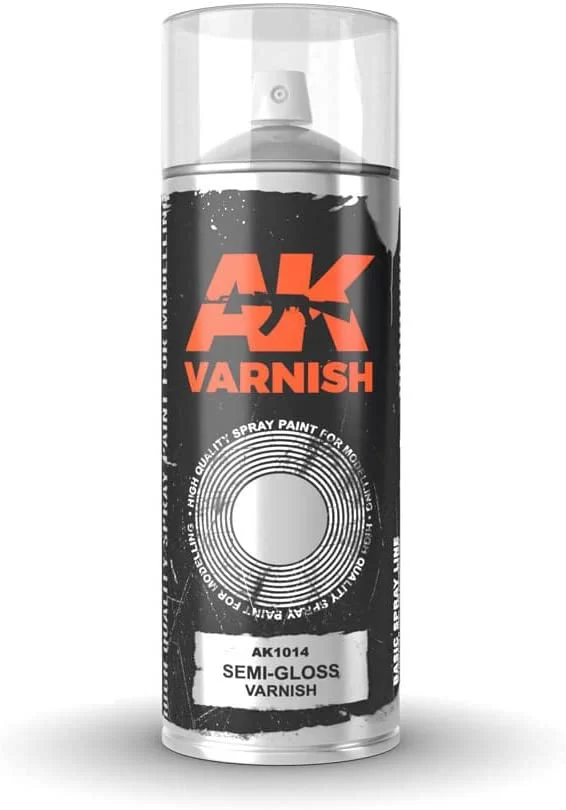 Three things make this varnish stand out. It sprays easily from the can, covers well and will work well for speed painting.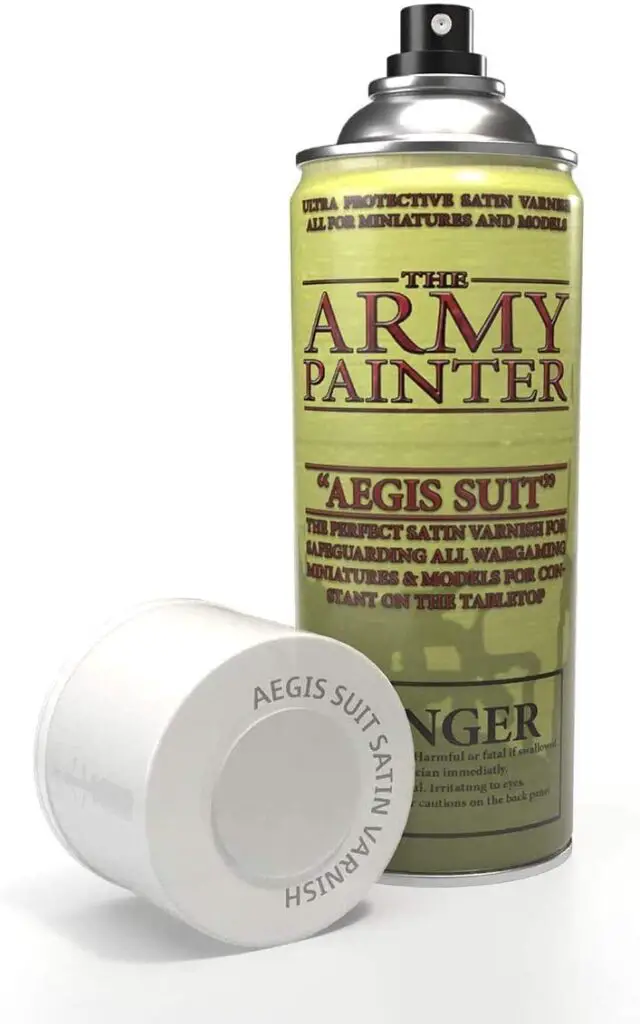 Necessary tips for varnishing miniatures
Applying varnish to miniatures is easy. Still, there are some things to keep in mind when doing so.
Apply in multiple thin layers
Avoid applying a single thick as it may gunk and obscure the details on the mini. Instead, use two to three coats to seal the miniature. 
Use varnishes designed for minis
Some varnish meant for scale models won't work well on your miniatures. Some also dry to a warm-colored hue. When choosing varnishes for miniatures, pick ones designed specifically for small minis.
Test it first before applying it to the actual figure
If you are unsure of the results the varnish will give, test it on an old kit before using it on the actual figure. This way, you don't ruin the kit.
Always mix and shake it before use
Matter varnish won't give results if not shaken properly. Also, when used in an airbrush, it may clog the airbrush since the pigments are thick. Be sure to shake, and thin varnish appropriately before applying them to the figure. 
Let it dry between coats
With spray, airbrush, or brush-on application, always ensure the varnish dries well before applying another thin coat. Else, you risk cleaning of paint. This also ensures that you get the smoothest and even coats. 
Spray from 10 to 12" Away
Hold an aerosol varnish from 10 to 12" when spraying to get thin coats. Spraying too close will make the coats thick, and too far will make the varnish frost because the varnish dries before reaching the model. 
How many layers of varnish should a miniature have? 
When varnishing miniatures, always apply them in multiple thin layers, between two to three coats. 
This ensures a durable surface. It also helps details stay visible, colors remain vibrant and retain contrasts well.
Conclusion 
When painting miniatures, priming is the first step that ensures the paint sticks well, while varnishing is the last step that seals the paint so that it lasts long. So, make sure you take it seriously. 
Varnishing not only protects the paint, but also ensures your miniatures are display-worthy if that is the goal. Whether you prefer varnishing with an airbrush, aerosol can, or paintbrush, we hope this guide will make your paint job straightforward.